With the Stanley Cup playoffs nearing their end, it's safe to say there will be a new champion sooner rather than later.
There has been plenty of talk leading up to the Stanley Cup Final regarding who might finally hoist hockey's most coveted trophy. Is it going to be Alexander Ovechkin's Washington Capitals, or a bunch of former castoffs, forming arguably the NHL's greatest inaugural team in the Vegas Golden Knights?
Many feel like Ovechkin has paid his dues and deserves to win hockey's holy grail, the Stanley Cup. He's got a case, as he's the league's best goal scorer, a title he's held for much of his career. His personal success thus far has trumped team success, though, with the Capitals consistently failing to make the Conference Final during his tenure there.
That is, until this season. Led by the captain, the Caps dispatched two-time defending Cup champion Pittsburgh Penguins before beating the heavily favored Tampa Bay Lightning in seven games. Now, Ovie and Washington can make history together by capturing the Capitals first ever Stanley Cup.
In saying that, a deserving player is usually someone who overcomes numerous obstacles on and off the ice. They live through heartache and push themselves back from life and, at times, career-threatening injuries or illnesses.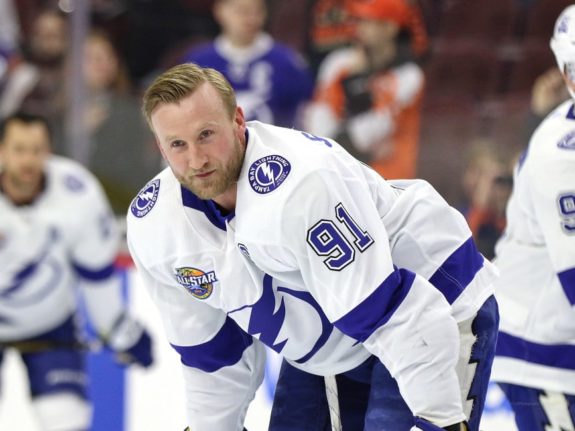 Ovechkin has endured heartache on the ice, but not off of it. In fact, off the ice, the Capitals captain has had things fairly easy. He has represented his native Russia at three Winter Olympics and played in the inaugural World Cup of Hockey. He's also a seven-time Rocket Richard Trophy winner, a distinction given to the league's top regular season goal scorer.
Lightning captain Steven Stamkos, on the other hand, has been through so much both on and off the ice. He's lived through some terrible years, with unstable ownership and questionable coaches, to put things nicely. More than that, he's battled one ailment after another, to the point that he's come out publicly saying his body will never be 100 percent again.
Stamkos: Shattered Leg Costs Olympic Dream
Nov. 11, 2013. A day that will haunt Lightning fans everywhere. A day Steven Stamkos would surely love to forget. While backchecking former Boston Bruins defenseman Dougie Hamilton, the Bolts star center crashed into his own goalpost. The pain could be seen on his face, as he pounded the TD Garden ice after multiple attempts to stand up and skate away failed. A stretcher was then brought in, standard procedure for any sporting event in which an athlete is unable to get off the playing surface under their own power.
For as tough as hockey players are, the fact Stamkos tried to stand on a broken right tibia shouldn't come as a surprise. It does though, as us mere mortals would never entertain the thought of standing up on a broken leg.
Surgery followed, with a metal rod inserted into the bone to hold it together. The recovery time was estimated to be between three and four months. That put his status for the 2014 Olympic Winter Games in question. Put simply, if he was cleared to return after three months, Sochi would be a go. If not, he'd lose out on one of his childhood dreams; representing his native Canada at the Olympics.
He worked incredibly hard rehabbing the surgically repaired leg, hoping to get rewarded with news that he was cleared to play for Canada in Sochi. That wasn't the case, with teammate Martin St. Louis receiving his spot. A crushing blow, he brushed it off with a maturity that has helped him grow and evolve into the leader he is now.
One month later, that maturity led to Stamkos being named the Lightning's next captain one day after good friend St. Louis was granted a trade to the New York Rangers. He returned to the lineup in early March of 2014 with a captain's 'C' on his jersey, a fitting reward for the hard work he put in getting back to help his team in their playoff push.
Stamkos Sidelined for 2016 Playoffs
After putting in months of hard work during the regular season, Stamkos was ready to finish what he had started during the 2015 playoffs. He'd led his team to the Stanley Cup Final but now wanted to lead them to the championship that eluded them one year prior. Then, another setback.
The Lightning captain was diagnosed with a blood clot in his arm approximately one week before the 2016 postseason was set to begin. Surgery followed, with blood thinners and no contact required for one to three months following the procedure.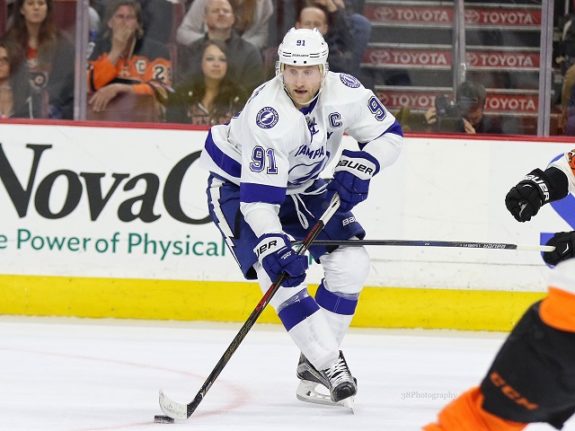 With the team battling for a division title, Stamkos' presence may have been enough to secure an Atlantic Division championship. Unfortunately, the Bolts fell short in that quest but still entered the 2016 playoffs as the Atlantic's No. 2 seed.
Lost in all of those storylines was the fact the Lightning would still have to endure a good chunk of the postseason without their team captain, leading goal-scorer, and second-best point producer in the regular season.
Surprisingly, they fared quite well, beating both the Detroit Red Wings and New York Islanders in five games to advance to the Conference Final. There, they faced the Pittsburgh Penguins.
Inspired by his teammates, Stamkos rehabbed hard in the months following his surgery. That paved the way for him to make his return once doctors cleared him for contact, a feat accomplished in late May of 2016.
He joined his team on the ice for Game 7 of the Eastern Conference Final, a sight that brought hope to a fanbase seeking a return trip to the Stanley Cup Final. Tampa Bay ultimately fell short, but the fact Stamkos was back on the ice less than two months after blood clot surgery was a sight worth grabbing headlines all across the sports world.
Meniscus Tear Ends Season Prematurely
After missing all but one game during the 2016 playoffs, Stamkos was poised to have another great season in 2016-17.
He started out on a tear, with 20 points in the first month and a half. That created a buzz, with many analysts and local media putting him in the early conversations for both the Art Ross and Rocket Richard trophies.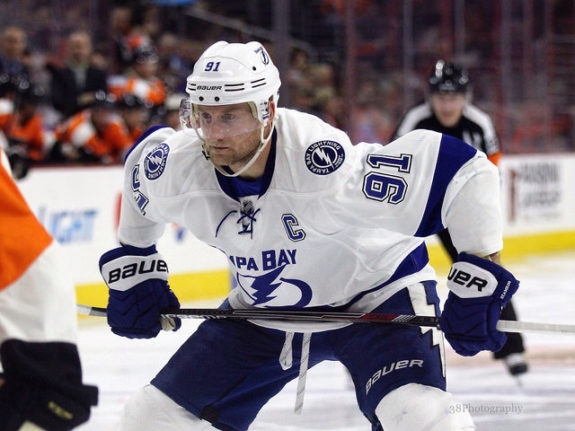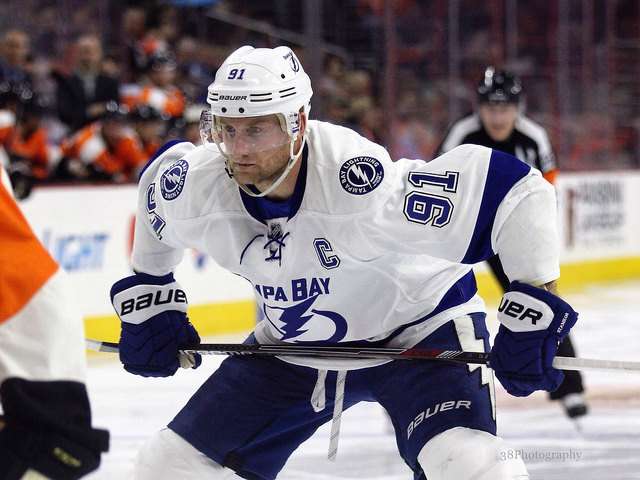 Unfortunately, all that talk skidded to a halt on Nov. 15, 2016. Stamkos exited a game against the Red Wings putting no pressure on his right knee and did not return. The diagnosis was a torn lateral meniscus, requiring surgery.
That put him on the sidelines for at least four months. It was another blow to the captain, who spent many of his prime years battling one ailment after another after another. He rehabbed with a purpose, hoping to make it back before the regular season concluded or, perhaps, for the playoffs if the team qualified.
Despite their best efforts, neither occurred. Stamkos was further away from returning than he originally let on and the Lightning finished one point out of a playoff spot. It was tough for both, yet also provided the captain and his team with time to make certain they were all ready to go before the next season began.
With everything Stamkos has been through, it's hard to say he doesn't deserve to win hockey's holy grail. His hard work overcoming numerous obstacles has helped him grow as a player and leader, but the ultimate goal remains. He badly wants, not to mention deserves, to achieve his dream of hoisting Lord Stanley's Cup.