Alexis Gravel is a big young goalie and he knows it. At the 2018 NHL Combine in Buffalo NY, he came in at 6-foot-2.75 and weighed 222 pounds. As his measurements were taken it was obvious that Gravel had some size to him, having put on more of the muscle and build of a man as opposed to a teenage boy. Having a bit of a five o'clock shadow helped too in distinguishing Gravel from the rest of the pack.
"I know that I have a good size, and that's what it takes," he told THW after having (mostly) recovered from his fitness testing. "I'm lucky to have it, but I try to improve my technique. I'm tall, so I can be deeper and cover more space. If I can get my technique to another level it can help for sure because I'm tall."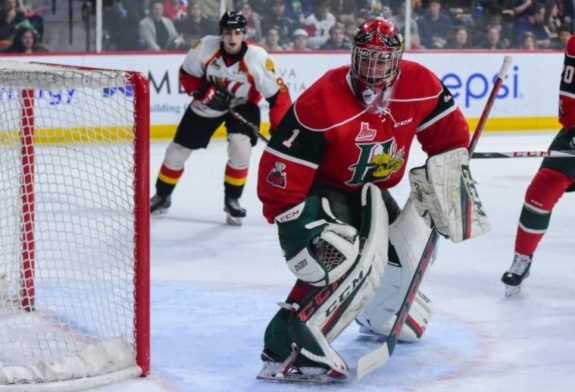 Gravel is a netminder for Halifax Mooseheads of the Quebec Major Junior Hockey League (QMJHL), and was one of only seven goalies to take part in the combine. According to Gravel, eight different NHL teams spoke with him in Buffalo, with one of the teams including the Toronto Maple Leafs.
A Most Interesting Upbringing for Gravel
Regardless of how much NHL interest he has garnered, Gravel came to the Combine with the most interesting of backgrounds. Born in Berlin, Germany, he lived the first six years of his life overseas while his father Francois, a goaltender himself from Sherbrooke, Quebec, CA, was playing professionally in Europe.
"I was six years old (when I came to Canada)," Gravel told THW. "I was born in Germany. I stayed there three weeks while my dad was playing in the DEL (Deutsche Eishockey League) for Berlin. Then he moved six years to Italy. My whole family speaks Italian. I was too young, unfortunately. When I was six we moved back to Quebec."
Come see Alexis Gravel in @JanesFamilyFd Saves of the Week #QMJHL https://t.co/8ph9irwoKI pic.twitter.com/KNsfZc65yJ

— QMJHL (@QMJHL) January 23, 2017
Gravel's father was the 58th overall selection in the 1987 NHL Entry Draft and was taken by the Montreal Canadiens. After Alexis was born, the elder Gravel played four seasons with Asiago HC in the former Serie A hockey league, which was the top tier of hockey in Italy. Alexis' father finished his professional career with two seasons playing for Cortina SG. While in Italy, the younger gravel began learning the game and the goaltending position, and even met some NHL players while he was still quite young.
"I started to play hockey in Italy," Gravel explained, "so it's a different mentality than in Canada for sure. It's not as big as in Canada, but it was a good experience. You can see how they play there. I went on the ice with my dad's team while I was there. There was the (NHL) lockout, and Matt Cullen played – he played a long time in the NHL – so it was pretty fun. I had a good time there."
Cullen played the 2004-05 season with Cortina SG, and scored 27 goals and 33 assists in just 36 games. Former NHLers Jason Cirone, Martin Gendron, Eric Houde and Tony Tuzzolino were also teammates of Gravel's father while he played in Italy.
So How Does Gravel See Himself as a Goalie?
Gravel's father was his inspiration to become a goaltender too. It is what led him towards finding an affinity for the position. Though he wanted to be like his father, Gravel does acknowledge with a grin that there is a difference between the two of them.
"He had a long career in Europe. I wanted to be like him. The only thing that I'm not like my dad is I'm a righty and he's a lefty," Gravel laughed, refer to their catching hands. "But I wanted to be like my dad."
Aside from the differences and similarities between he and his father, Gravel has forged a solid start to his own goaltending career. During the 2016-17 season with Halifax – his first in the QMJHL – Gravel handled the bulk of the goaltending duties suiting up for 50 regular season games, in which he went 17-24-3 with a 3.36 goals-against average and a .894 save percentage.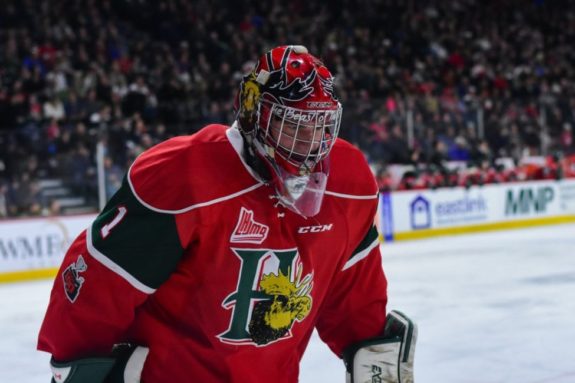 "I try to model myself a little like Henrik Lundqvist," Gravel explained when asked about his goaltending style. "I play deeper in my net. Be set for every shot, and track the puck."
This most current season of 2017-18 Gravel split the Halifax goaltending duties almost evenly with Blade Mann-Dixon, but would assume the starting role for the Mooseheads in the QMJHL playoffs as he played all eight games in net. He had an impressive turnaround in his regular season record as he went 20-11-1 and posted numbers of 3.38 GAA and .890. Unfortunately, Gravel and the Mooseheads would be eliminated in the quarterfinals of the playoffs, being swept in four games straight by the Acadie–Bathurst Titan.
The Ultimate Destination for Gravel
Where Gravel ends up on Draft Day is almost as interesting as the young man himself. Might the Canadiens take a stab at the young netminder, much as they did his father? It is not that difficult to imagine, especially since Gravel is from the province of Quebec and is already playing junior near that province. Perhaps a team like Minnesota – where Cullen played during the 2017-18 NHL season – might be in need of his services too. With the way goaltenders are thought of this day and age, it would be hard for teams to pass up one of Gravel's size.
The other thing worth noting is that the caliber of shooters Gravel has faced in junior are of a higher level too. The question was even posed to him – of the shooters he has faced in his junior career, which ones have been the toughest to stop?
Gravel responded, "I know that it's in practice, but Filip Zadina and Benoit-Olivier Groulx are tough to stop. They have pretty good shots too. We played a lot against (Acadie–)Bathurst and Noah Dobson was really good. Tough to play against."
Here's Alexis Gravel in his Moose jersey w/ Chief Atlantic Scout Allie MacDonald (L) & Asst. GM Tipper LeBlanc (R) pic.twitter.com/KhTReqajUb

— Halifax Mooseheads (@HFXMooseheads) August 4, 2016
Even after the fitness tests and the lines of questioning from both teams and players, Alexis Gravel just took everything in stride. He met with THW and the other media with a grin on his face almost as big as he is. The young man was engaging, and appeared very mature in how he spoke and in his body language. Perhaps that stems from such a diverse upbringing.
Gravel acknowledged that the NHL Combine is all part of the process towards the next step in his hockey career. Fielding yet another question as to whether there were any oddities or overwhelming questions from the teams he met with, Gravel shrugged, smiled and responded:
"They just want to get to know you more. We'll see how it goes."