The Providence Bruins finished 2017-18 with statistically one of the league's top goaltending tandems. In terms of development, it may be at least another year before someone is ready to back up Tuukka Rask in Boston. It seems harsh to say for a team that finished with the league's second-lowest goals against average at 2.54. The catch to that is the best performance in net this season was delivered by a player on loan to the organization. Jordan Binnington, loaned from St. Louis, earned an All-Star selection with his play. Zane McIntyre recovered from early season struggles to finish with respectable numbers, but still needs to improve his consistency.
Binnington Has Career Year in Net
Binnington arrived in Providence looking to revive his career. The Blues were without an AHL affiliate this season and split most prospects between Chicago and San Antonio. Ville Husso is younger than Binnington and was given an opportunity in San Antonio. Without a place to play, Binnington was added by the Bruins on loan to pair with McIntryre.
Binnington got off to a hot start with the P-Bruins. Despite McIntyre receiving more of the workload as a Bruins prospect, Binnington had 1.51 goals-against average and .941 save percentage through his first 12 appearances. The numbers were impossible to ignore even with a limited number of games, and he earned the All-Star nod. He was recalled by the Blues in December but didn't appear in a game.
Binnington "cooled off" a little down the stretch, but still finished second in the league with 2.05 goals-against average and fourth in save percentage at .926. The Blues have a decision to make with Binnington, a restricted free-agent this offseason. With NHL backup Carter Hutton entering unrestricted free agency, Binnington may have proved himself as a valuable asset to the organization. He has more professional experience in North America than Husso, and could fill a need if there is an uncertain backup situation in St. Louis.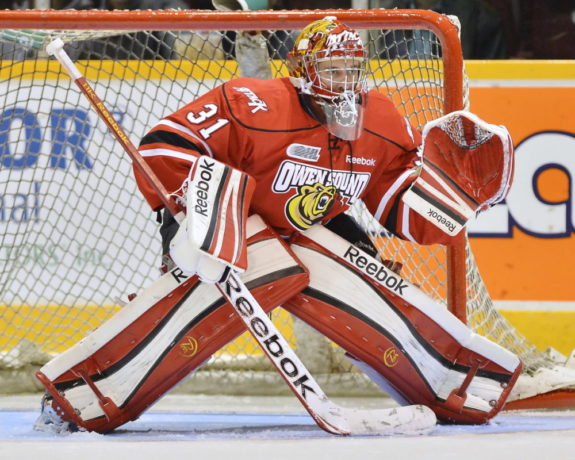 Providence fans won't concern themselves with the Blues' goaltending dilemma. It was a nice luxury to add a netminder with 120 games of AHL experience at the time. The P-Bruins as a team were consistent through most of the season, aside from a four-game skid in January. Binnington deserves some of the credit for that consistency. He often appeared in the middle games of the notorious 3-in-3 weekends in the AHL. His exceptional play in those games provided a boost and ensured the P-Bruins took home points from the weekend games. It will be hard to replace a "backup" like Binnington.
McIntyre Will Look to Improve Consistency
2017-18 was a tale of two halves for McIntyre. Through 20 games, he had a 3.02 goals-against and .899 save percentage. McIntyre recovered by posting six shutouts over his final 27 appearances. He should return to Providence for a fourth season in 2018-19. There is a current opening in Boston with Anton Khudobin's contract expiring, but the Bruins will likely look outside the system if they can't re-sign Khudobin.
A reason the Bruins may not be sold on McIntyre as a backup is his consistency. McIntyre will look to prove he can be consistent when given another large workload in Providence in 2018-19. Even when things started to head in the right direction for him, there were some glaring off-nights in between.
The numbers tell the story when analyzing his performances on a nightly basis. McIntyre led the league with seven shutouts. Despite the accomplishment, he finished tied for fifteenth in goals-against and outside the top 15 in save percentage. It speaks to the up-and-down nature of the performances in net. The P-Bruins will hope the shutouts can continue, but the games that follow must also give the team a chance to win.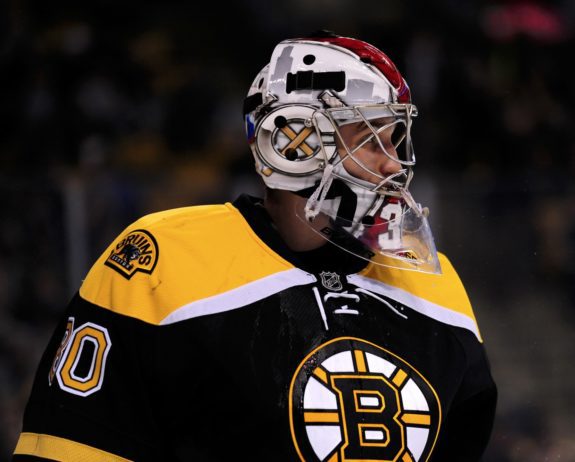 Unless a veteran is signed, McIntyre will be paired with youngster Daniel Vladar. Vladar, a 2015 third-round pick, has spent two seasons with the ECHL's Atlanta Gladiators, but will only be 21 when the next season starts. He's taken an unconventional route, signing with the Bruins directly from the United States Hockey League's Chicago Steel. The 6-foot-5 Czech Republic native combines size and quickness, making him an exciting prospect in net.
Despite the large frame, Vladar moves well in net. While a long way away from making an impact at the NHL-level, Vladar appears ready for the AHL challenge. He performed well in four games with Providence this season with a .924 save percentage. It will come down to what the organization believes is best for his development. If he's in Providence, look for more of a split in time with McIntyre. Vladar won't be added to the P-Bruins' roster to watch games from the bench.