Between now and June 22, there are going to be a ton of mock drafts coming out. For the Edmonton Oilers, there's a definite need within the organization for a top-four puck-moving defenseman. Whether they address that need through the NHL Draft or via trade is another question within itself.
If the goal is to find that defenseman through the draft, who is going to be available? This class is going to be very top-heavy with defensemen. Rasmus Dahlin is obviously the consensus No. 1 pick and best blueliner available, but barring some sort of voodoo magic or a blockbuster trade where the Oilers move into that top spot, that's not going to happen.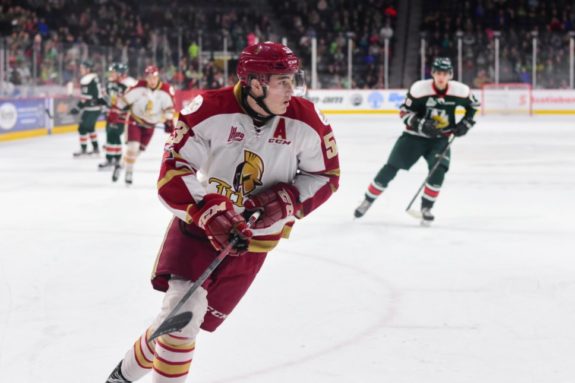 So who else? Noah Dobson is a talented all-around defenseman who was a key piece for the Acadie-Bathurst Titan en route to winning the Memorial Cup. Quinn Hughes is a top-flight offensive defenseman who's seen to be NHL-ready. Adam Boqvist, as well, oozes offensive upside.
To figure out who's available for Edmonton at tenth, we'll start by ranking the top ten defensemen available in the draft. After that, we'll look at updated mock for how the dominos could fall leading up to the Oilers selection.
Ranking the Top 10 Defenseman in 2018 NHL Draft
Dahlin, Dobson, and Hughes might well be the first three defensemen off the board this June. All three are dynamic in their own sense. Dahlin possesses the ability to become a generational talent and leading man for the Buffalo Sabres for the next decade or so.
Dobson and Hughes both possess top pairing potential and a high offensive pedigree. Both are NHL-ready, but Dobson might have the best all-around game (next to Dahlin) in comparison to all defenseman in the draft. Hughes can probably dictate the pace better than any other player left on the list.
RANKING THE TOP 10 DEFENSEMAN AVAILABLE

RANK

PLAYER
CLUB
HT
WT

STATS

1

Rasmus Dahlin

Frolunda HC (SHL)

6'2

185

41 GP – 7 G – 20 PTS

2

Noah Dobson

Acadie-Bathurst (QMJHL)

6'3

179

67 GP – 17 G – 69 PTS

3

Quinn Hughes

Univ. of Michigan (NCAA)

5'10

174

37 GP – 5 G – 29 PTS

4

Adam Boqvist

Brynas IF (SHL)

5'11

165

25 GP – 14 G – 24 PTS

5

Evan Bouchard

London (OHL)

6'2

192

67 GP – 25 G – 87 PTS

6

Ty Smith

Spokane (WHL)

5'10

170

69 GP – 14 G – 73 PTS

7

Bode Wilde

US NTDP (USHL)

6'2

196

25 GP – 3 G – 16 PTS

8

Jett Woo

Moose Jaw (WHL)

6'0

205

44 GP – 9 G – 25 PTS

9

Ryan Merkley

Guelph (OHL)

5'11

170

63 GP – 13 G – 67 PTS

10

Rasmus Sandin

Sault Ste Marie (OHL)

5'11

190

51 GP – 12 G – 45 PTS
The next two can likely flip-flop depending on how each of the clubs near the top of the selection order determines their own internal list. Every club uses their own criteria, and some might prefer Evan Bouchard's more NHL-ready frame, compared to the undersized Adam Boqvist.
The flip side of some scouts might see Boqvist who had the impressive feat of playing at a near point-per-game pace as a 17-year-old in Sweden's top professional league. After that, there are some gaps. Ty Smith is in the next group, with Bode Wilde, Jett Woo, and Ryan Merkley are all mid to late first round picks.
Rasmus Sandin rounds out the top ten blueliners available. He could be a late first-round pick, possibly an early second-round selection.
Now the next task is figuring out how these dominoes will fall and what teams will be looking to take a defenseman with their selections before Edmonton gets to the podium.
Predicting the 2018 NHL Draft Before Oilers' No. 10
1. Buffalo Sabres – D Rasmus Dahlin
The Sabres get a defenseman to play alongside Rasmus Ristolainen on their top pairing for the next decade. Dahlin has the skills to become one of the next great blueliners in the NHL and follow in a growing list of studs that have come out of Sweden. He'll be a favorite to win the Calder Trophy in 2018-19.
2. Carolina Hurricanes – RW Andrei Svechnikov
Carolina needs a game breaker badly. They'll get one with Svechnikov, who has the potential to be a 40-goal scorer or better in the NHL. Regardless of missing a huge chunk of the season due to injury, Svechnikov still scored 40 goals in 44 games.
3. Montreal Canadiens – LW Filip Zadina
The Canadiens need to acquire as many offensive assets as possible. Landing a Zadina-type player will help lessen the blow if the club ends up trading Max Pacioretty eventually. He's a game breaker, and some folks believe he might be the best forward available in this draft (Svechnikov included).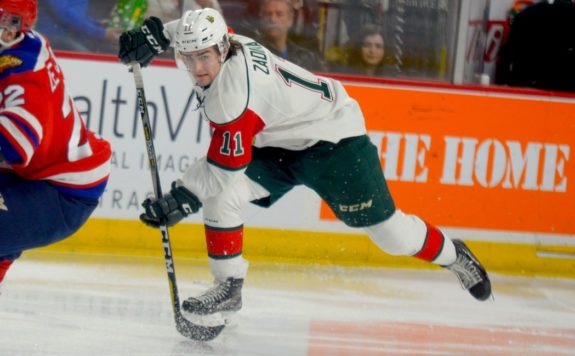 4. Ottawa Senators – LW/C Brady Tkachuk
Ottawa doesn't have a single defenseman among their top ten prospects, but they also have a need for a No. 1 center and left winger. The younger Tkachuk might have higher upside than his brother Matthew. He projects to be a power forward who can anchor the Senators top-six.
5. Arizona Coyotes – D Noah Dobson
Dylan Strome, Nick Merkley, and Lawson Crouse highlight the Coyotes forward pipeline, but adding Dobson to their defense could be a pivotal piece. Dobson has drawn comparisons to Alex Pietrangelo, so imagine what that means having him grow with Oliver Ekman-Larsson, Jakob Chychrun, and Pierre-Oliver Joseph.
6. Detroit Red Wings – D Quinn Hughes
It's no secret the Red Wings need to rebuild their defense core, adding the best American defender in the draft will go a long way. Hughes has top-pairing potential and the abilities to make the impact Charlie McAvoy, Seth Jones, and Zack Werenski have made with their teams.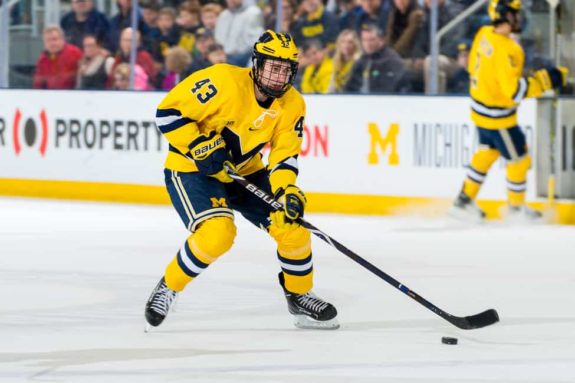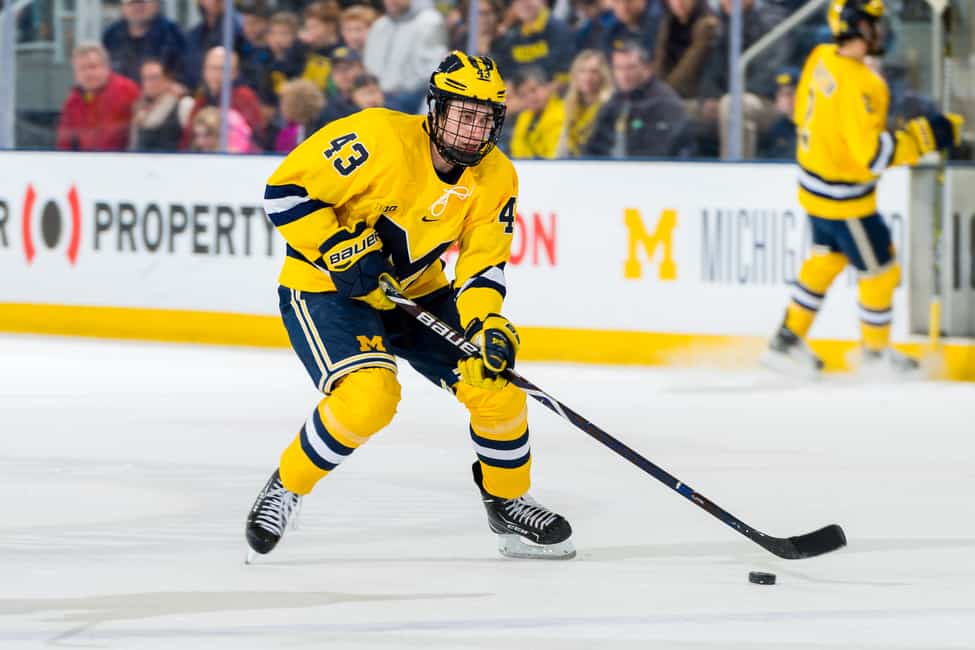 7. Vancouver Canucks – D Adam Boqvist
Canucks general manager Jim Benning gets a lot of flak from the local fans in Vancouver, but he's quietly put together one of hockey's best pipelines. Bo Horvat and Brock Boeser have Elias Pettersson, Adam Gaudette, and Jonathan Dahlen on the way. All they need is a power play specialist, and Boqvist can be that guy.
8. Chicago Blackhawks – D Evan Bouchard
Duncan Keith and Brent Seabrook are already starting to slow down. The Blackhawks have only taken two defenders in the first round since drafting Jonathan Toews and Patrick Kane. Bouchard can eventually become their top offensive defenseman after tearing it up in the OHL with 25 goals and 87 points in 67 games.
9. New York Rangers – RW Oliver Wahlstrom
The Rangers are in full rebuild mode, and adding a potential 30-40 goal scorer like Wahlstrom will be a star they can sell to their fan base. He might have the best shot release in the draft. Wahlstrom had nearly a goal-per-game in the USHL scoring 22 goals in 26 games.
Oilers Will Draft 10th at the 2018 NHL Draft
As you can read above, there's reason for each of these clubs to grab the player they do when they do. Between picks one through nine there were five defenders removed from the board. That leaves the Oilers with a couple of options with that tenth overall pick.
Related: 5 Defensemen Worth the Oilers 10th Pick
These are the guys Edmonton general manager Peter Chiarelli and his scouting staff would be zeroing in on. Ryan Merkley has already started to fall, and as stated above Rasmus Sandin is a clear late first-round pick or early second-round option.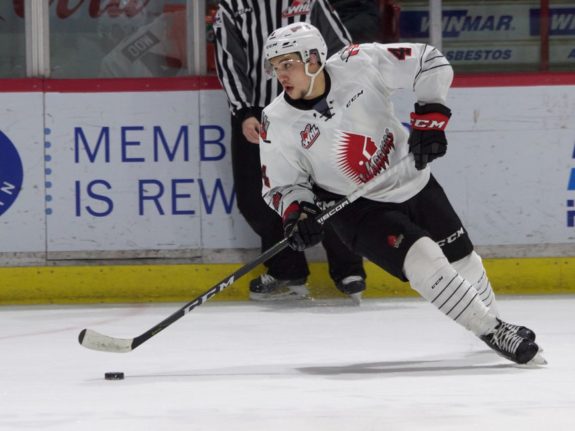 Jett Woo had an injury-plagued year and is projected to go anywhere from the middle to end of the first round. He's a physical puck-mover that could become a No. 4 in the NHL. So that leaves two; Ty Smith and Bode Wilde.
Remember the Oilers could have any of the others fall to them when they get to the podium. If none of them are available, here's a case for both Smith and Wilde to be the Oilers pick at tenth.
Ty Smith – Spokane Chiefs (WHL)
If you want offense, Smith has the best upside of the three remaining. He put up 14 goals and 73 points in 69 games with Spokane to lead all defensemen in team scoring. Smith also finished second in WHL scoring amongst backend players behind David Quenneville.
Related: Ty Smith – 2018 NHL Draft Prospect Profile
He averaged an impressive 1.06 P/GP and was the Chiefs top power-play ace from the blue line. He recorded more points than some other notable drafted prospects like Kale Clague, Cal Foote, Josh Mahura, Jake Bean, and Juuso Valimaki did.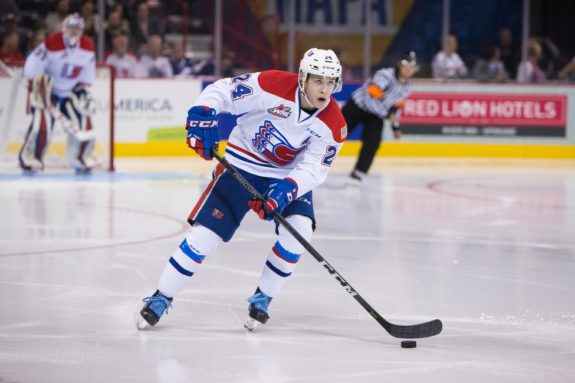 The 18-year-old is a left shot defender with a smaller stature at 5-foot-10 and 176 pounds. He's quick, doesn't hesitate to join the rush, and he's got a great release for his patented wrist shot.
Smith could become a top-four offensive defenseman. A bonus is that he already has some familiarity with one of Edmonton's top prospects Kailer Yamamoto who happens to be his teammate.
Bode Wilde – US NTDP (USHL)
At 6-foot-2 and 196 pounds, Bode Wilde projects to be a solid piece wherever he ends up going this June. He had 16 points in 25 games for the US National Team Development Program in the USHL and is committed to the University of Michigan for the 2018-19 season.
Related: Bode Wilde – 2018 NHL Draft Prospect Profile
Smith might be a better skater overall, but Wilde moves very well and arguably plays a better 200-foot game. He's physical in his own end, and on the other side he's got a cannon from the point and somehow always finds a way to get pucks on net through lanes.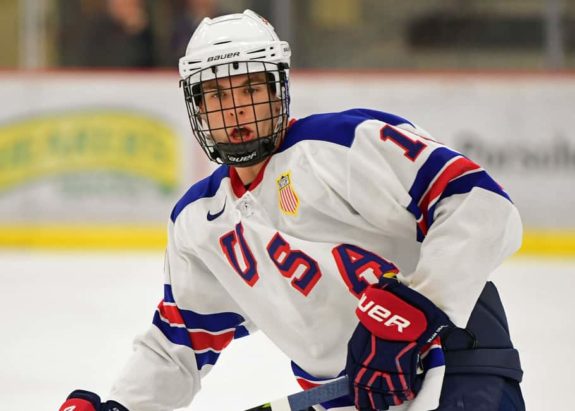 Wilde has great hockey smarts and could end up being a coach's favorite due to his responsible two-way game. It's a bonus that he's a right shot, but even better that he's got size, speed, smarts, offense, and physicality.
He could end up becoming a No. 3/4 defenseman in the NHL. Wilde is also being trusted to play in all situations and was a reliable penalty killer during the 2017-18 season.
Do you agree or disagree? Let us know your thoughts in the comment section below. Be sure to check back in throughout June for more draft coverage.