Noah Dobson
2017-18 Team: Acadie-Bathurst Titan (#53)
Date of Birth: January 7, 2000
Place of Birth: Summerside, PE, CAN
Ht: 6'3" Wt: 179 lbs
Shoots: Right
Position: D
NHL Draft Eligibility: 2018 first-year eligible
Rankings
Imagine winning everything you wanted to win in a given year. Let's quickly recap the season of Noah Dobson. He started out by winning a gold medal at the Ivan Hlinka. Check. He then helped the Titan win the QMJHL in just 20 playoff games. Check. He then helped the Titan win four straight at the 100th Mastercard Memorial Cup including a shutout in the championship game against the host team on their home ice. Check.
For Dobson, this will be a season he'll never forget. He won it all. Not many prospects bring that kind of resume to the NHL Draft. Teams who miss out on the top talent have a chance to bring in a winner, a leader and someone who can help you in so many ways.
RELATED: THW's 2018 Draft Guide
Dobson is one of the best two-way defensemen available in this draft. Want offense? You got it. He posted 17-52-69 in 67 games from the blue line and added 3-10-13 in 20 playoff games. Then to top it all off, he added 2-5-7 in four games in Regina. He was just outstanding.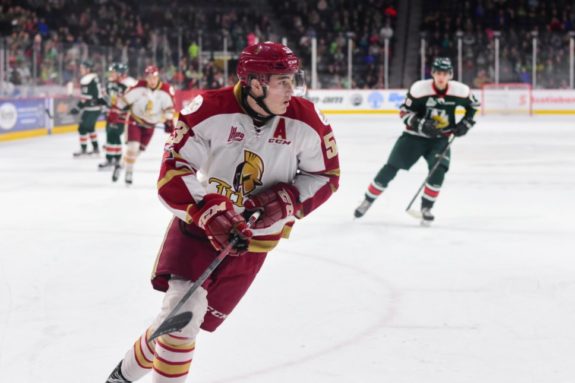 So what do we have in Dobson? We have someone who plays the game the right way and is solid at just about everything he does. He can play both special teams units including power-play quarterback. He uses his deadly accurate shot and pinpoint passing to create scoring chances. But what makes him great is that he's almost never out of position. He has no issue playing man-to-man in his own end and usually comes out on top.
If there's questions about Dobson, it's the usual ones you get from 18-year olds. He is a touch on the smaller side at around 180 pounds. He does need to add strength and muscle to his frame. At 6-foot-3 once he does this, the sky's the limit for him. I'd also like to see an extra gear in his skating. He skates fine and it isn't a true liability. But he is missing that top-gear and could lose races to pucks against speedy wingers. Look for him to refine this part of the game. Other than that, there isn't much downside to this player.
Other THW Draft Profiles:
Noah Dobson – NHL Draft Projection
Dobson's season performance easily has him the conversation for the top-10. The question is where? He will likely be compared to Evan Bouchard, Quinn Hughes and Adam Boqvist. I have both Hughes and Boqvist ahead of Dobson for higher offensive upside. I have Dobson ahead of Bouchard as I think he's better all-around, but not by much. Dobson is 9th overall on my board.
Quotables
"A talented two-way defenceman that can play in all situations and stay productive. Uses his edges well and is, for the most part, a very smooth skater; however, as he gets stronger and adjusts to a more up-tempo style of hockey, he will need to work on his speed in gap-closing. Offensively, he utilizes his keen sense of awareness to be in the right spot at the right time, every time. Soft hands and a deadly shot accentuate his ability to get creative, on occasion. Rock solid defensively, his strong positioning severely limits time and space for the opposition. All-in-all, a well-rounded, reliable, and consistent defenceman that can log a lot of ice time and provide his team with a stable presence on the back end." –Elite Prospects
"Rangy, mobile defender with size and strong puck skills who sticks to his opponents like velcro. Dobson is a rare specimen for a teenage defender in that he is a big-bodied puck mover with speed who plays with poise in all three zones. He is one of the QMJHL's top scoring blueliners thanks to his ability to run a power play, dictate the tempo of a game regardless of the situation and seize opportunities that nobody else was able to identify. Dobson is a strong, agile skater with a deceptively quick first step and the ability to make sharp directional changes in open ice. Getting the puck behind pesky opponents in the neutral zone can be done with either his wheels or with hard, crisp passes, but Dobson isn't the kind of defenseman who lets his forwards take it from there — he loves to jump into openings and create or finish from areas close to the hashmarks." –Steve Kournianos/The Draft Analyst
"This draft is heavy on defensemen but the majority is on the small side. Dobson has some size at 6-3, albeit he still needs to add some bulk to his 179 pound frame. Dobson does not give up any skill as he has a tremendous outlet passing ability, distributes the puck extremely well, and has an accurate shot. Skating is far from a liability as he has strong edge work, gap control and can accelerate quickly to a high-end top gear.  All things being equal scouts and GMs will prefer the player with size and that should bode well for Dobson on draft day." –Peter Harling/Dobber Prospects
Strengths
One of best two-way defensemen available
Strong on the puck
Very smart
Excellent positioning
Under Construction (Improvements to Make)
Overall skating: top-end speed
Needs to add muscle
NHL Potential
Dobson has one of the better overall skill sets in this draft. This makes his upside that of a solid top-four defender who can play in any situation. Think he falls just short of being a franchise defenseman, but he isn't far off.
Risk-Reward Analysis
Risk – 3/5, Reward – 4.5/5
Fantasy Hockey Potential
Offence – 8/10, Defence – 9/10
Awards/Achievements
Dobson won the Hlinka gold, the QMJHL Championship and the Memorial Cup all this season.
Interview/Profile Links
Videos
https://www.youtube.com/watch?v=UZFszNblc-I