The 2018 NHL Combine has come and gone.
In the end, 101 of the top prospects completed their fitness testing on Combine Saturday. Before that, they got weighed and measured. The Hockey Writers was there from the crack of dawn until the last prospect checked in. We got your official heights and weights here.
Keep in mind prospects were weighed and measured with no sneakers on. With that said, going in chronological order, here are the results from the 2018 Combine. Feel free to use these results, but make sure you credit the Hockey Writers if you do.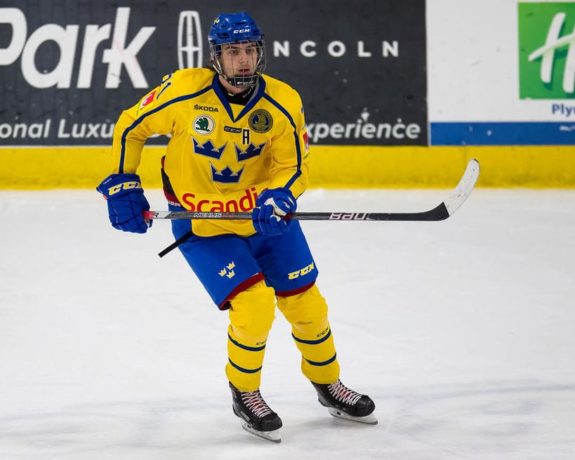 7:30 Group
Oskar Back: 6-3, 204.08
Martin Fehervary: 6-1.75, 194
Adam Ginning: 6-4, 205.8
Filip Hallander: 6-1.75, 188.38
Isac Lundestrom: 6-0.25, 183.16
Nils Lundkvist: 5-11.25, 172.94
Jacob Olofsson: 6-2.5, 189.42
Milos Roman: 5-11.75, 195.5
8:00 Group
Adam Boqvist: 5-11.5, 165.4
Lukas Dostal: 6-1.25, 166.3
Filip Johansson: 6-0.75, 175.62
Keegan Karki: 6-4.5, 216.4
Jesperi Kotkaniemi: 6-2.25, 181.46
Rasmus Kupari: 6-1.5, 188.7
Niklas Nordgren: didn't test
Rasmus Sandin: 5-11, 185.6
8:30 Group
Alexander Alexeyev: 6-3.75, 195.5
Jan Jenik: 6-1.25, 171.22
Martin Kaut: did not test
Vitali Kravtsov: 6-2.75, 184
Jakub Lauko: 6-0, 179.2
Tyler Madden: 5-10.75, 150
Sampo Ranta: 6-1.5, 199.2
Kristian Reichel: 6-1.25, 176.48
9:00 Group
Dominik Bokk: 6-1, 176
Grigori Denisenko: 5-10.75, 171.82
Nico Gross: 6-0.75, 184.6
Jordan Harris: 5-10.75, 179.2
Michael Kesselring: 6-4.25, 190.52
Alexander Khovanov: 5-10.5, 197.9
Liam Kirk: 6-0.25, 160.6
Bode Wilde: 6-2.5, 197.92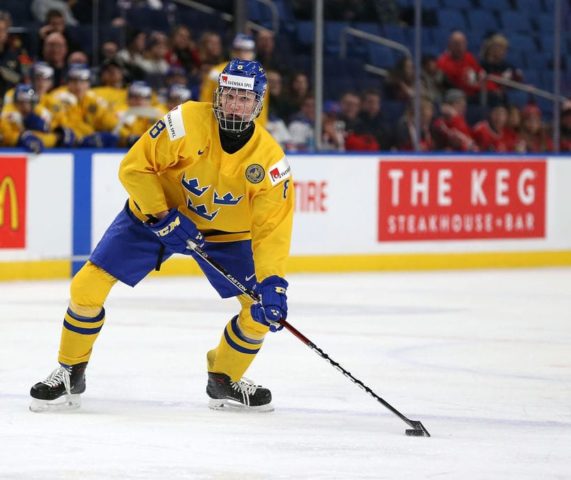 9:30 Group
Michael Callahan: 6-1.75, 190.8
Rasmus Dahlin: 6-2.75, 185.32
Cole Fonstad: 5-10, 159
Patrick Giles: 6-4.25, 200.8
Jack Gorniak: 5-10.75, 181
Jay O'Brien: 5-10.75, 176.12
Mattias Samuelsson: 6-4, 218.36
Jake Wise: 5-10, 195.3
10:00 Group
Calen Addison: 5-10, 178.22
Seth Barton: 6-2.75, 173.72
Jacob Bernard-Docker: 6-0.25, 186.8
Serron Noel: 6-5, 203.5
Riley Stotts: 6-0, 172
Riley Sutter: 6-3, 203
Jonathan Tychonick: 5-11.5, 177.44
Jett Woo: 6-0, 200.34
10:30 Group
Nicolas Beaudin: 5-10.75, 172.34
Eric Florchuk: 6-1.5, 174.9
Gabriel Fortier: 5-10, 170.2
Alexis Gravel: 6-2.75, 222.4
Luke Henman: 5-11.5, 149.6
Jared McIsaac: 6-1, 188.5
Olivier Rodrigue: 6-1, 156.24
Andrei Svechnikov: 6-2, 192.27
11:00 Group
Xavier Bernard: 6-2.5, 201.84
Xavier Bouchard: 6-3.5, 189.8
Benoit-Olvier Groulx: 6-1, 192.7
Anderson MacDonald: 6-1.75, 209.14
Kevin Mandolese: 6-4, 177.04
Ty Smith: 5-10.75, 176.1
Giovanni Vallati: 6-1.5, 184.1
Joe Veleno: 6-1.25, 194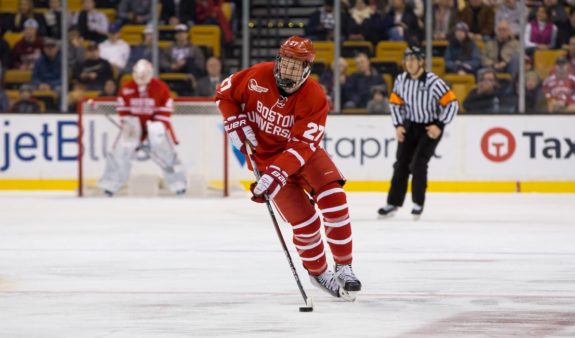 11:30 Group
Jack Drury: 5-11, 173.8
Ty Emberson: 6-0.5, 199.58
Curtis Hall: 6'2.5, 200.3
Quinn Hughes: did not test (worlds)
Matej Pekar: 6-0, 170.08
Jakub Skarek: 6-3, 192.1
Brady Tkachuk: 6-3, 191.52
Oliver Wahlstrom: 6-1.25, 208.38
1:00 Group
Noah Dobson: 6-3, 176.74
Jon Gruden: 5-11.75, 169.4
Philipp Kurashev: 5-11.75, 190.4
Blake McLaughlin: 6-0, 157.3
Jackson Perbix: 6-1, 175.9
Jacob Pivonka: 5-11.75, 201.34
Tyler Weiss: 5-10.5, 150.54
Filip Zadina: 6-0.25, 196.66
1:30 Group
Evan Bouchard: 6-2, 195.68
Stanislav Demin: 6-1.5, 189.9
Sean Durzi: 6-0, 188.06
Joel Farabee: 6-0, 161.66
Blade Jenkins: 6-1.25, 200.64
Ryan Merkley: 5-11.25, 167.5
K'Andre Miller: 6-3.25, 198.48
Alec Regula: 6-3.5, 202.76
2:00 Group
Kevin Bahl: 6-6.25, 216
Kody Clark: 6-1, 178.6
Curtis Douglas: 6-8.5, 247.7
Aiden Dudas: 5-7.25, 164.36
Barrett Hayton: 6-1.25, 190.44
Jacob Ingham: 6-3.75, 191.2
Allan McShane: 5-10.75, 184.8
Carter Robertson: 6-2, 180.68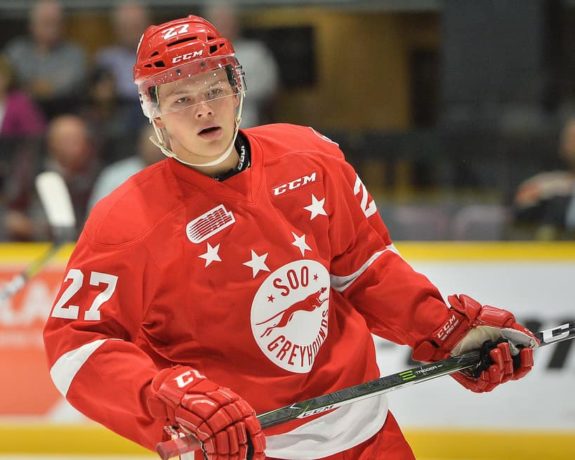 2:30 Group
Ty Dellandrea: 6-0.25, 183.58
Liam Foudy: 6-0, 173.9
Cam Hillis: 5-9.75, 167.58
Mitch Hoelscher: 5-11, 165.6
Jack McBain: 6-3.25, 200.64
Ryan McLeod: 6-2.25, 205.88
Akil Thomas: 5-11.25, 176.96