Scott Perunovich could be the most underrated defenceman available in the 2018 National Hockey League Entry Draft — a powerful statement considering he was born in 1998 and was passed over by all 30 league franchises in each of the past two drafts.
However, the 2017-18 season proved to be an incredibly successful one for the 19-year-old — a campaign which will surely ensure his selection by an NHL organization this June. In fact, Perunovich not only secured Rookie of the Year honours in the NCAA but he was named as the league's best offensive defenceman en route to a National Championship with the University of Minnesota-Duluth.
So, what makes Perunovich such a unique and unmissable talent?
Let's take a closer look.
The Scouting Report
Although his development has been slow and steady, Perunovich has progressed on a yearly basis and now stands as an excellent defence prospect.
While slightly under-sized, Perunovich boasts an unwavering engine and one which propels him around the rink with incredible force and purpose. Founded upon excellent skating abilities and nimble agility, Perunovich can make an impact at both ends of the ice and has become increasingly consistent in doing so.
In the offensive zone, Perunovich is a natural talent and flourishes. With a strong, seeing-eye shot from the point and the ability to generate rebounds for his teammates, Perunovich can pound the puck on net or lead the rush owing to his fantastic hockey sense and powerful stride. What's more is that Perunovich is a crafty passer and boasts the ability to thread the puck through traffic and onto the sticks of his teammates.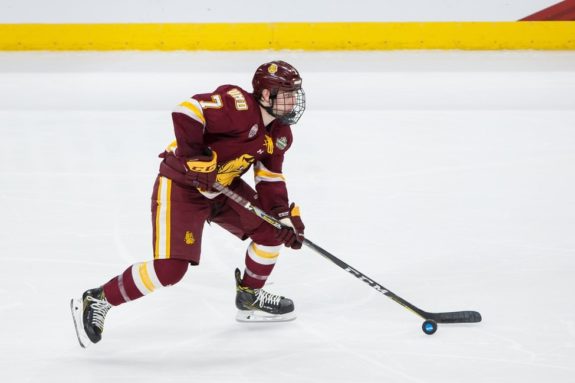 Meanwhile, in the defensive zone, Perunovich remains a work in progress. Hampered by a lack of size in recent years, Perunovich has worked diligently to bolster his strength in order to become a more stable and rigid defender. Fortunately, Perunovich's excellent skating and on-ice awareness contribute nicely to his defensive game, as speed and tact allow Perunovich to gain possession and exit his zone with relative ease.
RELATED: June's Top-31 Prospects
Sure, there is still plenty of room for improvement with regards to his overall game, however, it remains abundantly clear that Perunovich owns the potential to become an impact player at the NHL-level. Although his road to the show may prove to be a long and winding one, the NHL franchise which selects Perunovich will nab an undeniable talent and one with the ability to change the outcome of any given game at hockey's highest level.
Perunovich's Humble Beginnings
Although Perunovich stands as a promising young prospect ahead of the 2018 NHL Draft, such was not always the case.
First Year of Eligibility: A Promising Talent
In his first year of NHL Draft eligibility, which occurred during the 2015-16 season, Perunovich skated for Hibbing/Chisolm High within the United States High School circuit.
Despite his meagre frame, Perunovich's elite offensive production from the blue line impressed scouts and earned him a two-game stint with the U.S National U18 Team. Although his defensive play remained a work in progress, Perunovich's creativity and confidence with the puck overshadowed his defensive deficiencies.
Though he has been passed over in the draft before, he's destined to go in the top-75 this summer, perhaps even top-50. – Ryan Kennedy, The Hockey News
Despite notching a wildly impressive 13 goals and 68 points in just 25 games played for Hibbing/Chisolm High as a defenceman, Perunovich failed to hear his name called on draft day. However, Perunovich's campaign proved fruitful, as the growing defender earned himself a commitment to the University of Minnesota-Duluth — affording the youngster an opportunity to play for his hometown team.
Second Year of Eligibility: A Trying Campaign
During the following campaign of 2016-17 — Perunovich's second year of NHL Draft eligibility — the native of Hibbing, Minnesota took his talents to the Cedar Rapids RoughRiders of the United States Hockey League.
Playing on an eventual last-place team, Perunovich's weaknesses within his own zone were exposed with greater frequency. Although he would put together yet another strong offensive season with six goals and 21 points in 56 games played, Perunovich's staggering -35 plus/minus rating stood as a beaming blemish within a trying campaign for both he and Cedar Rapids.
Fortunately, opportunity beckoned on the horizon for Perunovich. Despite an up and down season in the USHL, Perunovich stood poised to ascend to the NCAA the following season — where a chance to establish himself as an elite yet overaged NHL prospect loomed large.
Third Year of Eligibility: The Ascension
In his rookie season in the NCAA, Perunovich came into his own — excelling on a nightly basis while providing Minnesota-Duluth with stellar play at both ends of the ice.
Seemingly more confident than in years passed, Perunovich stepped into his new team's lineup and became a force. In his defensive end, Perunovich was aggressive and calculated, dislodging pucks with remarkable frequency while utilizing his weight in particular yet effective situations. What's more is that Perunovich's already impressive skating abilities seemed to improve, allowing him to exit his zone with greater frequency and poise.
Congrats to UMD's Scott Perunovich on being the first #NCHCHockey player to win the HCA's Tim Taylor Award as National Rookie of the Year!

📰: https://t.co/a1xKTCb8tV pic.twitter.com/nVLQ3zQUox

— The NCHC (@TheNCHC) April 6, 2018
On the offensive side of the puck, Perunovich exploded scoring 11 goals and 36 points in 42 games played — a total which led his team by a wide margin and established the youngster as a lethal threat on the blue line.
Now, with his play and value as an NHL prospect at an all-time high, Perunovich stands poised for selection in the 2018 NHL Draft. Yes, it has been a long road. However, once Perunovich hears his name called, the trials and tribulations which he has endured will be well worth the wait.
Predicting Perunovich's Potential
Although he won't make an immediate impact following his selection in the coming draft, Perunovich boasts the potential to develop into a well-rounded, pack-a-punch defender at the NHL-level.
RELATED: THW's 2018 Draft Guide
With oodles of innate offensive talent, Perunovich's ability to effect the outcome of a particular contest is difficult to rival. With blazing speed, agility, and high-end hockey sense, Perunovich can tear up the ice in the blink of an eye before generating a lethal scoring opportunity. What's more is that after initiating an excellent scoring chance, Perunovich values the well-being of his own zone and is rarely caught out of position.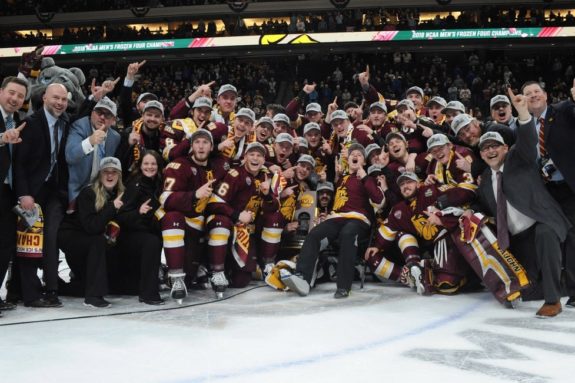 Yes, his lack of size will damage his ultimate potential in the eyes of many scouts and prospective organizations. However, the fact remains that Perunovich is a slowly developing talent yet one who could surprise many as a second or third-round selection this June.
In short, we could now be seeing the tip of the iceberg with regards to Perunovich and his future as an elite NHL talent.