Yes, the 2018 National Hockey League Entry Draft will be remembered as the year of Rasmus Dahlin.
However, this year's class is about much more than simply one player.
Perhaps no draft class has been this strong or this deep in the past decade, as the 2018 event stands ready to welcome a bevy of endlessly talented players to hockey's highest level.
RELATED: THW's 2018 Draft Guide
Following Dahlin, dynamos such as Andrei Svechnikov and Filip Zadina lead the way, while a secondary class comprised of the likes of Brady Tkachuk, Evan Bouchard, Noah Dobson, and Quinn Hughes stand poised to impress in the immediate future. Further, mix in defenders such as Adam Boqvist, Ty Smith, and Bode Wilde, and the incoming class can be defined by nothing other than professionalism and poise.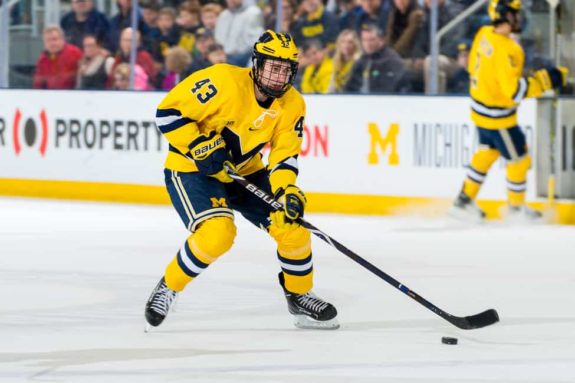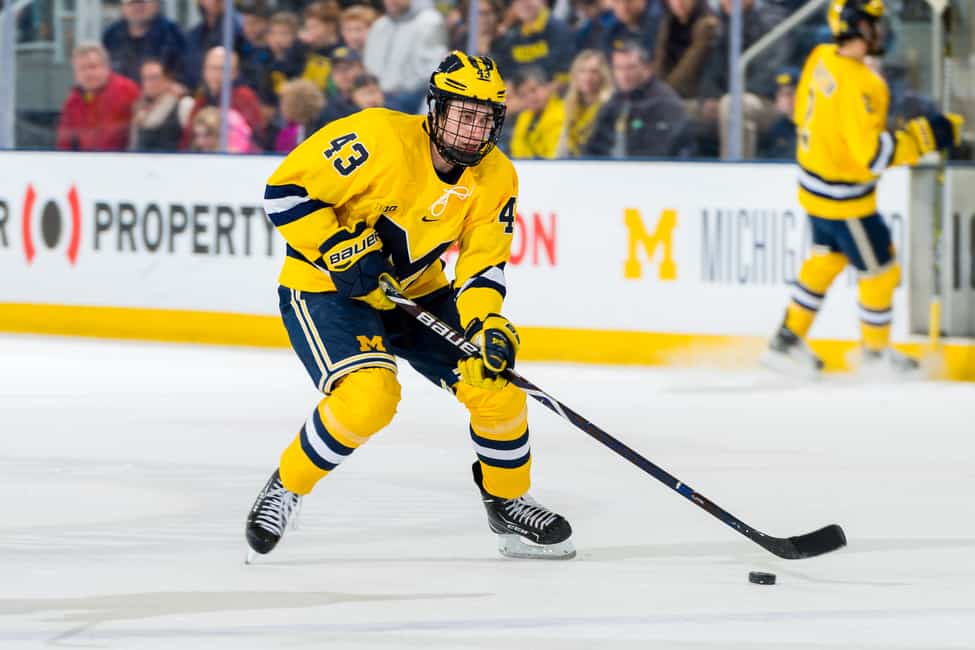 In June's top-31, a number of the players referenced above are profiled in order to garner a greater understanding of their respective talents and potentials at the next level. Further, I take a closer look at five players who could surprise on draft day, as their consistent but overlooked play throughout the 2017-18 season could very well lead to a dramatic surge in Dallas.
The Cream of the Crop
Rasmus Dahlin
He's going to be the first player selected in the 2018 NHL Draft.
And, he'll very likely be a member of the Buffalo Sabres for the duration of his professional career.
Not much can be said about Dahlin that has not already been spoken. A fearless, confident, and endlessly talented defender all at the age of 18-years, Dahlin has proven himself to be as composed as they come while also capable of adapting to stern competition regardless of where he has played. As a smooth skating defender who can read the play with ease, Dahlin's puck-handling abilities and natural two-way game will surely pave the way for a long and prosperous NHL career.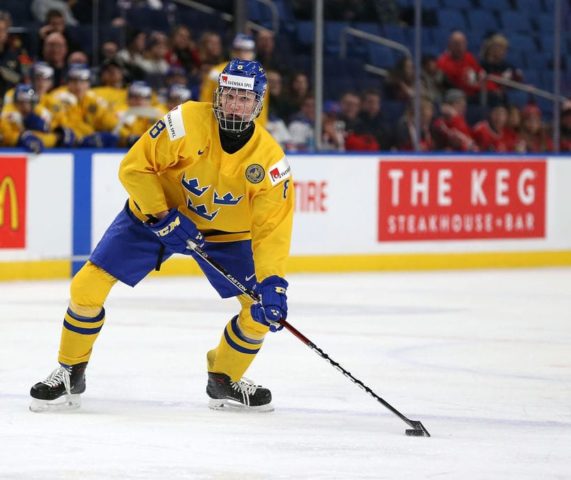 What separates Dahlin from his counterparts and cements him as the top player available, however, is the youngster's ability to meet, adapt, and overcome any obstacle placed in his path. Whether it be older and more experienced competition or the pressure of the international stage, Dahlin's play fails to waiver — in fact, it seems to only grow stronger and more dynamic.
In other words, there will be no surprise when the Sabres step to the stage on Jun. 22, 2018.
Andrei Svechnikov
Andrei Svechnikov is built for the NHL.
Not only does he boast size and speed but the native of Barnaul, Russia owns tact and creativity. Persistently dangerous in the offensive zone owing to his vision and versatility, Svechnikov can score from long-range or blast home a rebound from in close after a long and intense battle in the crease.
However, Svechnikov is most effective when he utilizes his immense size to his advantage.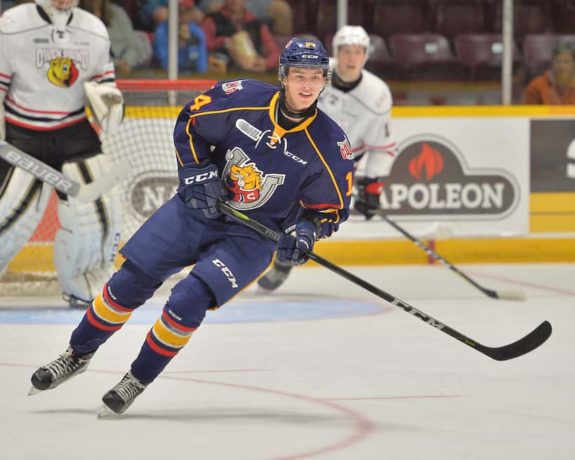 Standing 6-foot-3 and 190-pounds, Svechnikov is an intimidating force and one capable of protecting the puck with relative ease. This natural ability allows Svechnikov to drive possession for his team while creating lethal scoring chances in the process. Further, Svechnikov's size allows him to play a pivotal role in his defensive zone. Although his role and understanding of the defensive game remains a work in progress, Svechnikov's stellar two-way game will translate to success early and often at the NHL-level.
Long-lacking an elite offensive talent, Svechnikov should be scooped up by the Carolina Hurricanes with the second overall selection. Although Zadina will surely challenge him for the distinction, Svechnikov's consistency and ability to ascend to the NHL next season should dictate the Hurricanes' decision making.
Filip Zadina
Zadina stood neck and neck with Svechnikov throughout the duration of the 2017-18 campaign, only to be edged by the latter's impressive size and professional-ready style of play.
However, the fact remains that Zadina is an incredibly talented player and one who will become an elite and consistent goal-scorer at the NHL-level. Fortunately, Zadina's capabilities meet the needs of the Montreal Canadiens precisely — the franchise holding the third overall pick and one desperate for elite offensive skill.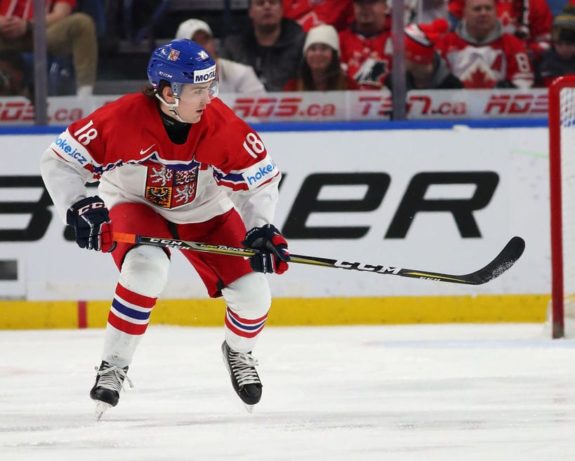 Although Zadina isn't the fastest or the strongest player available in the draft, he is by and far one of its most intelligent. Incredibly calculated with the puck on his stick and seemingly immune to turnovers, Zadina remains composed while in possession and makes the smart and correct play with remarkable consistency — an ability which often leads him to high-quality scoring chances.
It is this incredible composure with the puck which allows Zadina to create a wealth of time and space for himself while in possession. Having created separation between he and his defenders, Zadina can pass the puck with authority or label the puck on net owing to his lethal yet deceptive shot. Although his overall game remains a work in progress, Zadina could progress into one of the 2018 NHL Draft's top players in the long-term.
Five Potential Surprises
Oliver Wahlstrom
I'm not sure there is a player in the NHL today whose playing style reflects that of Oliver Wahlstrom's, as it's not very often that a player of substantial size owns quick feet and electrifying hands.
However, such is exactly what Wahlstrom brings to the table, as the native of Yarmouth, Maine is a dominating physical force who also happens to be an elite goal-scoring machine. Despite standing 6-foot-1 and 205-pounds at the young age of 18-years, Wahlstrom has established himself as an offensive dynamo owing to his 48-goal, 94-point season with the United States U18 Team in 2017-18.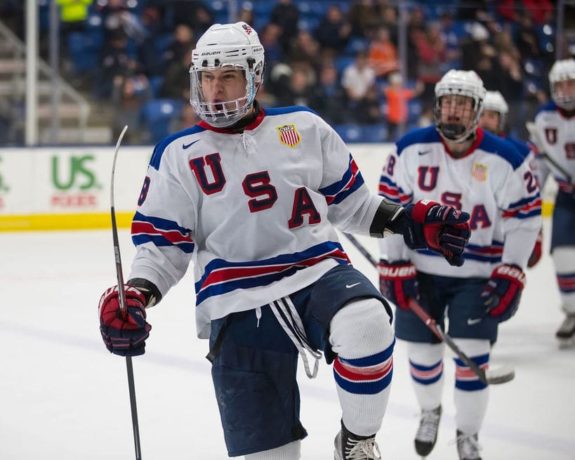 As a fierce competitor fuelled by success at both the personal and team level, Wahlstrom is an aggressive force who loves to challenge his opposition with speed, size, and skill. What's more is that Wahlstrom is an incredibly intelligent player who owns sensational hockey sense — an ability which allows the youngster to generate offence and lethal scoring opportunities from broken or seemingly dead plays.
Although his defensive game requires improvement, Wahlstrom could challenge Tkachuk come draft day and become the third forward selected in the event following Svechnikov and Zadina.
Joseph Veleno
Many have painted Joseph Veleno's draft season with a great deal of scepticism, as the youngster has arguably failed to live up to the lofty expectations of a player awarded exceptional status by Hockey Canada.
However, all hype aside, Veleno enjoyed a highly successful QMJHL campaign in 2017-18 and one which will surely ensure his selection early in the first round of the 2018 NHL Draft. No, his offensive totals were not sky-high, however, Veleno has established himself as a quality prospect of immense upside through his potent and consistent two-way play.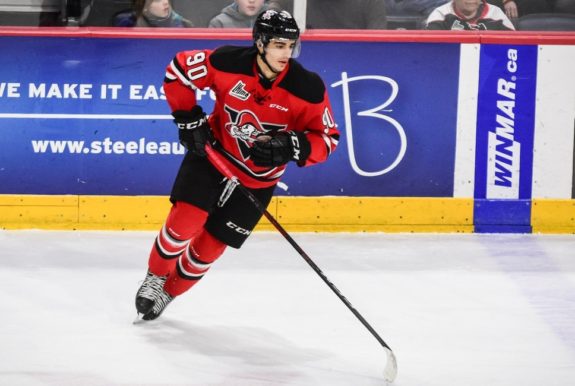 In addition to scoring 22 goals and 79 points this season, Veleno refined his play in all three zones of the ice — developing into an excellent transition player and one capable of playing a complete 200-foot game. Come draft day, Veleno could very well hear his name called as a top-ten prospect. Although he would have to leapfrog a number of other stellar prospects in order to do so, Veleno's speed, agility, and intelligence combine to make him a promising young player and excellent prospect.
Jesperi Kotkaniemi
Jesperi Kotkaniemi could be the best centre available in the 2018 NHL Draft.
In a class in which elite centres are somewhat sparse, Kotkaniemi's professional playing style and proven production against stern competition have come to separate him from his competition. Standing 6-foot-2 and 190-pounds, Kotkaniemi's strong frame allows him to protect the puck from defenders with relative ease, while his on-ice intelligence and predictability allow Kotkaniemi to foresee and adapt to plays before they unfold.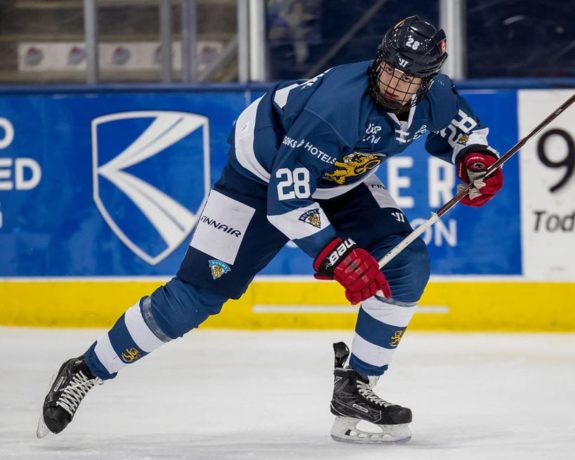 Although he boasts great vision, skating, and size, Kotkaniemi's greatest weapon is his shot. Unleashed by a quick release and overpowering in its velocity, Kotkaniemi's shot has the ability to beat opposing netminders with ease and consistency. As a late riser within this year's class, Kotkaniemi's sturdy play for Ässät has allowed him to ascend within a variety of draft rankings. While he may not be a household name, odds are Kotkaniemi will become one on draft day.
Ty Smith
Although a rough showing at the 2018 CHL/NHL Top Prospects Game in Guelph, Ontario dented Smith's draft stock, the agile defender from Lloydminster, Saskatchewan still enjoyed a remarkable season in the WHL and one which strengthened his value as a young prospect.
Agile and nimble, Smith has established himself as a premier offensive defenceman and one capable of securing his own zone. Boasting a seeing-eye shot and terrific playmaking abilities, Smith can quarterback his team's powerplay with ease while also formulating sound transitional play from deep within his own end. Further, Smith owns an active stick which allows him to dislodge pucks from opposing forwards, while Smith's quick feet and ample acceleration allow him to smother his attackers.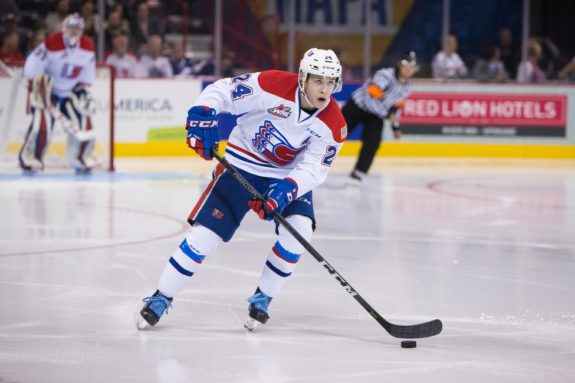 Very little separates Smith from the main pack of defenders in the 2018 class other than his size. Standing 5-foot-10 and 170-pounds, Smith isn't an intimidating force by any means. However, he does remain a sturdy player and one capable of competing against more physically mature competition. Although slated to be chosen in the 12-17th overall range, don't be surprised if Smith's ability to think the game ascends him into the top-ten.
Ty Dellandrea
Despite beginning the 2017-18 season as a likely second-round choice in the 2018 NHL Draft, Dellandrea's crafty and consistent play has lifted him well into the first round.
Defined by an unwavering work ethic and drive to succeed, Dellandrea plays a professional style of game founded upon defensive reliability and innate offensive instincts. Never willing to give up on a given play and persistent in his pursuit of the puck, Dellandrea can stifle plays devised by his opponents with relative ease before bursting up the ice to create dangerous scoring opportunities.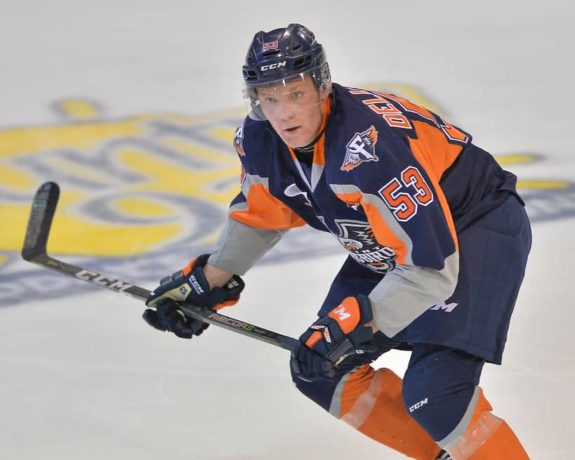 In all, Dellandrea potted 27 goals and 59 points for the Flint Firebirds in 2017-18 — a mark which stood as his team's second-best total. It is this lethality and general persistence which has dramatically strengthened Dellandrea's draft stock. Although somewhat hidden within a poor Firebirds team this season, Dellandrea proved he could persist and succeed despite a lack of accompanying talent.
The Final Ranking: June's Top-31
Well, here we are.
It's been an eye-opening few months of analyzing, rating, and grading this year's class of prospects. However, all good things do come to an end.
The 2018 NHL Draft is officially less than one month away, and anticipation surrounding the event is reaching its peak. With mere days remaining until the draft, each and every eligible top prospect has locked themselves into a particular place within my final ranking for the year — a list which highlights the very best this season's class has to offer.
However, before diving into June's top-31, be sure to look back in time to see how each and every prospect has progressed, or — in some cases — regressed. All of my rankings for the 2018 NHL Draft can be found below, and act as a wormhole into the past.
All 2018 Draft Rankings: