Isac Lundestrom
2017-18 Team: Ä Luleå HF / SHL (#37)
Date of Birth: November 6, 1999
Place of Birth: Gällivare, SWE
Ht: 6'0" Wt: 185 lbs
Shoots: Left
Position: C/LW
NHL Draft Eligibility: 2018 first-year eligible
Rankings
When anyone draws comparisons to the great Peter Forsberg, there must be a lot of hype for that player. That is certainly the case for Sweden's Isac Lundestrom.
Although he's a little lost in the shadow of fellow countryman Rasmus Dahlin, Lundestrom enters this draft as one of the leading candidates to be the first center taken. He is also expected to be the second Swedish player taken behind Dahlin. His overall body of work at such a young age helps him stand out.
RELATED: THW's 2018 Draft Guide
Lundestrom has two years under his belt playing in Sweden's top professional league. He made a nice improvement in year two doubling his goal output and tripling his assist output from year one. He looks poised and comfortable playing against older competition. He also has a knack for making plays especially around the net.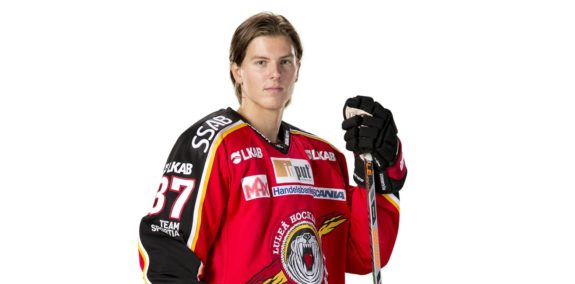 So what do we have in Lundestrom? We have a sniper who uses his creativity to score in a variety of ways. He can beat you from the circles clean or can use his soft hands to score from around the crease. He also demonstrates a level of patience rarely seen in teenagers. He can wait that extra second or two before making a decision on the right play. He's also very fast. He uses his speed to create chances and disrupt the opposition.
The thing I am not sure about to this point is just what Lundestrom is at the next level. He plays center in the SHL but looks like a more effective winger. To reach his upside of a top-six center, he needs to get stronger and must improve at the faceoff dot. He'll certainly have his chance to prove he can play center at the next level. His drafting team must keep in mind he is under contract for one more season in Sweden as he just signed an extension at the end of April. For teams who can afford to wait the time, he could be the perfect pick for them.
Other THW Draft Profiles:
Isac Lundestrom – NHL Draft Projection
Lundestrom is on the short list of centers that could be the first one off the board at the draft. That puts him anywhere from 7-15 depending which team is picking. Teams will covet the fact he has experience in a major league against men. He is a lottery pick for me checking in at 11th overall.
Quotables
"Playing smart, two-way hockey at high speeds is something you rarely see from any teenager, let alone one that receives top-six minutes in Sweden's top league. Lundestrom was far too advanced a prospect to play junior hockey, and he succeeded with an altered role for Lulea. He's fast, aggressive and loves to cause havoc on the forecheck. But don't think for one second that his speed is what makes him a tantalizing prospect – Lundestrom is very creative with the puck and can bury chances from in close." –Steve Kournianos/The Draft Analyst
"Skilled puck-distributor has shown very well as a draft-eligible player in the SHL and didn't look out of place as a draft-minus one player in the top league either. His skill set may not jump off the page, but the nuances to his game are terrific. He's the type of player you like the more you watch him. In a centre-lite draft, his stock will continue to rise. Soft hands and plus-rated hockey sense allows him to flourish in all situations. Saw his role expand in the WJC and thrived with more ice." –Cam Robinson/Dobber Prospects
"The 17-year-old is already playing a second-line role for Lulea in the SHL after a solid performance in the U-20 Summer Showcase that went a long way towards him cracking Sweden's WJC roster,  the only draft-eligible player aside from Dahlin to make the team.  By the end of the tournament, Lundestrom was Sweden's second-line center and playing a solid all-around role.  While some scouts are still not certain of his offensive upside, he has worked his way into the discussion to be the first center chosen in next June's draft." –Grant McCagg/Recrutes
Strengths
Excellent shot
Quick hands
Above average skater
Good defensively
Under Construction (Improvements to Make)
Size and strength
Faceoffs
NHL Potential
Lundestrom doesn't have the elite skill of the top of the draft, but certainly has enough tools to make a long NHL career for himself. While he can play both center and wing, I see him more as a winger at the next level in the middle six. If he reaches his upside, he can become a second line center.
Risk-Reward Analysis
Risk – 3.5/5, Reward – 4/5
Fantasy Hockey Potential
Offence – 8/10, Defence – 7.5/10
Awards/Achievements
Lundestrom scored the most points in the SHL by a U18 junior with six in 2016-17. He was also a part of the silver medal winning team for Team Sweden at this past World Juniors.
Interview/Profile Links
Videos
https://www.youtube.com/watch?v=ElWeVf83l4I