The 2018 NHL Entry Draft is only three months away and at this point in the season, scouts are well aware of who is going to be available in the first round and which selection spot they'll be available at. In this draft class, there are a lot of defensemen projected to go in the first round, including the consensus first overall pick Rasmus Dahlin. In fact, nearly 50 percent of the expected first-round draft picks play on the back end, which means the value of forwards could increase. And since there's only expected to be five left-wingers in the first round, their draft value could increase the most.
Filip Zadina
The first is left-winger Filip Zadina, who's already been labeled by TSN as "the draft's best natural goal scorer." At the 2017 World Junior Championships, he played in seven games and registered seven goals and an assist. In 53 games played with the Halifax Mooseheads this season, he's scored 40 goals and 35 assists and ranks fifth in the QMJHL for most goals scored. That's a lot of goals and it proves that his knack for scoring is one of his tangible strengths.
In a recent interview with MetroNews, Mooseheads' head coach Jim Midgley said Zadina is driven to score goals, and when the Toronto Sun interviewed Cam Russell, the team's general manager, he said his best asset is his shot.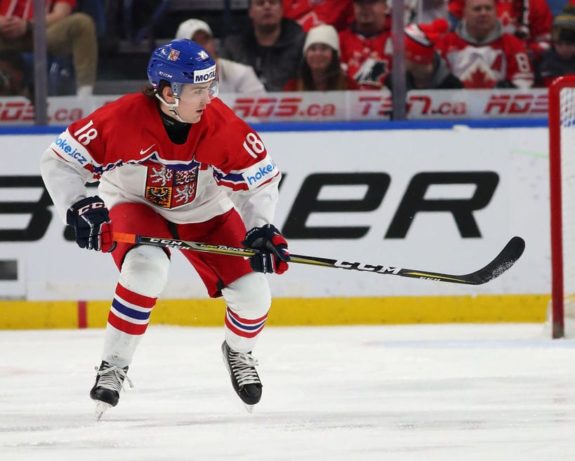 Zadina was born in the Czech Republic and raised in a strong hockey family. The influence of his father Marek Zadina, who's also the assistant coach of Ocelari Trinec (the highest domestic pro league in the Czech Republic), has helped him navigate his developmental trajectory. Originally, Zadina was drafted in the 2016 CHL Import draft by the Vancouver Giants but decided to stay in Europe to develop instead. The following year, he got drafted again but this time by the Halifax Mooseheads, and admits their reputation for producing NHL players helped him make the decision to cross the pond and play in Canada.
Brady Tkachuk
Brady Tkachuk is a centreman and left-winger who's also expected to get drafted somewhere in the top five. Although he doesn't have the same reputation for sniping as Zadina, he did score three goals and six assists in seven games when he played for Team USA at the World Juniors. But like Zadina, he also comes from a hockey family, as he's the younger brother of Matthew Tkachuk, who plays for the Calgary Flames.
Apparently, these two boys are exactly the same except Brady is better and nastier, which is hard to believe considering how skilled and vicious Matthew is. According to the National Post, even Matthew says his little brother is bigger and faster than him, which actually goes to show that he's capable of eliciting quality characteristics such as humility.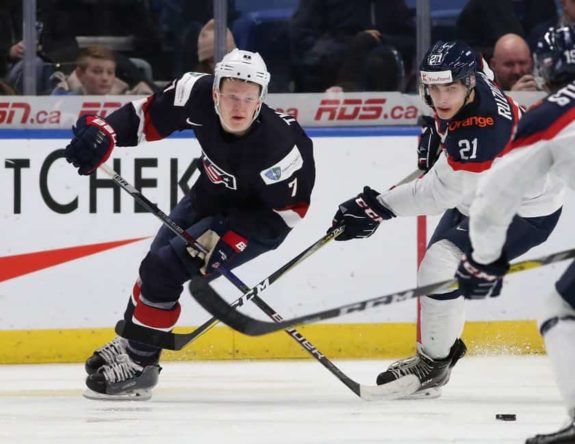 Brady is playing in his first season for the NCAA's Boston University Terriers, which is also another added bonus. Based on rookie performance trends over the last few years, players developing in the NCAA have been steadily increasing their draft value because they're starting to produce more points in their rookie seasons, than their non-NCAA-developed counterparts.
Furthermore, he's a pure entertainer, which is another commonality with his brother. If you've ever seen Brady with his helmet off, his hair looks like Will Ferrell's and if you've ever talked to him, you might be reminded of a young John C. Reilly, another American comedian. But if you've ever watched him play, he's physical and constantly gets penalties, all while having a smirk on his face.
In fact, he gets a penalty every other game and the most common are for roughing and cross-checking. In his last game, though, he got a 10-minute game misconduct which he received simultaneously with a five-minute 'contact to the head' penalty. Brady Tkachuk is certainly different than your average high-end, first-rounder because his physicality, skills, and personality have made him a natural entertainer.
Joel Farabee
Ten years ago, being under six feet tall and making it to the NHL-level was a rarity, but times are changing – guys with smaller frames are finding ways to not just stay in the game at its highest level but are thriving there and that's exactly what Joel Farabee is doing. So what makes this guy stand out if it isn't his size?
As the captain of the U.S. National U18 team, it might have something to do with his skill set and personality. According to Greg Rajanen with NHL Central Scouting, Farabee is a 'very good puck mover with outstanding vision'. But that sounds so cliche. His coach Seth Appert, on the other hand, says his high compete level is the best thing about him. He's driven to go to those hard areas most guys don't want to go and because of that, he scores more. In fact, he says Farabee is quite comfortable in those places and its because he's a tough kid.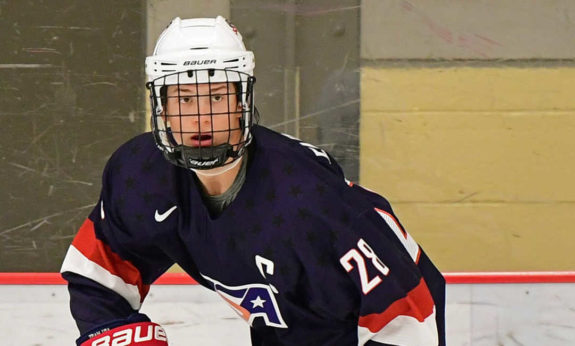 Farabee's smarts, creativity, and physicality is giving him an extra advantage in the USHL and playing for Boston University in 2019-20 will only amplify these talents. That, plus taking on extra responsibilities such as special team experience. Like many other top prospects expected to go in the draft's first round, Farabee's been getting lots of time on both the power play and penalty kill, and that's a huge skill to have in the NCAA. Appert says they've simplified their attack on the power play and since then, its been having a lot more success. Farabee is no power play phenom but the experience he's getting now will definitely help him make a smoother transition to Boston University.
Isac Lundestrom
Isac Lundestrom is a centreman first, but can also play on the left wing. He currently plays for Lulea of the Swedish Hockey League (SHL) and may be one of the top skaters in the first round in terms of speed. His coach Thomas Berglund describes Lundestrom as a natural skater who's in good physical shape and that allows him to play a lot of minutes each game. Even Goran Stubb, the NHL Director of European Scouting says he's got an excellent combination of speed, skills, and offensive instincts. And even Rasmus Dahlin says he's fast, which he pointed out after playing together at the World Junior Summer Showcase in Plymouth, Michigan last August.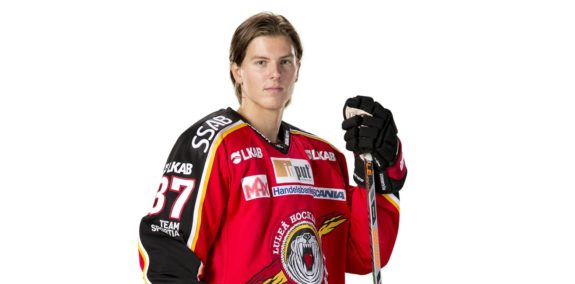 Being able to eat up a lot of minutes is also one of the reasons he can play on both the power play and penalty kill too. But Lundestrom isn't expected to get drafted in the top 10 spots. Instead, he's expected to get taken somewhere in the middle of the first round and that's because he does have a few weaknesses. A couple mentioned by coach Berglund is that he needs to improve his face-off skills and physical play, which he believes will happen over time. Another was mentioned by Team Sweden's coach Tomas Monten, who coached Lundestrom at the World Juniors, and he says he has some work to do on increasing his strength.
Grigori Denisenko
Grigori Denisenko plays for Loko Yaroslav of the MHL, Russia's top junior league (KHL affiliate). According to scouting reports, Denisenko is expected to get drafted somewhere in the mid-to-lower end of the first round. That being said, scouts have been having some challenges with seeing him play in person.
Denisenko was supposed to play in the 2017 Ivan Hlinka Memorial in August for some preliminary assessments but was injured in the first game and was out for the rest of the tournament. Scouts then got another opportunity to watch him play at the 2017 World Junior A Challenge in December, which is when ISS Hockey described him as one of the best players in the tournament. He had a pretty impressive first game, scoring three points against Canada East. Unfortunately, though, in the third period, he received a game-misconduct for making a hit to the head and got suspended from playing in the next game.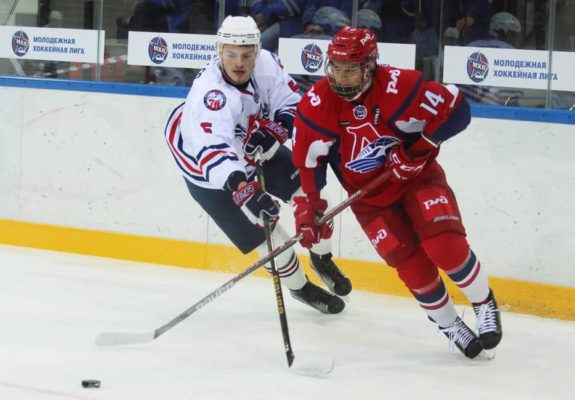 Finally, Denisenko was able to play in an entire tournament that would be scouted by North American scouts – the 2018 Five Nations Tournament in Plymouth, MI, which was held this past February. There, he scored three goals and an assist in four games. Back home in Russia, though, he's not lighting up the scoreboard with points every game. In fact, in the 31 games he's played with Loko Yaroslavl this year, he's only scored nine goals and 13 assists. The reason for this might have to do with the fact that he's being used as a depth player, and is only seeing about 15 minutes a game.
Demand for LW's Exceeds Supply
These are the expected left-wingers to get drafted this summer and by looking at their current performances and comparing them to their draft-eligible peers, they range from a couple in the top five and a few in the mid-to-lower end of the first round. However, depending on the needs of the NHL teams who're drafting in the first round and how the lottery draft falls into place, their projected draft position could increase even further.
Look at the Buffalo Sabres for example. They're in need of a left winger and they're probably going to draft one even if they sign someone on for the next couple of years. Based on their overall standings right now, they have good odds of getting a top-four pick. So do the Ottawa Senators and they too, are in need of a left-winger. This could explain why two left-wingers are sitting so high in everyone's draft rankings; the two teams most likely to get those draft selections really need left-wingers.
There's a lot of teams drafting in the first round and the demand for left-wingers will certainly be higher than just five though. This could make the draft value of Farabee, Lundestrom, and Denisenko higher than what they're projected at right now. And if the Sabres happen to get the No. 1 draft selection, Zadina could steal the spotlight from Dahlin. After all, Nico Hischier did it to Patrick Nolan last year, even though Nolan was expected to go first overall by everyone for the entire year.