Scott Darling looked like his former Chicago Blackhawks self Thursday night as the Carolina Hurricanes netted three goals to the Blackhawks' two. Darling was mobile, agile and looked to have good puck vision and reflexes. His team gave him goal support as well as good defensive support, something that has been missing in a number of his games. The 3-2 final score in regulation gave the Hurricanes two needed points, and kept them within striking distance of a wild-card spot in the Eastern Conference.
No Baggage from Francis Move
Thursday night's matchup with the Blackhawks was the first game for the Hurricanes since team owner Tom Dundon moved Ron Francis out of his role as general manager of the Hurricanes. Leading up to the game, there was speculation as to how the move would be received by the players, and whether it would adversely affect their play on the ice. The Hurricanes answered that question in convincing fashion, as they played hard, focused hockey. They did not display any signs of a team with emotional baggage dragging them down.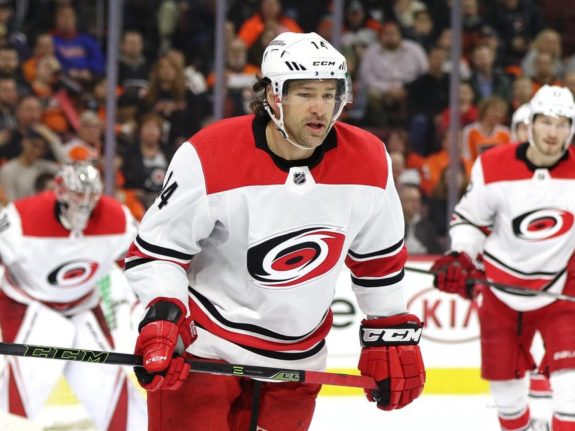 Jay Cohen in the Raleigh News & Observer wrote that Justin Williams said the management changes involving Francis are not really something the players think about when they are on the ice. Cohen quoted Williams as saying,
It doesn't affect what we do day-to-day, at all. There are no changes coming right now. Certainly he's still going to be around. It's not like we're never going to see him again. There are obviously some changes being made and our product on the ice will probably determine how many guys are left here.
William is a realist, and that helps keep the negative emotions at bay. He's good to have in the locker room during a time like this, helping the younger players stay focused.
Darling Dialed In
Darling certainly did not appear to be carrying any extra weight. He made 22 saves in the win for the Hurricanes, including some that were crucial in the later part of the game. Whether or not Darling even thought about team management moves is doubtful. He had a lot of other things that likely dominated his thoughts such as playing in front of his former teammates and fans. Also, he had friends and family in the crowd, including his mom, who was happy to see her son do well. This save certainly had to make her proud:
Stops like that against the Blackhawks' Anthony Duclair, which kept the Hurricanes in front 3-2, are essential for Darling. He has shown throughout his career as a backup for the Blackhawks that he is capable of making big saves. The Hurricanes will need him to keep them in games as they try to climb the playoff ladder.
While there is still a long way to go for Darling to win back the confidence of the fans after the poor performance he has had throughout most of the season, Thursday night showed a Darling that can play well in the NHL. If he can reset mentally, stay focused and just play like he knows how he should be fine. A lot of people have written him off, but Francis saw something when he went out and got him. Perhaps we will see what he saw if Darling begins to show consistency and improvement.
Much has been written this season about the intrigue of a situation wherein a team can be low in the standings yet still close to a wild card spot. With 14 games left on the Hurricanes' schedule, they are still only four points away from the second wild card, currently held by the Columbus Blue Jackets. Yet the 'Canes are in sixth place in the Metropolitan Division. They can still make the playoffs, but their margin for error is nearly zero.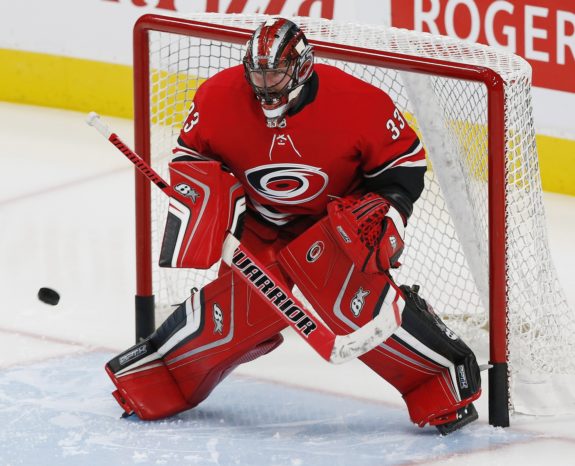 The Hurricanes will need a run like the Florida Panthers have been on to have a realistic shot. The Panthers are 14-3-1 since Jan. 30. They also have three games in hand and a goalie in Roberto Luongo who has been playing extremely well. For example, Luongo made 40 saves Thursday night against the Montreal Canadiens.
If Darling can elevate his game consistently like he did Thursday night against the Blackhawks, the Hurricanes' chase for the playoffs could go all the way to the end of the season.