Following a few disappointing seasons, the Guelph Storm have turned this season into a success with their recent playoff berth. The past few years have been rough, missing the playoffs and sitting near the bottom of the standings.
They've now proven that all hasn't been wasted over the past couple years during the team's rebuild. They've added players like Ryan Merkley, Isaac Ratcliffe, Tag Bertuzzi and Mason Primeau. Merkley and Ratcliffe have been through the growing pains over the past two years but rookies Bertuzzi and Primeau are a reminder that the rebuild is working.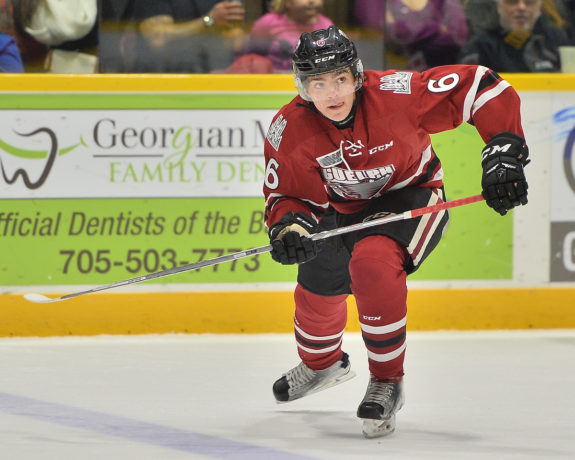 It has been an up and down season for the team with stretches where they've been seemingly unbeatable and others where they've been mediocre. Through it all, they've come together to become a dangerous team in the playoffs.
Veterans to Lead by Example
Heading into the playoffs, the Storm is a very underrated team. At first glance, the Ontario Hockey League (OHL) championship race is down to three teams: The Sault Ste. Marie Greyhounds have run away with the points race only losing six games in regulation all season; the Hamilton Bulldogs have been strong, riding the great play of Matthew Strome and newly acquired Robert Thomas; their biggest rival, the Kitchener Rangers, have come on strong recently to climb up the standings.
In order to compete with these dominant teams, the Storm will need their veterans, like Merkley, Ratcliffe, Nate Schnarr, and Garrett McFadden, to step up and play their best.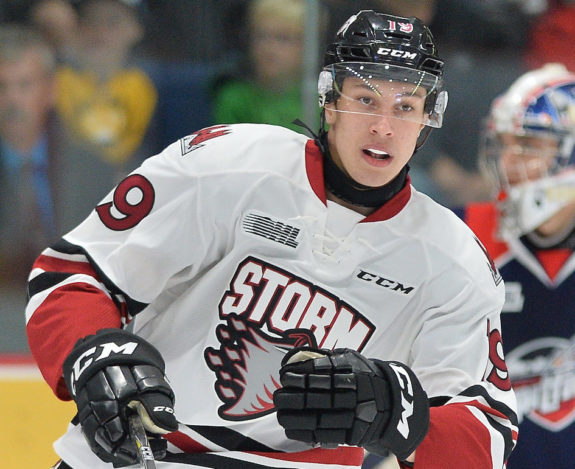 Merkley is in his second full season with the Storm and has posted career highs in assists and points. He will need to play smart at the point and also contribute offensively. Both Ratcliffe and Schnarr are in their third seasons with the Storm and McFadden is in his fifth with them and they will need to bring that experience to put together a good run.
The Storm is a young team and players are vying to solidify their spot on the roster for next season. Without any leadership, the energy can be too much and then everything falls apart. The veterans will need to come together to help lift the rookies if the Storm stand a chance in the playoffs.
Rookies Looking to Solidify Roster Spots
The Storm's roster has quite a few players playing their first season with the team. The hope is that rookies Cameron Hillis and Bertuzzi will be back in the lineup when the Storm suit up for their first playoff game. Hillis has had a great season playing alongside Ratcliffe and Alexei Toropchenko posting 54 points through 57 games.
Bertuzzi hasn't had the same success as Hillis and others mostly due to dealing with injuries for most of the season. There was a lot of hype about him being the son of former Storm hero and retired NHLer Todd Bertuzzi, as well as being drafted second overall. He displayed his skill and energy in the pre-season but a string of bad luck has only allowed him to play 41 games this season.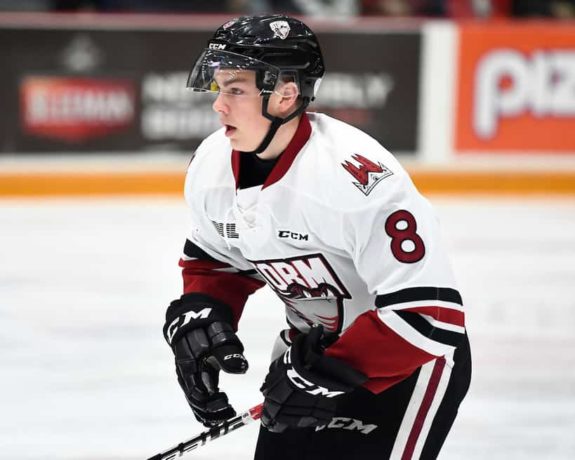 The Storm will also need other rookies like Mason Primeau, Mark Wooley, and Keegan Stevenson to play key roles. Primeau, the son of former NHLer Wayne Primeau, has proven early on that he has skills and can hit which are important in the playoffs. While he is not expected to be the point leader, chipping in and finishing his hits will go a long way.
Without bottom six scoring, the team will suffer.
Tending the Net
One of the main reasons why the Storm has a chance to compete in the playoffs is goaltender Anthony Popovich. Although at first glance his numbers don't look spectacular, Popovich has faced more rubber than any other goalie in the OHL this season by more than 100 shots. He has also played in the second most games.
Not since the OHL championship tandem of Justin Nichols and Matthew Mancina has the Storm seen such reliable goaltending. Popovich's record is 27-19-4 this season and he is tied for fifth in the OHL in wins. Even more impressive is the company he is keeping in that spot. Vancouver Canucks third-rounder Michael DiPietro is tied with him and he has quite a few more wins than highly touted Mississauga Steelheads goaltender Jacob Ingham.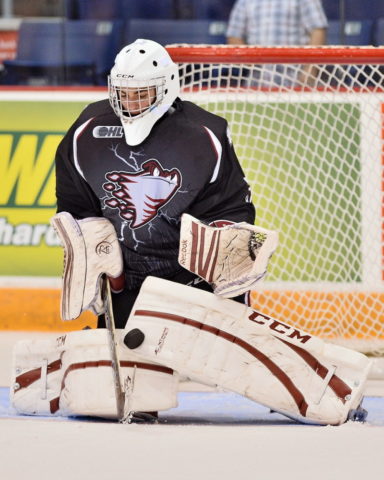 Many were calling for general manager George Burnett to make a move for a goaltender at the trade deadline. When he decided not to, many were skeptical about the team's chances. However, when you look at Popovich's play it's hard to argue with Burnett's move to stick with his goalie. There have been many games where he has stood on his head making saves he has no business making to keep the Storm in the game.
A Little Lady Luck
I am a big believer in making your own luck. While you can't control every bounce or know where to be at all times, if you play the game honestly and generate offense something is bound to go your way. The Storm has been on the opposite side, the victim of bad bounces, often this season. If they're going to make a run, they're going to need to fire shots on net and get to rebounds; they need fewer fancy plays and more dirty goals.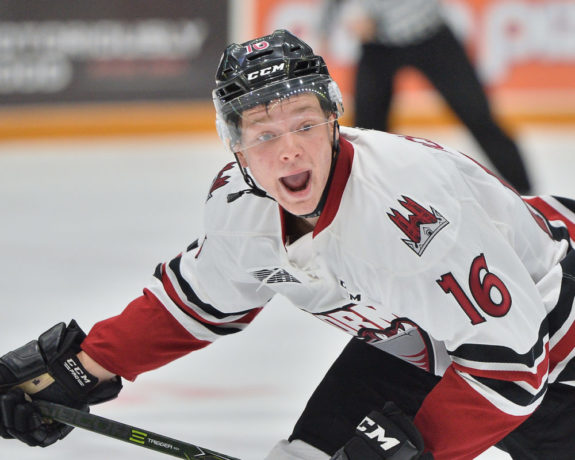 They need to get their bigger bodies to the front of the net and let shots go from the point. When they get opportunities to shoot they need to take them. Most of all, they need to clear the puck when they have the opportunity.
A betting person probably wouldn't peg the Storm to make wind in the playoffs but if they can put it all together they have the weapons to make a good run. They will need to start by winning their last couple games of the season.
A writer covering the Philadelphia Flyers and NHL Prospects. Kurtis is also a Guelph Storm season ticket holder. Feel free to contact Kurtis at @kurtiswells92, or by email at kurtiswells@rogers.com.