Rasmus Kupari
2017-18 Team: Kärpät / Liiga (#19)
Date of Birth: March 15, 2000
Place of Birth: Kotka, FIN
Ht: 5'11" Wt: 163 lbs
Shoots: Right
Position: C
NHL Draft Eligibility: 2018 first-year eligible
Rankings
The Ivan Hlinka tournament in August is one of my favorite showcases of the next wave of talent out there. It gives us our first look at someone in their draft season on a big stage. Perhaps no one grabbed the bull by the horns at the Hlinka this past season more than Rasmus Kupari.
Kupari introduced himself to the world at this tournament. It was almost like watching a live video game with the offensive skill he displayed. With seven points in his four games including two goals, his playmaking skills were a treat to watch. Whether he rushed up the ice or showed off his hands with great passing, you couldn't help but think how dynamic he could be.
RELATED: THW's 2018 Draft Guide
After the Hlinka, Kupari joined Karpat in Finland as a rookie playing against men. On that team which also had '17 draft prospect Kristian Vesalainen, they won a championship. Kupari did nothing to hurt himself throughout the season. He put together a line of 6-8-14 in 39 games and was on the plus side of +/- with +4.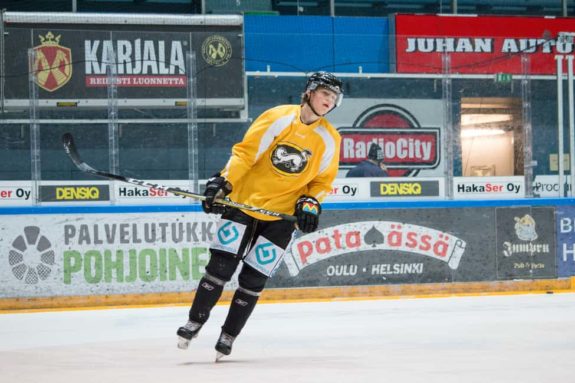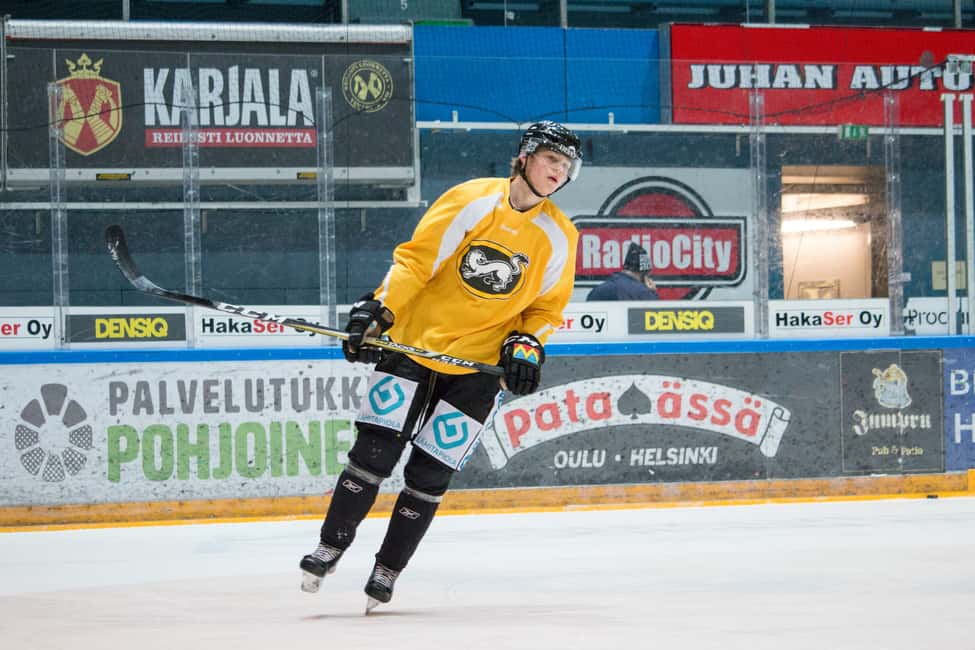 So what do we have in Kupari? We have perhaps one of the five best players in this draft in overall offensive skill. He has quick hands and can change the angle in the blink of an eye making a goaltender's job extremely difficult. He has a rocket of a shot and isn't afraid to fire from anywhere. When he has the puck on his stick, he's very aggressive in attacking the middle.
As good as Kupari's offense is, his defense is well, being worked on. He needs to get stronger especially if he wants to play center in the NHL. He also must develop consistency from game to game. Too often watching games you could see he'd let the foot off the gas. He's too talented to go invisible as often as he did. He is at least 2-3 seasons away from the NHL. But goodness, teams who invest in this young man might get a huge payoff later with proper development.
Other THW Draft Profiles:
Rasmus Kupari – NHL Draft Projection
Kupari has the talent to go in the lottery. His combination of skating, skill and finish make him one of the most attractive high upside players available. But he has a lot to go through development wise. Teams at the top could look for more immediate help which could cause him to slip. He shouldn't fall too far though. He's easily in my top-20. If he had more strength or his defense was further along, he'd get serious consideration in the top-five.
Quotables
"Super slick offensive-minded center with good size and a knack for making big plays. Kupari's highlight-reel dominance in last August's under-18 Ivan Hlinka tournament got his draft year off to an excellent start, and he hasn't disappointed with his league play as a rookie in a men's elite league. He's a very strong skater with excellent balance and agility, and he uses an array of fakes, stutter steps and rapid directional changes to expand the open ice around him and finish close to the cage. Kupari's stickhandling is among the best of any 2018 draft eligible, and he uses it to either dance through or around traffic. What sets him apart from the majority of his peers is the way he can spot and connect with the open man just seconds after dangling his way through a wall of opponents." –Steve Kournianos/The Draft Analyst
"Kupari is a highly skilled, playmaking center. He is undersized, but is a strong skater with a high hockey IQ and hockey sense that makes him a dangerous offensive player and a reliable defensive player. Kupari started his draft year with a solid showing for Finland at the Ivan Hlinka scoring two goals and seven points in four games. He started the season playing at the pro level in Liiga despite being drafted by the Sault Ste. Marie Greyhounds at the CHL Import Draft, but after struggling somewhat with 12 points in 35 games was subsequently loaned to Hermes in the Mestis. Don't be discouraged by this apparent set back as an undersized 17-year-old, undersized player it simply means Kupari needs more development time before he is pro ready. Kupari was also included on the Finnish World Junior team as an underage player, but was held pointless despite displaying his high skill set. Kupari has a high ceiling, and drawing comparisons to countryman Sebastian Aho gives you an indication of his upside, but he is a long term investment." –Peter Harling/Dobber Prospects
"Highly skilled, soft hands, top-six forward material. Inconsistent production and effort are reasons for concern." –Sportsnet
Strengths
Some of best hands in draft
Excellent shot
Great skater, excellent acceleration
Extremely creative
Under Construction (Improvements to Make)
Needs to be stronger
Work in progress on defense
Faceoffs
NHL Potential
Kupari is one of the hardest players to project at the next level. The offensive is undeniable. The defense is a work in progress. He has to fill out yet. If all things go right, he could be a force on the top-six and pot 30 goals. He's still a couple years away from the NHL, so the experience playing in Finland should help tremendously. He still needs to improve at faceoffs and other facets of the game. Normally I would say he's more of a winger at the next level, but his skill gives him a bump. He's interesting to watch the first few years post draft.
Risk-Reward Analysis
Risk – 4.5/5, Reward – 4.5/5
Fantasy Hockey Potential
Offence – 9/10, Defence – 6/10
Awards/Achievements
Kupari won a gold medal for Team Finland at the U18's in 2017-18. He was also the only 2000-born player on Karpat this past season. They won a championship.
Interview/Profile Links
Videos