Now that the smoke has cleared surrounding the Toronto Maple Leafs' general manager situation (congratulations to Kyle Dubas), the National Hockey League's seventh-best team from the regular season can set about assembling their squad for 2018-19.
No one can argue the Maple Leafs aren't loaded with top-end talent, with the likes of Auston Matthews, Mitch Marner and William Nylander anchoring one of the most productive, yet responsible, forward corps in the NHL.
Thus, like the Pittsburgh Penguins and other star-studded teams, the secret to sustained success for the Maple Leafs will be to surround their young phenoms with complementary players at reasonable prices.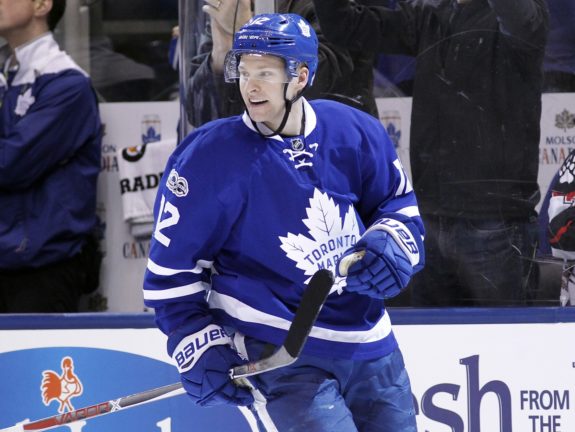 Assuming none of James van Riemsdyk, Leo Komarov and Tyler Bozak – the Leafs' most prominent unrestricted free agents – are re-signed, here are five UFA forwards the Maple Leafs should consider to bolster their depth up front.
Maple Leafs Need Realistic Expectations
First, let's lay down some criteria for this article.
No Case for Tavares to Toronto
The below suggestions are assuming the Maple Leafs don't land the most coveted free-agent forward, New York Islanders centre John Tavares. One would imagine Tavares would be searching for a long-term contract at a substantial pay raise from the pittance he's made the past six years – just $5.5 million against the cap.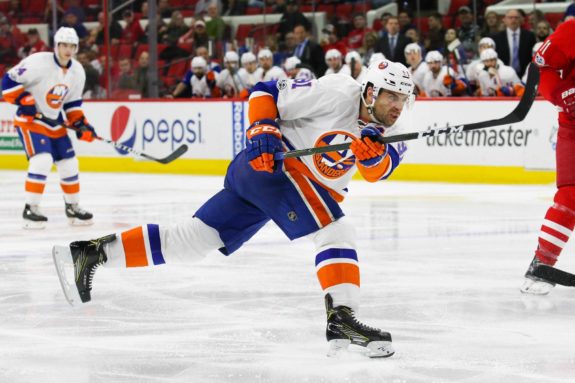 While he would make Toronto's centre depth the envy of the league, it's unrealistic to suggest the Maple Leafs can fit him in alongside their other soon-to-be-expensive offensive dynamos, given that the defense needs to be upgraded, as well.
Maple Leafs Can't Rely Solely on Prospects
Despite producing a number of solid NHL players in recent years, the Maple Leafs' farm system is still reasonably well-stocked with talent. That said, the organisation doesn't have any more Nylanders or Kasperi Kapanens in the minors; there aren't really any true slam dunks in terms of impact NHLers.
Still, it wouldn't be surprising for one or more Maple Leaf prospects to make the leap next season. Miro Aaltonen looked rather good in training camp last season, very nearly earning a spot on the big club. Swedish Hockey League standout Par Lindholm just signed with Toronto. Heck, the Maple Leafs still have Josh Leivo lying around; and he's not a prospect, he's a proven contributor!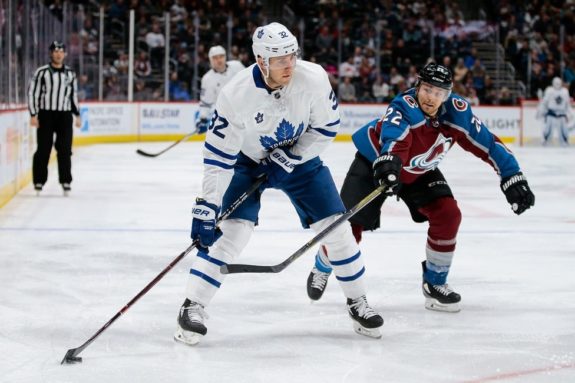 However, it'd be folly for the Maple Leafs to rely solely on internal talent to fill their needs. First, there's no guarantee said players are up to the task. Second, even if they theoretically are, Toronto would be severely depleting its minor-league system, deviating significantly – and unwisely – from the patient, nurturing approach they've used to promote NHL-ready products when the time is right.
To put it another way, it's okay to use organisational depth. It's not okay to have to.
Maple Leafs Need Depth, Want Versatility
The biggest question mark at forward for the Leafs is down the middle. They're certainly set up at the top end, with Matthews and Nazem Kadri leading the way. It's also not unusual for Nylander to take – or at least start – some shifts at centre, and the same can be said for Patrick Marleau. The Maple Leafs distributed their faceoffs over more players than most other squads, with 10 Leafs taking 152 faceoffs or more in 2017-18.
Therefore, it seems clear Toronto values versatility amongst their forwards. They'll also need to replace the power-play prowess of Bozak and van Riemsdyk, along with the significant time Komarov and fellow UFAs Dominic Moore and Tomas Plekanec spent killing penalties.
Five UFA Forwards for Maple Leafs
Thus, the Maple Leafs will be searching for one or more proven NHL forwards, who can play in a variety of situations and who come with affordable price tags.
So, who's on the market?
Brandon Pirri
Pirri tried out for the Florida Panthers this season and, somehow, couldn't make their offensively depleted team (and boy, could they ever have used him). He ended up signing with the Vegas Golden Knights, spending the majority of the year with the Chicago Wolves of the American Hockey League, putting up 29 goals and 52 points in 57 games, while shooting an incredible 15.7 percent. Then, in a two-game call up in early April, Pirri tallied three goals in two games with the big team. The man can hold his own.
Pirri's career has been a bit of an odd one but, with 60 goals in 228 career NHL games, there's no question he can contribute offensively. Normally a winger, Pirri can also play a little centre, having taken 142 or more draws in each of his four full NHL seasons. He should come cheap, too; despite shooting 12.9% for his career, the most Pirri has made in a season against the cap is $1.1 million. There are no doubt a number of factors that have contributed to his uneven NHL road but, if any team has the organisational depth and structure to make it work, it's the Maple Leafs.
David Desharnais
The pint-sized Desharnais is best known for his time with the Montréal Canadiens, when he was pressed into duty as a top-line (or close to it) centre, despite never really showing indications he was up to the task.
However, it's not as though Desharnais did nothing for the Habs; between 2010-11 and 2016-17, he averaged 0.57 points per game, which averages out to 46 points over an 82-game schedule. His 51% career faceoff success rate isn't too shabby, and the 55% he put up this past season is very good indeed.
Ultimately, Desharnais is not someone you want to be your number-one – or even your number-two – centre. However, he's consistently proven that, when surrounded by talented players and given a consistent role, he can perform adequately as a depth scorer. The Maple Leafs and head coach Mike Babcock have the ability to give him both of those things.
A rough year with the rebuilding New York Rangers should make Desharnais incredibly affordable; he made an even $1 million in 2017-18 and, with just 28 points in 71 games, he shouldn't be able to command much at all this summer. If he stays in North America, that is.
Michael Grabner
Grabner is a fascinating hockey player, lifting fans out of their seats as his otherworldly speed creates yet another of the 17 breakaways he gets each game – before, more often that not, sending them crashing back down in disappointment as he rips the puck into the goalie's chest.
Nevertheless, as hilarious as the juxtaposition between Grabner's insane speed and lack of finish is, he's put up 27 goals in each of the last two seasons. Of course, Maple Leafs fans remember him best for his nine-goal campaign back in 2015-16, during which he had to take goals any way he could get them – even off his backside.
However, that was a miserable season for the Maple Leafs in general, and Grabner himself shot a career-low 7.8%. How likely is he to repeat that?
Grabner is so much fun to watch. Plus, he's a known quantity for Babcock and the Maple Leafs organisation. With the speed of this team, I'm sure Grabner would fit right in.
Patrick Maroon
A hefty winger with a distinct presence around the net, Maroon would be a great fit for the Maple Leafs, given they'll more than likely be without van Riemsdyk come the fall.
To be clear: I am absolutely NOT saying Maroon is a replacement for van Riemsdyk. What I am saying is that he can replace some of what van Riemsdyk brought to the Maple Leafs' offensive game, at a fraction of the price.
Maroon's expiring contract was for $2 million per season against the cap, and he likely won't get a whole lot more this offseason. That'd be a pretty good deal for someone with 44 goals and 85 points over the past two seasons.
Tomas Plekanec
Considering how good he looked in the playoffs, why not take a run at re-signing Plekanec? After a rather inauspicious start to his Maple Leafs tenure, Plekanec really stepped up his game after Nazem Kadri was suspended in the First Round against the Boston Bruins.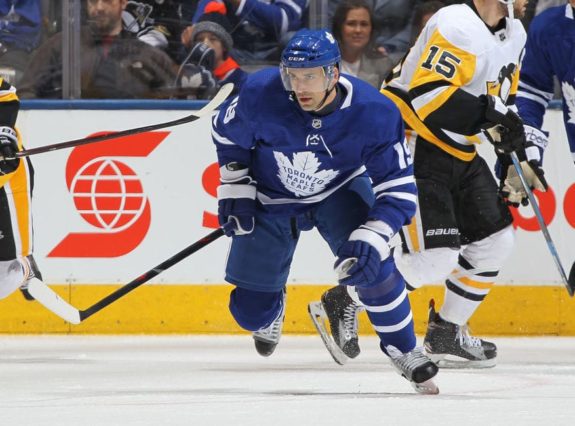 The concern regarding Plekanec would be his age (he'll be 36 in October) and his declining production (he hasn't scored more than 28 points in either of the past two seasons). That said, the more he played in a given game with Toronto, the better he seemed to get. Plus, the 53.3% faceoff percentage he had in 2017-18 is certainly nothing to sneeze at.
Sure to take a sizeable haircut from the $6 million he earned against the cap this year, Plekanec could be a perfectly serviceable depth centre for the Maple Leafs for a season or two, able to play up and down the lineup and in all situations. The Leafs would know exactly what they're getting, which is more than can be said for most UFAs. Plus, his familiarity with the organisation – and that of the organisation with him – should mean a smoother integration than bringing in someone external.
Maple Leafs Have Good Problems
Needing to fill roles in a supporting cast is a good problem to have. For years, the Maple Leafs floundered, desperately in search of top-flight forwards – particularly a first-line centre.
They've now got an embarrassment of riches at the top end of their lineup, and simply need some solid, reliable, budget-friendly players to plug in around them.
There are plenty of options out there. Let's see what Dubas can do.