Liam Foudy
2016-17 Team: London Knights (#18)
Date of Birth: February 4, 2000
Place of Birth: Scarborough, Ontario
Ht: 6'0" Wt: 161 lbs.
Position: C
NHL Draft Eligibility: 2018 first-year eligible
Rankings
NHL Central Scouting: 19th (among NA Skaters)
Future Considerations: 52nd
McKeen's Hockey: 82nd
He was a first-round pick by the London Knights in the 2016 OHL Priority Selection, but Liam Foudy didn't really breakout at the OHL level until the second half of the 2017-18 season with the Knights. The team has a tendency to play their older players – filling in the extra minutes with younger guys. That could be part of the reason why Foudy took a little longer to develop.
That said, he had 15 points in 58 games and limited time as a rookie coming out of the Markham Majors program. But, following the trades the Knights made at the deadline in 2017-18, Foudy found himself a new role with the young rebuilding squad.
RELATED: THW's 2018 Draft Guide
As a result, Foudy exploded for 24 goals and 40 points in 65 games in his second season with the Knights. While the team wasn't poised to go far in the playoffs, they did set themselves up nicely for the future – including Foudy is should take on an impactful leadership role in 2018-19.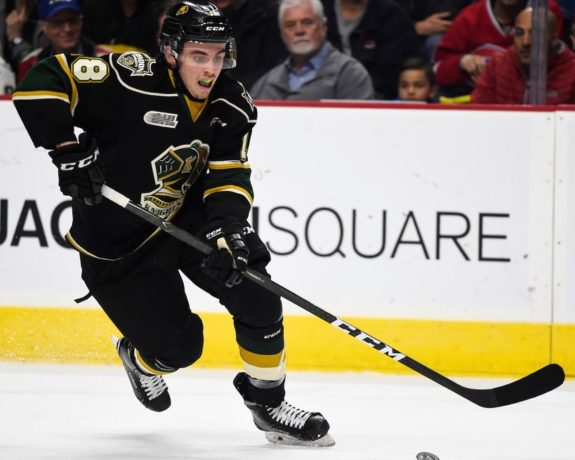 As for the near future, Foudy is set to be part of Canada's U18 team and should get a chance to show his skill and hockey prowess on the bigger ice surface. Regardless of what he does at the tournament, Foudy should be considered a mid-round sleeper in this year's NHL Draft.
Other THW Draft Profiles:
Liam Foudy – NHL Draft Projection
While some have him ranked somewhere in the first two rounds, Foudy's draft position could depend on how much teams bought into his late season surge in 2017-18. Even if he does fall to the third round (or fourth), he'll make a team quite happy with what he has to offer. That said, he should go in the 75 to 85 range.
Quotables
"Really capitalized on the opportunity to earn more ice time after the Knights traded away a large contingent of their veteran forward group at the deadline. First thing you notice about Foudy is his blinding speed. Already one of the best skaters in the OHL and has to be considered among the best in this draft crop. But his confidence with the puck and ability to create through prolonging puck possession really surprised me in the second half.
He has the ability to control the puck at full speed and actually possesses a fair amount of creativity with the puck. He's often compared to speedster teammate Alex Formenton, but Foudy actually possesses slightly more puck skill and poise, in my opinion, at least when comparing their draft eligible seasons. His production as part of a dynamic all draft eligible line (with Moskal and Dunkley) was perhaps the main reason why London continued to play well down the stretch. For me, the physical intensity needs to be more consistent. I want to see him attacking more without the puck, using that speed as an asset in pursuit, just as much as he does with it. Had a rough playoffs, in my opinion, but excited to see how he performs at the U18's on the big ice. Can really solidify himself as a second-rounder with a strong performance at that event." – Brock Otten/OHL Prospects
"Foudy is an excellent skater with excellent acceleration and top end speed. It's a well camouflaged separation gear that makes him so dangerous one-on-one. Early in the season, it appears he wasn't always making the right decisions. It's as though someone flipped a switch and his brain caught up to his speed. … Foudy also has a decent shot, but he won't overpower goaltenders. His 24 goals on the season came on just 136 shots, good for a 17.6 shooting percentage. If he is going to continue to grow as a centreman, he will need to improve on his face-offs. He was just 121 for 257 on the dot, or 47.1%." – Dominic Tiano/OHL Writers
Strengths
Skating
Puck possession
Shot and accuracy
Under Construction (Improvements to Make)
Physicality
Consistency of play
NHL Potential
It will depend entirely on Foudy's ability to develop when it comes to his NHL potential. If he can work on his consistency of play, he has the ability to become a top-six forward. Quietly, he can skate with the best of them, but it will take a better effort in his all-around game to reach that kind of potential at the NHL level.
Risk-Reward Analysis
Risk – 3.5/5, Reward – 4.5/5
Fantasy Hockey Potential
Offence – 8/10 Defence – 8/10
Awards/Achievements
While he doesn't have a lot to show when it comes to recent awards and achievements, Foudy did win the OHL Player of the Week award earlier this season. If he can continue to play the way he did late in the season, there will surely be many more of those in his OHL career before he makes the jump to the big leagues.
Interview/Profile Links
Videos