Alexander Alexeyev
2017-18 Team: Red Deer Rebels (#4)
Date of Birth: November 15, 1999
Place of Birth: St. Petersburg, Russia
Ht: 6'3″ Wt: 190 lbs
Shoots: Left
Position: Defenseman
NHL Draft Eligibility: 2018 first-year eligible

Rankings
For some reason, European defensemen have developed the reputation for excelling at the finesse game but shying away from the physicality that has punctuated the North American style of hockey in recent years – Philadelphia Flyers defender Ivan Provorov might be the best example of a player that combines both styles effectively. It may sound contradictory, but one of the best compliments one can pay to Red Deer Rebels defenseman Alexander Alexeyev is that he doesn't really play like a European defenseman. One of the most effective and dependable import blueliners in the Western Hockey League, he's eligible for selection in the 2018 NHL Draft and boasts a very balanced skill-set.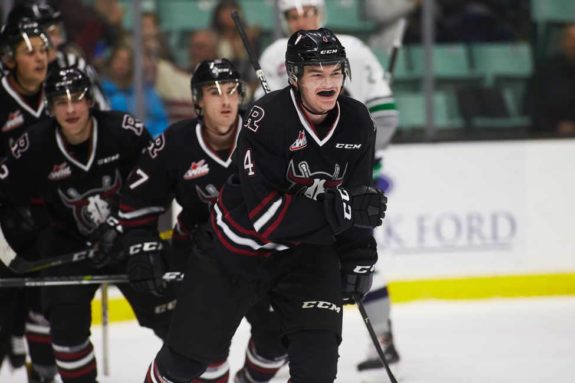 There are two notable traits that Alexeyev possesses that likely make him a tantalizing option for NHL clubs: his size and his particularly low-risk playing style. Alexeyev is a big kid, standing 6'3″ and weighing 190 pounds. He's big and uses his size well, but his size isn't a hindrance; he has mobility you wouldn't expect from a guy his size, and his on-ice awareness has helped him adjust very quickly to the smaller North American ice after growing up on the larger European playing surfaces.
But the exciting thing about Alexeyev may be how low-risk he is. On the defensive side of the ice he's rarely out of position and never really gets caught in a misstep. On the offensive side of the game he rarely makes risky plays and so he doesn't cause a lot of turnovers. The downside to his lack of risk-taking is he might not have a high offensive upside, but his lack of defensive warts might make the sum of his traits worthwhile.
The X-factor for Alexeyev is his health. He's been good when he's been in action, but through his first two seasons with the Rebels he missed a combined 58 games – primarily due to injury, but also because of attending World Junior camp. (He also missed time because his mother passed away.) He's been good when he's been dressed, but a lack of a consistent body of work may make some teams hesitant in committing to him too early in the draft.
Related: THW's 2018 NHL Draft Guide
A lot of time European players have been characterized as one-dimensional. While that characterization is probably unfounded, Alexeyev defies it with his well-rounded, multi-dimensional game. He might not have a high ceiling with his offensive play, but he plays a smart, dependable, poised style of hockey. If he can stay healthy, continue to develop physically and maybe become comfortable taking a few risks with the puck, he could become a very productive NHLer.
Alexander Alexeyev – NHL Draft Projection
Alexeyev's skills and size likely place him somewhere in the late first round. Some concerns about his injury history might bump him into the very early second round, though.
Quotables
"He missed a lot of time last year due to a knee injury, so we were erring on the side of caution when starting him as a B-rated player… In my last viewing, he must have played 35 minutes in a game that Red Deer won in overtime. He's a real solid player in all aspects of the game. He has the size and is a skater who can carry the puck and gain the zone. He makes good passes, has a good stick defensively." – John Williams, NHL Central Scouting Service
"Red Deer head coach Brent Sutter isn't easily impressed, but Alexeyev has done it all for the Rebels in what has been a difficult first half. While he doesn't overly impress in any one area, he's been admittedly overplayed by Sutter." – Sam Cosentino, Sportsnet
"One of the first things noticeable with Alexeyev is how fluid his skating is for defenceman of his size. His big, long strides help him take up a lot of space on his defensive zone coverage and when he skates the puck up ice. Soft hands when making cross ice passes to defence partner or to streaking forward. Can put the pass right on the tape and likes to play the game at his own pace taking time to regroup in his own zone. Does well keeping his stick in passing lanes and good at breaking up odd-man rush. Good puck control especially when puck is bouncing or rolling. Would much rather pass the puck and move it up ice than skate it up. Needs to add physical part of his game." – Marshall MacKinder, Hockey Now
Strengths
Has a big frame and uses his size well
Strong situational awareness on both sides of the puck
Effective passer and puck distributor
Under Construction (Improvements to Make)
Jack of all trades, master of none (yet) – he arguably hasn't developed any "elite-level" attributes
His repeated injuries may lead to fragility concerns
He could stand to be more aggressive with the puck and take a few risks to create offense
Other 2018 NHL Draft Profiles
NHL Potential
Alexeyev projects as a solid two-way defender with a physical streak. Think Michael Stone, except with potentially more offensive upside.
Risk-Reward Analysis
Risk – 1.5/5, Reward – 3.5/5
Fantasy Hockey Potential
Offense 8/10, Defense 8/10
Awards/Achievements
Alexeyev represented Russia at the World Under-17 Challenge, the Under-18 Worlds, the Ivan Hlinka Memorial Tournament and the Super Series. He captured a silver medal at the U-17 tournament.
Interview/Profile Links
Videos