Jacob Bernard-Docker
2017-18 Team: Okotoks Oilers (#24)
Date of Birth: June 30, 2000
Place of Birth: Canmore, Alberta
Ht: 6'1″ Wt: 172 lbs
Shoots: Right
Position: Defenseman
NHL Draft Eligibility: 2018 first-year eligible

Rankings
It seems like in every edition of the National Hockey League's entry draft there's a handful of standouts from Canada's junior A circuits who earn a lot of attention from scouts and analysts with gaudy offensive numbers. The 2018 NHL Draft doesn't have a runaway best junior A representative, as 2017 did with fourth overall pick Cale Makar of the Alberta Junior Hockey League's Brooks Bandits.
But there are three strong players vying to be the top junior A player taken this year, including the Ontario Junior Hockey League's Jack McBain and the British Columbia Hockey League's Jonny Tychonick. The third contender, Okotoks Oilers defender Jacob Bernard-Docker, can be described as a "poor man's Makar" but that's not meant as a slight – Bernard-Docker is a pretty exciting young player.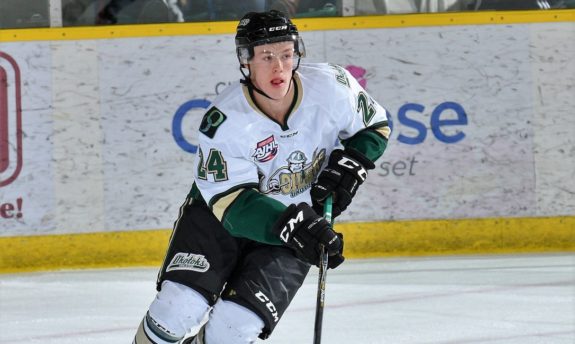 There's a lot to like about Bernard-Docker's game. He's a very good offensive player, boasting strong situational awareness, good hockey sense, high-end mobility and a cannon of a slap shot from the point. He jumped from seven goals as an AJHL rookie to 20 goals by virtue to gaining confidence in his shot, a prime factor in his overall offensive jump this past season. He's an effective puck distributor, too, and has become a very potent power play quarterback at the AJHL level due to his passing and offensive awareness.
On the flip side, Bernard-Docker takes a lot of chances in the offensive zone and pinches quite a lot. He's smart and speedy enough to not get caught pinching too often at the AJHL level, but he might not be able to gamble as much at higher levels where his opponents will be stronger. He's also not a physically thick young man yet – though he's still growing into his body – and he might struggle in a setting that has more of a grinding, physical style of play.
Related: THW's 2018 NHL Draft Guide
Bernard-Docker isn't quite as dynamic or well-rounded as Makar, but he's no slouch of a prospect due to his smarts and offensive upside. He carries the usual concerns about junior A offensive production translating to high levels, but he's committed to the University of North Dakota and will have time to round out his game there as part of a strong collegiate program. He's more of a long-term play than many of the defenders in the 2018 draft class, but he definitely has some nice upside for a patient NHL organization.
Jacob Bernard-Docker – NHL Draft Projection
Bernard-Docker is one of several players that fits into the amorphous blob of talent that could go anywhere from early second round to the middle of the third round. He definitely has the talent to be an early second round selection, but his long developmental runway as a college-bound player might see him slide a bit.
Quotables
"The first thing that stands out is his skating, his quickness, his agility… At 6-foot-1 and maybe 185 lb., he has really good balance on contact, when he's battling in the defensive zone. And then he has such composure and high hockey IQ. He's a very smart hockey player. He reads the play so well. It seems like when the game is in progress, Jacob seems to be about five seconds ahead of the play with his anticipation and vision." – Brad Robson, Okotoks Oilers president of hockey and business operations
"Solid two-way defender with a hard shot and mobility who helped anchor Team Canada-West's top pairing alongside speedy puck mover Jonathon Tychonik, who will be his teammate at the University of North Dakota. Bernard-Docker is a fluid skater with quickness and a smooth stride who looks poised and calm with the puck. It wasn't an easy scenario sharing the same blueline with a partner with a similar skill set, but Bernard-Docker understood his role and acquiesced most of the attacking responsibilities while ensuring he managed the puck properly. From an offensive standpoint, Bernard-Docker is one of Junior A's better power play quarterbacks, and his ability to whip the puck around the horn with accuracy and authority was evident in Truro. He still gets caught out of position, especially up high when he roams too far from his slot duties. Compounding this problem is that he doesn't seem strong enough to out-muscle forwards of various sizes who beat him to the ever-important spot near the crease. Nonetheless, he has unlimited potential as a puck distributor and should be expected to compile points." – Steve Kournianos, The Draft Analyst
Strengths
Hard, accurate shooter
Effective puck distributor
Excellent mobility
Under Construction (Improvements to Make)
Will need to fill out physically to survive pro-level battles
Doesn't play particularly physical or mean
Occasionally over-commits offensively and has to scramble back
Other 2018 NHL Draft Profiles
NHL Potential
Bernard-Docker projects as a second pairing defender who makes his offensive hay on the power play.
Risk-Reward Analysis
Risk – 1/5, Reward – 3.5/5
Fantasy Hockey Potential
Offense 7.5/10, Defense 7.5/10
Awards/Achievements
Bernard-Docker represented Canada at the World Junior-A Championship. He was named the AJHL's Most Outstanding Defenseman in 2017-18.
Interview/Profile Links
Videos