The Boston Bruins' postseason has been plagued with inconsistencies. There's the first line, which has dominated in some games and been silent in others. The second line features a phenomenal showing from rookie Jake DeBrusk but his linemates, David Krejci and Rick Nash, have not been up to par. The third line throws hits—mostly by David Backes—but hasn't been able to muster much else.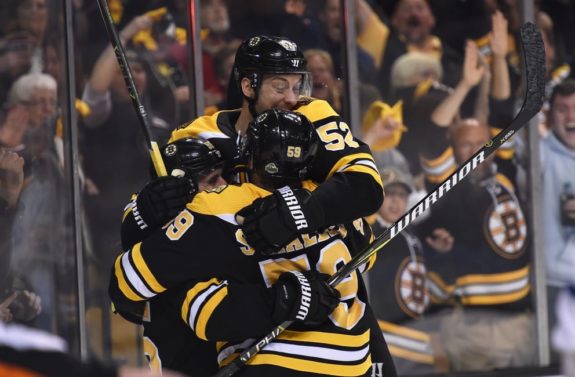 Then there is the Bruins' fourth line, which has shown up in spades during the first nine games of the 2018 postseason as well as the 2017-18 season as a whole. While they haven't exactly been notorious for appearing on the scoresheet, they have sustained plenty of pressure and accumulated momentum for Boston.
Sean Kuraly
Sean Kuraly, who centers Boston's fourth line, has been impressing Bruins fans since his four-game performance against the Ottawa Senators in the first round of last year's playoffs. While the then-24-year-old registered just two goals during that series, they were two of the biggest goals he has scored to date.
Both goals came in Game 5 with the Bruins on the brink of elimination. Kuraly notched the game's pivotal tying mark in the late stages of the second period before a scoreless third frame sent the two teams to overtime. He then potted the game-winner in the second overtime, forcing a Game 6.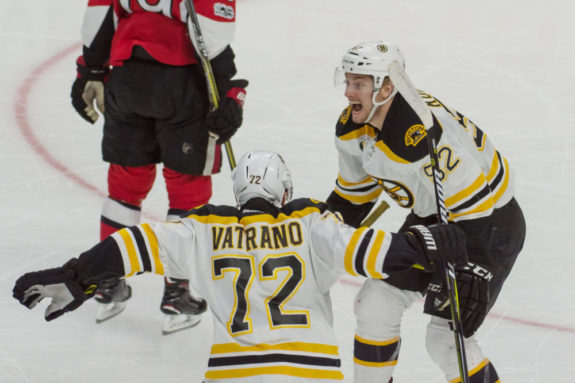 This postseason, Kuraly has already racked up some points with two goals and two assists in this year's first round against the Toronto Maple Leafs. Though he has yet to produce throughout the first two games of the Tampa Bay Lightning series, it must be remembered that his role is not to score goals.
Though it is expected for the fourth line to pitch in on offense, their real role is solid defensive play and physical endurance. Kuraly is not afraid to smash opponents into the boards and has displayed sheer speed on the forecheck. He will zip into the zone and break up plays behind the opposition's goal line. Even if he fails to get his stick on the puck, he winds up rushing the defenseman into making a quick pass which opens the door for his teammates to swoop in and steal possession.
Oftentimes the center's effort can go unnoticed considering the star power and goal-scoring capabilities of his fellow rookies featured on this year's Bruins team. However, what is most impressive is how Kuraly's game complements that of his linemates.
Tim Schaller
Holding down the left wing of the Bruins' fourth line is Tim Schaller. The 27-year-old played in just his first 82-game campaign this past season, contributing 12 goals and 10 assists to Boston's cause.
This postseason, Schaller has registered just two assists in nine appearances, but with an average of 10:49 of ice-time-per-game, those numbers aren't all that shaky. Plus, like Kuraly, Schaller's role is not to score but to bring a high-velocity style of play to his game.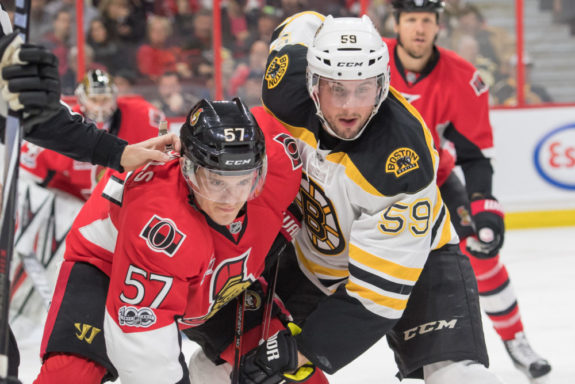 Schaller packs a punch with his physicality, throwing hits whenever he is handed the opportunity and always finishing his checks—he has dished out a total of 14 so far this postseason. Like Kuraly, he uses his speed to get in on the forecheck, often times streaking in as the second wave to pick up a loose puck spitting out in his direction.
Better yet is Schaller's ability on the breakout from Boston's own end. He rarely commits a turnover at a critical juncture, and considering the line's forechecking ability, ensures that his dump-ins travel deep into the opposition's zone. It's small plays like this that often get overlooked but gives the Bruins' fourth line its most defining characteristic: consistency.
Noel Acciari
Noel Acciari has carved a spot out for himself along the fourth line's right wing. With just 108 appearances across the past three NHL seasons under his belt, the 26-year-old is finally coming to fruition. He posted 10 goals and one assist in 60 games during the regular season paired with a goal and an assist this postseason.
Similar to Schaller, Acciari takes the body whenever he can. He has eclipsed his fellow winger two times over with 28 hits during this year's playoffs. A prime example came in Game 2, where the Rhode Island native took a big hit himself. Instead of retaliating right away, Acciari wisely waited for the Tampa Bay player to take control of the puck before kindly ushering his nose to the playing surface.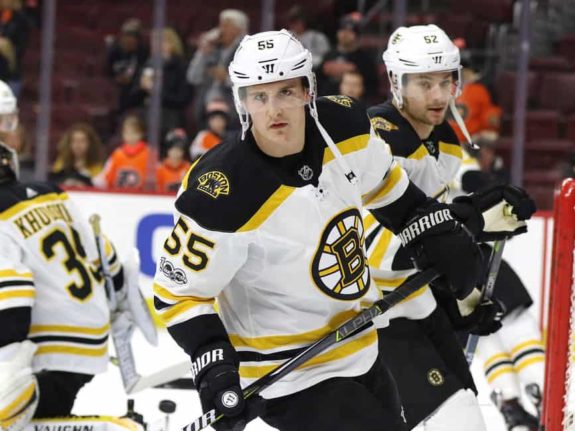 The 5-foot-10-inch forward is also strong in his own zone, never giving the opponent's point men enough time and space to wire a slap shot. He also isn't afraid to sacrifice himself displayed by his 41 blocks during the regular season.
Acciari, partnered with Kuraly and Schaller, has provided a glimmer of hope throughout Boston's shaky first nine games this postseason. Their play has even earned them the right to take the game's first shift quite often for the Bruins during these playoffs.
It is widely known that to find success in the NHL's second season, a team needs all four of their lines firing on all cylinders. The fourth line is there. Now the rest of the Bruins need to follow suit.