Time and distance offer a natural opportunity to reflect upon a past life-changing experience. When that experience is a positive one that brought forth joy, you often recognize it as both rippling and seemingly endless in how it has touched your life and the lives of others. Cayla Barnes, the youngest member of USA's women's hockey gold medal winning squad at the 2018 PyeongChang Winter Games, is still seeing how she and her teammates' success continues to inspire others, and will continue to do so for an indefinite period of time. Likely, forever.
"It's really special for us," Barnes said. "I think that we were really surprised at the reaction when we came back to the States. We knew that it was a big deal, obviously. We hadn't brought the gold in 20 years, which was something that we were focused on. But we really realized the magnitude of the success and what it brought to the United States, so it was really cool to come back."
The 5-foot-1 defender turned 19 years exactly one month before the PyeongChang Games got underway. As the youngest and most diminutive skater on USA's roster, you would never know it by the way Barnes plays the game of hockey. A warm smile upon her face that is reflective of her heart, she can skate like the wind and seemed far more veteran in her decision making on ice during the Games themselves. Wise beyond her years.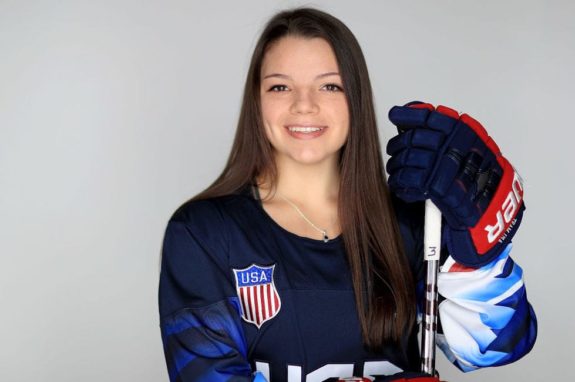 THW had the opportunity to speak one-on-one with Barnes a few months now after her return to the States from South Korea. She reflected, shared, and discussed her hopes for the future. Likely you were already captivated by the performance of she and her teammates in PyeongChang. You will be even more so when you read what she had to say looking back. Barnes continues to "grow the game" for young hockey players just by being herself and exuding a genuine care for youngsters.
Preparing for Her First Olympics
Barnes played in all five of USA's games at the competition in PyeongChang. For a team that carried seven defenders, it is a tribute to her skills and ability level that this young blueliner was such an integral part of the defense corps. Furthermore, of those seven defenders Barnes was one of just four to be a plus-player by the end of the Olympics as a plus-three – tied for second best on the team. In the gold medal game alone, she skated for 30 shifts and had over 19 minutes of ice time – more than two other USA defenders. A teenager being utilized in seemingly the most important hockey game that could possibly be played.
Better yet, Barnes looked completely at ease throughout the entire tournament. From prelims to the gold, she held her own in every situation on the ice. A sizable portion of her comfort level, however, Barnes attributes to the paramount factor of having veteran Olympians on the team and the guidance that they imparted to the younger players.
"Leading up, I definitely think the best advice I got was from my teammates, especially the ones that'd been there before," Barnes explained to THW. "We had a few three-time Olympians that had been to various Games, so they gave a lot of the first time Olympians a lot of really good advice. Just to have fun. I think that was probably the biggest thing. Enjoy the moment, have fun. You only get to the Olympics maybe once in your lifetime. Once or twice. Definitely just to enjoy the moment. Take everything in, go see other events, talk to other athletes. It's a unique experience where you get to be with the greatest athletes in the world."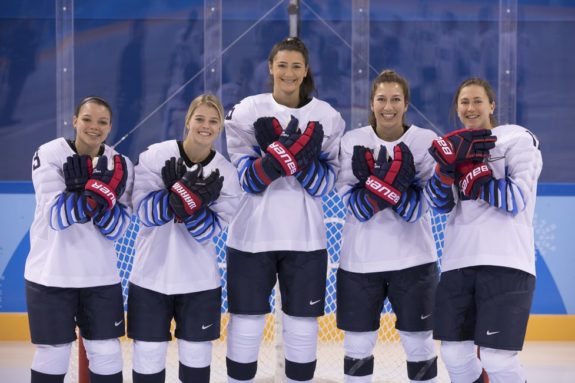 The three-time Olympians that Barnes referred to were Meghan Duggan, Jocelyne Lamoureux-Davidson, Monique Lamoureux-Morando, Hilary Knight, Gigi Marvin, and Kacey Bellamy. Each acted as stabilizers to the younger players like Barnes, and provided key mentoring as to how to handle the games themselves and the Olympic experience as a whole.
"It did for sure," Barnes said, when asked if the influx of veterans instilled a sense of comfort. "We had 13 first-time Olympians on our team this Olympics, so it was definitely good to have a good mix of new and veterans. They calmed the room down. They knew what to say when people were feeling on-edge or nervous. They were really crucial in our success."
Time Has Passed and Barnes Can Reflect Back
Coinciding with Barnes playing in all five games, she registered four shots on goal – two of which came in the gold medal game against Canada. Separate from the final game which took an overtime period and a shootout to decide, Barnes played with much regularity throughout the prelims and the semi-final as well. In the second game of the tournament, a 5-0 USA win over the Olympic Athletes from Russia, Barnes played the fourth most amount of minutes (17:39) of the American defenders, and her highest total with the exception of the gold medal game. That was a mere 10 seconds less than the third most coming from fellow defender Emily Pflazer in the game against Russia.
All in all, it was a tremendous first Olympics. One that will undoubtedly be of more to come for Barnes. Playing her first Winter Games at just 19, she could easily become a three-time Olympian herself, if not more. With months having gone by since PyeongChang, THW asked Barnes to reflect back on the experience as a whole and try to put it into perspective.
Cayla Barnes added to the 2017-18 U.S. Women's National Team roster: https://t.co/XTzu6LQfg3#TheTimeIsNow 🇺🇸 pic.twitter.com/rDiRoWObPb

— USA Hockey (@usahockey) October 28, 2017
"It was incredible," she said, trying to find the words. "Looking back, it was one of the most fun months that I've had in a really long time. We were there and you just got to explore the whole culture. The people of South Korea were awesome. They were so nice, and they loved us. We had a really good time, and they were great hosts."
More than just the experiences of Barnes and her own teammates, the PyeongChang Games were about the camaraderie and the new friendships that were formed with fellow athletes of different disciplines. The contingent of USA athletes were highly supportive of one another, and it was very commonplace to spot Barnes and her teammates cheering on in the stands to support their fellow countrymen and vice versa.
"I think also meeting other athletes and interacting with different sports. Going and cheering on other teams was so cool. We got really close with some of Team USA's other athletes. We see them around now, and it's so cool to reconnect and be back. Seeing other people win medals and all of their hard work pay off. Definitely, it was incredible. It was so much fun. It's also fun when the whole world can come together through sport. So that's also really unique. Opening Ceremony, Closing Ceremony – it's such a unique experience to be a part of. We all had a really great time."
The Aftermath of PyeongChang and What It Means to Others
Rightfully so, when the USA women's team returned to the States from PyeongChang, they were heralded as heroes. The love affair between the team and the nation got underway before the Olympics even started, and then culminated into the country being completely head over heels for their team after the gold medal was won. Barnes and her teammates gave their country something to feel good about.
In a nation that as of late has been inundated with tumultuous news, views and opinions, these hockey players brought forth unity and joy. It was apparent in the appreciation and smiles that Barnes and company received everywhere they went.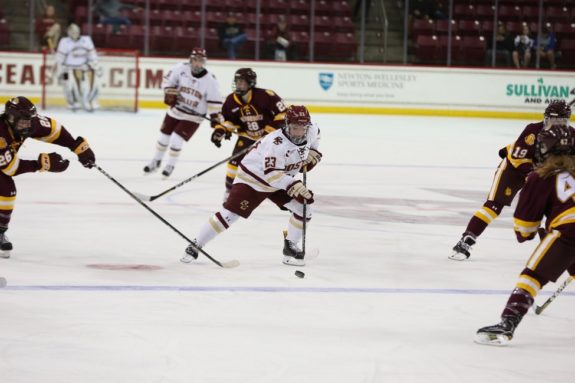 "We're just walking down the streets," she explained, "and to see people's eyes light up when they see our medals, or them telling us how amazing the game was and how excited they were. It's really cool to see people's reactions and how excited they got. To just bring some joy to people. To see the numbers of people watching our games was incredible for us to see women's hockey grow like that. It was really cool. What we work for is to grow the game to keep pushing the limits with women's sports. Yes, it's definitely something special to see that we could do that."
Growing the Game and Giving Back
What has touched most upon Barnes' heartstrings is the opportunities that she has had to interact with children after the games. As young as she is, it is only natural that our hockey kiddos, preteens and teenagers look up to her as a role model. They have an affinity for talking to Barnes and asking her questions about hockey. Barnes – who is as kind of a soul as you may find – reciprocates.
"Meeting little kids from all over is always really cool," she told THW warmly. "This is why we play – we play to inspire the next generation. Seeing little kids get so excited to meet us and hold our medals, it's fun for us and really something that we love to do."
It makes it even more touching and dear to her heart when she can give back to kids in her own hometown. While the Los Angeles Kings have won Stanley Cups, it is still not necessarily a "hockey hotbed" when compared to the likes of a Toronto, Detroit, or Boston. That being the case, it is even more imperative to grow the game for young hockey players in less traditional cities.
Great to have gold medalist Cayla Barnes of the US Women's Hockey Team join us for the ceremonial puck drop tonight!! 🏅🙌 pic.twitter.com/ZcSefxie33

— Boston Pride (@TheBostonPride) March 11, 2018
Barnes told us about some of her more cherished moments with youngsters since PyeongChang:
"I think one really cool experience for me was when we first came back from the Olympics, we went to the L.A. Kings game. That's my hometown, I played for the L.A. Kings (youth hockey program). We got to meet with the local girls program there that I've been fortunate to be part of. They were so excited to just see me. They all knew who I am and I've worked with a bunch of them. It's so cool for them to see me. We had a little question session with us and the whole team. They were asking me questions specifically, and they were just so excited to meet me and talk to me. So that was really cool, especially being in my hometown and knowing that those little girls have dreams like I did when I was their age. It's definitely what we play for, and it's awesome to see the game growing."
Returning to School at BC in the Fall
While Barnes may be from California, she will be continuing her collegiate hockey career on the opposite coast. Prior to the Olympics, Barnes played five NCAA games at Boston College. Suiting up now for four full seasons with the Eagles, she is bound to be a difference maker for the BC program. One intent on bringing a national championship to Beantown.
"I plan to go back in the Fall," Barnes explained about returning to school. "All of us in college (on the Olympic team) had to withdraw completely for the year, so that's what we did. We'll all go back to school in Fall. I have all of my eligibility – I have four years – and I'm only going to be a freshman. Definitely planning to go back and play all four years of my eligibility."
Fully excited to continue the full college experience both academically and athletically, Barnes acknowledges an interest in playing professionally someday too, and making a return to the Olympics. First things first though – and you will find that this is vitally important later on in our story – there is no sense in rushing the experience. Barnes has a full four years of college hockey and schooling that she can take in.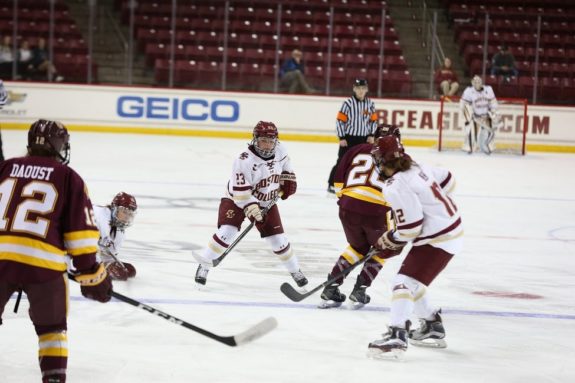 "I think honestly, winning a national championship with BC would be incredible. They haven't had one in program history, so to think that I could be part of something like that, to bring one to BC women's hockey would be incredible. So that's a big goal for me. Also, I think playing professional hockey, I hope that this league (the NWHL) keeps growing and it keeps improving over the years. Like I said, I have four years so I have a little while until I even think about playing professional, but definitely something I'm interested in and would want to do. And then obviously I'd like to go to another Olympics and have that experience again."
Part of what made Barnes a successful Olympian, and what will make her a successful Eagle is the skill set that she possesses and has diligently worked at improving. She considers her best attributes to be namely two in particular.
"I would say probably my skating," Barnes said, "and the way I see the ice and my vision. Those are two of my strengths. I've worked a lot on my skating. If you're a good skater, it helps a lot in the game. Being able to see the ice when there's an opening is really crucial. I would say that those are two of my best skills of my game."
Barnes Advice to Kids Playing Hockey
Just because PyeongChang was her first Olympics and she'll be a college freshman, it's not as if Barnes came out of nowhere to the hockey scene. Three times she represented the United States at IIHF's Women's U18 World Championships, beginning in Buffalo, NY USA in 2015, followed by 2016 in St. Catharines, ON, Canada, and then lastly as team captain in 2017 in the cities of Přerov and Zlín in the Czech Republic. Each time Barnes helped bring home the gold medal for the USA. In 15 total games between the three tournaments, Barnes compiled three goals and nine assists for 12 points from the back end.
Now having added Olympic gold to the mix, that is a pretty darn good track record. Still, time tends to go very fast – sometimes too fast. Players should slow down and enjoy it. This is the biggest and most essential piece of advice that Cayla Barnes has for our younger players out there. Something that she wishes she had known and realized when she was 12.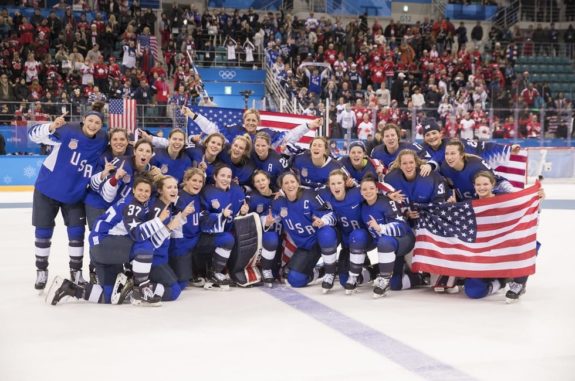 "I think to just enjoy it," Barnes explained. "It goes so fast. I think when you're 12 or 13, you take for granted a lot of things that you get to do with your team. All of the tournaments and stuff. Now that I'm in college, you don't get to fly to tournaments anymore or spend weekends with your team, and to just have fun. I think when I was that age, it started to get more serious when I was younger. You start training a lot younger, and it becomes a lot. Sometimes I think it can suck the fun out for kids. I think when you're that age, it really should be purely about fun. You shouldn't be playing because your parents want you to – you should play because you love it. I still wish that I knew that it was going to be fine – no matter what, it's going to be okay. If you go to the beach one day instead of going to the rink, you're going to be fine. You'll still be successful. Still do what you have to do, but that's definitely one thing I wish I knew – that you're going to be fine. Just to have fun and enjoy the time that you have playing hockey."
Barnes cares wholeheartedly for young hockey players (in many ways, she is still one herself), and it is important to her to impart this advice. There is some truly wonderful support from women's hockey players already through their involvement in the community and in youth programs. That goes without question. But Cayla Barnes pours forth her heart when she talks about giving back to the game, especially with regards to kids. She urges our youth to love this game, and to enjoy it. Do it because you love it, and not feel pressured because of it. Barnes is a consummate role model for our youth, and will continue to be so for many more years to come. A player who you would want your son or daughter, or brother or sister, to look up to.
General Manager of the Buffalo Beauts (NWHL). Hockey history writer "The Hockey Writers". Credentialed media for the NHL Combine and 2018 IIHF World Junior Championships in Buffalo, NY, USA. Born and raised in Buffalo, NY. Lifelong hockey fan for over 40 years. Proponent of the women's game.