The 2017-18 NWHL season may be over but that doesn't mean that we still cannot have a bit of fun. Rumors have fluttered and talk has been made from time to time about the league's expansion to other cities. This is a marvelous idea, and one that proponents of the game hope will come to fruition sooner rather than later.
So let's go ahead and have that bit of fun. Pretend for a moment that the NWHL will expand by at least one more team for the upcoming 2018-19 season. Say for a moment too that this newest team will be created in a similar fashion to an NHL expansion team. An expansion draft would be held, and the newest team would be able to select players from the "founding four" franchises of the Metropolitan Riveters, Buffalo Beauts, Connecticut Whale and Boston Pride. Each of those four teams would have their "protected list" of players who would remain solely available for them to re-sign and would be ineligible for the expansion team to take.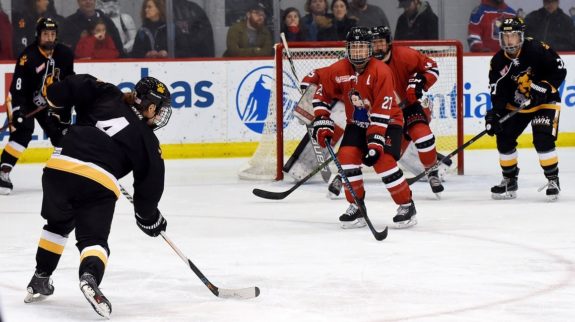 Now obviously with the way that the NWHL is currently structured, contracts are from year to year and no player is necessarily property of the team that they most recently played for. Perhaps more importantly, players quite regularly decide where they will sign based upon geography and where they can secure employment outside of hockey. Oftentimes this is the main deciding factor in where NWHL players end up. We have to understand that there is room for movement, and players are mainly free to sign where they wish. So we will go with the notion that in this version of an NWHL expansion draft, the expansion team would have first dibs on offering contracts and commitments to the players that they opted to select.
Everyone on the same page thus far? Good. Let's take it a bit further from here and lay down some additional ground rules.
Ground Rules for Our "Expansion Draft"
Please note that this exercise is strictly for fun and not based in fact or any sort of inside scoop. We are merely saying, "what if" there was to be an NWHL expansion draft? The more serious part to this exercise is the reasoning behind why each of the selections we are about to make would prove fruitful and worthwhile to a potential expansion team.
Isobel Cup Final Best Photos, thanks to @matthewraney, @mhphoto22 & @TroyParla!
📷: https://t.co/YF7OJcqCUg pic.twitter.com/PbRC9ooRzP

— NWHL (@NWHL) March 30, 2018
Here is how our expansion draft will work:
We will make six selections – one goaltender, two defenders and three forwards.
Four of the selections will be made from players who played during the 2017-18 NWHL season. One player will be selected from each of the four teams.
Two additional selections will be what we will call "wild cards". These two selections can be players who did not play in the league during the most recent season, but who could potentially play in the 2018-19 NWHL season should they be tendered a contract.
The protected list. We will instill our own version of a protected list of players for the four current NWHL teams so that it is not a free for all in our selection process. Players ineligible for selection will include:

All 2017-18 NWHL All-Stars. No player who was selected for the league's most recent All-Star Game is eligible to be selected by the expansion team.
Players in the top-seven scorers on a team. No player within the top-seven point scorers on their respective teams is eligible for selection either.
The rules are rather simple to follow but they make sense. Sticking to what we have outlined above, THW presents our six selections that would be the foundation of a potential NWHL expansion team.
1. Goaltender: Kelsey Neumann, Buffalo Beauts
If you were the general manager of the expansion team, how could you not select Buffalo's Kelsey Neumann to be your cornerstone in net? Talk about a goaltender who is long overdue for a shot, Neumann has been with the Beauts for the past two seasons but has received very limited opportunity. Her first bit of regular season action came during the Beauts final game of 2017-18 while on the road in Connecticut. Neumann played the final 32 seconds of the game in net to briefly relieve starter Amanda Leveille.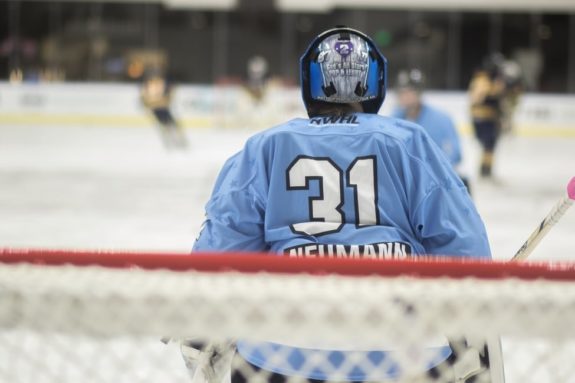 This is a goaltender who participates in every single practice, shows up and supports her teammates no matter what role she will be in, and has one of the biggest hearts that you will ever find. Neumann was the Beauts' 2017 recipient of the NWHL's Foundation Award for her diligent efforts in growing the game and giving back to the hockey community.
While it would be heartbreaking to lose Neumann from Buffalo, no player is more deserving of a chance to play. An expansion team would open up opportunity for her, and really pave the way for a successful season in goal. Furthermore, because of her genuine warm character and passion for hockey's youth, Neumann would be a face that you would want at the forefront for a fledgling team and regularly interacting with the community.
2. Defender: Kaleigh Fratkin, Boston Pride
Through the NWHL's first three seasons, defender Kaleigh Fratkin has played for three of the league's four teams. She was an inaugural member of the Connecticut Whale during the 2015-16 season. The year afterward she would be with the Riveters, and then this most recent season Fratkin was a blueliner for the Boston Pride. She has long been one of the "heart and soul" players of the NWHL and has given everything she has got no matter where she has played.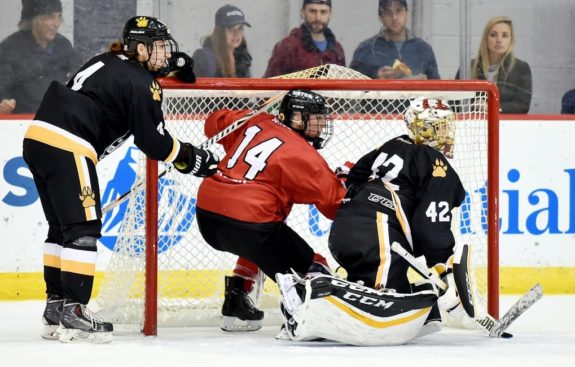 Fratkin is a robust defender and does not back down from anyone. During the first year she was the league leader in penalty minutes with 40 of them in just 18 games. She tied for fourth overall in the same category with 20 in just 11 games for the 2017-18 season. Fratkin plays very hard and physical, and is a the type of player a team would want on their back end to help keep opposing shooters at bay. She can be intimidating without even really trying to be. The fact that she is 5-foot-8 and close to 160 pounds only furthers that point.
Make no mistake though, Fratkin is a very skillful defender too and one who generates a fair amount of offense. As a late addition to the Pride in 2017-18, she still compiled five assists in 11 games. This trailed only Alyssa Gagliardi for points among Boston's defenders. During Fratkin's first season with Connecticut she was nearly a point per game player with five goals and 12 assists in 18 games.
3. Defender: Anya Battaglino, Connecticut Whale
Many are likely saying, "how can you uproot one of the league's most popular players?".  Well, a GM for an expansion team would be foolish not to. Not only is Anya Battaglino one of the most beloved players in the NWHL, but like Neumann and Fratkin she gives everything she has got on every shift that she takes. She does this too with about as close to risking life and limb as a hockey player can come. Blocking shots, battling front of the net and in corners, Battaglino does not hesitate to make bodily sacrifices of her own accord.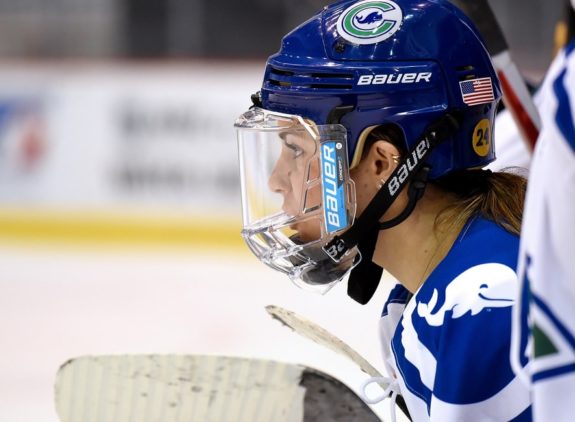 An original member of the Whale, Battaglino has 22 regular season games to her credit plus one more in the playoffs. She is also able to play both defense and forward which would further give a team some really nice options by having her on a roster.
Battaglino is also the type of player who is willing to make sacrifices for the greater good of the league. While she may bleed green for the Whale, she bends over backwards to grow the NWHL and the game in general. This is part of what has made her so endeared to the NWHL community. It would seem that when building an expansion team from the ground up, that team would want a Battaglino to be right at the helm. She would fit in perfectly with a new squad and ease the transition of a fledgling team into the league.
4. Forward: Ashley Vesci, Wild Card Selection
This former Buffalo Beauts forward retired shortly after becoming an Isobel Cup champion in 2017. When THW spoke with her in April of that year, Ashley Vesci expressed that she was open to returning to the NWHL should a team be added to the Pittsburgh area where she resides or some other area in closer proximity to her than Buffalo. After all, Vesci was regularly making the trek from Pittsburgh to Buffalo throughout the 2016-17 season and obviously that could be very taxing on a player.
Vesci played in 10 of the Beauts 17 regular season games in their championship season, and picked up a lone assist. Her contributions came through as a reliable two-way player. Vesci put 13 shots on net in her 10 games and blocked three shots.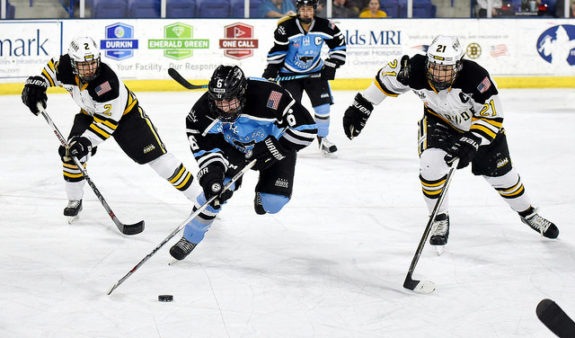 Where she really proved to be a difference maker was in the playoffs that year. Between the Beauts opening round win over the Riveters and then their eventual victory in the final over Boston, Vesci was a plus-two player in her two postseason games. She would add another assist, and it may very well have been the most important one of her hockey career. Along with Hayley Scamurra, Vesci helped set up Emily Janiga's opening period goal for the Beauts to lead 2-0 heading into the second. Buffalo would end up winning the Isobel Cup by a score of 3-2.
5. Forward: Lauren Wash, Metropolitan Riveters
Lauren Wash is one of those players who once she gets a little more ice time could make her point totals drastically increase. On an expansion club Wash would easily play on either the first or second line. As a member of the recently crowned Isobel Cup champion Metropolitan Riveters there was a logjam of highly skilled players at the forward position with which she had to contend with. Playing with a new squad Wash be one of those threats at the top.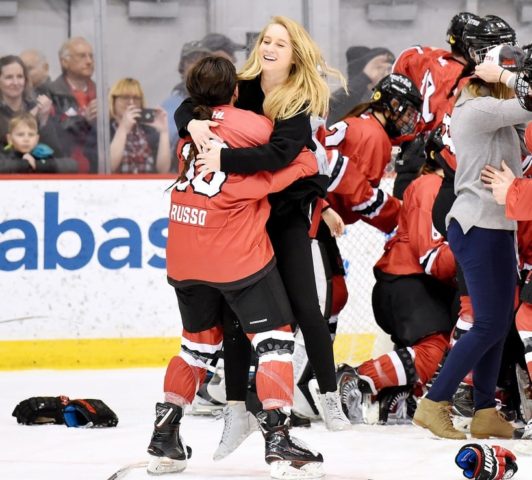 With two NWHL seasons under her belt, she has played 14 regular season games, has scored a pair of goals and added just as many assists. But Wash makes her opportunities count. In the 2017-18 season her lone goal came on just four shots to give her a whopping 25% shooting percentage on the season. Taking 10 faceoffs, she won eight of her draws. She also finished the regular season as a plus-two in six games.
Now take Wash and put her on the first or second line and have her suit up for 16-18 games. It would not be surprising if she hit double digits in goals, and she could certainly do so in the points category. Wash is a bit of a diamond in the rough and would make an expansion club incredibly happy.
6. Forward: Alex Carpenter, Wild Card Selection
It would be wonderful to have Alex Carpenter back in an NWHL uniform. After the Boston Pride lost her to the centralization of USA athletes for the 2018 PyeongChang Games, followed by the shocker that she did not make the women's final Olympic roster, Carpenter signed in the CWHL with China's Kunlun Red Star. While playing in China would certainly be an incredible experience in and of itself for any athlete, perhaps the thought of a new team closer to home would be enticing enough to bring Carpenter back into the fold.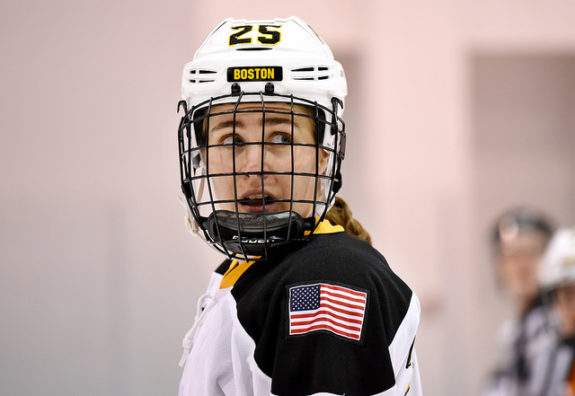 Any team would be immediately bolstered by adding this offensive juggernaut. Since graduating from Boston College in 2016, Carpenter has been (almost) a point per game player in each of her two professional seasons. During her one and only NWHL season to date, she finished second overall on the Boston Pride in scoring in 2016-17 with nine goals and 20 assists in just 17 games. After she joined the Red Star, Carpenter put forth five goals and seven assists for 12 points in 13 games.
What if the NWHL expanded to Washington D.C.? Carpenter's father Bobby began his NHL career there in 1981 and played there for parts of seven seasons in his 18-season career. Of course if an NWHL team came to Pittsburgh that would not be a bad market to play in either. "The Steel City" has been a hockey hotbed that has exploded over in recent years, and would be most welcoming of a star player like Carpenter.
The Bottom Line
We would like to reiterate that this expansion draft of ours was solely hypothetical. But that is the fun of doing it, at least on paper. It is immensely enjoyable to take on that role of general manager and determine how you would assemble your own expansion team. There are so many good hockey players out there, and to spread them out among five or six NWHL teams instead of the original four opens more doors and more opportunities for names we have yet to see become household. It can also pave the way for players to return like Vesci or Carpenter.
Fans just walked in. "People were asking if we had tix to sell. Assumed they meant for Timberlake at the Rock. They were asking about the #IsobelCupFinal "
Oh…wow. #ItsAllForIsobel pic.twitter.com/Kdhvqy3jHw

— NWHL (@NWHL) March 25, 2018
We encourage you to assemble your own expansion team rosters. In fact, we would love to hear who would make your expansion squad and why. Who knows, you might end up foretelling a bit of NWHL future.
General Manager of the Buffalo Beauts (NWHL). Hockey history writer "The Hockey Writers". Credentialed media for the NHL Combine and 2018 IIHF World Junior Championships in Buffalo, NY, USA. Born and raised in Buffalo, NY. Lifelong hockey fan for over 40 years. Proponent of the women's game.