A tale of two cities, in a way. While my Buffalo Sabres finished toward the bottom of the standings, Ashley Vesci's hometown Pittsburgh Penguins look ever-capable of repeating as Cup champions. Vesci even interned with the Pens when they became Cup champions last season. And though 200 miles may separate our hometowns, the Beauts' forward found Buffalo to be a most welcoming neighbor.
"I loved being in Buffalo this past year. I thought it was a really interesting place. It is definitely different from Pittsburgh and a lot of other cities, and I really love how unique it is. I got to see the city and hang out with the girls and see where they live. I really enjoyed it a lot. Unfortunately, I have too many ties to Pittsburgh so I wasn't quite able to move up there, but I could totally see myself living in Buffalo someday."
Home is definitely home no matter where you are from, but suffice it to say that Vesci found a niche this season as a member of the Buffalo Beauts. Vesci appeared in 10 of the Beauts' 17 games during the 2016-17 season and tallied an assist, 13 shots on goal, and three blocked shots. A greater feather in her cap, however, was appearing in both Beauts playoff games as they captured the Isobel Cup. Vesci picked up an assist on a key Emily Janiga tally in the Final against the Boston Pride, and she would finish as a plus-2 at the end of the postseason.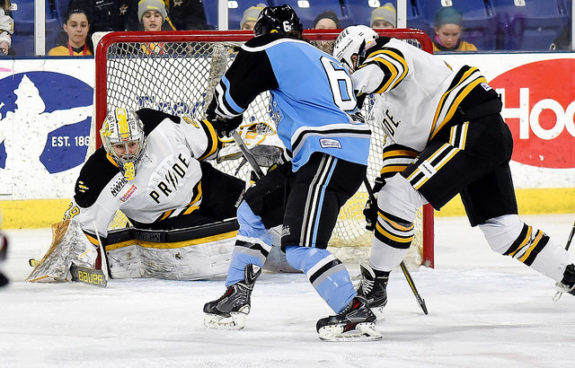 Intern With Stanley Cup Champs
During the spring semester of her senior year at Robert Morris University in Pittsburgh, Vesci was an intern with the 2015-16 Stanley Cup-winning Penguins, helping to cover the team as a writer for the club's website. It was an opportunity that left her very much in awe at first, but which also better prepared her for her own professional hockey career. The fact that she interned while the Penguins captured Lord Stanley's Cup was momentous in every stretch of the imagination.
"It started last spring up through the team winning the Stanley Cup. It was incredible! I was really starstruck at first, but I quickly realized that there wasn't time for that in the locker room. I got to meet players that I looked up to for years. I have always loved the Penguins; when you are from Pittsburgh you can't help but love Pittsburgh teams. It was really amazing to get to meet some of my heroes and to learn from those guys. The things they would say in the locker room, their practice habits, and from being around that team I learned so much."
Consider the players that compiled last season's Penguins roster. Sidney Crosby. Evgeni Malkin. Phil Kessel. Kris Letang. Matt Cullen. And those are just a handful of the names. Vesci arguably could not have found a better source of hockey knowledge and winning ways than with this collection of players. Just by taking part in the duties of her internship, she was presented a firsthand look.
"I was with the head writers for the website and would follow them around each day. We would go to the team's practices in the morning, and afterward head into the locker room. A lot of transcribing. I would follow the team's story, and then write stories based off of what was happening, what was relevant. So that gave me a whole other look at the game itself to see how it is perceived by other people, and what it means to follow a team so closely."
Just being @RMUWHockey number 1 fans on the bus GOOOO COLONIALS!! @AshleyVesci pic.twitter.com/nKz4Myb2Gb

— Brianne McLaughlin (@BrianneMcL) March 4, 2017
The Inside Scoop
Maybe the rarest of rarities for a fan of a professional hockey team, no matter how diehard a fan they might be, would be to be afforded entrance into the inner sanctum of that hockey club. It's rarer still to be on the inside of a perennial Stanley Cup contender's daily comings and goings. Considering that Ashley Vesci would eventually become a champion as well, perhaps it was even fate for her to be one of those select few.
"I have always loved the Penguins, but I never was in the know on who was injured, what was going on in people's lives, things like that. Just being around the guys, they are such a unique team and unique group of people. A variety from young to old, so I was able to see these different players and how they handle themselves in interviews and pressure. Basically, what it takes for a team to win a Stanley Cup."
When you wake up and remember you're going to the #IsobelCupFinals @Hbrowne24 pic.twitter.com/BmzMLRw7uL

— Ashley Vesci (@AshleyVesci) March 18, 2017
Unless a person walked in her shoes, it would be hard to fathom exactly what Vesci felt inside during that final semester of schooling. Combine that with the fact that she was wrapping up a stellar collegiate hockey career of her own at Robert Morris. In 131 regular-season games for the Colonials, Vesci recorded 25 goals and 24 assists for 49 points to go along with 44 penalty minutes. Vesci's finest season, though, would be her senior year in which she was promoted to team captain and had an outpouring offensively of 13 goals and 10 assists in 35 games. Factor in a rink-side seat to the Penguins' Cup run and that's quite a way to cap off a senior year!
With all wheels in motion, it then became quite interesting to consider what Vesci could bring to a hockey club in the NWHL. Signing with Buffalo in mid-August 2016, the Beauts would soon see what Vesci was all about.
Grinding It Out
"My go-to word is always 'grinder'," she tells me. "I don't know if I am a grinder by definition, but I am pretty close. I have decent speed; that has always been the strongest aspect of my game. I try to beat people to pucks, and not give it up until I can get it to someone who can score, or can do something with it. I occasionally have flashes of skill, but mostly I am a hard worker."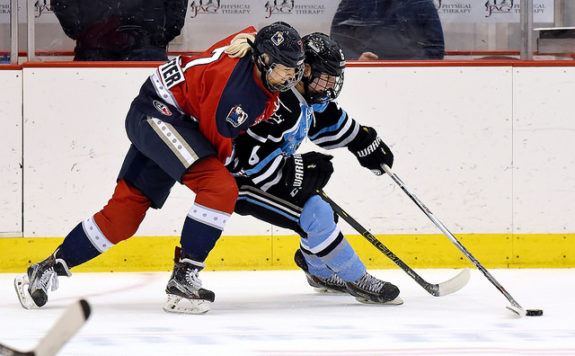 Being fortunate enough to have seen Vesci play firsthand in Buffalo, I would liken her style of play to a Kirk Maltby (although she might choose a current Penguins player, like a Tom Kuhnhackl or a Nick Bonino). The bottom line is, though, that someone needs to fight for pucks along the boards and in corners, and no matter what name you apply to Ashley Vesci, those players are all Cup winners. And with the Beauts, Vesci is now one too.
"Getting into corners and battling for pucks. That has always been the most fun part of the game for me. I like to think that I am a good teammate. For instance, this year sometimes I didn't play very much or I was healthy scratched a few times when someone else got the call-up, but that never deterred me or made me resent anybody else.  Overall, I just always want what is best to support the team. That is how teams win championships—when everyone is just committed to the cause and is willing to be a good teammate and a good friend to your teammates. Have a good time. Lighten the mood a bit. Contribute in any way that I can."
Isobel for All Time
And win a championship Vesci and the Beauts did. Much like Crosby's and Malkin's names on Lord Stanley, Vesci's name and the names of her teammates will now be forever inscribed on Lady Isobel. I am a bit saddened, though, to learn that for the time being, this will be Vesci's last hurrah.
"It is an overwhelming feeling. It is really great. I started playing hockey when I was seven years old, and now 16 years later I am ending my career winning this monumental championship. Something that I never even imagined existing because when I was a little girl I would be asked what I wanted to do when I grew up, and I would say 'I want to play in the NHL.' Then eventually I reached an age where I realized that I wanted to play Division I college hockey. That's what I wanted to do; that was my end goal. I never imagined myself being a professional hockey player and getting to tell people that. That was enough for me, and then on top of that to win the championship…"
Vesci tries to find the words, but it is indescribable. Rather, the experience is something that could really only be felt.
Being the consummate good teammate that she is, part of what Vesci found most meaningful in winning the Isobel Cup was seeing the success of the other players on the roster and being able to become a champion standing side-by-side with teammates who became steadfast friends.
The "Pittsburgh Beauts"
"Brianne (McLaughlin), I was so happy for her. The fact that she got the start in the game (Isobel Cup Final), 60-something saves, oh my gosh. This year she and I got really close. She was my (assistant) coach at Robert Morris for a while. This year we spent a lot of time together. (She), Kelley (Steadman) and I skated together all the time, so the three of us had a Pittsburgh-Beauts connection. To win alongside them was just fantastic."
Thanks for writing this @PensInsideScoop It's weird being on the other side! https://t.co/phCFUVeFvA

— Ashley Vesci (@AshleyVesci) March 30, 2017
I was not sure if I had heard Vesci correctly earlier about her plans for her hockey future, so we explored the topic of the offseason and heading into the third year of the NWHL a bit further. I tried not to let on, but I was a bit crestfallen over the thought that Vesci will not return to Buffalo in the fall. Still, her passion for the game and the love that she has for it do not waver in the least.
"After dedicating pretty much my whole life to hockey, I need to figure out who I am outside of that. It would be great to keep playing, but I don't think it would be fair for me to try to commute to Buffalo from Pittsburgh. I am not ready to move at this point, so unless there were somehow a team in Pittsburgh I don't think I will be playing anymore. At this point, I want to give back to the game as much as I can. I coach, I give lessons, I work a lot of camps in the summer. I work at a restaurant too. I am going with that, and see if maybe I have a career in coaching. If not, maybe I will explore English and get back into writing, maybe even for a hockey blog. I just want to have options and see how it goes."
More Chapters Ahead
In this respect, Vesci and I are incredibly alike and I do feel a bit sad. It's similar to how one feels when a longtime player finally decides to hang 'em up. Kirk Maltby played 16 years in the NHL and over 1,000 games before he called it quits. There is just one major difference—Vesci is only 23 years old and has so many more chapters to be written in her story.
Isobel Cup MVP @BrianneMcL will be at the @Penguins game tonight, along with fellow @BuffaloBeauts: @ksteadman9 and @AshleyVesci! pic.twitter.com/pkmhMXbeG7

— NWHL (@NWHL) March 29, 2017
"It's crazy because people keep saying to me, 'how does it feel to have lived out your dream?' And it sort of takes me aback because I think 'oh wow, I guess I did.' But I am 23 years old and I have a whole life ahead of me. Now I have to decide what my next step is. Especially with playing a sport competitively, that becomes your life and defines who you are as a person at times. I have accomplished so much in what seems like such little time, now I need to find something bigger and better, or just as good."
Expansion in Pittsburgh?
NWHL Commissioner Dani Rylan has spoken about expansion of the league and adding teams to other hockey markets throughout the region within the next few years. Hopefully as a sign of things to come, the NWHL All-Star Game was held in Pittsburgh this past season, and considering how nicely it is located geographically, along with the fact that the Penguins have shown continuous support, the city of Pittsburgh would fit NWHL expansion to a T. It is my hope that this happens sooner than later so that Vesci takes to the ice again for the league.
Vesci says, "If there were a team in Pittsburgh, I would definitely play for as long as I possibly can. I think for at least this year I am going to stay in Pittsburgh, figure some things out, but I could see myself playing again down the line. If the NWHL continues to show success and gains a team down here, I would jump back into it if I can."
I couldn't ask for a better bunch of Beauts to head to battle with #GameDay #IsobelCupPlayoffs pic.twitter.com/SdqQEuOzRh

— Ashley Vesci (@AshleyVesci) March 17, 2017
It's about finding oneself and finding where you fit in. It's time to explore and see what else there might be outside of hockey, while always remembering that the sanctuary which the sport provides is there to return to. Vesci is a grinder, and grinders are not easily deterred, if at all. They never back down, and that is why they are so integral to winning teams. But that grinder mentality is not solely for competing on the ice—it can be applied to all aspects of life.
Until Next Time
Vesci tells me, "Battle adversity when you have to. If you persevere, if you care enough about something, and are willing to put in the time and effort into bettering yourself in every way that you can, focusing on a goal, you really can accomplish anything."
While you may not be in Buffalo next season, Ashley Vesci, this is not "goodbye"—this is "see you later". Peace be the journey, and stay committed to your cause.
General Manager of the Buffalo Beauts (NWHL). Hockey history writer "The Hockey Writers". Credentialed media for the NHL Combine and 2018 IIHF World Junior Championships in Buffalo, NY, USA. Born and raised in Buffalo, NY. Lifelong hockey fan for over 40 years. Proponent of the women's game.