Already in unfamiliar territory, having failed to qualify for the playoffs for just the second time in the Henrik Lundqvist era, the New York Rangers are set to drive further into the unknown as they enter June's NHL Entry Draft with a veritable cache of ten draft picks at their disposal.
Among the stockpile are three first-round picks and a total of seven choices through the first three rounds. For the Blueshirts, who've been in the business of sacrificing draft picks for better-known commodities in seemingly every season since the 2004-05 lockout, this is a different, new direction.
Except that, according to hockey's preeminent insider, Bob McKenzie, some of those picks could still be sacrificed to accelerate the rebuild they've already begun.
Rangers Could Offer Early Picks for Promising Youngster
During an appearance on last Wednesday night's NBCSN intermission, McKenzie was asked about what Jeff Gorton and his Rangers have planned ahead of the draft.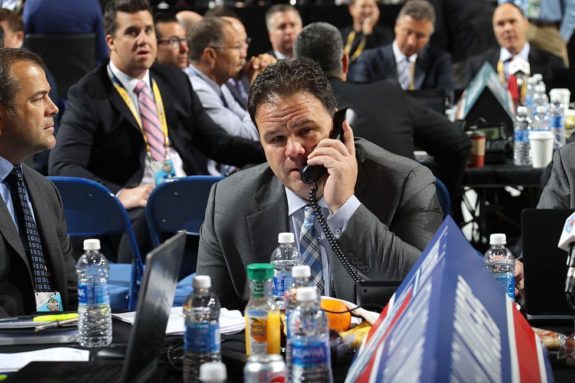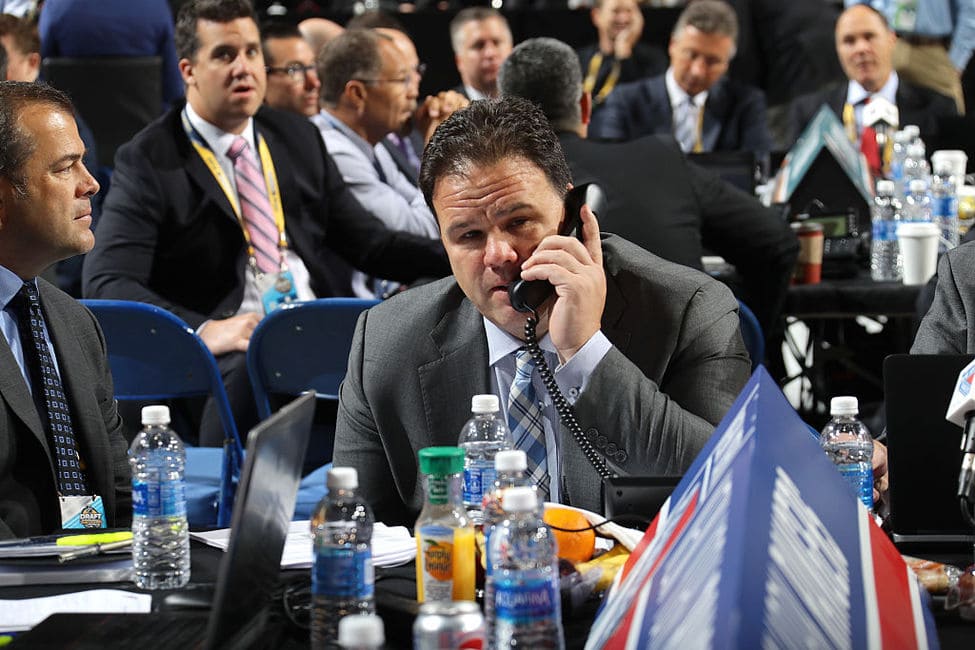 "Open for business," McKenzie reported. "Same as they were at the trade deadline. Once this season is over, the road to the rebuild continues." McKenzie went on to speculate that the volume of picks the Rangers have was "almost too many."
"And you say, 'Well, that's crazy. They're a rebuilding hockey team. The more young guys the better you can get,'" he said. "Yeah, to a point. And what I believe is the case is that Jeff Gorton, the general manager, will look at his opportunities."
Among them, not just the idea of packaging one or two picks to move up in the draft order, as one might expect, but perhaps instead to target a "good 21- or 22- or 23-year-old using those draft picks as currency".
"I think the Rangers are wide open to that," he said.
While the concept of a rebuilding club trading away draft picks might be anathema on paper, there's merit to the idea. Especially if the Rangers intend to increase the pace in completing theirs.
Related: Zibanejad Key to Rangers' Rebuild
Predators, Flames' Woes Could Prime the Market
The Blueshirts might have even an easy time building a market for themselves with two clubs this year in the Nashville Predators and Calgary Flames both lacking first- and second-round picks.
Having successfully lured Eeli Tolvanen, their first-round choice from 2017 to North America, and with arguably the NHL's deepest defense corps, perhaps the Preds would be amenable to dealing 19-year-old defenseman Dante Fabbro—taken 17th overall in 2016—to New York in exchange for one of the Rangers' late first-round picks and one of their later selections? Or, though perhaps a bit more unlikely, 21-year-old forward Kevin Fiala may be seen as expendable if Tolvanen—comically referred to as Goalvanen—can match promise to production.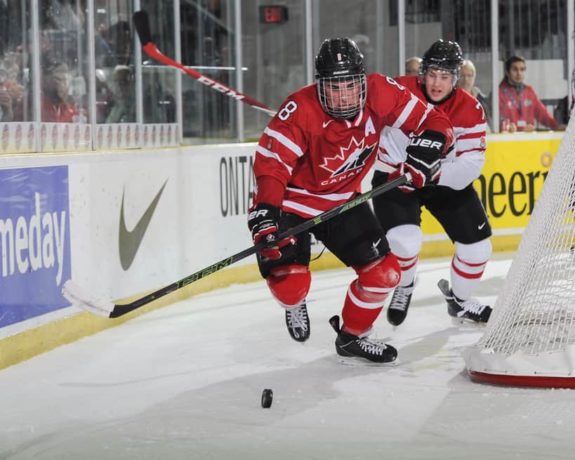 Meanwhile, in Calgary, the Flames will watch from outside the playoff picture—for the seventh time in nine years—as the Islanders own the non-lottery protected first-round pick they sent to Garth Snow as part of the Travis Hamonic trade. It's a scenario the Rangers could take advantage of with Calgary having to wait until the third round to make a pick by targeting a duo of Swedish defenders in 20-year-old Oliver Kylington and 21-year-old Rasmus Andersson, both of whom would have a quality shot at next season's blue line.
If the Rangers make additional cuts to their forward group, like moving on from fan favorite Mats Zuccarello as The Hockey Writer's own Dave Rogers suggested, 21-year-old forward Sam Bennett could also be of interest.
Beyond the Music and Stampede cities, there are other options the Blueshirts could look to, though none are in quite the same position of not having a first- or second-rounder. The Vegas Golden Knights and Winnipeg Jets, for example, are both without a first-round pick and, depending on how things shake out in the playoffs, either could be enticed by the prospect of announcing from the pulpit on draft night. Adding them to the market would only strengthen the Rangers position as shrewd and concise sellers in this regard.
Any Accelerated Rebuild Must Be Calculated
No matter the course Gorton charts, he'll need to be cognizant of creating internal competition by liquidating assets for long-term pieces or by using all his selections on additional players to stock his cupboards.
While owning the rights to talented players is always a good thing, the fact of the matter is, having too many young players of similar age—even highly talented ones—can create organizational bottlenecks as far as development goes. There is only so much quality ice time to be played in Hartford and even fewer vacancies in a developing NHL lineup where they might be expected to slot in right away.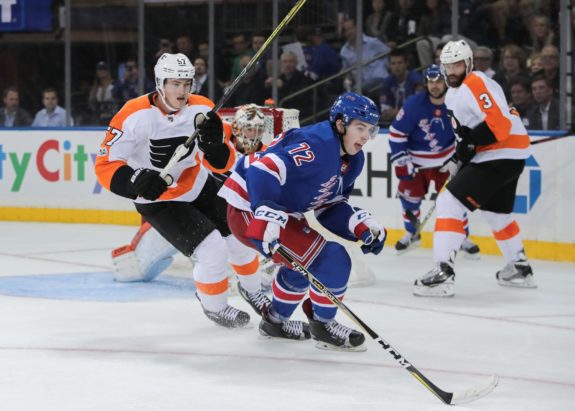 Both Filip Chytil and Lias Andersson, recalled together to close out this lost year now that their slide protection is intact, can attest to this. Provided the Rangers don't trade one of Mika Zibanejad or Kevin Hayes, and keep them both in the middle, the Blueshirts could be faced with the choice to move one of the two natural young centers in Chytil and Andersson to wing early in their development. Or, potentially worse, ask one to play a fourth-line role knowing they would be sure to suffer low ice time totals.
And all of this says nothing of Vladislav Namestnikov and Ryan Spooner, both acquired at the trade deadline, who also play center, or Brett Howden, arguably now the Rangers' top forward prospect. Though a few years out, he could face the same development issues on his way up.
Plus, we haven't broached the idea of John Tavares yet.
Related: Tavares to Rangers Makes too Much Sense
Strong teams can and do build up the middle. But rebuilding clubs need to be especially aware of the path of opportunity ahead of their young and hopefuls and would be wise not to unintentionally jam them up along the way. After all, it can be a thin red line between competition and congestion.
With 80 days to go before the first night of the draft, there's plenty of time to agonize before we get any answers. Yet dealing quality draft picks, painful as it may seem, could very well help the Rangers chart these unknown waters en route to building their next contender.
I believe in Nate Silver, Neil deGrasse Tyson, Christopher Hitchens, the Oxford comma, and the value of white space.