As the final week of games is slated to begin, the New Jersey Devils have a playoff spot within their grasps. Taylor Hall has had a Hart-worthy season while Keith Kinkaid has come out of nowhere down the stretch to pick up the slack in net. As important as they've been, there's one player who may not garner the same attention: rookie defenseman, Will Butcher.
Butcher was the recipient of the 2017 Hobey Baker Award for best player in the NCAA and signed with the Devils after choosing not to sign with the Colorado Avalanche last August. In just a short time, he's become a vital asset on defense and is proving to be a steal by general manager Ray Shero.
Devils With Butcher at Five-on-Five
Although Butcher is only a rookie, he has some of the best underlying numbers on the team, forward or defenseman. For the season, the Devils have a 52.9% Corsi For (CF%) when he's on the ice, which is first on the team. They've also out-chanced the opposition 515-419 when he's on the ice, which is again a team-best.
In addition to Butcher's solid underlying numbers, they are also amongst the top in the league among rookies. His CF% ranks 17th while his scoring chances for percentage (SCF%) and high-danger chances for percentage (HDCF%) are ninth and fourth, respectively. Not bad for a defenseman who's played on mostly the third pair.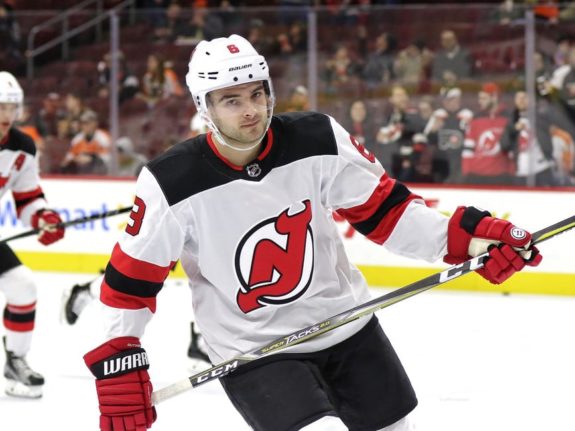 The Devils have been a much better team with Butcher on the ice, even as he continues to see mostly sheltered, third-pair minutes. The fact that he doesn't log tough defensive assignments doesn't take away from his performance. The only Devils defenseman to post similar on-ice numbers is his most frequent defense partner Ben Lovejoy, so it's no coincidence their stats are in the same vicinity.
Butcher Among League's Best Offensive Defensemen
Butcher has been a big part of the Devils' late-season push for the playoffs. Over his last 13 games, he has 12 points (1 goal, 11 assists). However, he has been producing at a high-level for most of the season. His scoring rates rank among some of the league's top offensive defensemen despite the fact that he only has 3 goals. A major factor for this is due to his assist rates.
For the season, Butcher is averaging 1.16 assists per 60 minutes (assists/60), which is first among defensemen on the Devils by a significant margin (Sami Vatanen averages 0.77 assists/60). That helps boost his total points per 60 minutes (points/60) to 1.22, which is about even with veteran defensemen Tyson Barrie and Dougie Hamilton.
Although his five-on-five production is quite good, Butcher's value matters most on the power play. For the season, he's averaging 6.04 points/60, which is the sixth-best rate in the NHL. Of his 39 assists on the year, 20 of them have come with the man advantage.
Just like at five-on-five, his assist rates are also among the league's elite blueliners. The only defenseman to average more assists per 60 minutes on the power play than Butcher is Victor Hedman. Producing at the same level as players such as Hamilton and Hedman is a pretty good spot to be in, especially for a rookie.
Related: Devils Palmieri on Second-Half Scoring Tear
Butcher's Season One for Devils Record Books
Moving on from the fancy stats, Butcher has had one of the most memorable rookie seasons in Devils history. His 39 assists are a franchise record among rookie defensemen. Given that Scott Niedermayer and Brian Rafalski began their careers as Devils makes Butcher's totals all the more impressive.
At 42 points, he already stands to be one of the top producing rookie defensemen in franchise history. That number ties him with Slava Fetisov for second all-time behind Barry Beck, who recorded 60 points in 1977-78 when the franchise was still the Colorado Rockies. His 42 points are also the most a rookie defenseman has scored for the Devils since Scott Niedermayer's 40 in 1992-93. Butcher still has a few more games to add to his fine season but it's safe to say he will be surrounded by some elite company in the record books once the season wraps up.
Signing Butcher Was a Steal for Devils
It's no secret that the Devils were one of the worst teams in 2016-17 and a big reason for that was their porous defense. The lack of puck-moving defensemen kept them hemmed in their own end more often than not and was a big reason for their poor results. When Butcher chose to test free agency rather than sign with the Avalanche, the Devils made sense and Ray Shero knew it.
"I remember when Will came for a visit with his father and [Hynes] went through all kinds of video with him on his and our style of game," Shero told Mike Morreale of NHL.com. "Will thinks the game so well and (University of Denver coach) Jim Montgomery told us this kid is so much better than people think. He's competitive, a thinker, loves the game and practices the way he plays. He's elusive and takes pride in his defensive game."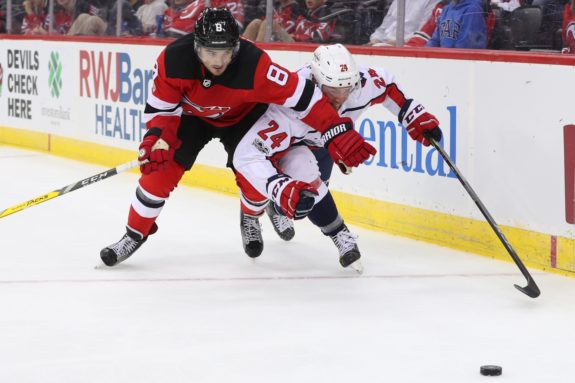 Based on Shero's comments and Butcher's numbers, there's no doubting what his value has been in 2017-18. He plays a solid defensive game and takes pride in it, just as Shero mentioned. He's become the Devils' main source of offense along the blue line in a short amount of time and as a young player, he embraced the pressure of a playoff race that Hynes was looking for in the team's rookies.
I think it's safe to say Butcher has been a perfect fit for the team's style of play and helped fill a huge void. The Devils also didn't have to give up anything to acquire him, another plus. His production in 2017-18 among everything else is why this signing was a bargain and is one the Devils will hope to benefit from beyond this season.
*     *     *
Advanced stats from Natural Stat Trick