Let's take a brief journey through time, all the way back to the summer of 2016. The Penguins had won their first Cup since 2009, Loui Eriksson just signed a promising $36-million deal with the Canucks, and a 22-year-old Jacob Trouba refused to sign a new contract with the Winnipeg Jets. He wanted top-four minutes, and he wanted to play them on the right side, regardless of Dustin Byfuglien and Tyler Myers admirably filling those roles.
On top of it all, he was apparently expecting a long-term deal in the $6-million per year range, a hefty price tag for a defenseman whose career high of 29 points came in his rookie season. He clearly believed he was capable of becoming an elite defenseman, and at 22, there was a reason to believe that might be a possibility. Both sides held out until mid-November; when finally they agreed to a two-year contract at $3-million per season, a common bridge deal we see in these situations. Trouba would have his chance to prove to the organization what he was capable of, and the Jets didn't have to risk a long-term contract on a player with so many questions surrounding his future.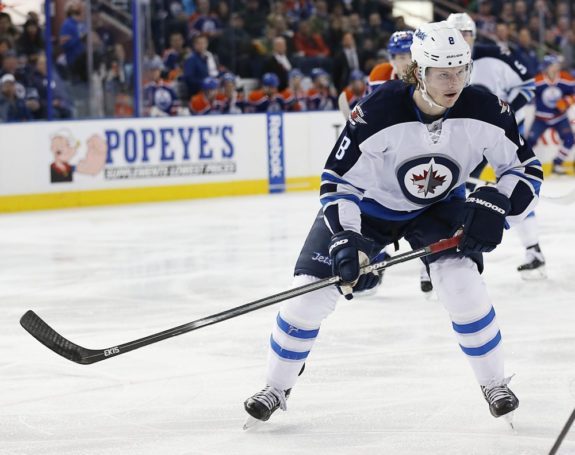 The Contract Years
The 2016-17 campaign for Trouba and the Jets started off slow, as the defenseman had to use his first 15 games as a make-up for training camp, scoring merely three points in that time. He followed that with an impressive 30 points in his last 45 games, showing Jets fans and management that he may very well be an elite defenseman in the making. Tyler Myers missed all but 11 games that season, leaving Trouba the perfect opportunity (and ice time) to break out with a solid 33 points in 60 games, a new career high. His 1.32 P/60 that season put him in the same neighborhood as Brent Seabrook and Ryan McDonagh, and Trouba was still only 23 years old when the season ended.
Related: Tyler Myers Deserves Masterton Trophy
This past season has not played out like it's predecessor, despite the team being on pace to finish with over 20 more points in the standings. He started off slow again, but unlike the previous season, he still hasn't found that higher gear, despite being given ample ice time. He got what he wanted; top four minutes on the right side, even pushing Tyler Myers down to the third pairing for a time, but his P/60 has dropped back down to 1.16, a significant regression for a contract year.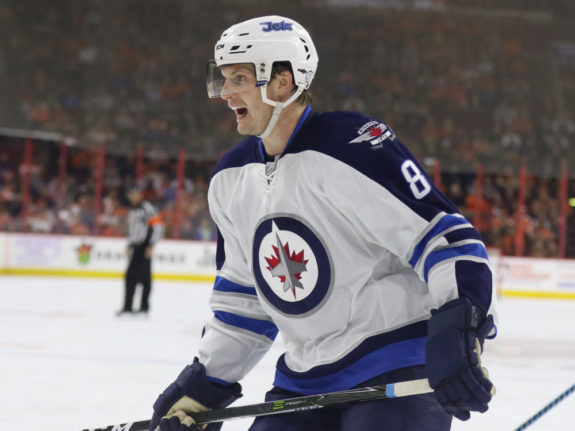 When Dustin Byfuglien missed time with a lower-body injury earlier in the season, it seemed the stars had lined up again for Trouba to replicate last season's success. At this point, he had produced two goals and 10 points in 22 games, neither terrible nor amazing, but clearly left something to be desired. His single point on the power play made it clear why he wasn't featured on either unit, but Byfuglien's absence left a major role to be filled, at both even strength and with the man advantage.
Although Trouba was the one to pick up the extra minutes, he did not recreate the success of last season's second half, and when Byfuglien returned, he took his ice time back as well. Trouba only managed three assists in those 10 games, two on the power play, but his career-low 2.2 shooting percentage continued to subdue his offensive output. At the time of this writing, the Jets have four games remaining, and Jacob Trouba currently sits sixth among defensemen on the team in shot attempt percentage.
Comparable Defensemen 
Trouba will be 24 entering next season, plays top-four minutes and has been capable of playing in all situations (slumps notwithstanding). Let's take a look at some similar players who fit this description as well; the Edmonton Oilers' Oskar Klefbom and the St. Louis Blues' Colton Parayko (who will actually turn 25 in May).
(These stats reflect the last three seasons only)
| | | | | | |
| --- | --- | --- | --- | --- | --- |
| | GP | P/GP | TOI/GP | G/60 | A/60 |
| Trouba | 194 | 0.40 | 22:54 | 0.23 | 0.81 |
| Klefbom | 178 | 0.40 | 22:27 | 0.32 | 0.75 |
| Parayko | 238 | 0.43 | 21:07 | 0.23 | 1.00 |
Both of these defensemen are on long-term contracts (seven years and five years respectively), though the Oilers managed to sign Klefbom before his breakout season of 38 points last year. Klefbom signed a seven-year agreement at $4.167-million per year in the summer of 2015, as the Oilers opted to skip the bridge deal process and give him a long-term commitment, one that hopefully will look like a team-friendly contract in the coming years. Klefbom plays roughly 22 minutes a night, including time short-handed and with the man advantage, but unlike Trouba, there is no clear number one defenseman in Edmonton, at least not offensively. Klefbom has been given the opportunity to be exactly that, but that's a topic for another article.
Related: St. Louis Blues' Secret Weapons
Colton Parayko may be a more favorable comparison as he signed his extension last summer, a five-year deal worth $5.5-million per season. St. Louis, like Winnipeg, does have a clear number one on the blue line, captain Alex Pietrangelo, but Parayko would certainly be the obvious number two, and successor to the throne should Pietrangelo ever not be available. Where Parayko has cemented his role on the team, the Jets have not shown the same confidence in Trouba being able to hold down that role, nor has he made it apparent to the team that he absolutely can.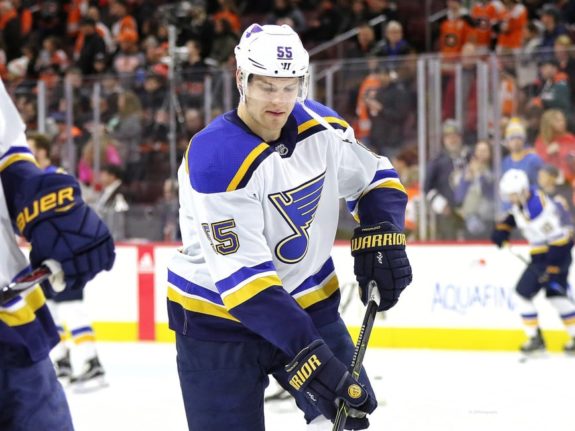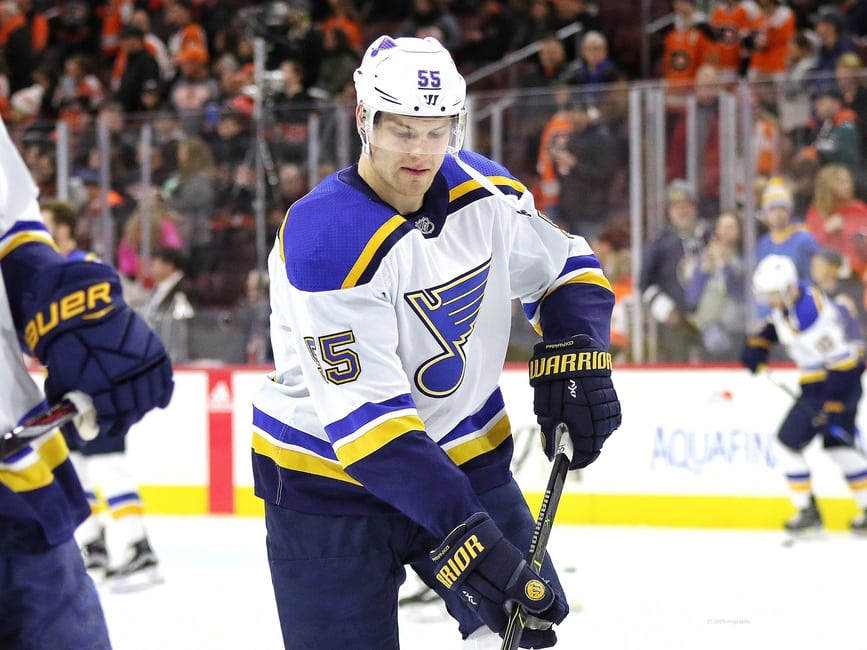 Another Stalemate On The Horizon?
As it stands, the Jets have clinched a position in the 2018 Stanley Cup Playoffs and will likely finish second in their division behind the Nashville Predators, giving them home-ice advantage for at least the first round. Trouba returned from his most recent injury (a concussion) two nights ago, and will hopefully remain healthy for a good, solid playoff run. There is no doubt his performance from now until the final Jets game in the post-season will have an effect on his upcoming contract.
His 324 games played since entering the league in the 2013-14 season rank 91st amongst defensemen, as he's played more than 65 games only once in that time. While we can't truly count his time missed during the infamous contract dispute of 2016, he still has lost a total of 60 games with injuries over five seasons. It's still too early to see if these injuries will be a defining factor for the rest of his career, but the signs are not encouraging.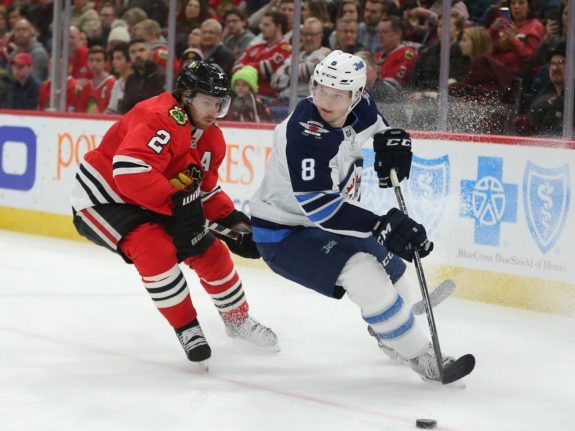 Still, if the Jets manage a deep playoff run and Trouba's shooting percentage and power play production correct themselves closer to his career norm, we should see a more promising performance from the talented defenseman. He brings a tough, occasionally gritty style of play that the Jets will need, as they prepare for their first playoff series since 2015 in what looks most likely to be a matchup against the Minnesota Wild.
Related: Projecting Patrik Laine's Contract
If his expectations and demands have been tempered since his last contract dispute, the Jets should be able to sign Trouba for $4.5-million to $5-million a season for five to eight years. It wouldn't be entirely shocking if he wanted more and held out until he was paid that way, but if an arbitration hearing were conducted, it seems likely he would receive something along those lines. The Jets have plenty of contracts to take care of in the next two off-seasons, including captain Blake Wheeler, star sniper Patrik Laine, and goaltender Connor Hellebuyck, and don't have any room for error in managing their cap space, including overpaying for a good-but-not-amazing defenseman. However, if Trouba indeed has matured in the last two years and takes a reasonable long-term deal, then he can be a part of a team that has a real shot of multiple, deep playoff runs in their immediate future.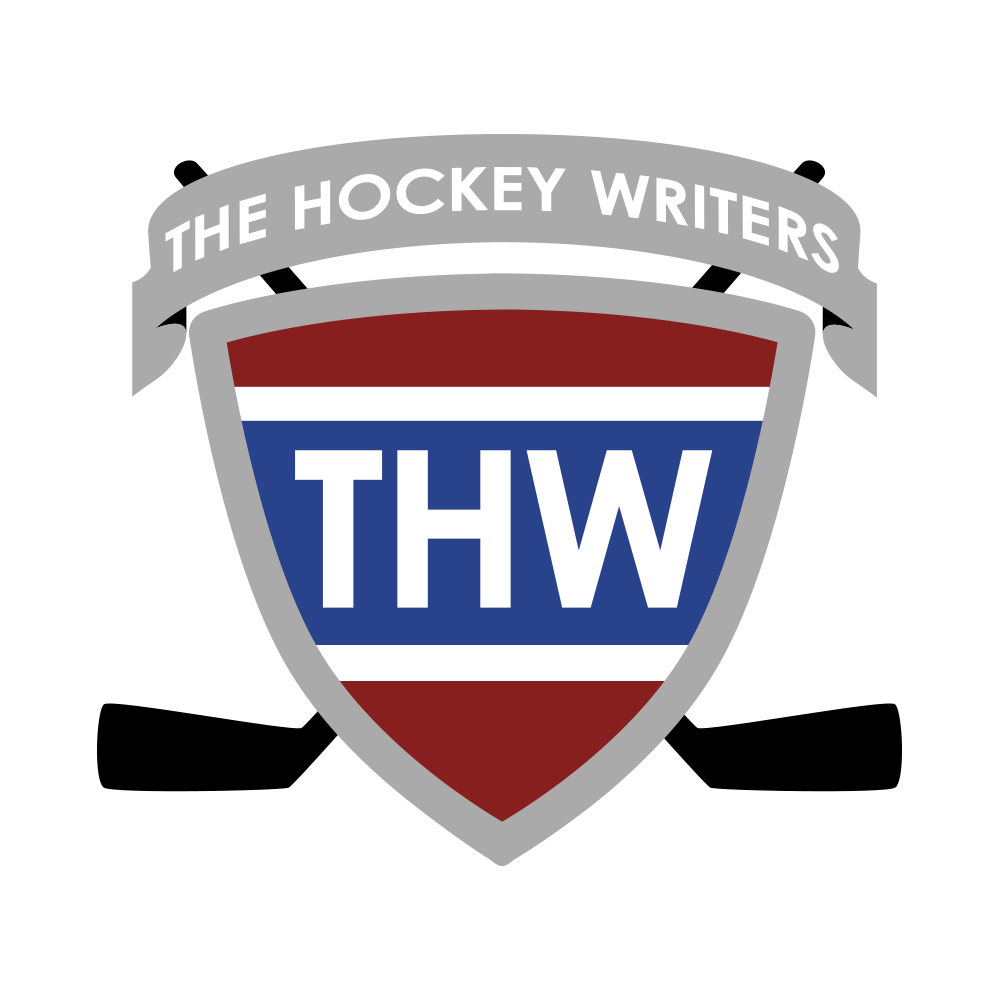 The Hockey Writers is:
1) A top-tier hockey media company delivering a top-notch, in-depth look at the NHL
2) A collective of some of the best hockey writers anywhere
3) A multimedia provider with daily podcasts and YouTube shows
4) Well-respected and widely-cited NHL prospect and draft resource