Tristen Nielsen
2017-18 Team: Calgary Hitmen (#15)
Date of Birth: February 23, 2000
Place of Birth: Fort St. John, British Columbia
Ht: 5'10" Wt: 180 lbs
Shoots: Left
Position: Center
NHL Draft Eligibility: 2018 first-year eligible

Rankings
In every draft year, there's a player that somehow falls off the draft radar despite appearing to be a decent bet for selection. Maybe the player missed time due to injury. Maybe they're not terribly large. Maybe their team wasn't very good. Maybe scouts only saw part of their season. The ultimate dark horse, long-shot value pick in the 2018 NHL Draft may be Tristen Nielsen of the Western Hockey League's Calgary Hitmen.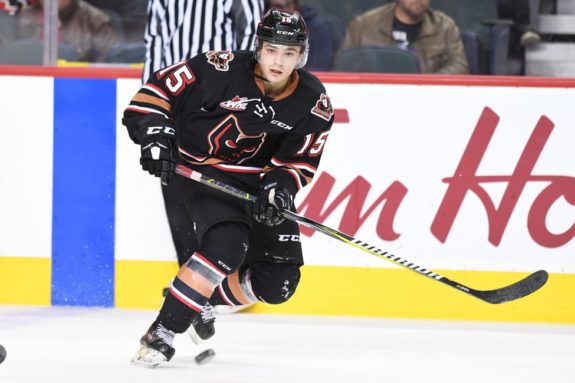 A first round selection in the 2015 WHL Bantam Draft, Nielsen made a brief three-game appearance in 2015-16 before becoming a full-time WHLer in 2016-17. He had 7 points in 49 games as a rookie and seemed to have a ton of energy, albeit unfocused – he was the hockey equivalent of an unattended fire-hose, spraying in a thousand directions.
His 2017-18 campaign can basically be split into two: he played 23 games prior to a hand injury where he was buzzing around the net but things just didn't go in, and then a 26 game period after his return from said injury where everything went in. He had 35 points in 49 games, with 23 of them coming in the second half of the season. The biggest question for scouts is which Nielsen is the "real" one; the answer is probably somewhere in the middle, but how much credence you give to his second half likely determines if you think he has NHL upside. Regardless, his energy was much more focused throughout the season and it helped the Hitmen immensely.
Nielsen's not a big player, but he's a buzzsaw. He has an average to slightly above-average level of overall skill, but his game is elevated by his skating and gas tank – he creates a lot of chances and draws penalties by beating opponents to pucks. He may not be a great finisher – he was for 26 games, but he also bobbled many grade-A chances – but he's got enough hockey sense to always be in the right place to create chances. Physicality might be a challenge at next level and he'll need to bulk up to survive, but he's got the wheels and awareness for it. The biggest challenge for him is converting chances and near-misses on a more consistent basis.
Related: THW's 2018 NHL Draft Guide
Nielsen's undersized, but works hard and his pace is what sets him apart from the pack. The gamble for NHL clubs is whether his final 26 games of this season is indicative of his offensive upside. More and more teams are taking gambles on players with his offensive profile in the later rounds and there may be some value here. Teams with multiple picks – and the ability to take calculated risks with those picks late in the draft – may take a calculated risk with him.
Tristen Nielsen – NHL Draft Projection
Nielsen seems to be a candidate to be selected in the sixth or seventh rounds. His size may give teams pause, but his offensive output this season after his return from injury will earn him quite a bit of consideration in the waning moments of the draft.
Quotables
I just noticed that Tristen Nielsen didn't crack NHL Central Scouting's North American skater rankings. I'm baffled that a player in such a big market could get so badly missed.

Hooooo boy, is he going to prove those scouts wrong

— Derek Neumeier (@Derek_N_NHL) April 16, 2018
Strengths
Plays with a ton of pace and tenacity
Good situational awareness in all three zones
Great fore-checker
Under Construction (Improvements to Make)
Lacks size and will need to add muscle to his frame
Arguably doesn't have a single high-end attribute to his game
Not great at burying chances consistently
Could stand to improve his decision-making in offensive zone
Other 2018 NHL Draft Profiles
NHL Potential
Nielsen projects as a bottom six energy forward at the pro level.
Risk-Reward Analysis
Risk – 1.5/5, Reward – 3/5
Fantasy Hockey Potential
Offense 8/10, Defense 8/10
Awards/Achievements
Nielsen represented Canada at the Under-17 Hockey Challenge.
Interview/Profile Links
Videos