What's The Grind Line? Apart from the once-famous line of Kris Draper, Kirk Maltby, and either Joe Kocur or Darren McCarty, The Grind Line is also The Hockey Writers' weekly column about the Detroit Red Wings. Jacob Messing, Tony Wolak and Rachel Anderson are the muckers who make up THW's forechecking unit and sound off on Red Wings topics.
---
With the 2018 NHL Entry Draft this Friday, the Detroit Red Wings have been rumored to be doing just about everything, from trading up, trading back, and drafting a center, winger, or defenseman.
The Red Wings have lots to do with a loaded roster, incoming youth, and five restricted free agents to deal with. This week, The Grind Line takes a look at three potential trades Red Wings fans could see occur on June 22 as general manager Ken Holland looks to alleviate problems and build for the future.
Jacob Messing: Swap Athanasiou for 2nd Round Pick
The Red Wings already hold picks No. 6, 30, 33, and 36 – adding another pick in the 30s range would be huge as the rebuild carries on. Athanasiou, 23, has been a part of plenty of trade rumors after last summer's contract holdout. He's in the market for another new deal and with arbitration rights, Holland may decide his next deal would be best suited elsewhere given the four other restricted free agents on his list.
Athanasiou's fast, skilled, and presents another level he hasn't reached due to consistency issues. But if sold as a player in need of a change of scenery, the former fourth-round pick could fetch a second with the right buyer. He offers a few different options for the team.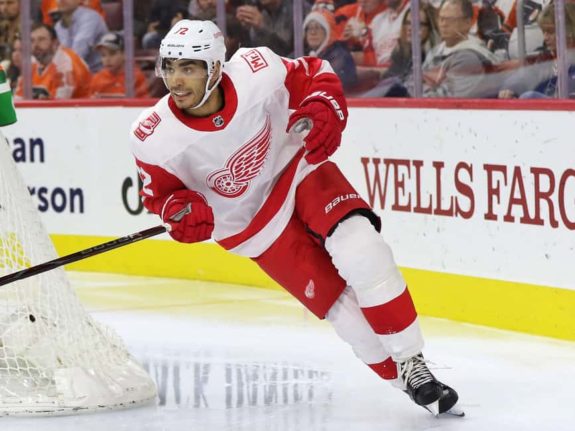 Two teams hold multiple draft picks in the early portion of the second round. They are the Montreal Canadiens (picks No. 35 and 38) and New York Islanders (No. 41 and 43). Montreal is still in win-now mode and landing the promise of Athanasiou, who they could toy with at his natural center position, nabbing one of those picks would be a fantastic haul for Holland.
Should the Islanders retain, or believe they can retain, John Tavares, they would be acknowledging their future is still now, and relinquishing a pick for a player with top-six talent and speed compatible with Mathew Barzal, surrendering the 41st or 43rd pick would be worth it.
Related: Red Wings' Draft History Tendencies
Another trade partner could be the Edmonton Oilers, which may like Athanasiou's speed alongside Connor McDavid. They would have to relinquish the 40th pick in doing so, but GM Peter Chiarelli isn't shy when it comes to trades, and given his history, Holland could even pull in another asset.
Tony Wolak: Top-10 Trade Down
One potential trade that I'd like to see the Red Wings explore is trading back from the sixth-overall draft spot. And if someone like Filip Zadina falls in the draft, then Holland should seriously consider a swap.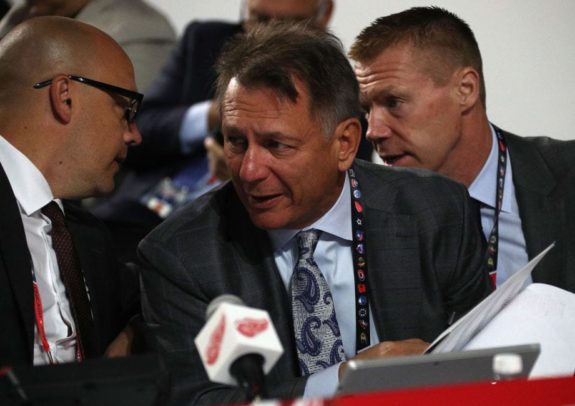 Don't get me wrong, a game-breaker like Zadina would greatly benefit the Red Wings. However, the organization could also use more depth. Adding a defenseman in the top-10 and another late-first-round pick would give Detroit two solid contributors and five total picks in the top-36 of what appears to be a very deep draft.
Related: Red Wings 2018 Draft Preview
Teams like Chicago and the New York Rangers are at a crossroads. The Blackhawks, in particular, have been competitive for so long and may want a quick fix to return to contention. Perhaps the Red Wings could offer the sixth-overall pick for Chicago's eighth- and 27th-overall choices. Chances are, a quality defenseman would still be available at No. 8 for Detroit.
Adding the 27th-overall pick would allow the Red Wings to either move up later in the first round or simply add another intriguing prospect to their pipeline. Players typically ranked between 15 and 45 vary completely depending on the publication, so there's a good probability that someone Detroit really likes will be available at 27, 30, 33, and 36.
Rachel Anderson: Move Xavier Ouellet's Cap Hit
Ouellet was promising at the American Hockey League (AHL) level, however, since joining the Wings, he's been on a steady decline. He's not as sloppy as some, but he doesn't move fast enough to get to the puck at critical moments. Ouellet isn't small but doesn't seem to always be in control of his body in scrums.
Though D-Men aren't typically high scorers, Ouellet lacks the offensive edge that's needed in the game nowadays. Detroit is in need of a deeper blue line and unfortunately for Ouellet, he's not producing that. He's got potential still, but isn't exactly "grinding it out" like other hungry defenseman wanting to claw their way into the lineup.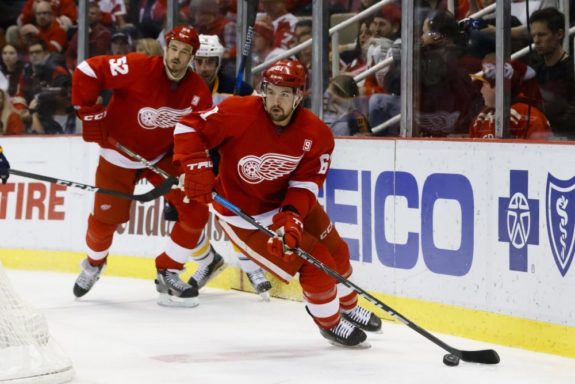 If the Wings were able to move his cap hit of $1.25 million, that'd make room for a few more youngsters. If he was not traded over the summer, Helene St. James states that he's likely going to be waived, which would allow the Wing to "hide the salary in the minors."
Ouellet is not as expensive as some of the other more "risky" guys like Mike Green, but he produces less. In Green's instance, his point production and two-way game are keeping him on the positive side of the trade conversation.
If the Wings do decide to hold on to him instead of a trade or waive, he'll need to log some extra hours in order to impress. With the youngsters in Grand Rapids chomping at the bit for their spot, he's going to be hard-pressed to earn his keep.
I offer opinions and insight on the Detroit Red Wings organization and its prospects.