Andreas Athanasiou has quickly become one of the more entertaining players on the Detroit Red Wings' roster, but this offseason the team has to decide whether they want to keep him around. After a lengthy contract dispute at the beginning of last season. the Red Wings may be more inclined to trade the young winger, but they have options.
What Is Athanasiou's Value as a Free Agent?
When Athanasiou's holdout came to an end last October, he and the Red Wings agreed to a one-year, $1.387-million deal. This deal came off an effective sophomore season in the 2016-17 campaign where he posted 29 points in 64 games. Another season has passed, and Athanasiou's points-per-game production increased slightly with 33 points in 71 games.
Those numbers are nothing to scoff at, but when you consider that Athanasiou spent the majority of time on the second or third line, it proves he can be a valuable offensive talent.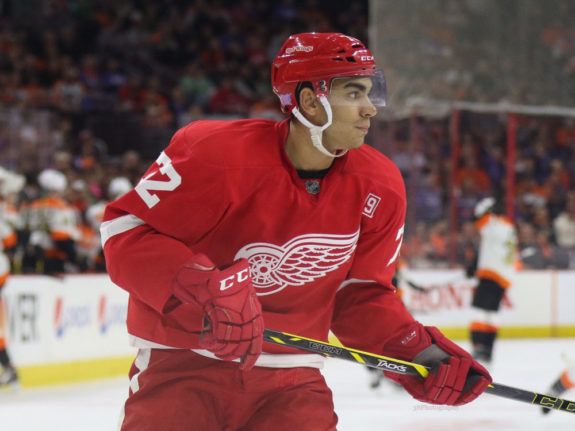 But the issue with Athanasiou is that he remains inconsistent. With the flashes of speed, talent and ability come periods of offensive droughts. He shot out of the gate with 17 points in his first 30 games of the 2017-18 season but ended the final 41 games with just 16 additional points. Even the Red Wings' head coach, Jeff Blashill, questioned his forward's effort during the team's locker cleanout day.
"If I'm guessing whether or not he's going to work and compete, it's hard to keep putting him out there because I don't know what I'm getting. So that consistency level and work ethic and compete is going to be critical for AA," said Blashill.
That scoring drought over the second half of the season could very well damage Athanasiou's worth in a new contract. It is already fair to question his commitment to the team after last year's holdout, and after showing no major improvements in his game, are the Red Wings going to be willing to dish out a major contract?
However, they have handed out major contracts to players with this level of production before, such as Tomas Tatar. In hindsight, that contract was a mistake from which they could learn.
His value should range somewhere from $2-3 million per year based on what he has accomplished and the potential he has shown. General manager Ken Holland has a tough offseason ahead with players such as Dylan Larkin, Anthony Mantha and Tyler Bertuzzi all needing new contracts. It's fair to say that Larkin and Mantha will be the centerpieces of the Red Wings' rebuild, which may not afford the team much room to sign Athanasiou to a $5 million dollar yearly deal.
Are There Trade Options?
A young player like Athanasiou can be very tempting when it comes to the trade market. His speed is dynamic allowing him to break free from defenders and his stick handling ability has shown improvement. The tools are all there, it's just the ability to consistently create offensive opportunities that hurt his game.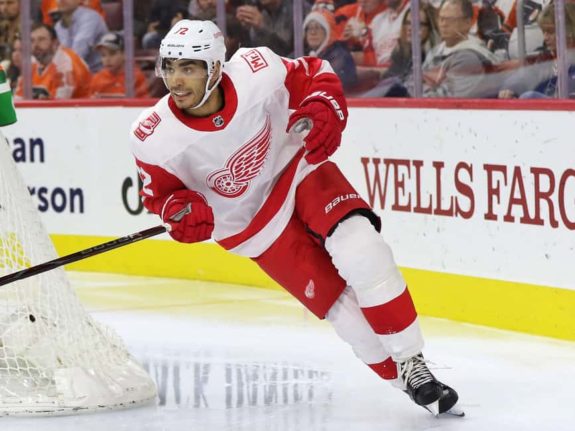 In his 31 Thoughts podcast from early February of this year, Elliotte Friedman suggested that a viable trade for the Red Wings would be to deal Athanasiou for the Carolina Hurricanes' Justin Faulk.
It was an interesting rumor that never panned out but it brought some light onto where the Red Wings might be thinking with this Athanasiou situation. It is clear that Detroit's roster is lacking on defense. And with young forward talent looking to crack the lineup over the upcoming years, such as Evgeny Svechnikov and Michael Rasmussen, the importance of developing defence might be more important than the offensive side of the game.
Teams like Carolina, Edmonton, Vancouver and Buffalo, who were all within the bottom-ten in goals for this past season, could use a player like Athanasiou. The key for Detroit will be to land a prospect or draft picks with potential on defence in exchange for the rights to Athanasiou, who has proven he can hang with what the NHL has to offer.