Early April 2012. The Capitals are a victory away from clinching a playoff berth. However, things fall flat when Marco Sturm lands awkwardly on Michal Neuvirth's pad, injuring Washington's starter. Both he and Tomas Vokoun are out heading into the playoffs, leaving a baby-faced Braden Holtby as their starter.
He was 22 at the time, no massive beard, no "Holtbeast" nickname yet and most importantly, not a permanent member of the NHL roster. Holtby was still mainly a Hershey Bear, a minor-league goalie still developing and trying to prove his worth. He had seven games with the Capitals during the regular season and had flashes of greatness, but still, critics and fans alike were unsure of what the Capitals' newest starter, thrown into the spotlight, would make of the playoffs. It took just a game for him to shock a franchise with his performance.
"It seems like a long time ago now," Holtby said with a smile at Washington's breakdown day.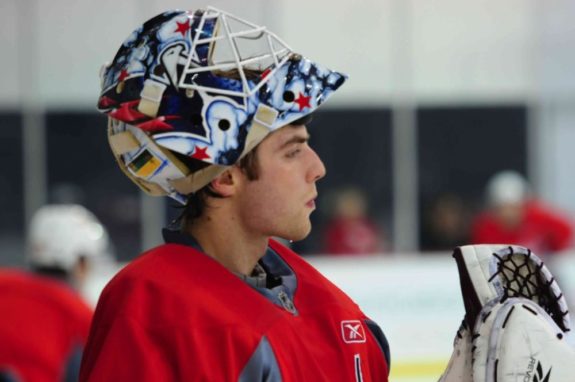 The young netminder became an overnight sensation, boasting a 1.95 goals-against-average and .935 save percentage. And though he carried Washington far, the team was unable to get past round two, falling to the New York Rangers in seven games of the Eastern Conference semi-finals.
Fast-forward five seasons later and he's a Stanley Cup champion, and he was also one of the top contenders for the Conn Smythe with his 2.16 GAA and .929 save mark this postseason. He has always been dominant in the playoffs and for years, has been a champion in the making, that story culminating this season.
And ironically, Holtby feels like the time between now and then isn't all too different.
"There's a lot of similarities in [2012] and this year," Holtby said. "We finally won. It's a pretty good feeling."
Holtby's Rise to a Career
Holtby's father, Greg, was a goaltender, and his mother was a country singer. He grew up in Saskatchewan on a farm and started playing hockey at the age of four. For as long as he can remember, though, he always wanted to be an NHL goaltender, and he can't think of a time where he didn't know of the league and the Stanley Cup.
"That's just the culture in Canada that you learn from," Holtby explained.
Like his father, Holtby's play carried him to the WHL's Saskatoon Blades. An impressive junior record and flashes of potential led him to the NHL draft, where the Capitals took him 93rd overall in the fourth round. He started out returning to juniors, then developed further within the organization and made it to the Hershey Bears in 2009-10, where he also spent some time with the ECHL-affiliate South Carolina Stingrays.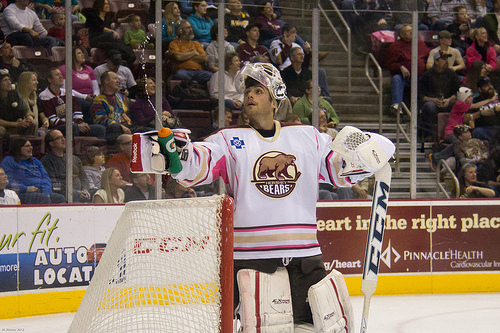 Playing in Hershey with players like John Carlson and Jay Beagle, Holtby helped the Bears to a Calder Cup victory in 2010. The three of them worked their way up to the NHL together, and when they finally captured the Cup championship eight years later, he said, "that hit me pretty hard."
"I think the line, [Beagle] got it, then [Carlson], then myself, couldn't script that any better in my mind because the three of us have been through our whole careers together in Hershey and up," Holtby said. "We've been through every hardship together, and it's pretty special to see those guys get the Stanley Cup."
How Holtby Overcame Adversity
Once a prospect on the verge of an NHL roster spot, Holtby earned his rightful spot in the Capitals net. He's been Washington's main guy in net since 2015 when the new front office staff consisting of general manager Brian MacLellan and head coach Barry Trotz put trust in him to serve as the team's rightful starter, after he had to battle Neuvirth and deadline acquisition Jaroslav Halak back in 2013-14, a season that ended with Washington failing to qualify for the playoffs.
With his new role as the team's definite starter, his confidence flourished as he led the Capitals back to the top. He won a Vezina in 2015-16, after registering a 2.20 GAA and .922 save percentage and tying Martin Brodeur's record of 48 single-season wins. Holbty was nominated again the following year, having led Washington to back-to-back Presidents' Trophies and posting even better regular-season statistics.
Still, though, despite impressive postseason showings, Holtby and the team was again ousted in the second round by Pittsburgh. The team took the time to regroup, and came back completely different, with a lot of key players gone and prospects coming up to fill the vacancies on the roster. And when the season started, the group struggled at times and faced a lot of adversity, especially Washington's experienced starter.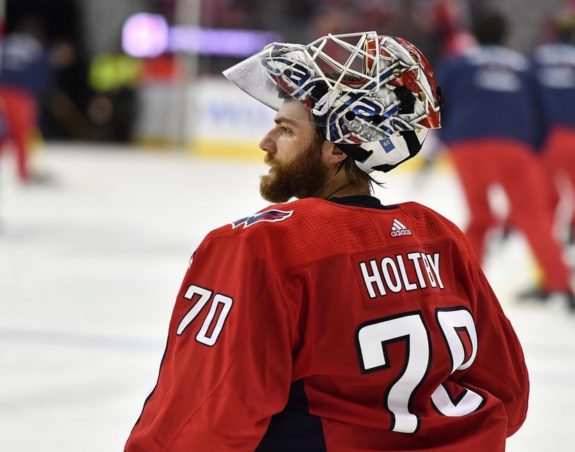 Holtby's season was one that he wished he could forget. He went 34-16-4, registering a career-worst 2.99 GAA and .907 save mark and was pulled three times in an odd February and early March stint. In response, the Capitals handed the starting duties to Philipp Grubauer, who's impressive regular season finish led him to become the starter for the playoffs.
"I mean, every year, you learn and try to get better, you go through different obstacles and this year was probably one of the hardest personally and for our group," Holtby said. "There's a lot of ups and downs, a lot of different things to overcome that we hadn't went through in the past, and I think that's why we had so much success in the end, is because we got challenged and came out better and stronger."
Holtby Cements His Legacy
Holtby watched from the bench for Games 1 and 2 as Grubauer started in net. However, the German netminder surrendered eight goals through the first two games, and as the third period died down at the end of Game 2, Holtby was summoned, putting on his helmet, doing his warm-up routine and returning to his place between the posts.
From that point forward, a season of hardship vanished. Holtby returned to form in a flash, boasting oustanding numbers for another remarkable playoff campaign. But when asked what it was about the word "playoffs" that amplifies his ability, he had no answer or explanation.
"It's always more fun to play in playoffs and I don't know, I try and take the same mentality in any game, whether preseason, postseason, it doesn't matter," Holtby said. 'I'm trying to see how good I can be on that day… I think it's a credit to our teams that have played well, especially defensively, throughout the history of the postseason. That's no different this year."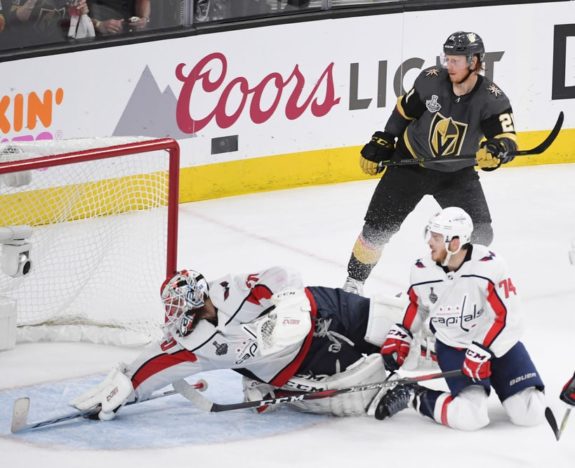 Anyone can argue – and easily say – that Holtby was a rock in the postseason, and without him, a Cup championship would be impossible to capture. He helped Washington rebound against Columbus and was a key factor in helping the Capitals finally defeat the Penguins. In the Conference Final, the Capitals fell to a 3-2 deficit heading into Game 6, but Holtby halted Stamkos, Kucherov and company and posted back-to-back shutouts in Game 6 and Game 7 to send Washington to the Cup Final.
After a titled Game 1, Holtby completely shifted the momentum. "The Save." After Cody Eakin delivered an on-the-tape pass to Alex Tuch. But Holtby reached back, still calm, never faltering, and stopped the puck short.
"You kind of hope there's gonna be a bt more creative name for it," Holtby joked. "It's just one of those moments you dream of going through and it's obviously something tha'tll be around for a bit. We need those moment to win and I thought we got a lot of those from different guys. I was just happy to do my part."
His composure carried on for the rest of the series as the team took four straight wins to capture the franchise's first Stanley Cup. Years of heartbreak in the city, a season of adversity and obstacles and multiple early exits, gone at the sound of the final horn. A legacy secured, a 44-year drought over. Holtby and his teammates, champions at last.
"Thank god he's our goalie," captain Alex Ovechkin said.
Holtby mentioned that the additional games and starts beyond the regular season workload, that was limited for Holtby this past year, took a bit of a toll on his body, but he carried on, and it paid off. And that alone, that grind and dedication, makes the victory and reality of the win incomparable to simply dreaming it as a kid.
"It's better in a rewarding standpoint, because you realize what kind of work goes into it and how much you play," Holtby said. "It's not as [much of a fairytale], that's for sure."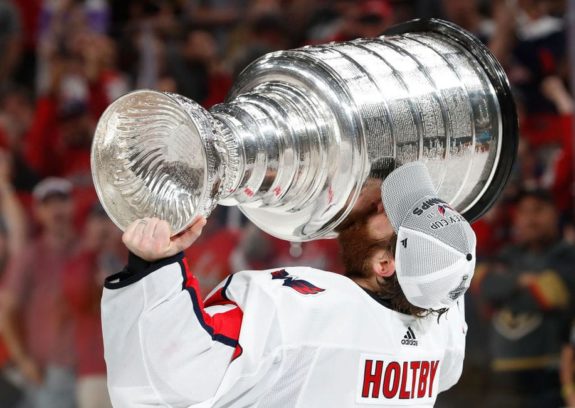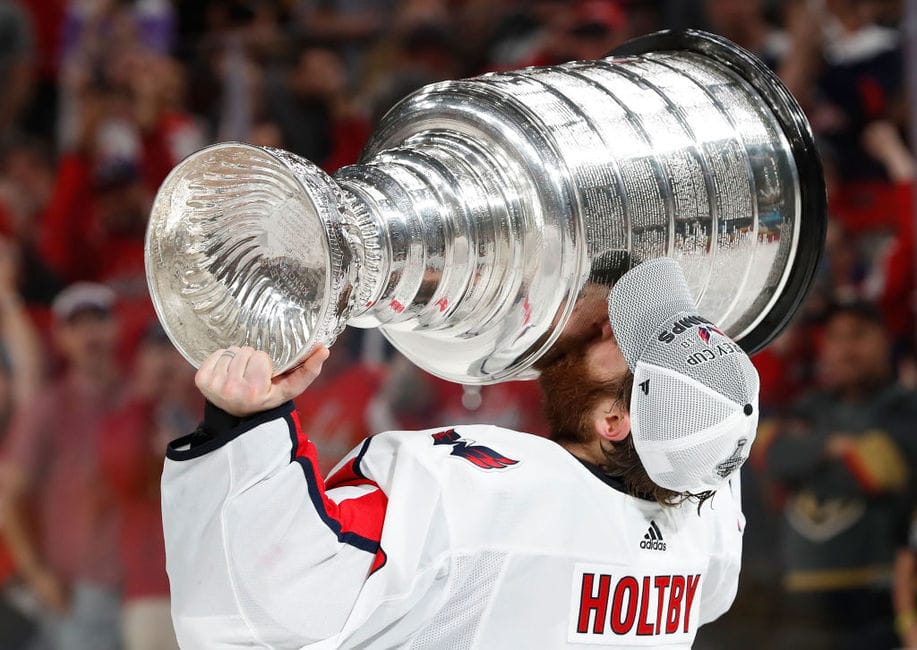 In a way, though, Holtby is glad for the team's struggles and adversity, not just throughout this season. The past years of heartbreak and struggles, ones that spilled over into the 2017-18 campaign, have made him and the team stronger, making the win and the ending to their underdog story so much sweeter.
"Some of those moments wouldn't be the same if it wasn't for the past," Holtby explained. "Like winning Game 6 in Pittsburgh, winning that a few years ago, we definitely wouldn't have the same feeling as we had this year. It's pretty special, and winning after any hardship or overcoming anything is a pretty rewarding experience."