With the NHL campaign almost nearing an end and Lord Stanley's Cup soon to be lifted, it is a perfect time to look back at one of the Detroit Red Wings' major moves at this past trade deadline – the move that sent Tomas Tatar to the Vegas Golden Knights.
Breakdown of the Tatar Trade
The Red Wings and Golden Knights agreed to a deal that sent Tatar to Las Vegas in return for a first-round pick in 2018, a second-round pick in 2019 and a third-round pick in 2021. The move was made to add depth to the Golden Knights who were in prime position to make the playoffs, and, in general, the deal made sense for both sides.
Vegas wanted a young but mature player who had playoff experience and the ability to put the puck in the net. Golden Knights' general manager George McPhee believed Tatar was the player who matched that description.
"He's quick, he's competitive and he can score. He's scored 20 goals a season over the last three years and he's on pace to do it again," said McPhee after acquiring Tatar.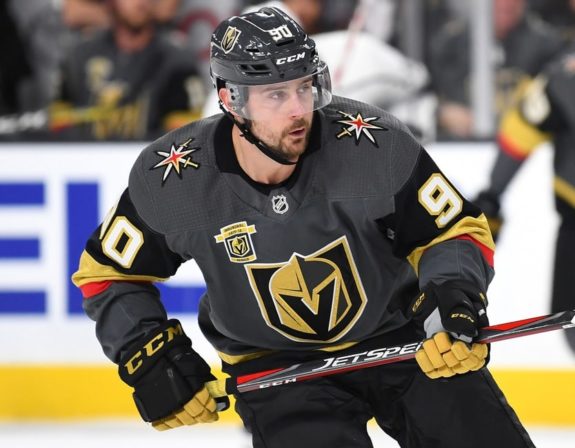 The Red Wings, on the other hand, were five points out of a wild-card spot, yet despite their place in the standings, any Detroit fan could tell you that the Wings were sellers rather than buyers.
But with Mike Green having a strong season and even being named to the All-Star team, most believed that it would be him who would go to a contender first. Instead, it was the younger Tatar who would no longer be a part of the Red Wings' long-term plans. Despite the initial head-scratching that came from the headlines, Red Wings' fans took a step back and realized the franchise was in rebuild mode and acquiring three early-round picks may be worth giving up a 20-goal scorer.
Looking Back: Detroit's Perspective
Giving up Tatar sent a clear message as to where the Red Wings will be headed over the years to come. It was no longer about trying to sneak into the playoffs, which they had been doing from 2013 to 2016, but rather building a contender for the future.
Yet seeing Tatar go was a hard pill for many Detroit fans to swallow. The talented winger spent nearly nine seasons with the organization. He battled just to crack the lineup and eventually earned a top-six forward position.
Tatar was a late second-round draft pick in 2009, but, after working his way to the NHL, was never able to eclipse the 30-goal mark despite showing flashes of brilliance. His 29 goals in 2013-14 were a career-high and were a huge factor in the Wings securing the final wild-card spot to keep their then 23-year playoff streak alive. Since then, he never was able to reach those levels, and it seemed like his ceiling was reached. However, the return that Detroit received from Vegas had to bring a smile back to fans' faces.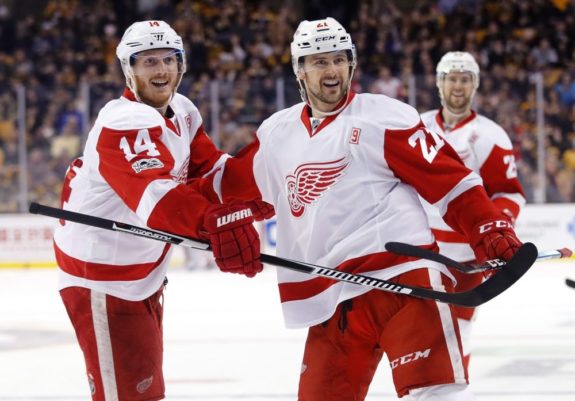 Detroit received three early round picks, and even though the first rounder may be the 30th or 31st pick, depending on if Vegas wins the Cup, it will still be a high-quality player. Add onto that a second and third round pick, and the Red Wings have the chance to grab three players with skill-sets similar to Tatar to build around in their future.
The move allowed younger players like Anthony Mantha, Tyler Bertuzzi and Evgeny Svechnikov to get more ice-time and more NHL experience. General manager Ken Holland recognized this potential at the trade deadline.
"This was about creating opportunity for younger people in the organization that we think are ready," said Holland. "I am trying to build a team here that somewhere down the road can compete for the Stanley Cup."
An added bonus was the relief from Tatar's heavy contract. The deal freed the Red Wings from the winger's $5.3-million per year cap hit until the 2020-21 season. That valuable cap space can be used on younger talent with contracts which expire over the next few offseasons.
Looking Back: Vegas' Perspective
Tatar finished the season with the Golden Knights putting up 10 points in 20 games, but ended up with a minus-11 rating. What has been most shocking is his lack of appearances during the playoffs. In fact, Tomas Nosek, who was Vegas' expansion selection from Detroit, has suited up for 16 of 19 playoff games and he doesn't have the kind of name recognition that Tatar does.
This doesn't mean that Vegas severely lost the trade. Tatar is still an excellent second or third-line player who will add valuable depth to this team for years to come. Tatar's almost-guaranteed 20 goals each season is huge for a young organization, who, despite their success this year, are looking for young players to be the leaders of the franchise moving forward. Tatar is one of them, even if he is not a part of the team's present championship plans. The roster, at this point at time, has been incredible in the playoffs, and adding a struggling Tatar into the mix did not make much sense.
But, with an injured David Perron no longer in the lineup, it was Tatar who was asked to step up. Depending on Perron's health going forward, Tatar may be given a chance to prove his worth for the remainder of the series. And maybe he could change the perception of a lopsided trade once and for all.