Beginning June 1, NWHL teams can re-sign players from their 2017-18 roster and their draft picks. Additionally, for those players who have completed their college eligibility and want to continue their hockey careers, NWHL Free Agency provides the best opportunity to continue playing at the highest level of professional women's hockey. Players who were not drafted by an NWHL team, or who have previously played in a different league, in Europe or otherwise, are unrestricted free agents and may sign with any team that offers them a contract.
The fourth season of the NWHL will begin in October as the Metropolitan Riveters defend their Isobel Cup championship, and with the addition of a fifth team – the Minnesota Whitecaps – this will be the most competitive season yet.
My colleague Dan Rice will keep THW readers up-to-date on Metropolitan and Connecticut's signings throughout the summer, while I post updates on Buffalo and Boston. Together we will be keeping readers informed of all of Minnesota's signings. 
Beauts Ink Three Rookies, Including Two Draft Picks
Olympian Hensley Becomes Beauts Newest Netminder
Beauts Sign Olympian Cameranesi
The big splashes the Buffalo Beauts have been making on the free agent market appear to endless at the moment. After a lone day of making no signing news, the Beauts announced on Jun. 16, 2018 that they had now added one of the premier snipers in the NWHL, Kelly Babstock. A sizable forward who has played the first three years of the league's existence all with the Connecticut Whale now will be playing closer to her home of Mississauga, Ontario.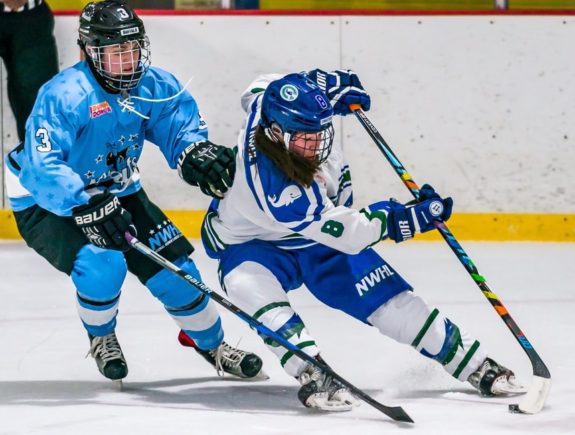 "I am excited to have this opportunity to play for the Buffalo Beauts in such a great city," Babstock said in a press release. "Next season is going to be a great one and I am excited to contribute to this organization. The fan base has always been passionate, and I am excited to play in front of a great crowd."
With Babstock now under contract, in addition to the other nine signings that the Beauts have made since free agency start on Jun. 1, it is an "all in" mentality right now in Buffalo. One that appears extremely poised and well-orchestrated to recapture the Isobel Cup.
THW takes a closer look at what Babstock will bring to the Beauts.
A Power-Forward With No Hesitation
Babstock's scoring prowess has seen her named as an NWHL All-Star twice since the league's inception. At 5-foot-7 and around the 150-pound mark, she is a very powerful forward who muscles her way to the goalmouth time and time again. There is simply no hesitation to Babstock's game – she gets the puck and she drives to the net. In most instances, defenders are just not strong enough to stop it from happening. When going up against her, a defender's best bet is oftentimes using sound positioning to put her at less than ideal angles. Otherwise, it is a dead heat endeavoring to out-muscle Babstock.
New season, new city for Kelly Babstock.

After three years with the @CTWhale_NWHL, Babstock will join our organization for the upcoming season! Happy to have you on our side, Babs! pic.twitter.com/vhSnOBd8VL

— Buffalo Beauts (@BuffaloBeauts) June 16, 2018
In 49 regular season games – all with the Whale – she has compiled 40 points off of 23 goals and 17 assists. Babstock's finest season offensively came in 2016-17 when she scored 10 goals and nine assists in 17 games to be better than a point-per-game game player. Putting 58 shots on net that year, Babstock's shooting percentage was an impressive 17.2%.
This most recent 2017-18 NWHL season, Babstock's goal scoring dipped slightly during the regular season (four goals in 14 games), but she still bombarded all goaltenders that she faced. Her 71 shots on net led the entire league, and she distinguished herself as the Whale's most integral player. Babstock's four goals tied her for Connecticut's team lead in goal scoring alongside Emily Fluke.
Babstock Brings Goals and Physicality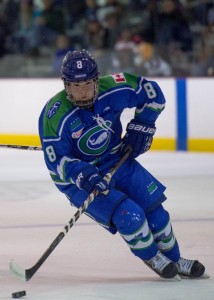 Putting aside scoring production for a moment, Babstock also brings a very physical game to the Beauts. She was second most penalized player in the league during the 2017-18 season with 11 infractions equating to 22 penalty minutes. During the 2016-17 season Babstock tied with former Beaut Devon Skeats for the league lead in penalty minutes with 26 minutes a piece. Even in the first year of the league her 24 PIMs tied her for fourth most overall. Babstock plays hard and rough, and it has helped her score goals.
Adding Babstock's physicality to the team coincides with the projection for the team heading into this upcoming season. Players like Maddie Elia, Hayley Scamurra, Corrine Buie, and rookie Annika Zalewski are all big, strong forwards who are extremely difficult to shutdown. Now with Babstock joining this mix, the Beauts have assembled an army of intimidating forwards that can put the puck into the back of the net.
In the three prior years that the Beauts had to face her, Babstock was always one of those players that you hated to go up against, but how wonderful would it be to have her on your team? Well, wishes appear to keep coming true at the hands of Buffalo GM Nik Fattey.
Is the Cup Already Buffalo's?
Right now it is difficult to imagine what rosters the Whale, Boston Pride, Minnesota Whitecaps, and the Metropolitan Riveters will be able to assemble in order to combat the juggernaut of talent that Buffalo has compiled. Between Olympians, NCAA champions, Isobel Cup champions, All-Stars, and so forth, the Beauts may have put together the grandest collection of pure talent that we have seen on one roster in NWHL history, and it is still not even halfway filled.
For Babstock in particular, it is a legitimate opportunity to get her name onto the Isobel Cup. The trophy has evaded the Whale for the first three years of the NWHL. Babstock and her former teammates have been the only squad of the "Founding Four" teams to not have played in a Cup final thus far, let alone win one. While there are no guarantees in sport, one does have to admit that the composition of Buffalo's team so far does have them prepared for at least a return trip to the championship round.
Beauts fans, help us welcome @kelly_babstock home to the City of Good Neighbors! pic.twitter.com/FKYy6qqmz3

— Buffalo Beauts (@BuffaloBeauts) June 16, 2018
Babstock had the following message to share with Buffalo as a video on social media:
"Hey Beauts fans, it's Kelly Babstock from Mississauga, Ontario. Just wanted to say that I'm super excited for next season to start, and I can't wait to be playing at the HarborCenter in front of some great fans. Pumped!"
The Beauts have made the most signings of the five NWHL teams thus far. Here is a look at how their roster is currently shaping out as of Jun. 16:
Goalie: Nicole Hensley.
Defense: Lisa Chesson, Savannah Harmon.
Forward: Hayley Scamurra, Corinne Buie, Maddie Elia, Dani Cameranesi, Annika Zalewski, Julianna Iafallo, Kelly Babstock.