Beginning June 1, NWHL teams can re-sign players from their 2017-18 roster and their draft picks. Additionally, for those players who have completed their college eligibility and want to continue their hockey careers, NWHL Free Agency provides the best opportunity to continue playing at the highest level of professional women's hockey. Players who were not drafted by an NWHL team, or who have previously played in a different league, in Europe or otherwise, are unrestricted free agents and may sign with any team that offers them a contract.
The fourth season of the NWHL will begin in October as the Metropolitan Riveters defend their Isobel Cup championship, and with the addition of a fifth team – the Minnesota Whitecaps – this will be the most competitive season yet.
My colleague Dan Rice will keep THW readers up-to-date on Metropolitan and Connecticut's signings throughout the summer, while I post updates on Buffalo and Boston. Together we will be keeping readers informed of all of Minnesota's signings. 
Chesson & Buie Signings Keep Beauts' Leadership Intact
Beauts' Elia Signing Packs a Punch
The Buffalo Beauts just keep the signings coming and coming, and now they have signed their first PyeongChang Olympian. Word was released on the afternoon of Jun. 12, 2018 that Dani Cameranesi had joined the team. The 5-foot-5 forward became the fifth signing that Buffalo has made since NWHL Free Agency began on the first day of the month. Cameranesi joins a squad that is quickly assembling their players in what is sure to become an NWHL arms race between the league's five teams.
"We're thrilled to be able to add such an accomplished, young player to the team," said Beauts General Manager Nik Fattey via a league press release. "Dani brings a winning pedigree and offensive skills that we believe will pay dividends for our team this season."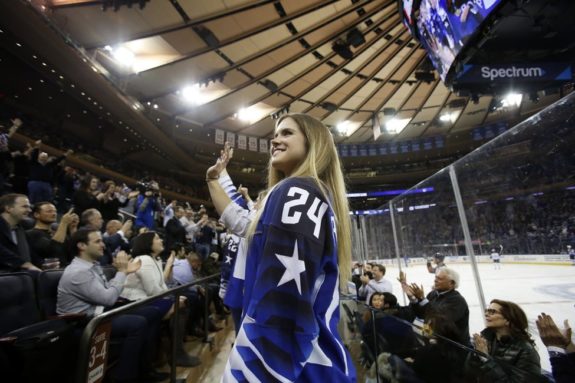 Just 45 minutes after the signing was announced, Cameranesi spoke with the media through a teleconference. THW took part in the question and answer session, and learned more about the newest Beaut. We found that not only has Buffalo added another scoring threat, but arguably an even better two-way player.
Offense From Cameranesi Is a Given
"I could not be more excited to announce my decision to sign my first pro contract with Buffalo," Cameranesi stated through the same league press release. "I ultimately desired to be a part of an organization experienced in running a professional sports business. With their ownership in the NFL, NHL and other sports enterprises, the Pegula family is genuinely committed to bringing success to the City of Buffalo. Their passion for growing the game of women's hockey can be seen in the strong foundation they created for women through the Buffalo Beauts organization. I'm excited to be a part of the organization and can't wait to begin my professional career in Buffalo."
The Beauts will be getting a player who brings a ton more than just being excited about the city and the team's ownership. Cameranesi tied for the team lead for the United States at the 2018 PyeongChang Winter Games. In the five games of the tournament as the USA women took gold for the first time in 20 years, she scored three goals and two assists. Additionally, Cameranesi's 20 shots tied her with Hilary Knight for the second most of USA's shooters.
Minnesota Golden Gophers → Team USA → Buffalo Beauts

We have agreed to terms with Olympic gold medalist, Dani Cameranesi! Welcome to Buffalo, #24! pic.twitter.com/zqxQXvQ9Zr

— Buffalo Beauts (@BuffaloBeauts) June 12, 2018
Hailing from Plymouth, Minnesota, Cameranesi's scoring escapades were well known throughout her college career at the University of Minnesota. In four years with the Golden Gophers she scored 93 goals and 108 assists for 201 points in 143 games. Cameranesi's finest NCAA season was her junior year when she potted 33 goals and 35 assists for 68 points in only 40 contests. Subsequently, she and the 2015-16 Gophers would win their second NCAA title in a row.
Cameranesi Brings a Bit of Everything to Buffalo
It is far more than just Cameranesi's offensive talents that make her such a special addition for the Beauts. She is the first to admit that she actually prefers not only the most sandpaper aspects of hockey, but that she has an affinity towards her defensive responsibilities too.
During the teleconference THW asked her what she believes to be her best attributes as a hockey player. Cameranesi responded with the following:
"My best attributes I think would be my speed and my shot," she explained. "I know that my brother likes to make fun of me and say that I'm a little bit of a grinder. I have a high level of skill, but not be afraid to get into the corners and battle it out in front of the net. Do that kind of stuff. My brother also made fun of me the other day because I said that my favorite part about hockey is backchecking, so he thought that was a little weird. I just really enjoy the game and that's the reason why I keep playing, but definitely my speed, my shot, and my ability to get dirty when it comes down to it."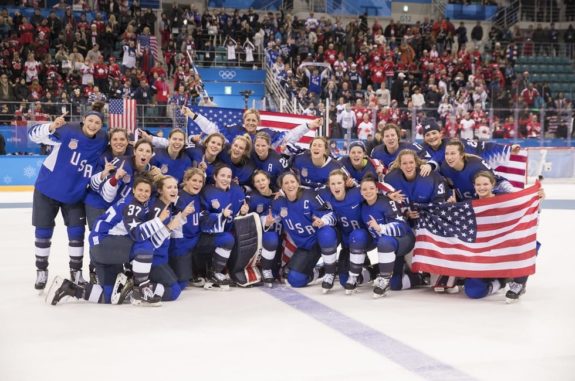 The Beauts penchant for combining offense, grit, and backchecking has become their modus operandi. It is written all over the forwards whom they have signed thus far – Maddie Elia, Hayley Scamurra and Corinne Buie. Now you have to include Cameranesi into the mix. While she may be more diminutive in stature when compared to the other three, she can be just as scrappy and may be the most offensively talented.
Buffalo Is a Hockey Town
Referencing Cameranesi's thoughts on the impact the Pegulas have had by acquiring the Beauts, she acknowledges too that Buffalo being a hockey town was a contributing factor as well. There are five NWHL teams and seven CWHL ones – she could have chosen any of them, and yet she elected to sign with Buffalo. Keep in mind that Cameranesi is from Minnesota, and the Whitecaps are now part of the NWHL. Representing a native Minnesota team was an option, and yet she chose Buffalo. "The City of Good Neighbors" is very much a hockey town and players know that.
Beauts fans, help us show @DaniCam9 the #Buffalove! pic.twitter.com/xw5ui58Eqy

— Buffalo Beauts (@BuffaloBeauts) June 12, 2018
"That definitely influenced my decision," Cameranesi explained. "Just hearing from Emily Pflazer, she's obviously a native to Buffalo, and played with the Beauts as well. I've just heard so many great things from Nik the GM and everything that Buffalo has to offer. I know there's a great support system for the Sabres, and I've heard there's even a super great support system for the Beauts too, which I think is even better. Part of the mission of the NWHL is to grow women's hockey, and from what I've heard and seen, what Buffalo has done is pretty incredible. They get a number of fans up there to the home games, which I know other teams kind of struggle with, but they're doing a great job starting that foundation to grow the game. It's a huge reason as to why I wanted to go to Buffalo and be a part of that."
The city of Buffalo welcomes Cameranesi with open arms. Yes, it is a hockey town, but it also lives up to its nickname by being most welcoming. There is a strong support network for the Beauts, and it is one that keeps growing. Acquiring an Olympian like Cameranesi – who sought to come here – helps foster that support in an immense way.
Floodgates Open for Olympians to Come to Buffalo?
Perhaps it is no surprise that Cameranesi mentioned Emily Pfalzer. Speculation goes back well before the midway point of the 2017-18 season that the former Beauts captain could return to her hometown team after the 2018 Olympics. There has also been talk over the possibility of Lee Stecklein – another fellow PyeongChang Olympian and 2016 Beauts first round draft choice – being acquired by the team as well. Stecklein is also a fellow Golden Gopher. With one Olympian now here, more could indeed come. In fact, it is a likelihood.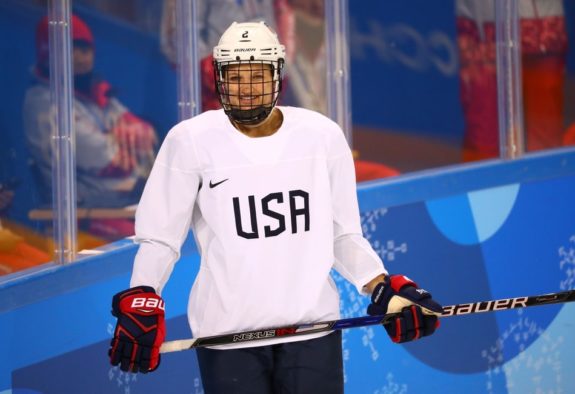 THW asked Cameranesi if she envisioned more of her PyeongChang teammates signing in the NWHL, and specifically following her to Buffalo. She responded somewhat cryptically and with an audible grin.
"I think you'll be seeing a few more in the coming days and weeks. Potentially a few to Buffalo. I guess we'll just have to wait and see on that one."
The Beauts have made the most signings of the five NWHL teams thus far. Here is a look at how their roster is currently shaping out as of Jun. 12:
Goalie: 
Defense: Lisa Chesson.
Forward: Hayley Scamurra, Corinne Buie, Maddie Elia, Dani Cameranesi.