Beginning June 1, NWHL teams can re-sign players from their 2017-18 roster and their draft picks. Additionally, for those players who have completed their college eligibility and want to continue their hockey careers, NWHL Free Agency provides the best opportunity to continue playing at the highest level of professional women's hockey. Players who were not drafted by an NWHL team, or who have previously played in a different league, in Europe or otherwise, are unrestricted free agents and may sign with any team that offers them a contract.
The fourth season of the NWHL will begin in October as the Metropolitan Riveters defend their Isobel Cup championship, and with the addition of a fifth team – the Minnesota Whitecaps – this will be the most competitive season yet.
My colleague Dan Rice will keep THW readers up-to-date on Metropolitan and Connecticut's signings throughout the summer, while I post updates on Buffalo and Boston. Together we will be keeping readers informed of all of Minnesota's signings. 
Beauts' Elia Signing Packs a Punch
Beauts Kick Off NWHL Free Agency
Over the span of two days, the Buffalo Beauts ensured that their veteran leadership will be very much intact for the upcoming 2018-19 NWHL season. On Jun. 4 the announcement was made that the Beauts re-signed their elder stateswoman on defense and Olympic silver medalist, Lisa Chesson. Then on the following day word came out that team captain and two-time Isobel Cup champion Corinne Buie would be back in the "City of Good Neighbors" as well.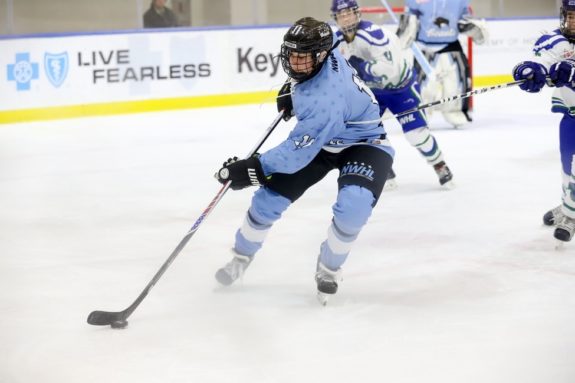 Speculation arose somewhat surrounding both players, especially with the expansion of the Minnesota Whitecaps into the league. Buie is a native of Edina, MN and some wondered if she would sign with a team closer to her original home. Chesson on the other hand – or "Cheese" as she is affectionately known in Buffalo – will turn 32 this August, and some wondered if she may retire.
Worry no more, for all fears are now totally unfounded – both of these elite players are Beauts for a third straight season.
Chesson Is the Steadying Presence on "D"
One of the main reasons why Chesson has been so integral for the Beauts blueline the past two seasons is because she is so darn steady. Buffalo's back end received recognition across the NWHL for how cohesive and interchangeable each defender was. Much of that can be attributed to Chesson's guidance as a veteran, and her natural ability as a talented defender. No matter whom she was partnered with, she always came forth with the same intangibles – hardworking, sound positioning, and wide of vision.
The Beauts had a few rookies on defense during the 2017-18 season, namely Colleen Murphy and Jordan Ott. Chesson is the type of defender that rookies can feel very comfortable playing alongside. If they made a mistake, she was there to cover for it. It's what a veteran of Chesson's pedigree does. She isn't a 2010 Olympic silver medalist for nothing.
.@lchesson11 signing on #NationalCheeseDay…It was meant to be! 🧀🧀🧀 pic.twitter.com/8pmFJqs1dk

— Buffalo Beauts (@BuffaloBeauts) June 4, 2018
Sharing a message on social media, Chesson had the following to say about her re-signing with the team:
"Hey Beauts fans! Can't wait to make another run for the Isobel Cup with you guys. We just can't do what we do without you and your support. So excited to come back for season three with the Beauts. Hope to see everyone in the fall at the HarborCenter."
Chesson played in 14 games for Buffalo this past season, scoring a goal and adding four assists. Her 21 shots on goal were second most for Beauts blueliners. Chesson would also block eight shots and finished the regular season as a plus-four. In the postseason she continued her valiant efforts, playing in both of Buffalo's playoff games. Chesson's five shots on goal in the postseason was the most for the six Beauts defenders to see action in the playoffs.
"Oh Captain, My Captain"
Corinne Buie is one of just two players in the NWHL to have played in the Isobel Cup Final three years in a row. The other – original Buffalo Beauts forward Kourtney Kunichika – we hope re-ups with the team again too. Game in and game out, Buie was the consummate professional for her hockey club. Leading by example on the ice and on the bench, keeping things calm in the locker room, speaking to the media after every game no matter the outcome – Buie did all of the often overlooked things that strong leaders do, and do naturally.
In addition to her ability to inspire her teammates, Buie lights up the lamp with regularity and can play in any situation imaginable. The 10 points she accumulated in 15 games this past season came off of four goals and six assists, and placed her tied for the third highest amount on the roster. Speaking more to her tenacity and defensive strength, Buie's 14 blocked shots tied her for second most of all skaters on the team. The two power play goals she scored were also second most on the team.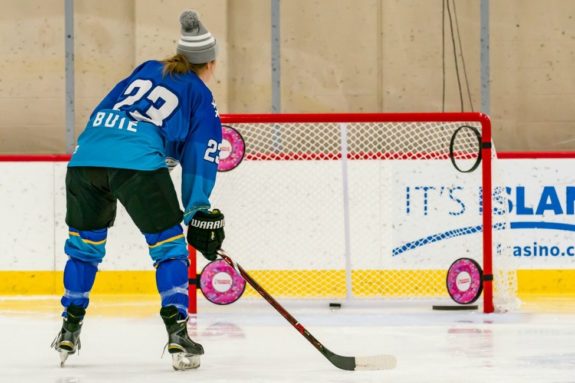 Beauts General Manager Nik Fattey shared the following thoughts on Buie in a press release announcing her re-signing:
"Corinne's leadership during her time with the Beauts has been instrumental to our success as a team. She embodies what we look for in a player and we know she will continue to be a leader on and off the ice."
Buie won the Isobel Cup as a member of the Boston Pride during the inaugural 2015-16 NWHL season. She became the first player in league history to win back to back Cups when she was instrumental in leading Buffalo to their underdog championship victory against her former team the following year.
What These Signings Do for Buffalo
Fattey could not have made two signings that will have more of a ripple effect than by bringing Chesson and Buie back into the fold. The calming demeanor of both players will permeate throughout the team.
Chesson has done it all. A most successful collegiate career and international career, and an Isobel Cup champ to boot. Her being the first defender to re-sign with the team will be a solidifying glue for the Buffalo defense corps. To put it into perspective, most rookies coming to the NWHL out of college will be 10 years Chesson's junior in most instances. You cannot overemphasize the importance of having her to show them the ropes and to lead by example. It is tremendous for Buffalo that Chesson is back for another year.
Great to have you back, @corinnebuie! pic.twitter.com/7ADZM7ru4K

— Buffalo Beauts (@BuffaloBeauts) June 5, 2018
Buie is everything that you would want in a leader. If there was a Leadership Award for the NWHL, she would have already won it by now, and perhaps more than once. Buie is the heart and soul of the team, and the fact that she is remaining in Buffalo for a third season speaks to her character, and her loyalty to the city and this hockey club.
The Beauts have made the most signings of the five NWHL teams thus far. Here is a look at how their roster is currently shaping out as of Jun. 5:
Goalie: 
Defense: Lisa Chesson.
Forward: Hayley Scamurra, Corinne Buie, Maddie Elia.