On June 5 the NWHL announced that their 2018 Isobel Cup champions – the Metropolitan Riveters would be packing their bags and heading to Sweden in late September for a three-game series against the 2018 champions of the SDHL Luleå Hockey. This is the second time that the Riveters franchise will travel overseas to play exhibition games, after playing games in Japan during their inaugural season.
First of Many?
The first-ever Champions Cup will take place from September 26-30, and all three games will be played even if one of the teams wins the first two. One of the more interesting parts of the press release was when NWHL commissioner Dani Rylan referred to it as the 'inaugural Champions Cup', which means that this will be a yearly event — and another great step forward for women's professional hockey.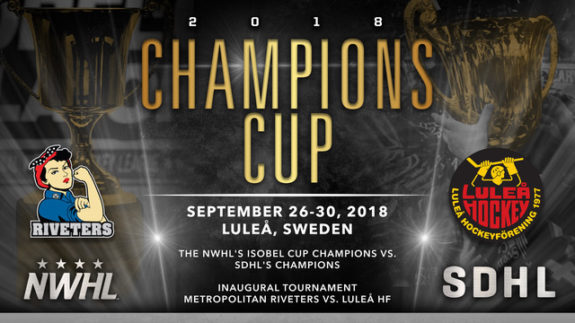 As an added bonus there will be a clinic for young players in the community jointly run by players and coaches from both teams. "Like our colleagues at the NWHL, the SDHL believes strongly in collaboration across all leagues to help push women's hockey forward," SDHL Commercial Director Angelica Lindeberg said in the NWHL press release. "We are proud to host the Champions Cup in Sweden and expect it will be a great success on many levels."
Rylan added, "This launches the first series between champions in professional women's hockey leagues across North America and Europe. Over time, we anticipate that it will expand. Our goal is to further expose the women's game and these athletes and role models to fans around the world. The NWHL and Riveters are looking forward to a memorable week of hockey in Sweden."
BrickWall Fitzy Goes Global
Goaltender Katie Fitzgerald was MVP of the 2018 Isobel Cup playoffs with two shutouts in two games, and even though she hasn't re-signed with the Rivs just yet, it is expected she will shortly. The 24-year-old Fitzgerald will be a formidable foe for the SDHL champs during the games at Norrbotten Arena, and they will no doubt be a challenge for her as well. Luleå has won two of the past three SDHL championships and their roster currently contains players from four different countries.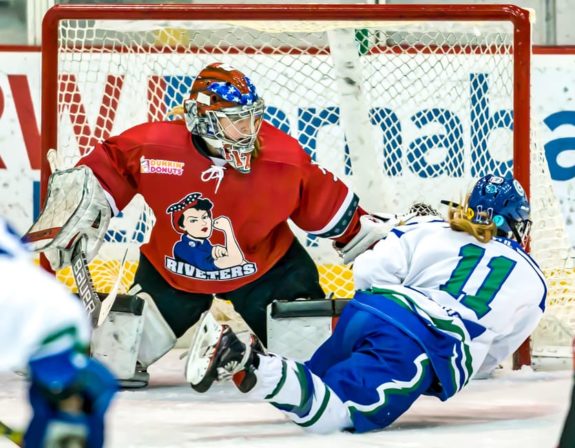 "My teammates and I are looking forward to playing in the first Champions Cup, competing against the great players of Luleå, and shining a light on the game, and the NWHL, in Europe. It's a privilege to have this opportunity and we're going to make the most of it."
Last season the Minnesota Whitecaps, the NWHL's newest franchise, made the journey to Sweden for exhibition matches against three SDHL teams in the Stockholm area. Luleå won 32 of the 36 games they played in the ten-team SDHL and were led offensively by Michelle Karavinen's 68 points (30g-38a) in 34 regular season games – in addition to that she also had 15 points (5g-10a) in seven playoff games.