While there is still a fair amount of lingering disappointment over the Los Angeles Kings' four-game sweep at the hands of the Vegas Golden Knights, the 2017-18 season still stands as a step in the right direction for the franchise. After missing the playoffs last season with just 86 points, the Kings improved to 98 points and grabbed one of the Western Conference's two wild-card berths. They once again rode their exemplary defense, allowing the fewest goals in the league while also posting the league's top penalty kill. The Kings took positive strides offensively as well, improving by almost half a goal per game.
The question becomes, how do they keep the momentum going into next season? With several young players like Gabriel Vilardi and Jaret Anderson-Dolan set to crack the lineup in a year or two, the organization needs to assess its current roster to see who fits into its future plans and whose performance just doesn't measure up. We'll start our evaluations with Kings forwards.
Kopitar Has Tremendous Season
Any discussion upfront for the Kings begins with Anze Kopitar. The 2016-17 season was an incredibly difficult and frustrating one for Kopitar, as he registered a career-low 12 goals and 52 points, the first time since Kopitar's rookie season in 2006-07 that he didn't lead the team in scoring. To say Kopitar had a bounce-back season would be a bit of an understatement. Registering career-highs in all three scoring categories with 35 goals, 57 assists, and 92 points, Kopitar carried the Kings' offense all season long. Of all the remarkable stats he put up this season, the most remarkable might be the fact that only four times all year did he go consecutive games without registering a point, with three of those four being two games and the other just three.
But, while Kopitar starred at the offensive end of the ice this year, it would be a disservice to only talk about his scoring. Over the years, Kopitar has garnered a reputation as one of the best two-way centers in the league as evidenced by his fourth nomination this season for the Selke Trophy awarded to the league's best defensive forward. Kopitar took home the award in 2016.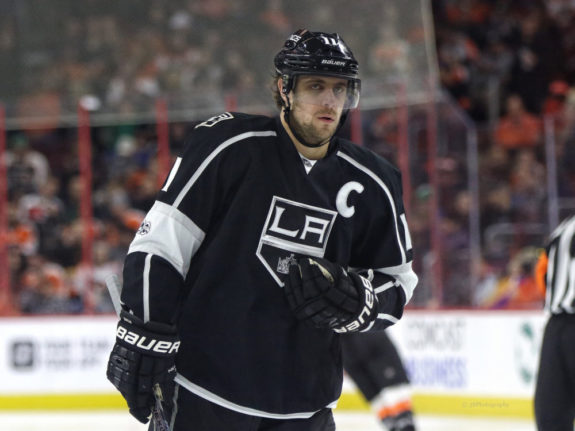 With all the accolades that he received this year, including his first nomination for the Hart Trophy as MVP of the league, Kopitar (like most Kings players) struggled to find the scoresheet in the postseason, being held scoreless in three of four games. As the captain and a two-time Stanley Cup champion, if the Kings are going to continue to make strides toward regaining that championship form, they need Kopitar to translate that consistent scoring from the regular season into similar production in the postseason.
Resurgent Brown Flourishes Alongside Kopitar
While Kopitar was coming off just one down season, former captain Dustin Brown hadn't been a consistent scoring threat since tallying 18 goals in 46 games during the lockout-shortened 2012-13 season. After averaging just 13 goals and 30 points while missing only five games the past four seasons, Brown was once again a physically dominant force for the Kings. Hoping to jump-start Brown's offense, new Kings coach John Stevens put him on the top line with Kopitar, and it paid immediate dividends. Brown got off to a blazing start with four goals and six points in his first four games. While Brown had a few more stretches of consecutive scoreless games than Kopitar, he rode that hot start to 28 goals (the second-most in his career) as well as career-highs of 33 assists and 61 points. His four-goal performance Apr. 5 at home against Minnesota that included the game-winner 23 seconds into overtime was one of the biggest highlights of the season for the Kings.
Like most Kings players, Brown's offense disappeared in the playoffs as he tallied just one assist, leaving a bad taste in his mouth after such a strong regular season—although the fact he underwent surgery on his left shoulder a week after the series ended might have had something to do with it. For as physical a player as Brown is, having an injury to his shoulder might have limited his ability to make some of the hits that are such a big part of his game.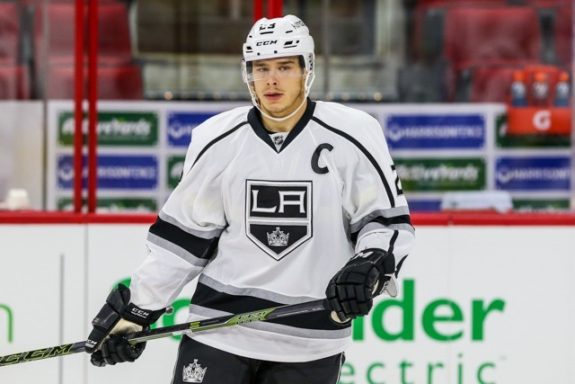 The question looming over the 33-year-old Brown's head this offseason is whether he is capable of more seasons like this or if it's just a one season wonder. While I don't think anyone could have foreseen the kind of jump in production that he had this season, there was an upswing in 2016-17 as his 14 goals, 22 assists and 36 points were the most he'd had in three years.
His splits this season also give a slight indication that there might be another season like this to come. His performance from month to month was fairly consistent:
October: 6 goals and 12 points in 12 games
November: 4 goals and 9 points in 14 games
December: 3 goals and 8 points in 13 games
January: 2 goals and 6 points in 11 games
February: 4 goals and 9 points in 13 games
March: 4 goals and 12 points in 15 games
April: 5 goals and 5 points in 3 games
Being able to sustain his production throughout the season could be an indication of a return to form for a player who had five straight 20-goal seasons from 2008 through 2012.  Only time will tell if that is truly the case.
Jeff Carter: What Might Have Been
During the 2017-18 season, Jeff Carter scored goals at a greater rate than any other player on the team, including Kopitar. The problem was he only played in 27 games. An ankle injury in the sixth game of the season would keep Carter out for the next 55 games and ultimately snap his streak of 10 consecutive seasons with at least 20 goals. When he did return to the lineup, he did his best to try and continue that streak, scoring all 13 goals of his season in a 17-game period.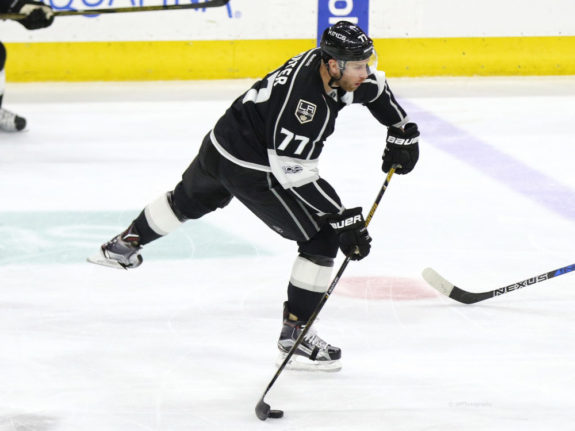 It's hard to say how much of an effect Carter's injury had on the Kings season. Carter led the team with 32 goals in 2016-17, so to spend most of the season without the leading scorer from a team that didn't make the playoffs and still be able to get into the postseason says a lot about the character of the Kings this season. However, it's hard not to wonder, especially after how hot he was when he came back, what might have been if Carter had been healthy the entire season. It's hard to imagine that they would have been able to keep up the pace they set early (going 11-2-2 in their first 15 games), but would a healthy Carter have kept them closer to Vegas, given them home ice in the first round of the playoffs, or a more favorable matchup? We'll never know the answer to those questions. What we do know is that even at 33 years old, Carter is still as deadly a goal scorer as any in the league.
Inconsistency Tarnishes Toffoli's Solid Season
Now we turn to Carter's wingers on That 70s Line. For most players, a 24-goal season would be viewed as a rousing success.  For one Tyler Toffoli, he appears to be paying for his own success. Just two years removed from scoring a team-leading 31 goals, Toffoli has been at the forefront of conversations involving the Kings lack of secondary scoring. While stars Kopitar and Brown were consistent offensive contributors Toffoli's season was a tale of two halves. Through the first 42 games of the season, Toffoli tallied 18 goals and 30 points. Over the final 40 games, he registered just six goals and 17 points. Over a 13-game span from Jan. 13 to Feb. 10, Toffoli recorded just one assist.
It didn't get any better for Toffoli in the playoffs, as he was held without a point despite a team-leading 17 shots on goal. But, not all shots are created equal, as most of Toffoli's shot attempts came from outside the circles and created few true scoring chances.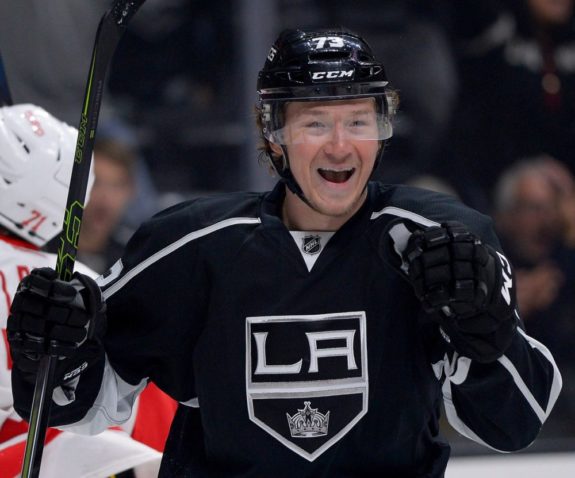 One thing that could have played a factor in some of Toffoli's inconsistency was the absence of Carter from the Kings' lineup for those 55 games. A large part of Toffoli's success in his career has come as part of That 70s Line with Carter and Tanner Pearson. His strong first half would seem to argue against that, but it's truly hard to say how much not having such a dominant presence like Carter with you on the ice game after game can affect one's production. Defenses have to focus on Carter when he is out there and that opens up opportunities for everyone else.
With two more years on his contract, going forward the name of the game for the 26-year-old Toffoli has to be consistency, consistency, consistency. No one is going to score every single night but going a month between goals is just unacceptable for someone of Toffoli's ability. Toffoli finding that consistency will go miles towards alleviating that secondary scoring issue that plagued the team all season long.
Pearson Fails to Build on a Strong 2016-17
Pearson seemed poised to break out and become the Ying to Toffoli's Yang on That 70s Line following his own 24-goal season in 2016-17. But, he too was inconsistent when it came to finding scoresheet which led to a disappointing dropoff to just 15 goals despite playing in all 82 games for the first time. Pearson struggled through much of the first half of the season sitting at just six goals through 40 games. He appeared to find his scoring touch in January, registering four goals and seven points in 10 games, only to practically disappear from the score sheet entirely in February as he had just two assists in 14 games. He then responded with five goals in nine games from Mar. 1 to Mar. 19. Unfortunately for Pearson and the Kings, he would account for just four assists after that going goalless in the final 13 games of the season including the playoffs.
Some might argue that Pearson was playing better than the numbers indicated if you were to look at some of the more analytically-related stats. For example, the Kings scored on 9.4 percent of their 5-on-5 shots with Pearson on the ice, the third-highest percentage on the team. But, he personally only scored nine of the 53 goals for which he was on the ice. While you can give him kudos for doing the dirty work in front of the net and the like, the biggest weakness for the Kings this season was consistent secondary scoring, and Pearson was expected to play a large role in generating that for the Kings. Maybe he was a bit unlucky, but for someone who was counted on to play a top-six role, to see his goal scoring drop by 37.5 percent is just not acceptable.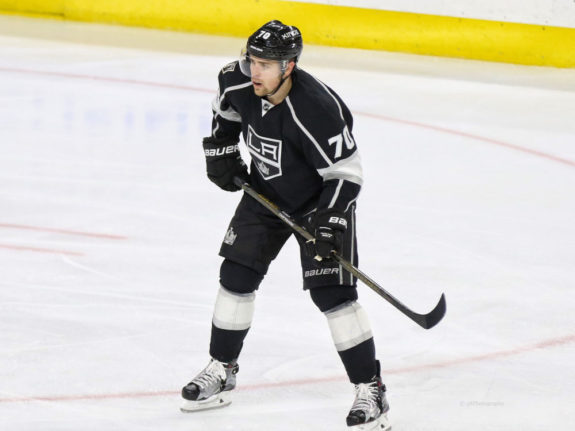 With three years left on his own contract, the 25-year-old Pearson is also going to be counted on more and more to be a consistent contributor. As the Kings' core of Kopitar, Brown, Carter, Drew Doughty and Jonathan Quick age well into their 30s in the next few years, the guys like Pearson and Toffoli in their mid-20s have to pick up their games and provide consistent play if the Kings are going to return to being legitimate Stanley Cup contenders.
Kempe Takes Advantage of His Opportunity
The 21-year-old Adrian Kempe is also part of that group with Pearson and Toffoli, and some might argue his game maturing might be an even bigger cog in the Kings' success over the next couple of seasons. Kempe was the recipient of a golden opportunity this season as he was thrust into the second-line center role due to Carter's injury. For a long stretch of the season, he took full advantage of that opportunity scoring 16 goals in 53 games through Feb. 7. But, as was the case with Pearson and Toffoli, Kempe's inability to consistently contribute offensively hurt the Kings chances of a deep playoff run. Kempe would end the season with a 29-game goal drought (33 games if you include the playoffs).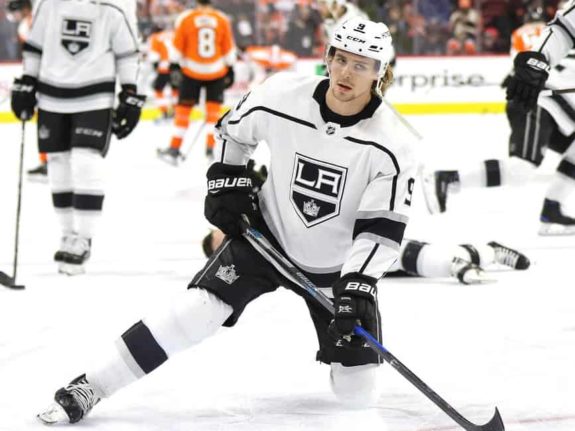 Overall, Kempe's season would probably be viewed as a success since he wasn't really expected to play as much of a top-six role as he did. It's just when you have a streak like that a lot of the positive things get overlooked. Combine that streak with a season-long struggle in the faceoff circle (Kempe won just 38.5 percent of draws during the season) and Kempe has a lot of room for improvement.
It'll be interesting to see if Kempe can build off of a strong showing at the World Championships, where he accumulated two goals and six assists in 10 games while playing for gold medal-winning Team Sweden. His ability to feed off that success and carry into next season will definitely help to lengthen the Kings' lineup. With his ability to play both center and wing, if Kempe can be a consistent scorer and become even adequate at faceoffs, he would provide tremendous versatility for coach Stevens. As a center, he could provide much-needed scoring touch to the third line behind Kopitar and Carter. He could also potentially fill a top-six role on the wing if either Pearson or Toffoli fail to find the consistency the Kings are looking for. How much confidence the Kings have in his ability to do those things may dictate how active they are in the free agent market this summer.
Career Year for Lewis Despite Injuries
For all the discussion about inconsistency with players like Toffoli, Pearson, and Kempe, at the opposite end of the spectrum is Trevor Lewis. Year in and year out, Lewis can be counted on to productively fill whatever role is asked of him, whether it be as a top-six wing alongside Brown and Kopitar or as a defensive-minded checker on the third or fourth line. While shoulder injuries limited his production down the stretch, Lewis still was able to register career-highs with 14 goals and 26 points despite playing in only 68 games. It was the first time he'd played fewer than 72 games since 2009-10, not including the lockout-shortened 2012-13 season where he played in all 48 games.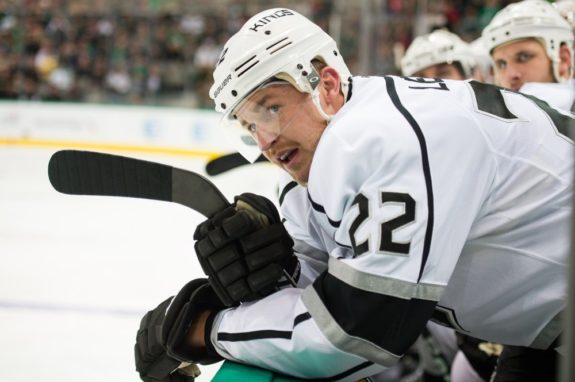 That speaks to the epitome of the type of player Lewis. He's a gamer who can play through most nagging little injuries, and he gives you all-out effort each and every shift. It's unsung players like Lewis who play key roles in getting teams into and then deep into the playoffs, and Lewis played his role to perfection this season.
Iafallo Holds His Own on Top Line
With all the name talent the Kings had upfront coming into this season, no one would have ever imagined it would be a 24-year-old rookie that would spend the majority of the season filling the wing next to Kopitar and Brown. But, Alex Iafallo did just that. While his stats seem meager by comparison—just nine goals and 25 points—Iafallo's ability to get in on the forecheck and win battles for loose pucks was every bit as instrumental to the success of the line as Kopitar's and Brown's point totals, even if Iafallo didn't find his name on the score sheet nearly as often.
That being said, if he's going to stay in that role, he's going to have to start seeing more production offensively. I know it may sound like a broken record at this point, but secondary scoring behind established stars Kopitar, Brown, Doughty and Carter is going to be key for the Kings moving forward. As another one of those mid-20s guys, Iafallo has to use this season as a building block for more success on the scoreboard if he hopes to continue in a top-six role on this team.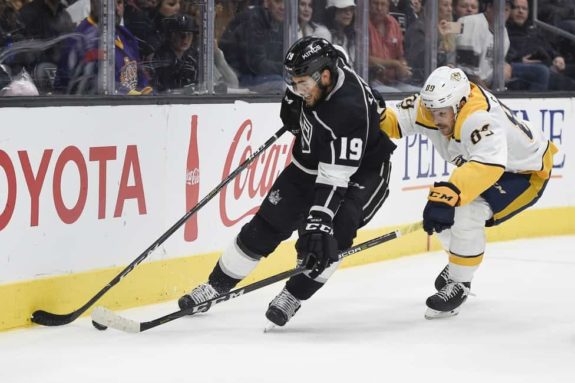 His month-to-month production indicates that a breakout might be coming next season. As he got more and more comfortable with the speed and physicality of the NHL, his production increased as well from no goals in October to one each in November and December, two each in January and February and finally three in March. If he doesn't continue this pattern in the coming year, it might just be his spot on the wing that a guy like Kempe or Lewis steps into.
Mitchell Provides Stability on Kings' Fourth Line
When you are evaluating players, you can't simply look at their statistics to determine their success. Just because they didn't score 20 or 30 goals doesn't mean that didn't have a solid season. You have to judge them based on the role they were asked to play, and Torrey Mitchell fits solidly in this category. Mitchell was acquired on Nov. 23 in a trade with Montreal for a conditional 2018 draft pick. Making his Kings debut Dec. 3, Mitchell would appear in 49 out of a possible 55 games, registering six goals and 11 points. As I said, while those appear to be meager numbers, what Mitchell provided the Kings was stability in the middle of their fourth line, closing what had been a bit of a revolving door the first two months of the season.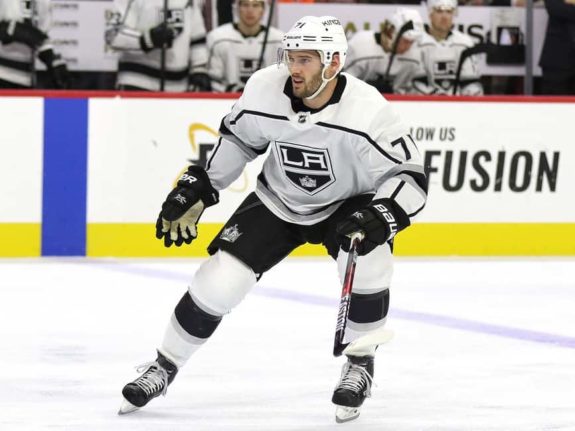 That being said, while Mitchell filled his role admirably, he is 33 years old and an unrestricted free agent. With several young players banging on the door for their shot at the Kings roster, I'd be surprised if Mitchell was in the Kings' plans going forward.
Clifford's Future Role a Bit Murky
Kyle Clifford's physicality and somewhat surprising skill made him a vital part of both Kings Stanley Cup championships in 2012 and 2014. But, while he has seen top-line minutes from time to time, he's never really shown the ability to take his offensive game to another level. This season, Clifford had a hard time getting started, as an upper-body injury caused him to miss 28 games from Oct. 11 to Dec. 12. After that, he was solid, tallying six goals and 10 points in 50 games.
While those numbers are consistent with Clifford's performance over the years, they may not be enough to keep him consistently in the Kings' lineup. As the Kings try to adjust from the heavy game they have played for the past several years to the speed-and-quickness game that is prevalent throughout the league these days, a player like Clifford can find his role significantly diminished. Still every bit the physical player he's been in the past, Clifford's lack of quickness has made him more and more a liability defensively, as is somewhat evidenced by his minus-4 rating, his worst plus/minus since 2012. With two years remaining on his deal, these deficiencies in his game could find him a $1.6-million healthy scratch more often than not.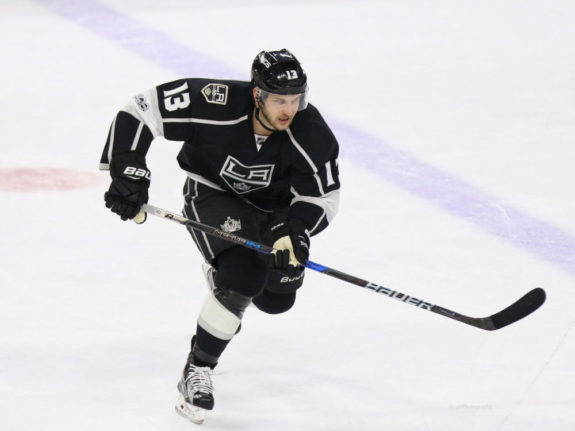 Filling in Where Needed
Five other forwards saw action for the Kings this season in a variety of roles: Andy Andreoff, Michael Amadio, Jonny Brodzinski, Tobias Rieder and Nate Thompson. None of these players recorded more than nine points or played more than 45 games. All figure to play some role with Kings next season, with the possible exception of the restricted free agent Rieder. With Amadio, Brodzinski and Rieder all being 25 years old or younger, depending on how they play, they could all join that mid-20s group to help form the next championship core for the Kings.
Ultimately, regardless of the name on the back of the jersey, the Kings need far more consistent scoring throughout their forward group to return to the level of legitimate Stanley Cup contender. Whether that's from someone currently on the roster or an offseason acquisition, it will be vital to their success in the future. If they are again overly reliant on Kopitar, Brown, and Carter for all their scoring in 2018-19, they could once again find themselves with a quick exit from the postseason if they make it at all. It's up to GM Rob Blake and the Kings' front office, as well as coach Stevens and his staff, to find the right mix of youth and experience, strength, and speed to make sure that doesn't happen.