The Atlanta Thrashers' utter ineptitude at the draft table has been well-documented. Despite having eight top-ten picks in their 12-year existence — and two first-overall picks — Thrashers' general manager Don Waddell was never able to build up anything resembling organizational depth.
Atlanta Thrashers: 902 GP, six top-5 draft picks, 4 playoff games played. 0 playoff wins. Now to Mr Waddell for a rebuttal

— Jeff Paterson (@patersonjeff) May 31, 2011
This was never more apparent than when the Winnipeg Jets had to call up some pretty questionable, completely forgettable players in their early days. Not every one of Waddell's picks were terrible, of course — players such as Ilya Kovalchuk and Dany Heatley had good NHL careers, while others such as Derek MacKenzie, Evander Kane, Kari Lehtonen and Zach Bogosian continue to be NHL regulars.
There are actually more Thrasher draft selections playing elsewhere in the NHL than there are playing in the Jets organization. Seven years since relocation, Winnipeg's roster has seen near-complete turnover thanks to GM Kevin Cheveldayoff's methodical shelf-stocking strategy. Only four Atlanta draft picks remain in the organization, and that number looks set to go down by at least 25 percent, if not 50, this summer.
Here's a look at the Jets' Atlanta leftovers and what they've brought to the team. (Note: This list does not include Blake Wheeler or Dustin Byfuglien, who both played for Atlanta and came to Winnipeg, as they were acquired by the Thrashers via trades. It only includes players drafted by the Thrashers.)
Bryan Little – Drafted 12th Overall, 2006
Bryan Little has been the most successful and high-profile Jets player who is a product of Waddell's oft-flawed draft decisions.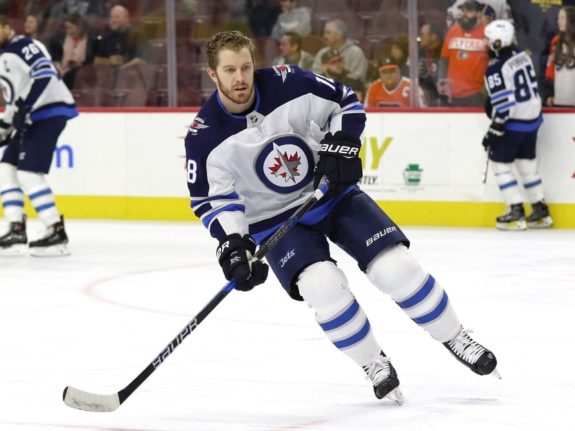 Over the past seven seasons, Little has used his good playmaking ability and nice wrist shot to amass 326 points, mainly as a top-six centre. In 2013-14, he put up a career-high 64 points.
His offensive numbers dipped a bit in 2017-18, where he posted 43 points in 82 games. In the two seasons prior, he had 42 and 47, respectively, but appeared in just 57 and 59 games. He bounced around between the top and bottom six in 2017-18, playing with a variety of players, both at centre and on the wing.
While some may believe Little is past his prime, the 32-year old is a good veteran presence whose versatility is valued by Jets' management.
"He has the ability to score goals, he has the ability to make plays. He's perennially one of our 50-plus percent faceoff guys and I think you don't really appreciate him until you don't have him," Kevin Cheveldayoff said last year after inking Little to a six-year, $31.75-million contract.
We've had, unfortunately, two years where he's missed extended time with freak injuries," Cheveldayoff continued. "That's when it really hits home, the type of two-way player, 200-foot player that he is. The quiet leadership he provides… There's zero maintenance with him. He comes to play each and every day.
Little's role may decrease a little, depending on if the Jets find the money to re-sign Paul Statsny. If they can, Stastny is set to be firmly rooted as the second-line centre, which would relegate Little to the third line. With five years left on a deal that should lead him right into retirement, Little likely isn't going anywhere anytime soon.
Toby Enstrom – Drafted 239th overall, 2003
He's still a member of the Jets, technically. Enstrom is set to become an unrestricted free-agent on July 1 but has been a mainstay on the Jets' blue line.
Whether that's for better or worse is up for debate. Enstrom proved to be a polarizing player who often drew the ire of fans, especially in recent seasons.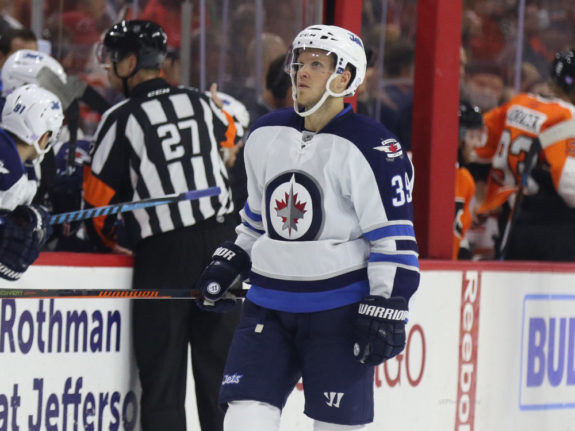 The 33-year-old Swede's play has regressed in recent years — his points and games played totals are on a steady decline. In 2017-18, Enstrom was hampered by a laundry list of injuries and appeared in just 43 games, tallying a paltry, career-worst six points in those contests. Those numbers are shocking when compared with the two seasons in Atlanta where he had 50-plus points. His intangibles have taken a hit, too.
Enstrom is not built to be a physical defender, even though some fans expected him to be anyway," The Hockey Writers' Rob Mahon wrote in a recent article. "His skating, however, has taken a sharp decline, it seems, and for a small player that's a kiss of death. It really showed at times in the playoffs.
Enstrom's likely played his last for the Jets. It'd be absurd for the team to give a player offering rapidly-diminishing returns anywhere near the $5.75 million he made annually over the last five seasons.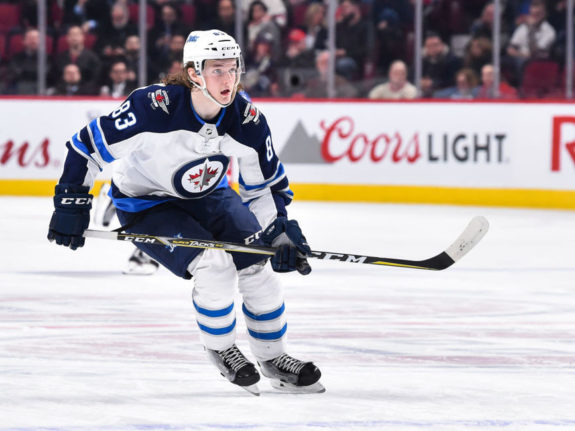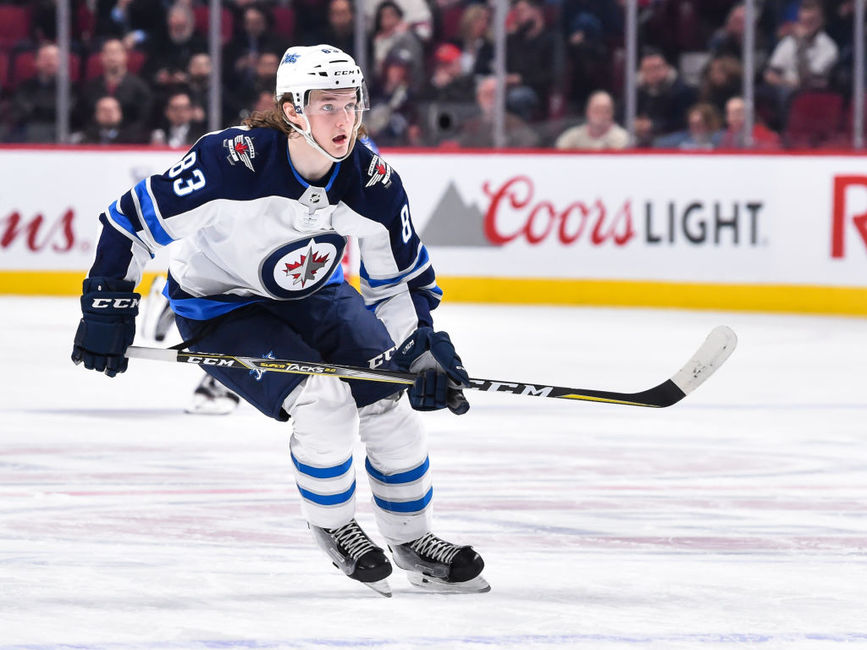 Sami Niku, the young left-handed defenseman who amassed a number of awards during his prolific rookie season with the Manitoba Moose, is unquestionably ready to make the jump to the Jets next year. He should slide directly into Enstrom's spot.
Unfortunately, Enstrom's tenure with the Jets looks to end on a sour note. He made an abrupt exit from Winnipeg, skipping out on the end-of-season media availability and final team meetings, apparently angry over being scratched in the Jets' final playoff game against the Vegas Golden Knights. When media members requested an interview with him, they were told he was "long gone."
Long gone, and likely gone forever, after 401 games in a Jets jersey.
Ben Chiarot – Drafted 120th Overall, 2009
Chiarot has bounced in and out of the Jets' lineup in his career. Before the 2014-15 season, he played exclusively for the AHL's St. John's IceCaps, save for a single game for the Jets in 2013-14. In the past few years, he's become more prominent, proving to be a viable lower-pairing NHL defenseman who can be counted on to bring a physical and positionally sound game to the rink.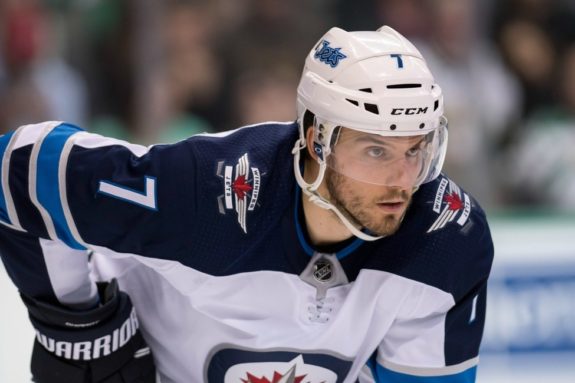 The 27-year-old played some of the best hockey of his career in the back half of 2017-18. Relegated to the press box for the first few months, he was given a chance to be a nightly contributor after the team's blue line suffered a rash of injuries. He filled the void admirably — so well, in fact, that even when the defense became healthy, Chiarot stayed in the lineup. He posted a career-high 14 points in 57 games and played in all but one playoff matchup while logging an average ice time of 15:17.
"He's been a really good defenceman for us," Paul Maurice told The Winnipeg Sun's Ken Wiebe in early March. "Not a guy who would be easy to take out of the lineup."
We'll see if that holds true come October and if Maurice gives Chiarot the chance to start the season as a regular.
Julian Melchiori – Drafted 87th overall, 2010
Julian Melchiori is undoubtedly the most forgotten of the Atlanta picks. He was chosen in their last-ever draft and is one of only two players from that draft who have ever played an NHL game (the other is Alex Burmistrov).
#MBMOOSE GOAL!! Julian Melchiori lets it go from the point and the puck finds its way through a maze to get to the twine. 5-1 Moose with 3:33 left int the second. #GoMooseGo pic.twitter.com/L0JtStFsd3

— Manitoba Moose (@ManitobaMoose) December 1, 2017
At 26-years-old, Melchiori has aged out of being a prospect. He's spent seven seasons in the AHL, four with the St. John's IceCaps and the last three with the Manitoba Moose, acting as one of their alternate captains.
A stay-at-home defenseman in the purest sense of the term, Melchiori has little offensive upside, even at the AHL level. His highest point total is 14, which he accomplished in 2017-18 in 49 games for a dynamic Moose squad that scored 253 goals.
He is, however, a good puck mover who isn't afraid to throw his 6-foot-4, 210-pound frame around.
He's had a few cups of coffee with the Jets, with his longest stint being at the tail end of 2016-17 where he played in 18 games and didn't look out of place from a defensive standpoint. In 30 career NHL contests, he's tallied two assists. He was called up briefly in the 2017-18 season but didn't see any action.
With Sami Niku, Tucker Poolman, Nelson Nogier waiting in the wings — and prospects Logan Stanley and Jacob Cederholm in the pipeline — it's unlikely Melchiori will ever be an NHL regular. However, he's been a loyal foot soldier for the organization and provides a calming, veteran presence for the Moose. It's always beneficial to have mainstays on minor-league clubs, whose rosters are often in flux due to call-ups and parent club demands.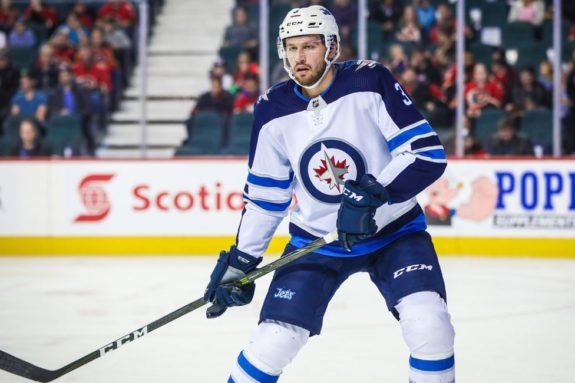 Melchiori will be an unrestricted free agent come July as his two-year contract worth just over $600,000 annually is up. We'll see if the Jets value what he brings to the Moose enough to offer him a modest new deal. If they decide to let him walk, there will likely be a GM somewhere willing to shell out a few dollars to solidify their farm club's blue line.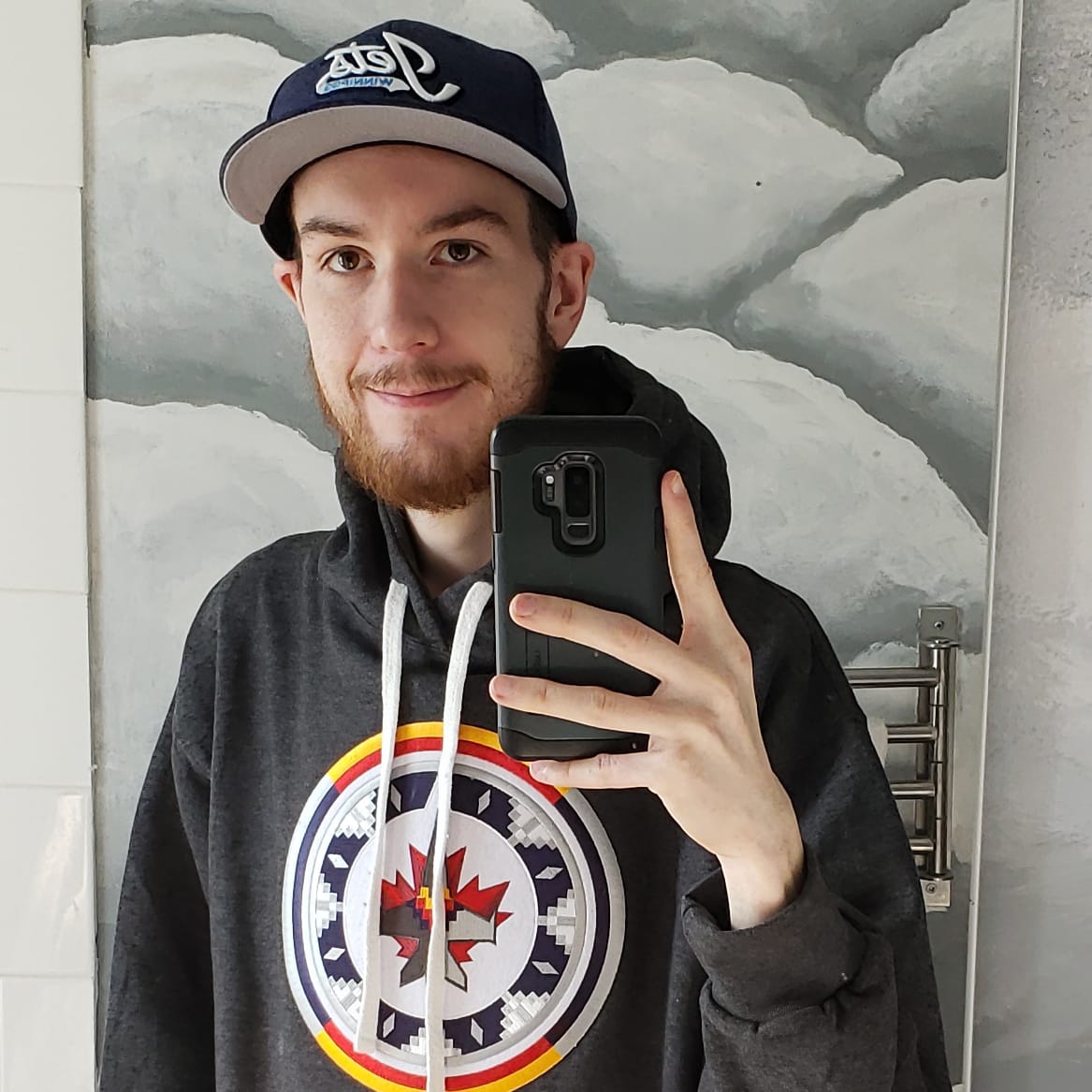 Declan Schroeder is a 27-year-old communications specialist and freelance journalist in Winnipeg, Manitoba. He holds a diploma in Creative Communications with a major in journalism from Red River College and a bachelors in Rhetoric and Communications from the University of Winnipeg.
Deeply rooted in the city's hockey culture, the original Jets skipped town when he was two and the 2.0 version came onto the scene when he was 17.