The Winnipeg Jets came into Sunday afternoon's Game 5 knowing their backs were against the wall and they'd have to leave it all out there on the ice to extend their season. But they didn't play like they knew.
The Jets launched a dud in their most important game of the season, losing 2-1 to the Vegas Golden Knights in an uninspired, flat performance. They'll be hitting the greens soon as the whiteout is over.
Jets Fell Behind Early Again
One could reasonably expect the Jets to get off to a high-flying start in Game 5, with their frantic fans — both in and outside Bell MTS Place — behind them and ready to explode. They did not meet that expectation.
If there was one thing the home side could not afford to do, it was allow an early goal and be forced to chase the game from behind like they had to in Games 3 and 4. The Jets lost both games in which the Golden Knights — who are now 10-1 in the playoffs when scoring first — opened the scoring before three minutes had elapsed.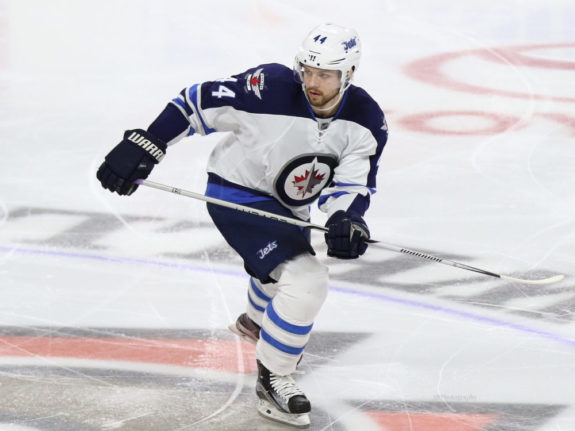 The Jets survived the first three minutes without allowing a goal on Sunday, but not much longer. Just 5:11 in, Josh Morrissey coughed up a brutal turnover to Alex Tuch, who made no mistake and ripped one by Connor Hellebuyck.
The Jets were disorganized and defensively atrocious in the first 10 minutes, playing horribly in their own end and getting outshot 7-2.
Jets' Power Play Petered Out
The Jets' power play, which flip-flopped between a source of strength and an area of weakness this postseason, was the latter in Game 5.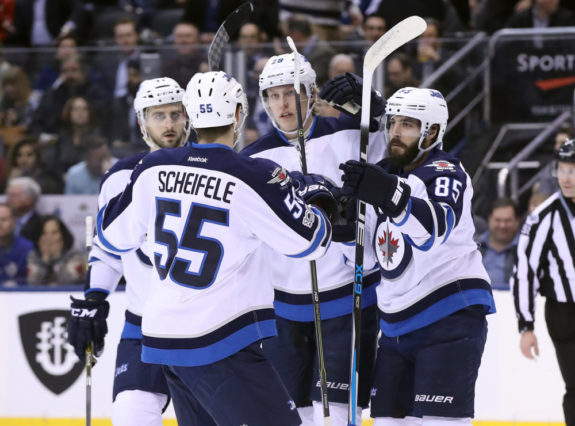 The squad came up goose-egg-for-four. In the second, they had a pair of chances on the man-advantage to break a 1-1 deadlock, but let the opportunity get away.
On their third power play — in which Tomas Nosek was in the box for tripping Tyler Myers — they were awful. They cycled the puck around and held it the offensive zone, but looked terrified of actually firing it on net. It was a similar story on their early third-period power play, in which they only took one shot in the dying seconds.
#NHLJets down a goal but refusing to direct pucks to the net. Vegas will head into the dressing room leading 2-1 after 40 minutes. #wfp

— Jason Bell (@WFPJasonBell) May 20, 2018
Their power play, most regrettably, was most memorable for missing the net — nearly 20 times in the game overall. Patrik Laine was perhaps the worst offender in this regard, whistling a handful of shots wide. The Golden Knights did a good job minimizing the impact of his dangerous shot and eliminating the slot pass to Mark Scheifele that often precedes a one-time goal.
"A lot of good chances, but I couldn't hit the puck or the net," Laine admitted postgame. "That's my responsibility to be able to shoot and I couldn't do that today."
Spurts of Spirit Not Enough
The Jets' Game 5 was choppy and uneven. For a few short stretches, they looked hungry, but overall, did not appear as ravenous as they should have been.
For example, the Jets played a very good final 10 minutes of the first period as they managed to get their legs under them and push back after their nightmarish start. They fired ten straight shots on Marc-Andre Fleury and tied the game before the first intermission when Morrissey made up for his earlier blunder by wiring one top-shelf after a faceoff win.
They also had some glorious chances in the second period during another decent push but got deflated after fourth-line enforcer Ryan Reaves — of all people — deflected a puck past Hellebuyck to give the Golden Knights a 2-1 lead.
Jets' Third Period Depressing
The Jets' third period was one of their most pedestrian in recent memory. The fans, no doubt expecting an emotional pushback, were sorely disappointed.
"Unlike Game 3 and Game 4, there was no big third-period push by the Jets in this one," Winnipeg Free Press sportswriter Mike McIntyre wrote. "They were actually outshot 9-8 by Vegas, with Hellebuyck forced to make big saves against William Karlsson and Erik Haula just to keep his team within striking distance."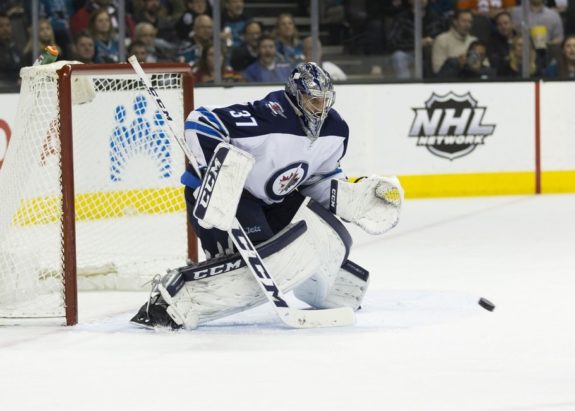 Most disappointingly, they looked out of gas when they needed the fuel more than ever. Even with their net empty, They couldn't gain the offensive zone and didn't manage to generate a shot.
Pierre LeBrun Tweeted that "the Jets got worn down by Nashville last round," and suggested their energy was sapped in the back-and-forth seven-game series that preceded the Western Conference Final.
"I just didn't think we had enough push-through to get some things that were easier for us or things that maybe came naturally to us, to get that through," a disappointed Paul Maurice said as he addressed the media.
Maurice denied his club ran out of gas but said, "We lost some sharpness." He acknowledged they didn't pressure the Golden Knights consistently enough.
"There was fuel in the tank; there was a hard and heavy push," he continued. "But a lot of the plays didn't come off our stick the way they had prior to (the series)."
Should the Jets Be Disappointed?
The Jets should not be disappointed in their wildly successful 2017-18 season and deep playoff run — they brought the oft-forgotten city of Winnipeg into the national spotlight and finally began to reap the rewards of their patient "draft and develop" strategy. They looked poised to compete for years to come.
Thank you #NHLJets fans for supporting and leading us to a record breaking season and historic playoff run!

This season was one we'll never forget and your support throughout means everything to us!

WE ARE WINNIPEG. #WPGWhiteout #RiseTogether pic.twitter.com/lw1q6TSFmN

— Winnipeg Jets (@NHLJets) May 20, 2018
However, they should be disappointed they did not put in a full 60-minute effort in what turned out to be their 2018 playoff swan song.