Like the popular kid at school, the Winnipeg Jets know how to throw a heck of a party — more specifically, a playoff party, both in and outside Bell MTS Place. The city of Winnipeg closed Donald Street and Graham Avenue to vehicle traffic so Economic Development Winnipeg and True North could put on the first-annual "Winnipeg Whiteout Street Party."  It added an extra element of fun to the festivities and showed once again, just as they did in their response to the Humboldt tragedy, that True North is a first-class organization that values its fans.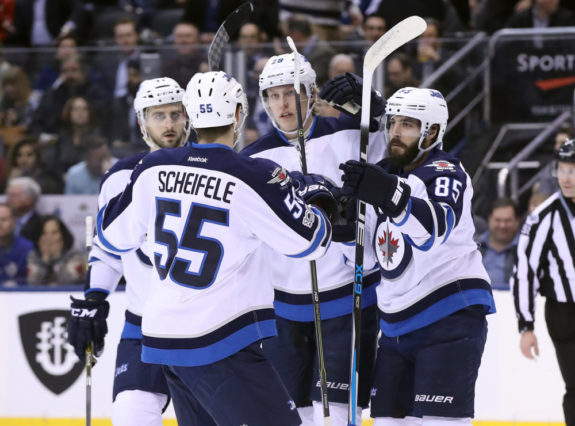 Street Party Fun for Fans of All Ages
Last week, Economic Development Winnipeg announced that the Whiteout Street Party would take place during every home playoff game and have a huge variety of activities. Fans would be able to hit the streets and celebrate their team's historic 52-win season as a community, even if they couldn't snag a much-coveted playoff ticket.
The party, they announced, would be free to attend, have two giant screens to watch the game, an assortment of food and beverage trucks, and live entertainment.
"This is a once-in-a-generation opportunity. This is our chance to showcase Winnipeg to the world," Dayna Spiring, of Economic Development Winnipeg said the day they announced their plans. "Our city has been waiting a long time for a hockey team that has a chance for a deep playoff run. We wanted to provide a venue to channel that energy that was safe, welcoming and fun for fans."
"It's our turn to put Winnipeg in the spotlight, showcase our amazing city, and give the best hockey fans in the NHL the party that they deserve," Kevin Donnelly of True North Sports & Entertainment added.
Party a Thank-You to Patient Jets Faithful
Jets fans do, indeed, deserve a party. Before this season, they haven't had a ton to cheer about. However, they never wavered in their support, stuck ardently with the team through oft-turbulent times, and kept Jets' tickets the most coveted in town despite the team missing the playoffs five out of the first six seasons. In their only playoff appearance, they were out in an instant, getting swept by the Anaheim Ducks.
They waited and waited as general manager Kevin Cheveldayoff methodically and ingeniously stocked his cupboard of players from completely bare and bereft of prospects to jam-packed with bonafide talent, even though it meant a half-decade of heartbreak.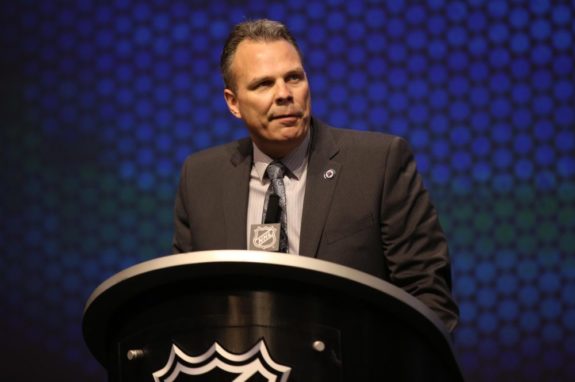 This party spells out that the times of heartbreak are over. The Jets are a legitimate contender and fans may very well get the playoff run they deserve. When you have a real shot at the Stanley Cup for the first time, you want to celebrate. True North delivered with this thank-you bash to let the fan base — who deserve more than any other to finally have a winner in their city — rejoice.
Turnout to Wednesday's Party Huge
Winnipeg Mayor Brian Bowman said he didn't know how many white-wearers to expect on the streets and True North didn't provide an estimate of what the response would be. Response, in a word, was bonkers. Fans came out in droves and packed into every conceivable inch of space. The Jets encouraged people to bring lawn chairs, but there was no room to sit. Everyone stood, shoulder-to-shoulder.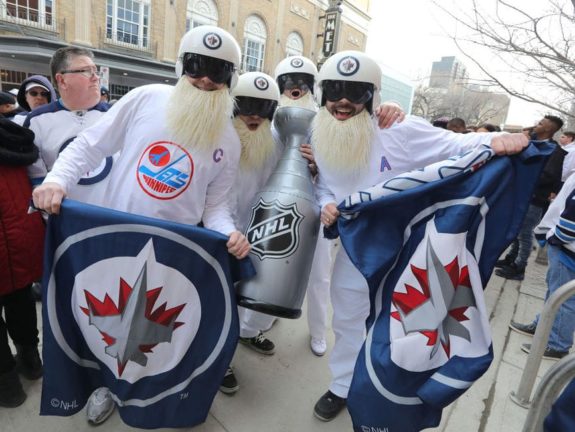 While it's tough to determine exactly how many people were part of the Whiteout Street Party (probably just as tough to count as snowflakes in a blizzard), Economic Development Winnipeg said they expected about 5,000. That prediction may have been a little conservative, considering the organizers had to extend the party another block to fit everyone. The atmosphere was raucous as the Jets captured their first playoff win in franchise history. Organizers said they could accommodate up to 10,000, and during Game 2 on Friday, they just might have to.
Late-season Snowfall Couldn't Stop the Whiteout
Speaking of snowflakes, it was apt — or divinely destined, depending on your views — that by the tail end of the third period, flurries were flying. The snow, courtesy of a weak Alberta Clipper system, was nothing the hardy Winnipeg crowd couldn't handle.
"Even if it's snowing out, people will show up," Bowman said last Friday, foreshadowing the weather. "We're Winnipeggers. This isn't Toronto. We'll show up and deal with the snow."
Party Just a Prelude of What's to Come
The street party is just a little taste, an appetizer, really, of what Jets fans can expect in years to come. True North Square, True North's monolithic development, is rising at a rapid rate. Phase 1 of the plaza is scheduled to be done later this year and will have plenty of public gathering space for fans to party in during what they hope will be many fruitful playoff runs.
The Jets game may be over inside Bell MTS Place but someone didn't tell the fans outside at the Whiteout Street Party. Folks in Winnipeg are loving the first playoff win in franchise history. https://t.co/jqOEvscpcc pic.twitter.com/wRLoRR66kM

— Dave Minuk (@ICdave) April 12, 2018
If the Jets and local businesses can pull together such an epic bash in just a week and go through all the rigamarole involved with street closures, finding sponsors, and keeping everything safe, imagine what they can do with their own space, carte blanche, and a whole year to plan.
The parties are just going to get bigger. On Wednesday, though, the Whiteout Winnipeg Street Party seemed to suit Jets fans just fine. There's no doubt they'll continue to gather next to Bell MTS Place as long as their team is still playing inside it.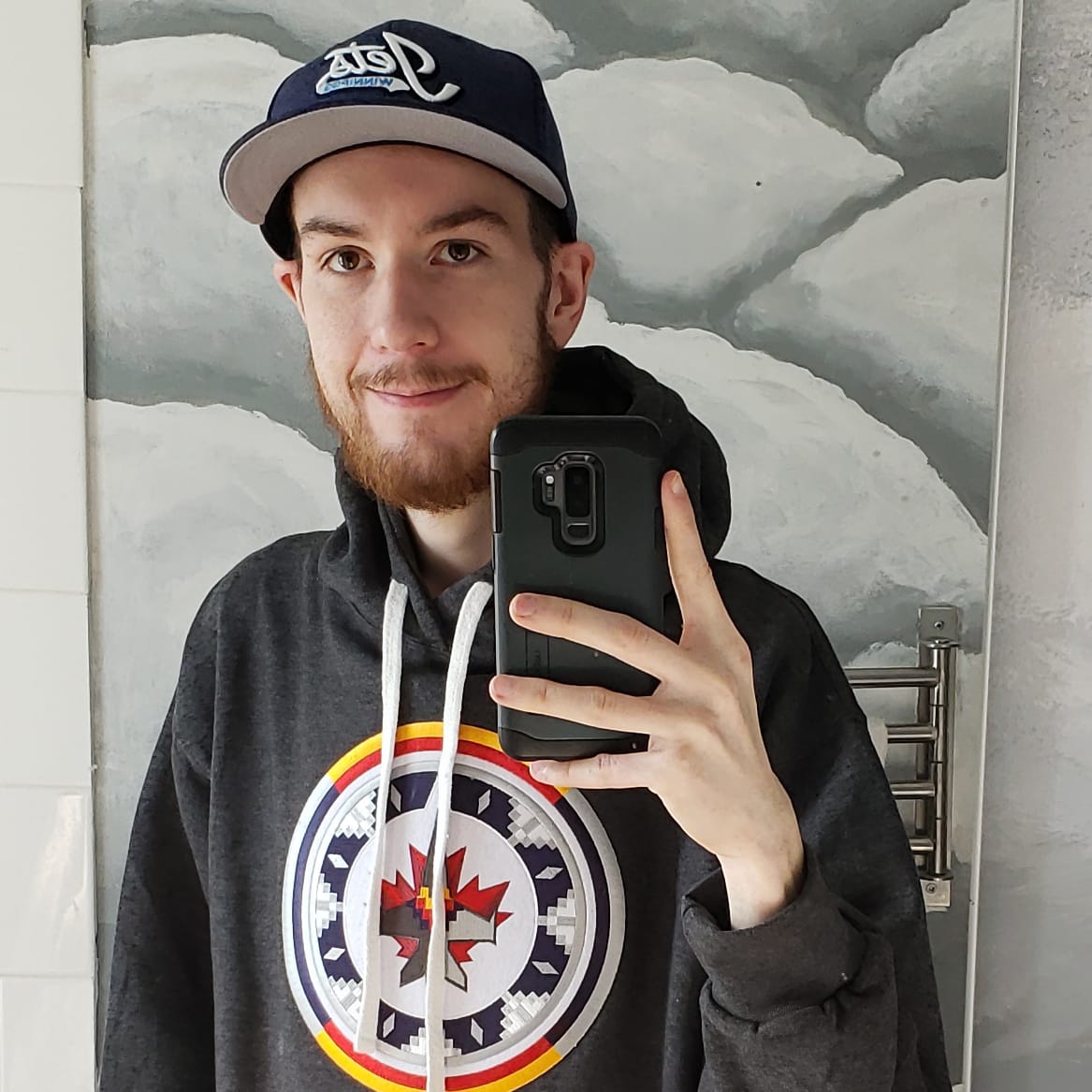 Declan Schroeder is a 27-year-old communications specialist and freelance journalist in Winnipeg, Manitoba. He holds a diploma in Creative Communications with a major in journalism from Red River College and a bachelors in Rhetoric and Communications from the University of Winnipeg.
Deeply rooted in the city's hockey culture, the original Jets skipped town when he was two and the 2.0 version came onto the scene when he was 17.