The Tri-City Americans are steamrolling their way through the Western Hockey League playoffs, sweeping both the Kelowna Rockets and Victoria Royals to emerge from the B.C. Division bracket with eight straight victories.
Tri-City now awaits the winner of the U.S. Division bracket, which has the Everett Silvertips leading the Portland Winterhawks 2-1 heading into tonight's Game 4 of their best-of-seven second-round series.
The Americans have been led by their studs — namely Morgan Geekie and Michael Rasmussen up front, Jake Bean and Juuso Valimaki on the back end — but a handful of NHL draft-eligible prospects have been stepping up for their respective teams throughout the second round.
They might not be dominating the headlines — playing in the shadows of already drafted teammates and older veterans — but this group of five are deserving of their share of the spotlight.
Riley Sutter, Everett Silvertips
Centering his team's top line, flanked by Garrett Pilon and Connor Dewar, Sutter scored twice including the game-winning goal to earn first-star honours in a 6-2 victory on Tuesday as the Silvertips pulled ahead in their series with the Winterhawks.
Going head-to-head with the likes of Cody Glass, Kieffer Bellows, Henri Jokiharju and Dennis Cholowski — all first-round NHL draft picks — Sutter has been more than holding his own through three games. He's up to four goals and six points in seven playoff games, with a plus-8 rating and 17 shots while winning 51 per cent of his face-offs (77-of-151). That's an impressive stat-line, averaging 22 face-offs per game and playing a key role for the top seed in the Western Conference.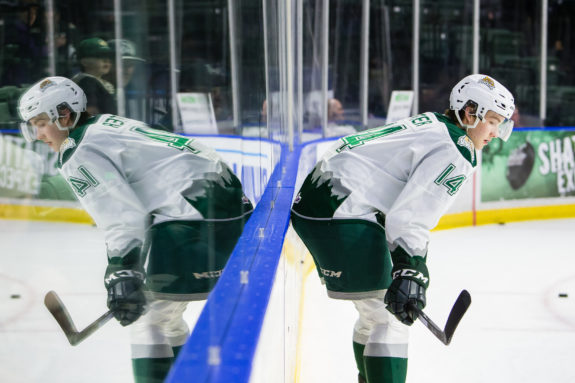 Sutter had two goals and three points in Everett's first-round win, dispatching the defending WHL champion Seattle Thunderbirds in five games. He was held off the scoresheet in the first two games of that series, ejected from the second for a kneeing major that resulted in a one-game suspension, but Sutter scored in his return, then netted another goal in that series-clincher — posting a plus-6 rating over the final two games.
This, after netting 25 goals and 53 points in 68 regular-season games, with a plus-22 rating, 171 shots and 70 penalty minutes while winning 52.4 per cent of his face-offs (715 of 1,364).
Blessed with good size, at 6-foot-3 and 205 pounds, and great bloodlines — his dad is Ron, from the famed Sutter family tree — he's likely climbing the draft lists for a lot of NHL teams. The Future Considerations scouting service has Sutter at 53rd overall, and he was ranked 72nd among North American skaters on NHL Central Scouting's mid-term list back in January.
https://twitter.com/DougieMellon/status/956591947384176640
Full disclosure, I had dropped Sutter out of my top 100 rankings for April, following the WHL regular season. I previously had him at No. 80 in September and No. 76 in February, but I was starting to doubt his upside, thinking his career could trend similar to his cousin Lukas, who busted as a second-round NHL draft pick and is currently playing for the Allan Cup — the Canadian senior men's AAA national championship — with the host Rosetown, Sask., Red Wings. Perhaps I was wrong and Riley will pan out closer to another cousin in Brandon Sutter, a first-round pick back in 2007 who now anchors the Vancouver Canucks' checking line.
(RELATED: Fisher's Top 100 Following Regular Season)
Riley Sutter's playoff performance has ensured he'll be back in my top 100 for May and probably go somewhere in the third round of my mock draft in June. His size and two-way ability should make him a useful pro down the road.
Luka Burzan, Brandon Wheat Kings
Big fan of Burzan despite the fact he's been another faller for me over the course of his draft year — starting at No. 26 in September, slipping to No. 53 in February and sliding further to No. 65 in this month's rankings. I was probably a bit too high on him to begin with, having been a standout for Canada at the Ivan Hlinka tournament, but Burzan is working his way back into my second round with his playoff efforts to date.
His Wheat Kings may now be on the ropes — trailing the Lethbridge Hurricanes 3-1 in their series — but Burzan has been doing his best to keep them alive with three goals in Brandon's last two games. He scored twice and was named the third star in Tuesday's 5-4 victory, netting his team's third and fourth goals while skating on the top line with Ty Lewis and Stelio Mattheos. Burzan scored again in Wednesday's 7-4 defeat, going to the net and getting rewarded by banging in a rebound.
With five goals and seven points in 10 playoff games — along with a plus-7 rating — Burzan has been flashing more offensive upside than he did during a disappointing regular season that amounted to 15 goals and 40 points over 72 games split between the Moose Jaw Warriors and Brandon.
Dylan Myskiw and Luka Burzan teamed up for a wild game winning goal last night in Saskatoon! 😯 pic.twitter.com/3QjEmWoBQQ

— Brandon Wheat Kings (@bdnwheatkings) March 11, 2018
The key piece for Brandon in a trade-deadline blockbuster that sent Kale Clague to Moose Jaw, Burzan picked up the pace a bit following that change of scenery, netting nine goals and 21 points in 30 games with the Wheat Kings after managing just six goals and 19 points in 42 games with the Warriors. He had a limited role on that deep roster in Moose Jaw but should be a go-to guy for Brandon next season, so don't be surprised if Burzan enjoys a big breakout campaign in his draft-plus-one year.
Listed at 6-foot-1 and 180 pounds, some NHL teams could be anticipating that leap in production and may reach for Burzan at the draft based on his potential. He was ranked 89th by Central Scouting and 68th by Future Considerations and if he falls out of the top 60, Burzan could be a steal similar to Brayden Point, who was a third-round pick (79th overall) in 2014. Those two have more in common than just developing in Moose Jaw.
https://twitter.com/simonsnake70/status/958064525147820032
Calen Addison, Lethbridge Hurricanes
The type of defenceman that is thriving in today's NHL, Addison is a quality puck-mover and an offensive catalyst from the back end. He's slightly undersized — listed at 5-foot-11 and 178 pounds — but he's putting up big numbers in the playoffs with 13 points (3 goals, 10 assists) through nine games, just one behind Bean (1-13-14) in the defence scoring race.
The Hurricanes have been one of the highest-scoring teams in this year's postseason — averaging 5.33 goals per game, second only to Tri-City's 5.75 — and their offence runs through Addison, especially on the power play. He's only been held off the scoresheet twice and has produced four multi-point games, with six points (1 goal, 5 assists) through four outings against Brandon, including three set-ups in a 5-1 series-opening win that set the tone for Lethbridge.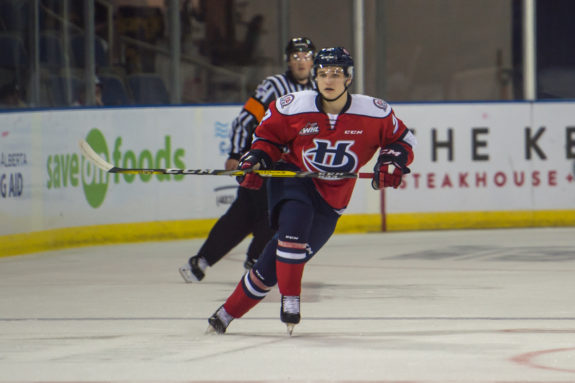 Addison also ranked top 10 among the WHL's defence scoring leaders in the regular season, tying for ninth with 65 points, including 11 goals, in 68 games as a sophomore. That nearly doubled his point total as a rookie (33).
A sure-fire first-rounder in most years with stats like that, this is a very deep draft for defencemen and Addison will need to keep lighting it up to stay in the top 31. As of April, I had him at No. 31, down from No. 27 in February and No. 21 in September. McKeen's Hockey has Addison at No. 29 and Future Considerations has him 38th, while Central Scouting had him 34th.
Jett Woo, Moose Jaw Warriors
A projected first-round pick from the outset of his draft year — I had him at No. 20 in September and No. 28 in February despite missing the CHL Top Prospects Game due to injury — Woo was limited to just 44 regular-season games and is now trying to make up for lost time in the playoffs.
He scored his first goal of the postseason in Wednesday's 3-2 double-overtime defeat to the Swift Current Broncos — that evened their series at 2-2 — but Woo is somewhat misunderstood as a prospect, especially by those comparing him to Addison. They are quite different, with Woo being cast as more of a shutdown defender this season and unlikely to make much of an offensive impact at the next level.
Therefore, Woo's value has to be judged beyond the scoresheet and, by all accounts, he's been passing the eye test in this year's playoffs as a steady, physical force. Woo has been plus-2 in each of the past two games but only has two points, including just one assist, through 11 playoff contests to date.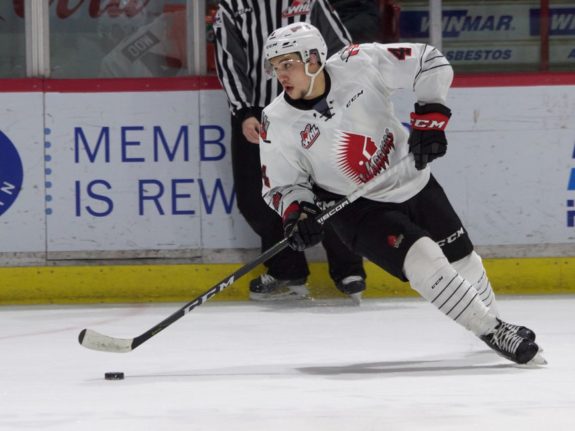 Packing a rock-solid 201 pounds on his six-foot frame, Woo's stat-line from the regular season appears more promising with 25 points, including nine goals, over 44 games — prorated to 15 goals and 41 points over a full 72-game campaign, which would have ranked just outside the top 20 among defence scoring leaders.
Central Scouting had Woo at 20th among North American skaters in January and I dropped him to No. 42 prior to the playoffs, but he's still a first-rounder for Future Considerations (23rd) and Hockeyprospect.com (30th). The further Moose Jaw goes, the higher Woo will probably go too.
Isaac Johnson, Tri-City Americans
Here's a sleeper to keep in mind, with Johnson not getting much hype as an over-age winger, but he sure looked like a player in the Kelowna series and continued to show up on the scoresheet against Victoria — scoring the 1-1 goal on Wednesday to help put the finishing touch on that sweep.
All square in Kennewick. Isaac Johnson gets @TCAmericans on the scoresheet! #VICvsTC #WHLPlayoffs pic.twitter.com/dVtRP66imY

— The WHL (@TheWHL) April 12, 2018
Passed over in the 2017 draft — coming off a decent campaign with the USHL's Des Moines Buccaneers — Johnson is now leading all WHL rookies in playoff scoring with 10 points, including four goals, through eight games.
It's not like he came out of nowhere, since Johnson was also productive in the regular season in finishing third in the rookie scoring race with 48 points, including 17 goals, in 68 games. That wasn't enough to crack my top 100 prior to playoffs and Central Scouting had him way down at No. 170 among North American skaters in January, but people are taking notice of his post-season heroics and his stock should be on the rise.
It wouldn't be surprising to see Johnson get drafted in the mid-to-late rounds in June, especially if he's got a couple more clutch goals left in him during this playoff run.