Grab your popcorn, chips, pizza, soda, beer, or whatever playoff snacks and drinks you like, and get ready to settle in front of the TV for a few hours. A great rivalry is back in the Stanley Cup playoffs once again – the Boston Bruins and the Toronto Maple Leafs – and it's going to be a tremendous hockey series.
How do I know that? Because I'm really struggling to pick a winner. And when you have a series between two teams that are just about evenly-matched, then you know all bets are going to be off.
Putting all of my Boston bias to the side, I believe this is pretty much the toughest opponent the Bruins could've gotten in the opening round of the playoffs. The Maple Leafs match up with the Bruins almost perfectly, and they have a handful of playmakers on offense that are going to give Tuukka Rask fits. But at the same time, Boston is just as dangerous, so Toronto will have its hands full as well.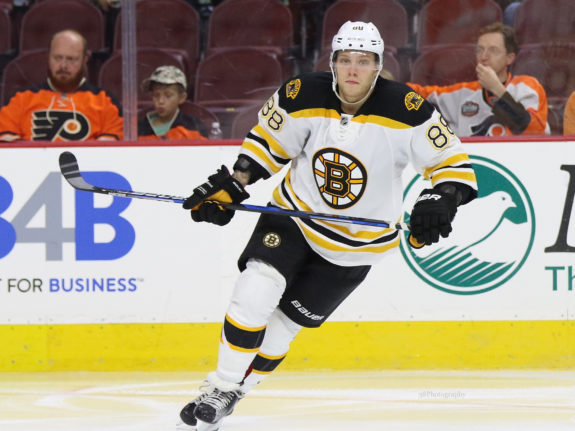 Ever since this series was officially set in stone on Sunday, following the Bruins' home loss in their season finale with the Florida Panthers, I've been doing my homework to try and figure out which team has the advantage. If either team has any sort of advantage in this series, I would say it's the Bruins only because if it reaches a Game 7, they'll get to play it on their home ice.
That's pretty much it though. Other than that, it's dead even. So if you're a gambler, either team is a pretty good bet.
Here are a couple of reasons why.
No Shortage of Goals
It's no secret that the ability to score a lot of goals is not something the Bruins have struggled with this season. That's not a surprise either, considering they have one of the strongest first lines in the NHL. When you have a top trio of David Pastrnak (35 goals), Brad Marchand (34 goals), and Patrice Bergeron (30 goals), you're going to be finding the back of the net quite a bit.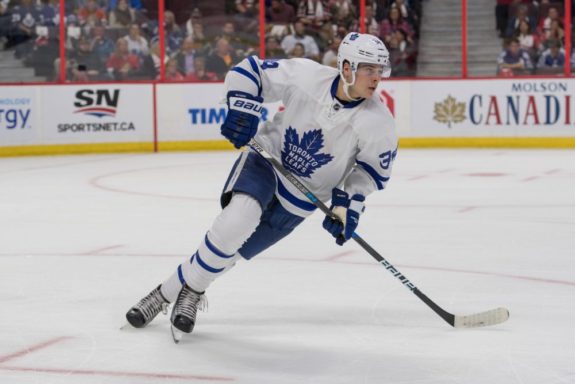 On the other side, however, you have 20-year-old Auston Matthews, who is proving himself as one of the best young goal scorers the league has to offer. In his NHL debut last season, Matthews scored four goals – a major sign of things to come. As a rookie, he scored 40 goals, good for second-most in the league, and turned in a solid sophomore campaign this year with 34 goals. And accompanying him on the first line are William Nylander and Zach Hyman, no slouches themselves.
Boston and Toronto are the only two teams in the NHL to have three 30-goal scorers on their rosters (Matthews, James van Riemsdyk and Nazem Kadri for the Leafs), so both teams will find their share of the net in this series. As for which team will find it more times, well, that's anyone's bet.
Could It Come down to Goaltending?
Oftentimes, when two teams are evenly matched, a series can ultimately come down to which goaltender is more on his game.
In this series though, it's Tuukka Rask for the Bruins against Frederik Andersen for the Maple Leafs. This season, Rask has had a save percentage of .917, while Andersen's percentage was .918.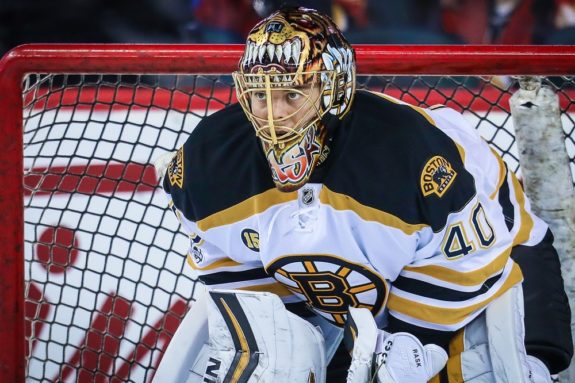 So which goaltender is the safer bet in this series? Well, Rask has a Vezina Trophy under his belt, but at the same time, Andersen set a Leafs franchise record for a goalie with 38 wins this year. The argument is there for both guys. Once again, it's anybody's bet.
Wager at Your Own Risk
It doesn't get any better than a playoff series like this. It's a showdown between two Original Six teams from two hardcore hockey cities that don't really like each other. There's potential for a lot of goals to be scored by both sides, but there's also the potential for some really solid goaltending from both sides as well.
It will be a heck of a hockey series to watch from a neutral standpoint. But if you're a gambling man or woman, all I can say is, best of luck to you in choosing which team to bet on. This as tough of a series to pick as I've ever seen.