Welcome to our 2018 Columbus Blue Jackets draft guide.
Our guide will get you ready for everything that could happen at the NHL Draft in Dallas. From history to a brief season recap and from full previews to draft pick predictions, you will be thoroughly prepared for what the Blue Jackets could do.
Recall last season in Chicago, the Blue Jackets didn't own a first-round pick. They traded it to Vegas as part of the deal that saw them get protections in the expansion draft as well as David Clarkson's contract off the books. As insane as William Karlsson's season turned out, the Clarkson contract completely gone was a big and necessary thing for the Blue Jackets. As we will see over the next two seasons, having that cap hit gone will allow the team to keep core pieces.
This season, the Blue Jackets own a total of five picks including their first rounder. They are scheduled to pick 18th, 49th, 80th, 173rd and 204th. You'll notice they do not own a fourth or fifth rounder, for now. The fourth rounder went to Nashville in the Mark Letestu swap. The fifth rounder was part of the Artemi Panarin-Brandon Saad deal.
This is a fascinating draft for the Blue Jackets. You usually don't say that about a team that picks 18th. But considering the dynamics in play, where the team is at, what they could do in Dallas, they are a team to certainly watch on night one.
GM Jarmo Kekalainen is never afraid to pull the trigger on something earth shattering (see Panarin, Artemi and Jones, Seth.) We can never rule it out even if there isn't much chatter. As Kekalainen told me in Chicago last season, "you should always pay attention."
Let's now deep dive into everything. This guide will get you ready from all different angles. We'll start with a quick end of season recap, rehash stories of the offseason to this point and then turn our attention to Dallas. We'll revisit a history of recent 18th, 49th and 80th overall picks. Then we'll go over possible scenarios the Blue Jackets could encounter. We'll end it by looking at each of their picks, seeing the kinds of players available at each spot and then offer our official prediction as to who they take assuming they don't trade those picks. Phew. Let's get started.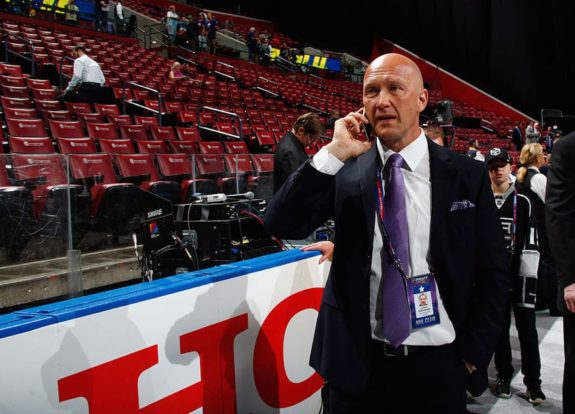 Offseason to Date Recap
Let's get the what if's out of the way first. The Washington Capitals won the Stanley Cup. Alex Ovechkin is still celebrating and will do so all summer. But if it wasn't for a key sequence in game three of the first round series between the Capitals and Blue Jackets, we might have a completely different outcome.
The Blue Jackets were up 2-0 in the series. Game three went to double overtime. Cam Atkinson comes within a millimeter of winning the game but instead hits the crossbar. Then on a lucky bounce, Lars Eller wins the game and we got a new series. The Capitals didn't lose another game to Columbus. The Blue Jackets endured another first round exit. This one more painful because they were up 2-0 and couldn't win at Nationwide Arena in three tries after.
It's definitely an opportunity wasted. The Blue Jackets proved they could play in the playoffs but couldn't find a way to finish the deal. That should make the team hungry to get back to the playoffs and win. In fact, the expectation in Columbus now is higher than just making the playoffs. They need to start winning, especially given what things could happen next offseason.
That's what makes the team fascinating to watch. They have the 2018-19 season to go for it before Panarin, Zach Werenski and Sergei Bobrovsky are due raises. Will the Blue Jackets treat this draft as grab the best available player or will they try to wheel and deal to get another significant piece for their attempt at 2018-19?
Before we dive into that, keep in mind Werenski had offseason shoulder surgery after playing virtually the entire 2017-18 season in pain. The surgery went well and Werenski is expected to be ready by the start of the regular season if all goes well.
We'll also see at least one coaching change. Ian Clark and the Blue Jackets mutually decided to part ways. As of this writing, they are still looking for his replacement, Clark could stay on in a different role but that has yet to be decided. As for other coaches, there is a belief that Brad Larsen is staying on. Reports are out that he has agreed to a contract but we don't know for how long. That could depend on if/when John Tortorella's extension comes. Time will tell on all those fronts.
The main focus right now for the team though is the draft. Their master list is done. All that's left is confirming their attendance on the floor of American Airlines Center when role call happens. You ready for this? Overall, this could be one of the wildest first rounds in years because of the unpredictable nature of things. Let's revisit some history to start off with.
History of Picks 18 & 49
The 18th pick has produced some NHL talent. Of note, players like Glen Murray, Petr Sykora, Brooks Orpik, Eric Fehr, Ian Cole, Austin Watson, Teuvo Teravainen, Alex Tuch, and Thomas Chabot went 18th. The Blue Jackets absolutely can grab an impact player in this spot. They might not be ready for 2-3 years, but they will contribute if the right pick is made.
And even with the 49th pick, some nice talent has come from there. Of note, Mike Cammalleri and Shea Weber were drafted in that spot. Also Carl Soderberg and Martin Frk went 49th.
Even with the 80th pick, there has been some nice hits. Esa Tikkanen heads that list. More recently, names like Bryan Rust (Mr. Game 7 for the Penguins), Anthony Duclair and Andy Andreoff went in the 80th spot.
With proper scouting, the Blue Jackets could have an impact draft. We won't know for a while if it pans out that way but the opportunity is there.
But will the Columbus Blue Jackets keep the 18th pick or will they move from there? This season, there is a case to be made for all three outcomes, moving up, moving down and staying put. Let's review all three scenarios and when we could see all of them come to pass.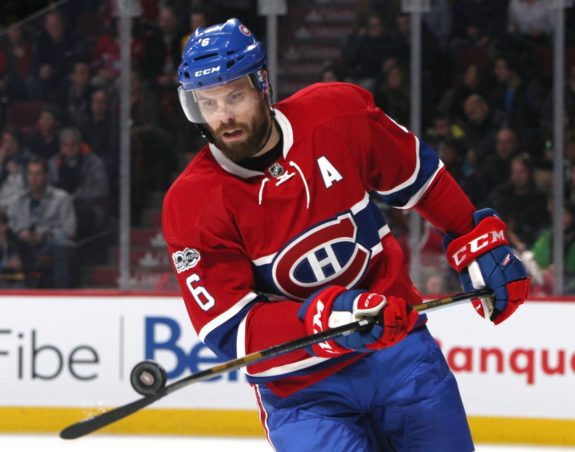 Making the Case for Trading Up
Depending on your belief of the draft chart, the Blue Jackets could conceivably trade into the top-10 if they package picks 18 and 49 together. That would equate to the 10th pick. Why would trading up make sense? Think of the Blue Jackets' master list. I don't know the names on it. Neither does anyone else. Only those in the organization have this list. If a player on their list starts to fall and it's time for picks 10, 11, 12 etc. to go, guess what? Kekalainen is on the phone seeing if a deal could be had.
Kekalainen will do due diligence on any and all possibilities. We won't hear of 98% of stuff they consider. But you can bet they're looking at everything. There's even a wild scenario a player like Filip Zadina falls out of the top-five. He likely goes there but let's say he falls and the teams from 6-10 go defense. There's plenty of defenders in that area. Don't you at least have to call to see about making a deal?
Or what if a player like Oliver Wahlstrom falls out of the top-10? The Islanders have picks 11 and 12. Don't you at least have to call and see if something could be done?
The unpredictable nature of this first round with similar but deep talent could make for a wild Friday night. There will be lots of talking. Business is only just getting started. Do not rule out the possibility of the Blue Jackets trading up.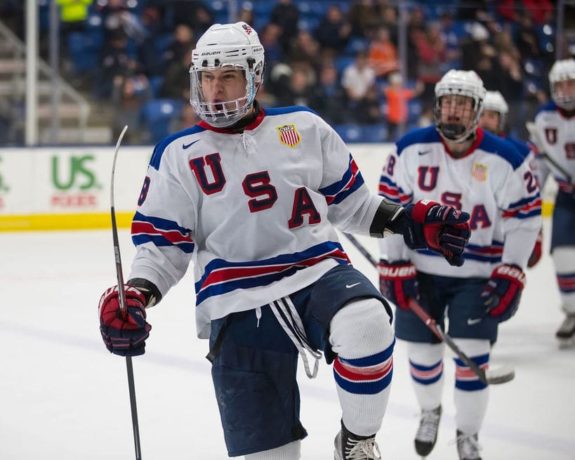 Making the Case for Trading Down
With only five picks in the draft, a case for trading down certainly makes sense at all parts of the draft. With similar talent throughout picks 15-45, if the player on your list could be had 5-10 picks later, why not trade down? Why not get an extra pick or two out of it?
Let me tell you a quick story from the draft in Buffalo. This is where the Blue Jackets stunned the hockey world by picking Pierre-Luc Dubois third overall. Kekalainen said they hoped to get more picks in that draft. It never happened. Why? It's because when it was their turn, they got players who were on their list deemed good value.
What's the lesson? They'll certainly try to get more picks, but if they get players who they didn't think would be in a certain spot, they'll make the pick. For example, to go from 18 to 23, you could get an extra third rounder. If you know for certain that player you want will be there, you do this. It's good asset management.
Now the all important question you are wondering? Who will the Blue Jackets pick? Guess what? I don't know. But here's a secret. Neither do they! They have a list. But they don't know how the first 17 picks will go. They'll know when they make their decision when they're on the clock.
But what we will try to do here is give you a sense of the kind of players available in each spot. Then we will make a prediction sure to go very wrong. Our hope is that you get some insight into the type of decision the team has to make. Remember this though as you read. The Blue Jackets, like all teams, will pick from their list, not my list, or TSN's or any other list for that matter. What might seem like a reach to us is to them what they wanted the whole time. Alright let's have some fun now. Let's look at each pick and make an official prediction.
Who Will Columbus Pick 18th?
Let's assume they stay at 18. Who is available within this range that they would consider? Now this is me speaking. In my heart of hearts, I think they want a center they think could be a top-six player. I ultimately think they go center but they will take their best available player in this spot. Who could that be?
The name that keeps popping up is Gregori Denisenko. He's a dynamic Russian winger who has top-six upside. Some others in this range are Isac Lundestrom, Jacob Olofsson, Vitaly Kravtsov, Joseph Veleno etc.
I'm going to give you two specific names to watch here. The first is Flint's Ty Dellandrea. With the talk of teams going center in the top-15 (I'm looking at you Montreal), an opportunity is there for other centers to go maybe a little higher than most lists have them going.
I've been on the Dellandrea bandwagon all season. His team wasn't good in 2017-18 but he shined. He demonstrated he could handle the role of number one on that team. He told us at the Combine he believes he is a number one center at the NHL level and is eager to show that. He spoke to 29 teams in early June which of course includes Columbus. I could see a scenario where the Blue Jackets look at Dellandrea.
I think some perceive Flint as a bad situation. Might want to rethink that. Kole Sherwood enjoyed his coming out party when given the chance in Flint. Columbus is more than comfortable with the Firebirds.
Now onto name number two. This is my official prediction for the 18th pick. Think of what Columbus values. They want someone who plays hard. They want someone who can skate. They want someone with great upside at the next level. They want a leader and player of high character. The player in my mind that checks off all those boxes? Jay O'Brien of Thayer Academy in Massachusetts.
He's rising up draft boards. He by all accounts did well at the Combine. I spoke to him personally in Buffalo. He went out of his way to admit to me how often the Blue Jackets viewed his games live. You should have seen me. I almost fell back when he admitted this. I was not expecting it.
But if you think of what the Blue Jackets value in a player, O'Brien checks off all the boxes. He fits the mold of what the Blue Jackets are looking for. He was also named to the US Summer Showcase for the World Juniors. He's also a center who projects top-six if he reaches his potential.
Most have him ranked as a second rounder. I think he goes in round one. There are several teams interested in him. Most at the Combine I spoke to think he did enough to go in round one. He is considered the best prep player in this draft. He is off to Providence in the fall. But Friday in Dallas, I believe the Blue Jackets will call Jay O'Brien's name 18th overall.
Who Will Columbus Pick 49th?
Now we get to the part of the draft where anything goes. The rule is best available. Trading up and down is fair game based on who's available.
What names could we see in this range? Big defenseman Kevin Bahl is a name that sticks out. He's 6-foot-6 but a pretty good skater for his size. Alexander Alexeyev is someone I think the Blue Jackets will look at He's a decent skating defenseman who can add some offense.
The player I'm looking at here though is a familiar name. John Madden is the coach of AHL Cleveland. His son Tyler is very familiar with the Blue Jackets because of this relationship. They know what they'd be getting. For a pick just inside the top-50, the Blue Jackets would get good value. They also would love the way he plays the game. He might only be 150 pounds but he plays the game as though he's closer to 200 pounds.
My official prediction is the Blue Jackets will take Tyler Madden 49th overall.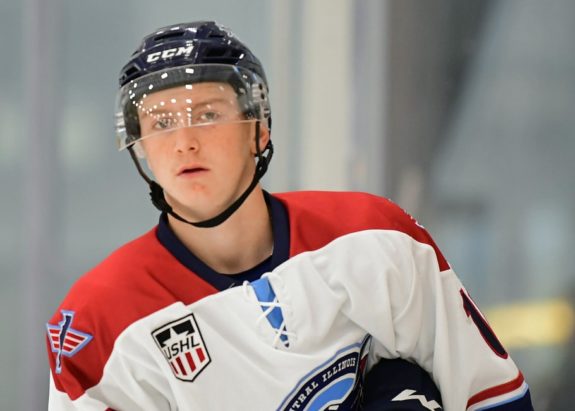 Who Will Columbus Pick 80th?
Same thing applies here for the 80th pick. They'll take the best available player. This is where I think of a player like Kitchener's Giovanni Villati. He's a 6-foot-2 defenseman capable of playing at both ends of the ice. Another player I think of is Windsor's Curtis Douglas. He's 6-foot-8 but don't be scared by his monster size.
He's making it a priority to work on power skating. Could you imagine a 6-foot-8 freight train who has decent skating terrorizing opponents? That's a chance I'm certainly willing to take in the third round. Windsor is known as a desired place for development. It's for these reasons that Curtis Douglas is my official prediction for the 80th pick.
Who Will Columbus Pick 173rd and 204th?
By the sixth and seventh rounds, you're clearly into lottery ticket territory. In this part, let me give you some names that I'm interested in down here.
For a defenseman, Scott Perunovich is interesting. He plays for the University of Minnesota-Duluth. He turns 20 in August but produced a nice season. He also helped Team USA win bronze at the World Juniors. Most importantly, he won an NCAA title. He also won NCAA rookie of the year. He's ranked 102nd on the Central Scouting list, so if he's still there late, you might want to grab him.
If goalie is the way they go, Jared Moe, Jacob Ingham and Jordan Kooy are viable options late.
If they go forward, my steal of the draft Matthew Struthers should be available. He's a two-way center who specializes playing defense and has good even strength numbers. I'm jumping on that in a hurry. Another player I might look at is Connor Roberts. He's underwhelmed to this point but in a good position to enjoy a later breakout playing alongside Ty Dellandrea in Flint. 6-foot-4 and 210 pounds also interests me for a lottery ticket.
There you have it everyone. You are now ready for the Columbus Blue Jackets at the draft. Expect the unexpected. Friday and Saturday have the potential to be a wild ride. Sit back. Relax. Enjoy the show. Business is about to pick up in a big way.