Beginning June 1, NWHL teams can re-sign players from their 2017-18 roster and their draft picks. Additionally, for those players who have completed their college eligibility and want to continue their hockey careers, NWHL Free Agency provides the best opportunity to continue playing at the highest level of professional women's hockey. Players who were not drafted by an NWHL team, or who have previously played in a different league, in Europe or otherwise, are unrestricted free agents and may sign with any team that offers them a contract.
The fourth season of the NWHL will begin in October as the Metropolitan Riveters defend their Isobel Cup championship, and with the addition of a fifth team – the Minnesota Whitecaps – this will be the most competitive season yet.
My colleague Dan Rice will keep THW readers up-to-date on Metropolitan and Connecticut's signings throughout the summer, while I post updates on Buffalo and Boston. Together we will be keeping readers informed of all of Minnesota's signings. 
Beauts Sign Olympian Cameranesi
Chesson & Buie Signings Keep Beauts' Leadership Intact
The Buffalo Beauts are certainly pulling out all the stops, and NWHL Free Agency isn't even two weeks old yet. The day after their newly signed Olympian Dani Cameranesi teased that we would be seeing a "few more (Olympians) in the coming days and weeks" and "potentially a few to Buffalo", the team announced that goaltender Nicole Hensley had signed with the squad. Hensley, who turns 24 later this month, was a member of the USA women's national team to win gold at the 2018 PyeongChang Games. Of the United States' five tournament games in South Korea, she was in net solely for the 5-0 victory over the Olympic Athletes from Russia, earning a shutout in her first and thus far only Olympic appearance.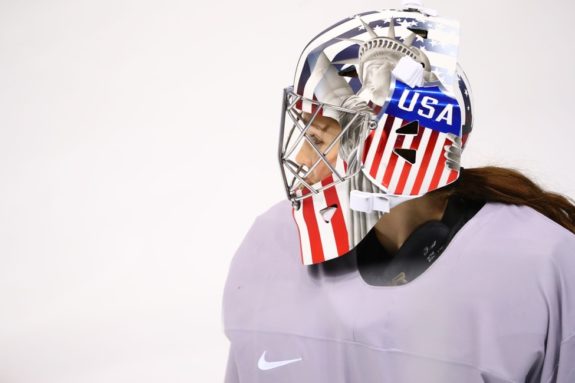 "The addition of Nicole to our roster brings yet another proven winner to our team and somebody that we think can excel at this level," said Buffalo General Manager Nik Fattey in an NWHL press release. "Internationally and collegiately, Nicole has distinguished herself among her peers and we're excited to bring her outstanding ability to Buffalo."
Hensley becomes the first goaltender to sign with an NWHL team for the 2018-19 season, and becomes the third Olympian. Her signing with the Beauts also starts to answer a lot of questions in terms of the team's eventual composition, and gives us a better sense of how the five teams will handle their goaltending armaments.
Pro Talk Before PyeongChang
THW interviewed Hensley back in Sept. 2017 as she was preparing for the PyeongChang Games. We asked her if she had given any consideration to playing professional hockey, either in the NWHL or CWHL. Having graduated from Lindenwood University after the 2015-16 season, she had not yet played in a professional league at that point. Recognizing that a pro career was very indeed plausible and the next logical step, Hensley responded to us at the time:
"Obviously right now the main focus is the Olympics in February," she explained. "Past that, I would just like to play the game at the highest level that I can would be my goal. Eventually it will be time to hang up the skates, but for now I'm just focused on enjoying it and having fun."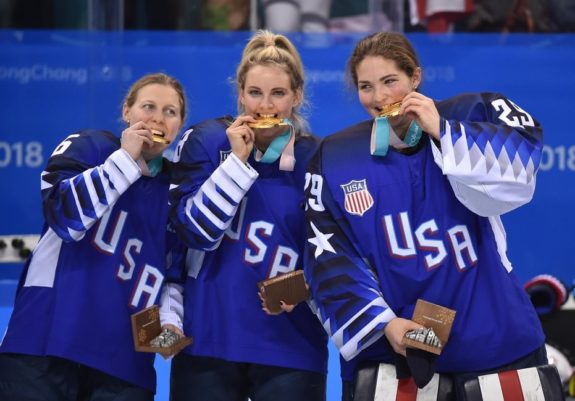 Lo and behold, she is now an NWHL goaltender and the first one signed for the upcoming season. It is a huge signing at that, as it not only brings Buffalo a highly talented player at the position, but Hensley has become more of a household name – because of PyeongChang – than what other goalies in the league have previously been. Signing with Buffalo gives accentuated credence to the team, the league, and the organization that Pegula Sports and Entertainment is endeavoring to assemble at the HarborCenter.
Collegiate and International Accolades Prior to PyeongChang
Hensley played her collegiate hockey in St. Charles, Missouri. Lindenwood is a NCAA Division I school and a member of College Hockey America (CHA). She played in 123 games for the Lady Lions and went 30-78-12. Hensley's record though doesn't come close to telling the whole story. Her goals against across her four years was a minuscule 2.98, while her career save percentage came out to .921. Her 4,094 career saves are the most in NCAA history. During Hensley's freshman year she made 90 saves in a single game, and allowed just two goals in a Mar. 1, 2013 contest against Robert Morris University.
Additionally, Hensley's international success is not limited to PyeongChang alone. She has earned gold medals with Team USA at the 2016 and 2017 IIHF Women's World Championships. At the 2017 Women's Worlds played in Plymouth, Michigan, Hensley played in two contests for USA and had the best goaltending numbers of the tournament. In over 190 minutes of action, she compiled a miniscule 0.63 GAA and a .964 SV%. In fact, when combining both her PyeongChang play with that of her World Championships, Hensley has only ever been scored on in one of the five games she has played – the four other appearances have all been shutouts.
Olympic gold medalist, Nicole Hensley, is a Buffalo Beaut!

We have agreed to terms with the Colorado native on a contract for the upcoming season! Welcome to Buffalo, Nic! pic.twitter.com/xSlTggVCcZ

— Buffalo Beauts (@BuffaloBeauts) June 13, 2018
Hensley is ready to get this show on the road. She is excited to show Buffalo and the NWHL what she is capable of.
"I am very excited to join the Buffalo Beauts organization," Hensley said in the same league press release. "During my visit to Buffalo, I saw nothing but great things from the team, the fans and the city. I am looking forward to my first professional season."
What This Means for Buffalo's Goaltending
Regardless of how Beauts fans may feel about it, the signing of Hensley means it is less likely that the team re-signs reigning NWHL Best Goaltender, Amanda Leveille. Now, there is of course the notion that if both goaltenders were on the roster that the Buffalo net would be impenetrable. If you had a handful of rice and you threw it at the Beauts' goal, there is a distinct likelihood that Hensley and Leveille would stop every kernel – they are just that good. Some would indeed say to sign them both.
Looking at it logically though, the Beauts goal crease is not big enough for the two of them. Certainly not because of ego or anything of that sort. Rather, both Hensley and Leveille are major competitors and each plays better with the more ice time they see, and the more pieces of vulcanized rubber they face. It would be doing either goaltender a disservice by stunting one of the two into a backup role. Each is meant to be a starting goalie, but you can only have one starter. Trying to jointly utilize the two would only lead to some form of dissension.
You are a big part of this, Beauts fans! We can't wait to see @NicHens29 in #BeautsBlue! pic.twitter.com/PC2hdZdFqQ

— Buffalo Beauts (@BuffaloBeauts) June 13, 2018
Despite any reassurances on Leveille's behalf that she wishes to remain in Buffalo, that is not the best option – not for Leveille, not for Hensley, and not for the Beauts. It is becoming more and more obvious by the minute that when Nicole Hensley was announced as having signed with Buffalo, she became the number one netminder in town. She is more than equal to the task, and the Beauts faithful will soon see that they have a new steel curtain in between the HarborCenter pipes and her name is Hensley.
The Beauts have made the most signings of the five NWHL teams thus far. Here is a look at how their roster is currently shaping out as of Jun. 12:
Goalie: Nicole Hensley.
Defense: Lisa Chesson.
Forward: Hayley Scamurra, Corinne Buie, Maddie Elia, Dani Cameranesi.