Beginning June 1, NWHL teams can re-sign players from their 2017-18 roster and their draft picks. Additionally, for those players who have completed their college eligibility and want to continue their hockey careers, NWHL Free Agency provides the best opportunity to continue playing at the highest level of professional women's hockey. Players who were not drafted by an NWHL team, or who have previously played in a different league, in Europe or otherwise, are unrestricted free agents and may sign with any team that offers them a contract.
The fourth season of the NWHL will begin in October as the Metropolitan Riveters defend their Isobel Cup championship, and with the addition of a fifth team – the Minnesota Whitecaps – this will be the most competitive season yet.
My colleague Dan Rice will keep THW readers up-to-date on Metropolitan and Connecticut's signings throughout the summer, while I post updates on Buffalo and Boston. Together we will be keeping readers informed of all of Minnesota's signings. 
Olympian Hensley Becomes Beauts Newest Netminder
Beauts Sign Olympian Cameranesi
Chesson & Buie Signings Keep Beauts' Leadership Intact
The signings just continue to pour in for the Buffalo Beauts. Buffalo General Manager Nik Fattey has the accelerator pedal pushed to the floor, and has done so since NWHL Free Agency opened on Jun. 1, 2018. In addition to re-upping with four Beauts veterans and newly acquiring two Olympians, now the team has brought in their first batch of rookies straight from college. More importantly, two of the three newcomers are Beauts draft picks which speaks to the team's ability to properly scout and retain prospects. An announcement was made on Jun. 14, 2018 about the newest signings.
The three soon-to-be first year players are defender Savannah Harmon (Clarkson University) and forwards Julianna Iafallo (Ohio State University) and Annika Zalewski (Colgate University). THW was already able to meet with all three players prior to their signings being announced, when each participated at the Beauts' 2018 Free Agent Camp on Jun. 10 and 11.
Rivals 🔜 teammates pic.twitter.com/g0iGVNyWts

— Buffalo Beauts (@BuffaloBeauts) June 14, 2018
All three players are young, enthusiastic, come with a winning pedigree, and are pumped to be the newest Beauts on the block. THW takes a look at each player individually, and what each will bring to the team.
Harmon Brings Young Leadership to the Rearguard
Harmon will give Buffalo a lot of options on the back end. She is multi-faceted and excels in both the offensive and defensive zones. Though she is fresh out of college, Harmon handles herself with a great deal of professionalism. Her personality will further endear her to her new teammates and to the city of Buffalo.
During her career at Clarkson, Harmon was co-captain during her junior year (2016-17) and then captained the squad for her final season of 2017-18. Under her leadership the Golden Knights won back to back NCAA championships and have blossomed into one of the finest women's hockey programs at the college level. In 160 collegiate games, Harmon scored 30 goals and 83 assists for 113 points. Her career plus-131 for plus/minus is simply staggering.
Two-time National Champion and Beauts draft pick, Savannah Harmon, meets the Buffalo media. pic.twitter.com/f1CA4yYz73

— Buffalo Beauts (@BuffaloBeauts) June 9, 2018
Harmon had traveled with her mother from the Chicago area to attend the camp in Buffalo. When THW and the media met with her between sessions on the first day, Harmon told us the following regarding her intentions of playing in Buffalo and what she can bring to the Beauts:
"I think there's a lot I can bring. I learned a lot over my four years just about leadership, and grew as a person in those roles the past two years, so I think that a lot. It will be a new team and new dynamics. They've been successful. They've been to the Cup championship the past three years. So there's a lot. A different dynamic definitely, but I think I can bring a voice and a second, new opinion. A different style of play than what they've been used to in the past."
Beauts fans are going to fall head over heels for this new blueliner. She is the real deal.
Iafallo Makes a Return to Western New York
Following her co-captaincy for her senior year at Ohio State University, Iafallo makes a return to her stomping grounds to play for the hometown team. A native of Eden, New York and a graduate of the Nichols School in Buffalo, she played her college hockey for the Buckeyes from 2014 to 2018.
In her four years at Ohio State, Iafallo's point totals went up each year. Her finest outpouring came during her senior year when she potted 12 goals and 15 assists for 27 points in 39 games. She would also finish the year as a plus-19. Additionally, Iafallo had two power play tallies and a shorthanded marker as well. Her final totals through four years were 22 goals, 42 assists and 64 points in 148 games.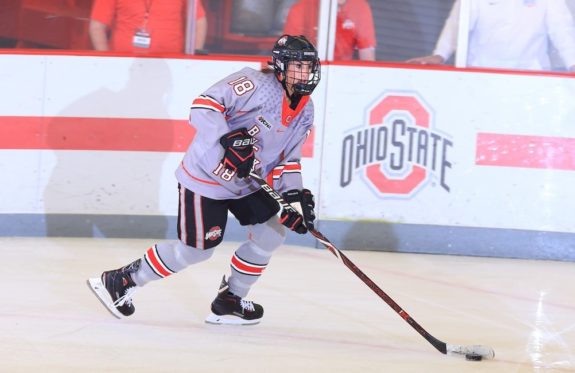 Iafallo is one of the bright stories to come out of the Beauts Free Agent Camp. Not having been drafted by an NWHL team, she made enough of a showing to have earned herself a contract with Buffalo as a free agent.
"Going away for four years to be able to play at Ohio State, and get the experience out there to be able to come home and… be able to play in front of your friends and family is pretty cool," Iafallo told THW and the rest of the media at the camp.
Zalewski Is a Sizable Forward With a Scoring Touch
In addition to Harmon, the sizable forward Zalewski is another Beauts' 2017 draft pick to now be signed by the team. The 5-foot-10 forward spent part of her high school hockey career playing at the Nichols School just like Iafallo. Her collegiate career saw Zalewski play for the Colgate Red Raiders, a team which she captained for both her junior and senior seasons. In fact, she and Harmon faced one another as captains of their respective teams during the 2018 NCAA national championship for women's hockey.
Zalewski had ideal numbers throughout her career at Colgate, and was particularly strong on the power play. In 132 games, she compiled 39 goals and 46 assists for 85 points. 13 of her 39 goals came while the Red Raiders had the player-advantage. It was rather easy to understand why the Beauts selected her with the 14th pick overall of the 2017 Draft. Zalewski has the size, the strength, the leadership ability and the scoring touch down low. Selecting her as late into the draft as the Beauts did has to be viewed as strong foresight on the team's behalf.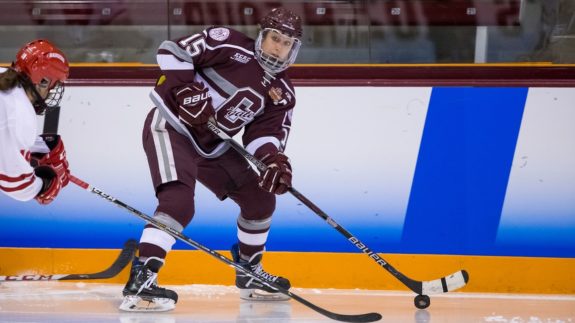 Zalewski herself is primed to showcase her talents and make the most of this opportunity. She said the following in a video posted by the Beauts to social media:
"Hey Beauts fans, this is Annika Zalewski from New Hartford, New York. Really happy to announce that I'm joining the team next season. Looks like it's going to be another great year in Buffalo, and I'm excited to be a part of it. Go Beauts!"
New Beginnings for the Buffalo Beauts
For the first time since the Beauts began their off-season signings, the new faces are outnumbering the returning veterans, at least for the time being. With a roster limit of 25 players and only nine players signed thus far, how the rest of the team ends up being filled out remains to be seen. Right now there are no clear indicators. The remaining 16 roster spots could be end up being comprised by the familiar faces of the 2017-18 Beauts. Or, they could be entirely new faces all together. Who knows?
One thing that does stand clearly is that first year GM Fattey is very pleased with the signings he has made thus far, and particularly with these three rookies. He shared the following through an NWHL press release:
"These three players bring valuable leadership and a winning pedigree with them from the collegiate level. It's unique for us to be able to add captains from three of the four teams from last year's NCAA Frozen Four. All three players have elite skill and are very hard workers, and we are excited about the impact they will have on our organization."
The Beauts have made the most signings of the five NWHL teams thus far. Here is a look at how their roster is currently shaping out as of Jun. 15:
Goalie: Nicole Hensley.
Defense: Lisa Chesson, Savannah Harmon.
Forward: Hayley Scamurra, Corinne Buie, Maddie Elia, Dani Cameranesi, Annika Zalewski, Julianna Iafallo.