A year ago, the Calgary Flames made a big splash at the NHL Draft in Chicago. Not only did Brad Treliving's crew land highly-touted Finnish defender Juuso Valimaki in the first round, but they stole the show on the second day with a blockbuster trade for blueliner Travis Hamonic – continuing a trend of being draft movers and shakers since Treliving's arrival in 2014.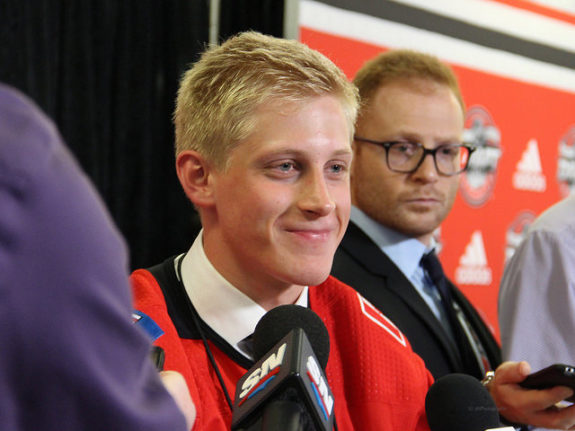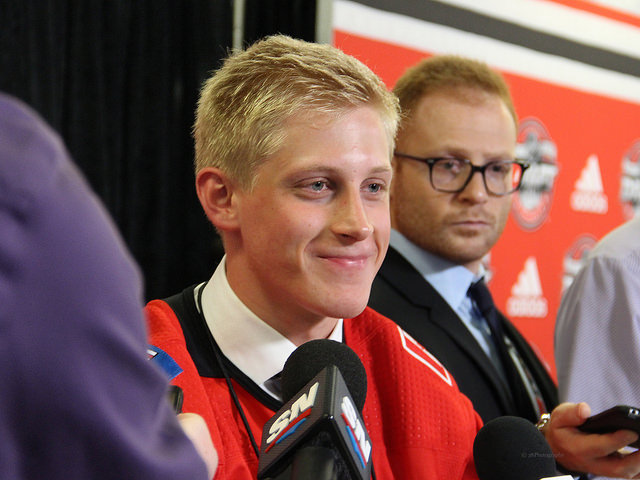 Unfortunately for the Flames, the 2018 NHL Draft is when it's time for them to pay the piper. The club hopes to be busy over the draft weekend, but they're entering it with some uncertainty surrounding their roster and precious few draft picks at their disposal.
Picks
Heading into draft weekend, the Flames only have four picks at their disposal.
105th overall in the fourth round
108th overall in the fourth round (originally Florida's pick, acquired in Jiri Hudler trade)
167th overall in the sixth round
198th overall in the seventh round
It's the fewest picks they've had during Brad Treliving's tenure as general manager and the fewest picks they've ever had in draft history. Their first and second round selections went to the NY Islanders in the Travis Hamonic trade. Their third round selection went to Arizona as a condition of the Mike Smith trade. Their fifth round selection also went to Arizona as a condition of the Michael Stone trade.
GM Brad Treliving on with us now says "I wouldn't be holding my breath" to see the team move into the first round of next week's draft. #Flames

— Pat Steinberg (@Fan960Steinberg) June 15, 2018
The Flames currently own six picks in the 2019 draft and seven in the 2020 draft, including first round picks in each year, but may be hesitant to move those picks since they have so few this year – Treliving has long cautioned the practice of "robbing Peter to pay Paul" in the context of mortgaging the team's future too frequently.
Wants and Needs
The Flames have had great success in recent years drafting and developing left shot forwards who have found their way to the NHL to play center (Sean Monahan, Mark Jankowski and Mikael Backlund) or left wing (Johnny Gaudreau, Sam Bennett and Matthew Tkachuk). Conspicuous by their absence are right shot forwards – the only internally-developed right winger is Micheal Ferland, a converted left shot winger. The Flames need to develop more right shot forwards, as well as generally keep topping up their offensive depth.
Blueline depth isn't a huge concern, but depending on what happens on the NHL roster the Flames may be graduating Rasmus Andersson or Oliver Kylington to the big club. Juuso Valimaki and Adam Fox are also exciting prospects, but the team needs to keep adding to that group – their prospect depth might be tested if they package a defender in a trade to upgrade their NHL scoring.
The Flames have adequate goaltending depth at the prospect level, but they may consider an upgrade on youngsters David Rittich and Jon Gillies as backup options behind Mike Smith. 21-year-old Tyler Parsons had an uneven first pro year, but is still likely considered the organization's "goaltender of the future."
DRAFT HISTORY
Tod Button has been the club's head of scouting since the 2001-02 season, having been promoted into the role by his brother Craig when he was Flames general manager. This will be his 17th draft as head of amateur scouting – spanning four different general managers (and interim GM Brian Burke).
Under Button the team has had some iffy results in first rounds – though they've had more success recently – but they've hit on some interesting players in later rounds.
The third rounders include Gillies and Fox
The fourth rounders include TJ Brodie and Gaudreau
The fifth rounders include Ferland
The sixth rounders include Andrew Mangiapane and Matthew Phillips
The team's approach for the past few drafts, dating back to around 2011, has emphasized hockey sense and offensive ceiling. 13 Button draft picks played for Flames in 2017-18, along with another four players that the amateur scouting team found and signed as free agents (including captain Mark Giordano).
The Flames' general drafting tendency under Treliving has been to skew towards forwards – they've taken two goalies, eight defensemen and 15 forwards – with a habit of selecting players from the Ontario Hockey League, Western Hockey League and Sweden. Given the successes of the players they've selected from the WHL, OHL and Europe in recent drafts – and the promotion last season of WHL scout Rob Sumner and OHL scout Fred Parker to assistant directors of amateur scouting – you would expect those scouts would be listened to at the draft table in the event there's a toss-up between players.
TARGETS & FITS
The Flames have no picks in the first three rounds, but there are a few players that could fall to them in the fourth round that could fit their needs. Names to keep an eye on include Everett Silvertips RW Riley Sutter (his father works for the Flames), Farjestads C Oskar Back, Calgary Hitmen C Riley Stotts, Kelowna C Kyle Topping and Djurgardens D Axel Andersson. In the entire weekend, expect the Flames to skew a bit towards forward depth – if they make four selections, only one of them may be a blueliner.