The Calgary Flames bet big on themselves in the summer of 2017. General manager Brad Treliving sent several draft selections out the door during that off-season in an effort to bring in Mike Smith, Michael Stone and Travis Hamonic.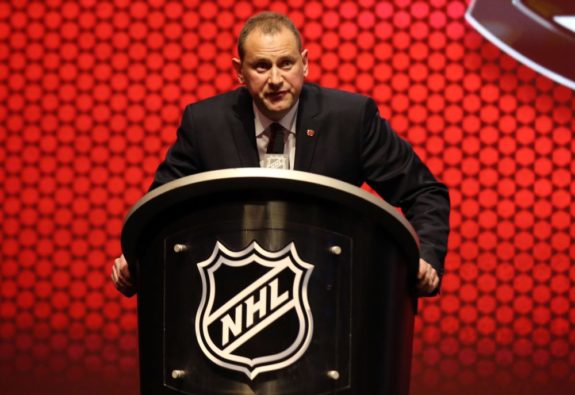 The 2018 NHL Draft is when Treliving's hockey club has to pay the proverbial piper. It's primed to be a history-making weekend for the organization, but they're also hoping some history repeats itself as well.
Flames Have Very Few Picks
According to Pro Sports Transactions, the Flames have the fewest number of 2018 picks than any other club. Two other teams – Boston and Nashville – each have five selections, but the Flames only have four. Moreover, while Nashville doesn't pick in the first or second round due to trades, the Flames have no selections in the first three rounds of the 2018 NHL Draft. They don't make a selection until 105th overall.
Their first round pick went to the New York Islanders for Hamonic
Their second round pick went to the Islanders for Hamonic, as well
Their third round pick went to the Arizona Coyotes as a condition of the Smith trade (triggered when the Flames missed the 2018 post-season)
Their fifth round pick went to the Coyotes as a condition of the Stone trade (triggered when he re-signed with the Flames after the initial trade)
Well the Flames better turn into contenders next year because they're going to have no draft picks left soon. https://t.co/GQoEUadiTP

— Kent Wilson (@Kent_Wilson) June 24, 2017
The Flames' lack of picks will potentially make some franchise history. Since the draft moved to seven rounds in 2005 they've been limited to five selections on four occasions – in 2007, 2011, 2015 and 2017 – but four picks would be the fewest they've ever had. In 2010 they didn't select until the third round after trades sent their first two picks out of town, but they managed to load up with additional mid-round picks that year. That's not the case with this year's draft.
Favourable Fourth Round History
The Flames don't select until the fourth round, but they're a club that arguably has as strong a track record hitting it big on fourth round picks than with their first round selections. They found TJ Brodie in 2008, Johnny Gaudreau in 2011 and Brett Kulak in 2012 – the Gaudreau pick in particular was a validation of the club's drafting philosophy at the time, emphasizing speed and skill over size. Their 2017 fourth round pick, Sarnia Sting forward Adam Ruzicka, was one of the OHL's offensive breakout players this past season and led his league in game-winning goals.
The good news is the Flames have a pretty good history of nailing their late picks, but they've done so in years where they've had oodles of picks. The bad news is the pressure is on to do it without the safety net of having earlier selections.
Limited Options To Add Picks
The Flames have a fairly young, talented roster, a well-stocked prospect cupboard and lots of cap space heading into the 2018 off-season. That's great news, because they have limited options when it comes to acquiring more draft picks: unless Treliving has a desire to move a piece from his NHL roster (probably a defenseman), they'll have to take their medicine and soldier on with the picks and prospects they currently have.