Nobody expected the Vegas Golden Knights to be dominated to the degree they were by the Winnipeg Jets in Saturday's Game 1 of the Western Conference Final. Certainly, no one expected them to come out flat-footed in Monday's Game 2, including Jets players.
"We know they're going to come out strong," Mark Scheifele said on Sunday. "We know they're fast. We know they play a solid 200-foot game. So we know they're going to come hungry and we have to be prepared for that."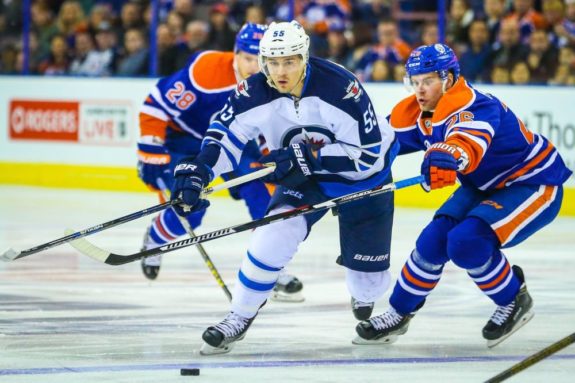 The Golden Knights came out hungry, indeed, and looked a lot more like the dangerous team everyone's seen all season. They captured a well-deserved 3-1 victory as a result.
Jets Started Strong Again
Upon puck drop, it appeared Game 2 was going to follow a similar script to Game 1. The Jets came out flying in that game and they did so again.
They had five big chances before three minutes had elapsed. Mark Scheifele nearly tucked one through Marc-Andre Fleury's five-hole less than a minute in and Jacob Trouba also had a prime chance during some 4-on-4 time.  The Jets took the Golden Knights to task in the first 10 minutes, outshooting them 10-5.
Golden Knights Turned the Tide
However, unlike Saturday night, the Jets couldn't sustain that pressure. It truly looked like two periods within one. Vegas started to use the team speed that's synonymous with their identity, something that was sorely lacking in Game 1. They began to skate and generate chances on the rush thanks to their quickness.
The Golden Knights, controlling the play, struck for two goals. Tomas Tatar scored the opener, and just four minutes later, Jonathan Marchessault doubled the lead when he scored in transition after a terrible neutral-zone turnover by Kyle Connor.
The @NHLJets have been saved by the bell at the end of the first period.

VGK leads 2-0 in a game it kinda-sorta-maybe has to win.

Totally different game from the other night.

Has VGK already infected the Jets with the Vegas flu?#vgkvswpg

— #LifeOnTheDock in #Hopatcong with Nikolai Busko (@NikolaiBusko) May 15, 2018
The Golden Knights simply dominated in the first period's back half, as the Jets looked jumbled and off their game. They only allowed one shot in those 10 minutes, and it came from Brandon Tanev, with just a few seconds left, from outside the offensive zone.
It Was "Close, but Not Quite" All Night for the Jets
The Jets began to push back a bit in the second period and regained their game, but they didn't have much puck luck. They seemed to be fighting the biscuit — it bounced away from them frequently and seemed to elude the net. They never found the flow that usually comes naturally from them — they just didn't play a clean game. The open ice they found and used to generate chances very early closed up like Chick-fil-A on Sundays.
They weren't able to corral the energy or vigour they showed in spades just two nights before — a game in which they rode the momentum from an emotional 5-1 win in Game 7 against the Nashville Predators. Postgame, Nick Kypreos described the Jets as having a "delayed hangover." The Jets actually outshot the Golden Knights 31-28 but were definitely contained by the Golden Knights' d-corps to a higher degree.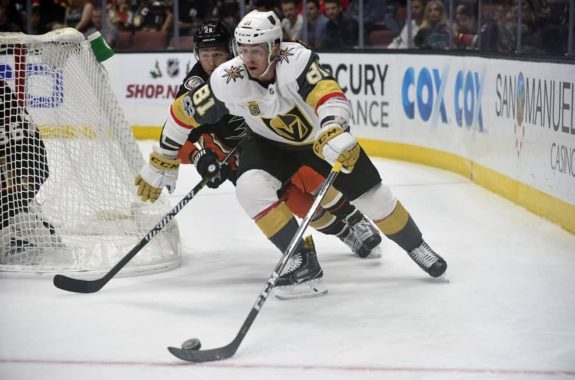 The Jets had a chance to build momentum after Connor scored on the power play in the third to cut the lead in half, but, like a commuter falling down on a crowded bus, they didn't hang on tight enough. Instead, they allowed Marchessault to score his second of the game—the goal again coming off the rush—less than two minutes later.
Fleury Was Sturdy
One of the big differences in Game 2 was the play of the man in the Golden Knights' crease. His bounce-back performance was key to keeping the Jets at bay. Fleury had a rough go in Game 1 and was reminded loud and clear by the Winnipeg faithful, but he rebounded nicely. The Golden Knights could have easily been down early again given the Jets fast-paced first five minutes, but Fleury was up to the task and turned aside all the rubber that came his way.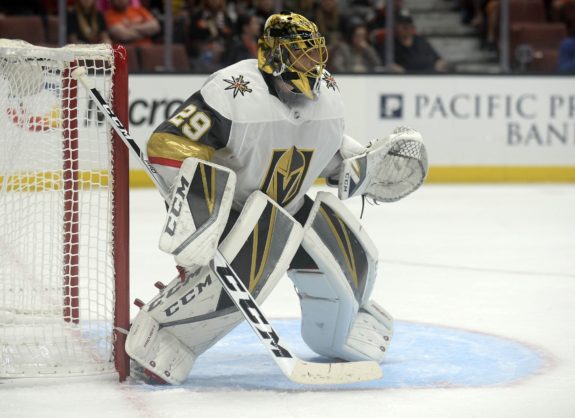 Aside from the soft goal he allowed to Connor, he looked locked-in, alert, and confident, making 30 saves. He still hasn't lost back-to-back games in the 2018 playoffs; he's 3-0 coming off a loss.
Jets Must Correct the Bad but Focus on the Good
The Jets didn't play good enough to win Game 2, but they didn't play terribly, either. They did some good things throughout the night, too. While they should certainly look to correct their mistakes, they should also look to build on what they did right.
In the back-half of the second, they generated turnovers with a relentless forecheck, especially the third line of Bryan Little, Adam Lowry, and Brandon Tanev. They had some good looks on an early third-period power play from Patrik Laine on the rush and from Mark Scheifele on a high tip. They had a couple 2-on-1 chances that didn't pan out, and they scored a power-play goal for the third straight game.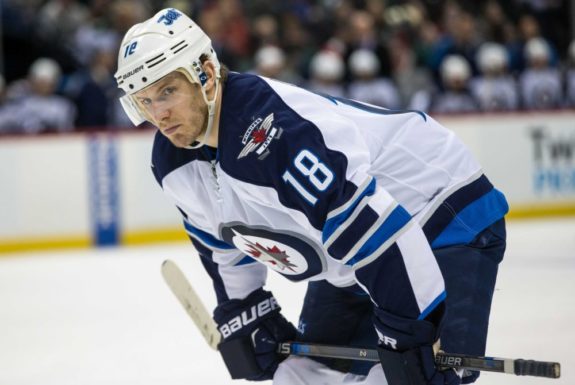 Blake Wheeler certainly wasn't happy after the game, but didn't seem overly concerned with the loss, either.
"There was about 57 minutes of that game that was pretty good for us," Wheeler said. "Three minutes of it got away from us… they scored two goals and then we just kind of got away from it… just little things that are pretty easy to clean up.
No One Said It Was Going to Be Easy
The Golden Knights showed Monday why they gained a glittering 51-24-7 regular season record and why they're a legitimate Stanley Cup contender. They promised they would be better in Game 2 and they fulfilled that promise. They showed they belong right where they are.
Vegas weathered 1st 10 minutes and then showed why they're still playing right now. Very solid road game. Jets will need to be much better on the road just like they were vs Preds. Series on!

— Andrew Paterson (@hustlerama) May 15, 2018
No one promised a cake-walk for the Jets, although if they can correct their Game 2 quibbles and harness some of that emotion they rode to a Game 1 victory, they should be alright. Things shift to Las Vegas for Wednesday's Game 3. Now it's the Jets' turn to improve.
"I don't think anybody is panicking," Jacob Trouba asserted in his postgame comments. "We've been here before. It's a long series. We're going to go to Vegas. We like our road game, we like where it was in the Nashville series and we're going to try and bring the same effort."