The Winnipeg Jets — less than 48 hours removed from their decisive 5-1 win Game 7 win in Nashville — were right back on the ice for Game 1 of the Western Conference Final against the Vegas Golden Knights Saturday night at Bell MTS Place.
They had little rest, but didn't look weary, rolling to a solid 4-2 win.
Momentum Proves Better Than Rest
In contrast to the Jets, who had a quick turnaround, the Golden Knights spent nearly a week waiting to see who their third round dance partner would be. Their second round series against the San Jose Sharks, which they won in six games, wrapped up back on May 6.
There's always debate whether having time to rest between series is a positive or a detriment. On one hand, it can refresh a team and help them recover from nagging injuries. On the other hand, too much rest can cause a team to become rusty and not ready to face a team fired up and running hot after a recent win.
There was some discussion as to how the gruelling seven-game series would affect the Jets coming into the series against the Golden Knights. If anything, the lack of rest helped, not hindered, the Jets in Game 1.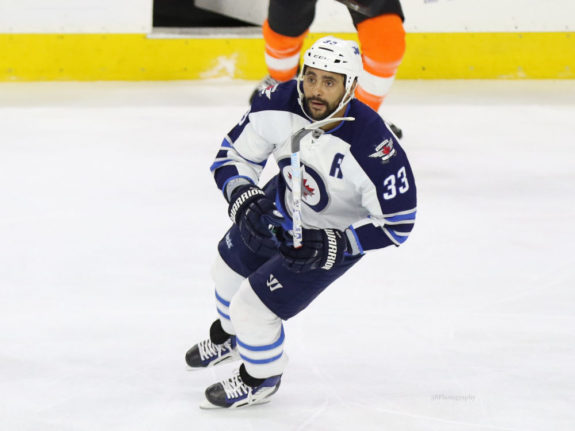 "We haven't had much rest, so we're still in game mode," Byfuglien said right after the final horn to Scott Oake. "It was just a matter of moving our feet, keeping it simple, and doing the right things."
Post game, Golden Knights head coach Gerard Gallant denied the time off had anything to do with his team's flat first period, but it was clear the Jets had more jump.
Jets Got to Fleury Early
It would be an understatement to say that a good start is paramount, especially in the playoffs. The importance of scoring the first goal, really, cannot be overstated. Case in point: the Jets are 8-1 in the 2018 postseason when firing the opening salvo.
They fired it early in Game 1. Just 65 seconds into the contest, Dustin Byfuglien took a drop pass from Mark Scheifele and ripped a rocket past Marc-Andre Fleury to give his side a 1-0 lead on their first shot of the game.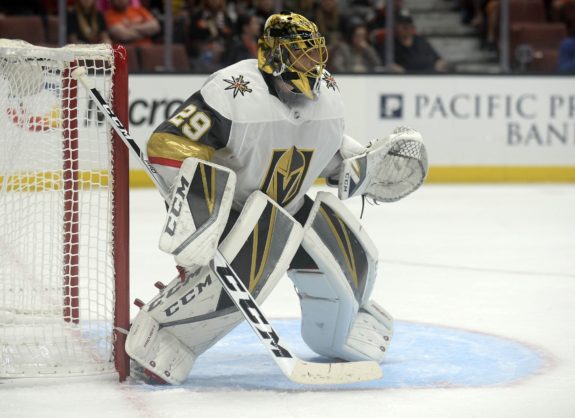 The Jets showed they didn't care one bit about Fleury's pedigree or past performances and victimized him for two more goals after the aforementioned Byfuglien blast in the first 7:35. Fleury calmed down in the latter half of the first, but by then, the damage had been done.
Oh my, it's a good goal by Joel Armia. 3-0 #NHLJets after 7:35.

That's the same number of goals Marc-Andre Fleury allowed in the entire first round.

— Chris Johnston (@reporterchris) May 12, 2018
The quick start was very important for three reasons. One, it showed Fleury, who's been outstanding in the playoffs so far, is also human and got him off his game. Two, it ensured the Golden Knights, who'd been stagnant for nearly week — were chasing the game right away, before they could get re-accustomed to game speed. Three, it got the crowd — who taunted the Golden Knights goaltender during a TV time out and at one point chanted "we want Subban"— into the game.
"The start was very important," Paul Maurice said in his post-game comments. "We did take advantage of being game-ready off our last series and we weren't put in a position — because we had the lead — where I had to shorten the bench."
Scheifele and Byfuglien a Killer Combination
In the playoffs, you need your best players to be your best players. In Game 1, the Jets' top guys were top-rate.
Mark Scheifele and Dustin Byfuglien came to play once again. Scheifele, who's just seven goals away from tying Reggie Leach and Jari Kurri's co-owed record for most goals in a single playoffs, and Byfuglien, who's been a playoff beast this spring, each posted a goal and an assist. They were a powerful one-two punch and showed great chemistry throughout, even though one is a forward and the other a defenceman.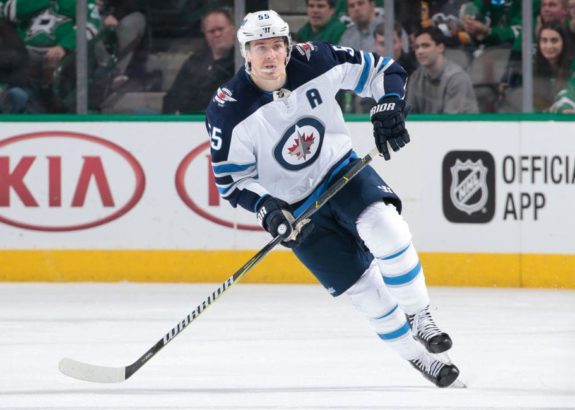 Byfuglien, who was the recipient of a great Scheifele pass on the game's opening goal, returned the favour and tallied the primary assist on Scheifele's second period power play tip-in. Combined, they logged 45:10 of ice time.
Jets Locked Things Down in the Third
The Jets didn't allow the Golden Knights to use their much ballyhooed team speed — the aspect of their game that makes them dangerous — in the third period.
The Jets didn't do anything special on offence, taking just four shots, but didn't have to. They slowed the pace right down and didn't give their opponent any good chances or hope of getting back into the game. It was quite similar to the responsible, defence-fist style they played in the second period of Thursday's Game 7.
https://twitter.com/brent_craswell/status/995483426693120000
For nearly half the period, the Golden Knights were stuck at a paltry 16 shots as the Jets blocked their chances, cleared the front of the net, and played very short shifts — 25 seconds or less in the late minutes – to ensure no one got tired or caught.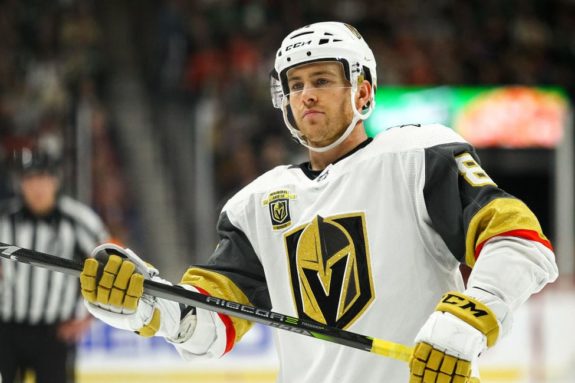 The Golden Knights eventually pulled Marc-Andre Fleury and got a few shots on Connor Hellebuyck to inflate their total to eight for the period, but didn't get any ten-bell chances.
In Game 1, no rest was no problem for the winning Winnipeg squad. One has to wonder whether playing every two day will eventually catch up to the Jets. We'll find out on Monday, when the two sides meet for Game 2.