Even in a hockey-crazed market like Winnipeg, where every play, pass, and practice is put under a microscope by media, fans, and armchair general managers, no player is examined more closely than Dustin Byfuglien. He's a central figure of discussion in both the best and worst of times.
The 6-foot-5, 260-pound defenseman has faced his fair share of criticism over his seven seasons in Winnipeg. His detractors have called him out-of-shape, lazy, and reckless, often pointing to the impulsive pinches and careless turnovers that used to characterize his game and led many to volunteer to help him pack his bags.
There's no denying Byfuglien's game has come a long way in the last few years, and there's also no denying the brawny blue-liner has been an absolute force for the Jets this postseason.
Big Buff's Got Big Stuff
Byfuglien's garnered high praise for his playoff performance thus far. He's a five-tool player and his teammates say he's completely unique.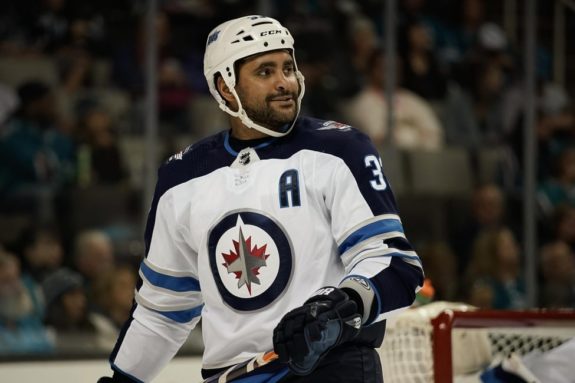 "He's got that ability to take games over," Bryan Little said last Wednesday afternoon. "When he's feeling it, he's one of those guys who can be unstoppable out there."
"He's the great equalizer," Blake Wheeler added. "There's nobody like him. Having him on our team gives us an advantage no matter who we play."
Little and Wheeler are right. Byfuglien is a dynamic player, capable of turning the tide of a game in myriad ways. Sometimes, that means gobbling up oodles of ice time. Other times, that means throwing his freight-train physique full bore at poor opponents. Still others, that means bulging the twine with one of his blistering, 100-plus mile per hour slap shots.
He's done all those things and made an impression bigger than his frame in both Round 1 against the Minnesota Wild and in Round 2 against the Nashville Predators.
Byfuglien Using His Body
Byfuglien can lay the body like anybody. Just ask the many players — like Mark Stone, who got flattened like a squirrel by a semi-truck back in 2016 — he's blown up. He's been feared for many years.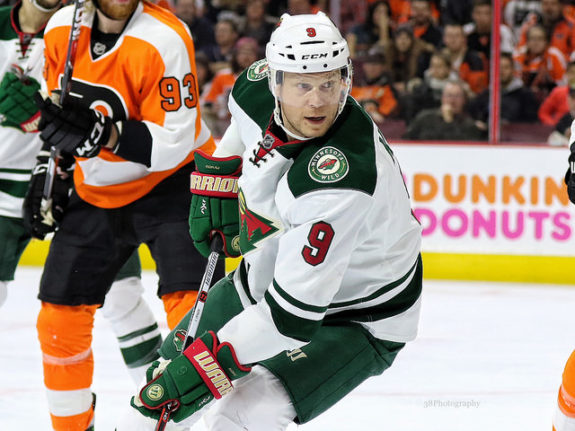 He's been rough and rugged all postseason but was especially ferocious in Round 1. He dished out 25 hits over the series' six games, two of the most bone-shatteringly vicious coming against Joel Eriksson Ek near the Jets' goal line and Mikko Koivu behind the Jets' net.
Dustin Byfuglien just hit Joel Eriksson Ek so hard he is now just going by Joel Eriksson. #NHLJets

— Dave Minuk (@ICdave) April 12, 2018
He's been nasty against Nashville too, especially in scrums. During a big brouhaha at the end of Game 2's second period, Byfuglien rag-dolled Roman Josi and Austin Watson — two big-bodied dudes — simultaneously. Overall, the Minnesota native has amassed 45 hits in just 11 playoff games.
Wearing down the opponent is very important, especially during playoff times. He's changed the complexion of games with physicality and used it to give the Jets the momentum.
Byfuglien Finding the Scoresheet
He hasn't just been using his body in a big way; he's also using his hands and stick to generate offence for the Jets.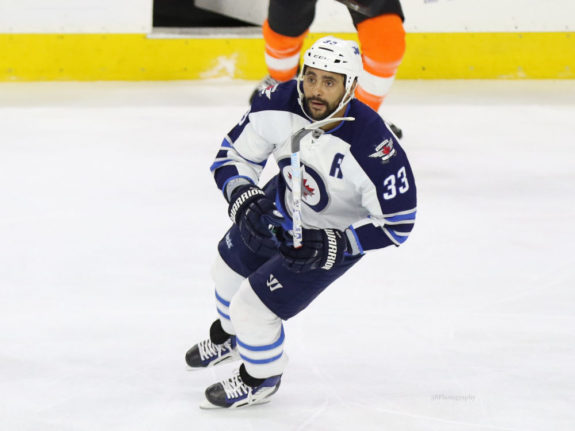 Byfuglien is coming off a regular season that was, points-wise, only average. He tallied eight goals — his lowest total in five years — and 45 points in a season in which he traded personal point production and high-risk plays for a more responsible, stay-at-home style.
He can still light the lamp and get on the scoresheet, though, and he's proven it throughout the first two rounds. His four goals and 12 points are tied with Torey Krug (whose Boston Bruins were eliminated by the Tampa Bay Lightning on Sunday) for most by a defenseman.
His timely goals show he's still the offensively dangerous player of seasons past, just minus the roving, wandering style that baffled and infuriated many a Jets fan and often led to bad breakdowns.
Oh Buff, we love you more than words can describe. 💙

🚨: Dustin Byfuglien
🍎: @PatrikLaine29
🍏: @PaulyWalnuts26 #WPGWhiteout #GoJetsGo #NSHvsWPG pic.twitter.com/JRfUmAbAqi

— Winnipeg Jets (@NHLJets) May 2, 2018
He had a two-point night in Game 2's 5-4 double overtime loss. He scored the second and go-ahead goals of Game 3, when the Jets came back from a 3-0 deficit. He scored the game-winner of Game 5's 6-2 beatdown. He's fired shots from every angle, with 35 in his first 11 games.
Less Pressure Leading to More Results for Byfuglien
When the Jets relocated from Atlanta, seemingly a million years ago, their team was offensively thin and bereft of any viable prospects. That led to the pressure being on players like Byfuglien to produce the offense, which led to a lot of his aforementioned defensive breakdowns and strange pinches.
Now, the Jets have an embarrassing amount of offensive talent, including (but not limited to) Mark Scheifele, Patrik Laine, Blake Wheeler, and Kyle Connor. That means Byfuglien can focus on doing everything right and picking his spots. Ironically, not having to be a game-changer on a nightly basis has made him into one.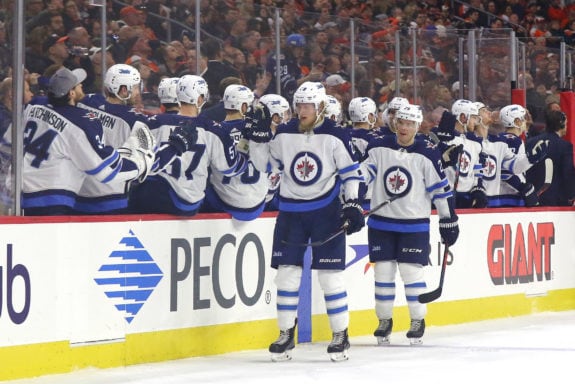 Jason Bell of the Winnipeg Free Press, in his recent article "Big Buff a giant among men," summed up Byfuglien's playoff performance this way:
A fluid skater, offensively talented, loaded with brute strength, with a deep love for the game and unwavering loyalty to his coaches and teammates, he's demonstrated all the positive Big Buff do's during the Stanley Cup playoffs and none of the don'ts that made him a lightning rod in his first six season in Winnipeg.
If that type of tribute doesn't make Byfuglien blush, nothing will.
 Byfuglien's Having Fun
Everything's going right for Byfuglien. Even though a playoff run always comes with loads of pressure — especially for a team that's considered a legitimate Stanley Cup contender — he's keeping things loose and light.
"He's so loose before games," Bryan Little said. "He's a joker, definitely the prankster on the team. It's strange for me to see him talking to you guys in front of the camera. It's like, 'That's not who I know."'
The peppy little dance during Game 3 made it pretty darn clear just how much of a blast he's having being a huge contributor to his team's success. "So far, there is one D-man who is running the show in Round 2," Mark Spector wrote after Game 3, "and they call him Big Buff."
If he keeps playing the way he has been, he'll keep Jets fans dancing their similar jig. Perhaps they'll be doing one at Portage and Main during a Stanley Cup celebration — but that shouldn't be the focus right now. The Jets will have to beat the Predators in Thursday's do-or-die Game 7 to give their fans a chance to do that dance.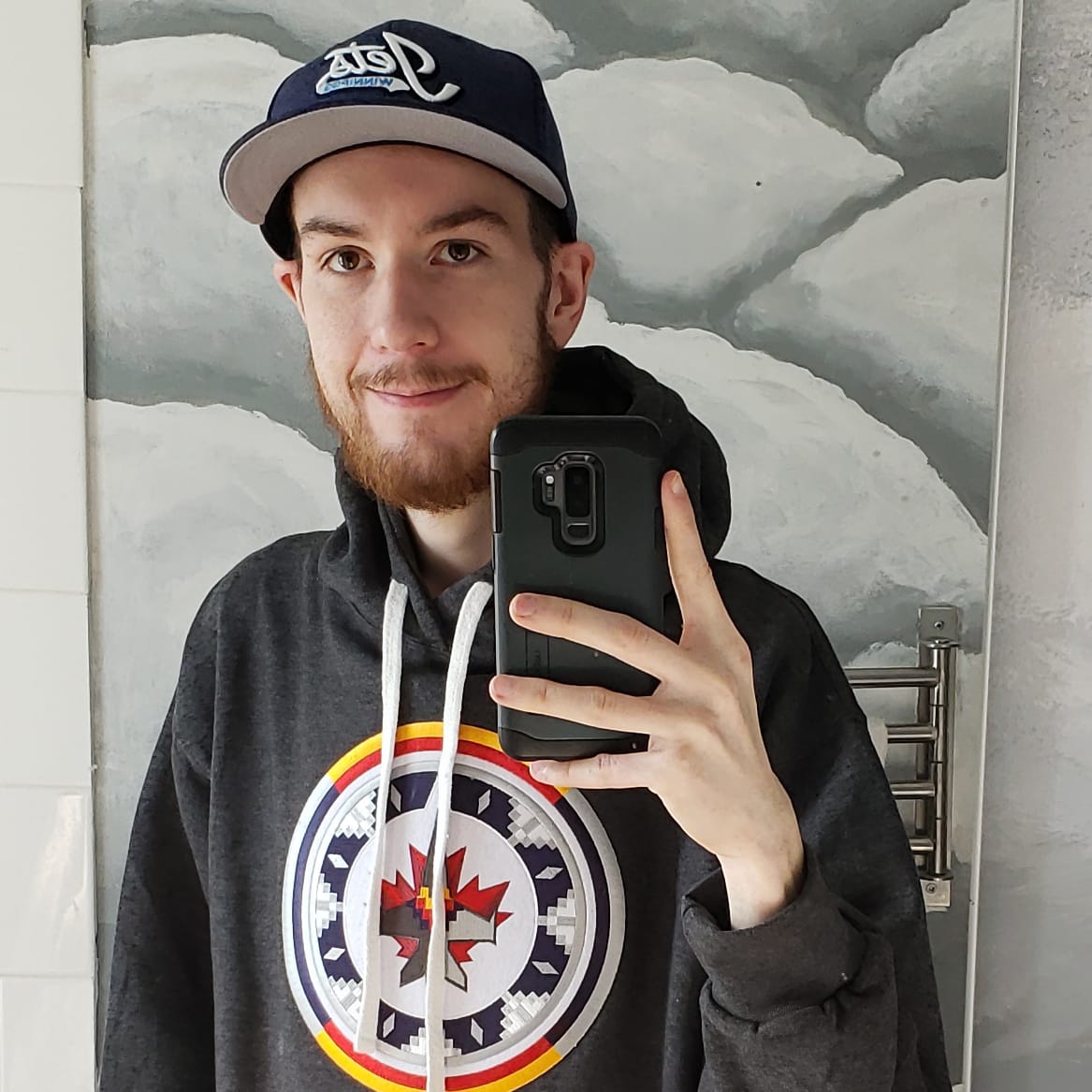 Declan Schroeder is a 27-year-old communications specialist and freelance journalist in Winnipeg, Manitoba. He holds a diploma in Creative Communications with a major in journalism from Red River College and a bachelors in Rhetoric and Communications from the University of Winnipeg.
Deeply rooted in the city's hockey culture, the original Jets skipped town when he was two and the 2.0 version came onto the scene when he was 17.