Two things are clear at this point in the 2018 NHL offseason. The Boston Bruins are in need of a two-way left-shot defenseman, and former first-round pick Noah Hanifin may want out after a rather bitter end to the 2017-18 season for the Carolina Hurricanes (36-35-11, 14 points out of a playoff spot).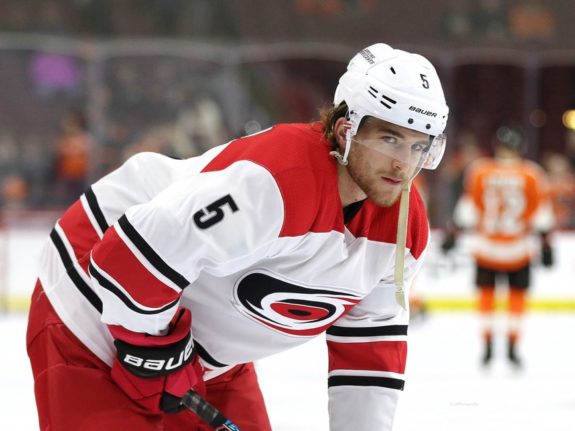 Given that Hanifin is a local guy and a product of St. Sebastian's School and Boston College, there is a lot of intrigue in the idea of the Bruins acquiring the Norwood, Massachusetts native to be part of their future core on the blue line. However, the price that it would take to get Hanifin is a large one, and, as we've been witnessed to in the past, the pressures that come with playing in Boston, especially as a local guy, can be overwhelming, a la Jimmy Hayes.
What Could Have Been…
According to Fluto Shinzawa of The Athletic, the Bruins have had interest in Hanifin ever since his draft year of 2015. Boston could have moved up to draft Hanifin, but it likely would have cost them all three of their first-round picks that season (No.'s 13, 14, 15). Instead, Boston opted to stay put and Hanifin went to Carolina at No. 5 while the Bruins selected Jakub Zboril, Jake DeBrusk, and Zack Senyshyn in that order.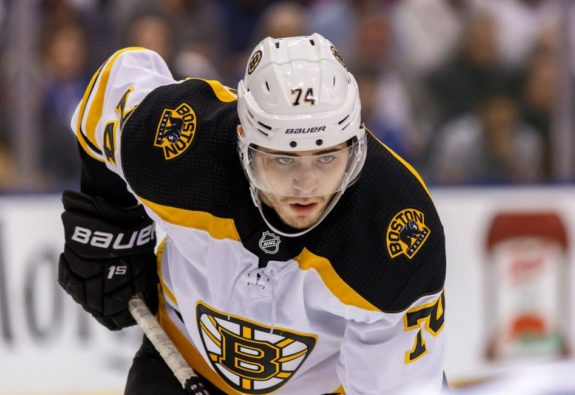 Obviously, with DeBrusk being the only one of those three 2015 first-rounders that have panned out and seen any sort of time with the big club to this point, it's fair to question and critique the Bruins game plan heading into the 2015 draft. With Zboril and Senyshyn still having not made it out of Providence, DeBrusk is the only one of the three who really has any sort of trade value, and in order to acquire a young purebred defenseman like Hanifin, DeBrusk is going to be the starting point in trade talks with Carolina for Bruins GM Don Sweeney.
The Risk of Getting Burned
Being a restricted free agent, Hanifin's options this summer are limited. If Boston were to acquire Hanifin before he signs a new deal, they would be in a position of power with control to his rights given that they could out-bid whichever team or teams buy into the sweepstakes. There is some risk when it comes to trading for Hanifin, however, as it is entirely possible that he gets a massive offer from another team after being acquired that the Bruins simply cannot match. But, if that's the case, Boston would at least receive a first-round compensatory pick from the team that lands him.
Even with the compensatory pick, however, you've dumped one of your top prospects to Carolina in Jake DeBrusk, the guy you got in return opted to sign elsewhere, and you're left with a middle-to-late first-round pick and are forced to start over in terms of the development process. If this scenario plays out, Carolina gets a top prospect in return for a guy they were going to lose anyway, and the Bruins get hosed in a situation they never even needed to get involved in. Yes, we are talking extreme hypotheticals at this point, but the Bruins are no strangers to finding ways to screw themselves out of a top young player and being left with nothing (Tyler Seguin, Martin Jones, Colin Miller, Blake Wheeler, etc).
There Are Other Options
Under these conditions and potential scenarios, it seems a lot safer for the Bruins to keep DeBrusk and address their void of a left-shot defenseman on the open market this offseason and also hope that either 2017 first-rounder Urho Vaakanainen or Zboril can step in and make an impact with the big club sooner rather than later. Noah Hanifin would obviously be a huge get but the asking price and the idea of getting burned and being left with nothing but a mere late-first if Hanifin is offered something greater elsewhere seems too risky.
One guy the Bruins could look into on the open market is 31-year-old Jack Johnson. Sure, Johnson isn't as sexy of a get as Hanifin would be considering his mileage, but he would offer the Bruins stability on the blue line at an available cost and not require the Bruins to sell the farm.
Even without the idea of Hanifin not signing with Boston after the Bruins acquired his rights, Jake DeBrusk has proven to be a legitimate goal-scorer and has solidified himself as a core part of this team on the second line and on the power play. The Bruins definitely need to address their lack of a two-way left-shot defenseman this offseason but trading away a top productive young forward like DeBrusk is not the way to do it.
Mike Flanagan is a freelance sports writer and multi-media journalist who covers the Boston Bruins and their prospects for The Hockey Writers. Mike often produces videos for the social media platforms of Barstool Sports' The Crease Dive and Spittin Chiclets podcasts and also serves as the sports editor for the newspaper Hometown Weekly. Follow Mike on Twitter at the above handle or on Instagram @flano0.