When the 2017-18 season ended, it was evident that the Calgary Flames would be making some changes after a disappointing year. The first, and arguably most major, change they made was clearing their bench staff by parting ways with head coach Glen Gulutzan and assistants Dave Cameron and Paul Jerrard.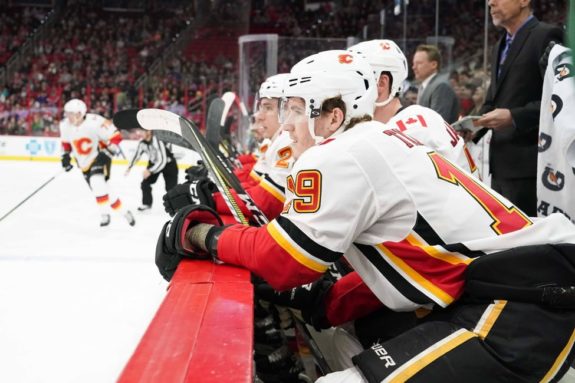 Following on the heels of the hiring of Bill Peters as the club's new head coach, the Flames have recruited a new associate coach in Geoff Ward and a new assistant coach in Ryan Huska. In several ways, these hires aim to fix specific challenges the Flames faced over the past 82 games – woeful special teams play and inconsistent performances in their defensive zone.
Introducing Geoff Ward
The Flames had a horrible power play in 2017-18. The team used the same general approach and the same general mixture of high-end players all season – with tons of ice time for the likes of Johnny Gaudreau, Sean Monahan, Matthew Tkachuk, Mikael Backlund, Dougie Hamilton and Mark Giordano – yet finished near the bottom of the league for power play chances converted. This power outage likely cost Cameron his position.
Ward is seemingly a targeted hire designed to fix the power play deficiencies. A veteran of the coaching game dating back to his first job at the University of Waterloo back in 1989, Ward has worked his way up through the ranks. After stops in the Ontario Hockey League and American Hockey League, he's most recognized for a decade he's spent behind NHL benches running power plays. His special teams work with the Boston Bruins contributed to a 2011 Stanley Cup victory, while his work recently with New Jersey contributed to their turnaround this season.
Lured to Calgary with a promotion to associate coach, Ward shared his thoughts on his transition with the club's official site.
"The biggest thing coming in (to a new situation) is that you've got to look at the strengths of your people and try to put them into a system and a formation that best suits those strengths," said Ward. "I think there's some really good pieces there in terms of powerplay personnel, it's just a matter of Bill and Ryan and I looking at what everybody brings to the table, see how we can best utilize the people at our disposal."
Ward's success with special teams work with the Bruins and Devils will give fans some optimism, but even bringing the talent-laden offensive group to the middle of the NHL pack will represent a massive improvement from Cameron's power plays.
Introducing Ryan Huska
The other hiring saw the Flames go closer to home, promoting the head coach of their AHL affiliate, Ryan Huska. Huska's best known for his long tenure with the Western Hockey League's Kelowna Rockets. There he earned a reputation for being a developer of young defensemen, a reputation that's followed him to the Stockton Heat as he worked with the likes of Brett Kulak, Rasmus Andersson and Oliver Kylington. His approach includes an emphasis on positional play in the defensive zone which will mesh well with Peters' tendency to prefer fast breakouts from that area.
Assigned to run the penalty kill and manage the defenders, Huska's strengths are his abilities as a motivator and his familiarity with the Flames personnel – 13 of the 35 Flames roster players in 2017-18 had spent time with Huska in the AHL at some point. His job was to get young players accustomed to the Flames systems and to prepare them to jump to the NHL roster and stick at that level.
"Just like players at our level, we all try to work and get ourselves up to the next level."

New assistant coach Ryan Huska cannot wait to get started with the #Flames. https://t.co/70z3ACDLfy

— Calgary Flames (@NHLFlames) June 13, 2018
Huska shared his thoughts on his adjustments to the new role with the Flames site.
"There's a fine line in the American league between development and winning. One of the things Brad told me when I interviewed for the job down here was: 'The first priority is making guys ready to play in Calgary.'," said Huska. "Now, for me, it flips. Now, results are the most important thing. But in order to get those results you're after you have to keep developing these players."
A chemistry experiment
In many ways, success in hockey is dependent on chemistry – both on and off the ice. The old mix of coaches, expertise and personalities didn't work for the Flames in the ways it needed to. But general manager Brad Treliving has gone out and gotten a different mix of coaches with difference expertise and experiences:
Peters and Ward have extensive experience in men's level international competition, while Huska has junior level experience
Peters and Huska are from Western Canada, while Ward is from Ontario
Peters and Huska have only coached in North America, while Ward has European experience
Huska played major-junior and minor pro, but Peters and Ward both have no major junior or pro playing experience
Peters and Ward have NHL experience on their resumes, while Huska is an NHL coaching rookie
If Peters' directness can mesh well with Ward and Huska's approaches, perhaps this mixture of perspectives and voices can maximize the talent on the Flames roster and prevent disappointing seasons like the one the club just experienced. As they are with the team's roster, the expectations remain high for the coaching staff as the Flames enter their window for playoff contention.