The Calgary Flames underachieved in 2017-18 for a lot of reasons. They couldn't score. Their power play was awful. But ultimately what cost Glen Gulutzan his job as head coach was that the team was collectively less than the sum of their parts.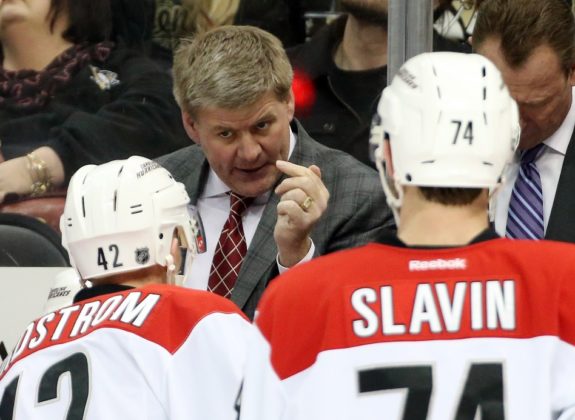 The Flames were without a head coach for six days, as general manager Brad Treliving hired former Carolina Hurricanes bench boss Bill Peters to replace Gulutzan just three days after Peters opted out of his Hurricanes contract. Peters is Treliving's third head coach and the margin for error is razor-thin given the sky-high expectations facing the Flames. Treliving is betting big on Peters turning the Flames around in three key areas.
A Better Start
The 2016-17 Flames went through much of training camp without Sean Monahan (back injury), Mikael Backlund (concussion) or Johnny Gaudreau (contract dispute), making it very difficult for three of the team's top players to adjust to Gulutzan's new system. The Flames won four games in October and spent the first half of their season clawing their way out of their hole.
The 2017-18 Flames muddled through a fairly uninspired pre-season where the two standouts were Mark Jankowski, who was sent to the AHL due to a roster crunch, and Dillon Dube, a 19-year-old who was sent back to junior. For the second consecutive fall, the Flames failed to get a lot of traction out of the gates: this October they were .500 (winning six games) but still needed to gain ground on the other Pacific Division teams.
It will be five months before we see Bill Peters behind a Flames bench, but the impression he left on Monday is that of an intensely passionate guy, who is an intriguing blend of old-school gruff with modern-day thinking and approach.

— Darren Haynes (@DarrenWHaynes) April 24, 2018
If the Flames want to contend under Peters, they need to get out to a better start. For his part, Peters acknowledged the importance of a good camp and a good start to the season in his introductory press conference, but the devil will be in the details.
Better Depth Performances
Unlike in Carolina, Peters will be coaching a team that spends to the salary cap. As the Flames head into the off-season, they have all of their important roster pieces signed through 2018-19 – their goaltender, their top four defensemen and their top six forwards. The challenge for the Flames next season, as it was last season, will be getting consistent contributions from their depth players.
David Rittich was a solid backup. Brett Kulak and Michael Stone were a capable third defensive pairing. Jankowski, Sam Bennett and Nick Shore all had flashes of strong play in the bottom six – Jankowski scored four goals in the final game of the season. For the Flames to get where they want to go – accomplishing something worthy of a parade – their depth players will have to be described as "consistently good" rather than with any other adjectives. The depth players failed to progress under Gulutzan and it'll be crucial to Peters' success.
A Better Power Play
The Flames' roster last season boasted talented offensive players such as Johnny Gaudreau, Sean Monahan, Micheal Ferland, Matthew Tkachuk, Mikael Backlund, Dougie Hamilton and Mark Giordano. Somehow, they were one of the most hapless power plays in the entire league – only St. Louis and Edmonton converted power play chances at a lower rate. Failing to turn that much talent into a potent power play was itself grounds for terminating the coaching staff.
If the Flames are going to rebound from their disappointing season – and if Peters is going to justify Treliving's faith in him – fixing the power play is going to be of huge importance. During Carolina's four years under Peters, their power play was just as productive as Calgary's – and the Flames' lineup boasts more big offensive weapons than Peters had in Carolina. Gulutzan and assistant coach Dave Cameron consistently failed to make adjustments to their power play units, so hopefully Peters lives up to his reputation as being a coach that tinkers with aspects of his team's game that aren't working.